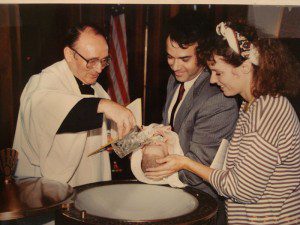 (4-29-15)
This occurred on a
public Facebook page
, that shared a post I had shared, having to do with
a Baptist pastor baptizing an infant
. The pastor's words will be in
blue
. I made a dumb and unnecessary remark (though not intended as a
personal attack
) that offended the pastor. I later apologized for it, and explained exactly what I meant (and he decided to return and continue the discussion), but here I include only the
theological
exchanges.
* * * * *
I do Baby Dedications, which is really more about Parent Dedication than anything else. Jesus told us to "Go… make and baptizo (not really the proper tense but it'll have to do for now) Disciples…" (baptizo = submerge… same word used for the process of dying cloth… same word for describing a capsized or sunken fishing boat)… Jesus didn't give us an example of baptizing infants, he gave us an example of Baptism as the first act of obedience of a believer. an infant cannot change his mind about sin and self determination, or believe that Jesus died for them.
I'll just go with what Jesus said…
Yeah, me, too; and with what the Bible says about infant baptism:
Acts 16:15 (RSV) . . . she was baptized, with her household, . . .

Acts 16:33 . . . he was baptized at once, with all his family.

Acts 18:8 Crispus, the ruler of the synagogue, believed in the Lord, together with all his household; and many of the Corinthians hearing Paul believed and were baptized.

1 Corinthians 1:16 (I did baptize also the household of Steph'anas. Beyond that, I do not know whether I baptized any one else.)

Many biblical passages connect household and children (if indeed such a demonstration is necessary, so obvious is it: especially for that culture and time):
Genesis 18:19 No, for I have chosen him, that he may charge his children and his household after him to keep the way of the LORD by doing righteousness and justice . . . (cf. 31:41)

Genesis 36:6 Then Esau took his wives, his sons, his daughters, and all the members of his household, . . .

Genesis 47:12 And Joseph provided his father, his brothers, and all his father's household with food, according to the number of their dependents.

Numbers 18:11 . . . I have given them to you, and to your sons and daughters with you, as a perpetual due; every one who is clean in your house may eat of it.

1 Chronicles 10:6 Thus Saul died; he and his three sons and all his house died together.

Matthew 19:29 And every one who has left houses or brothers or sisters or father or mother or children or lands, for my name's sake, will receive a hundredfold, and inherit eternal life. (cf. Mk 10:30)

1 Timothy 3:12 Let deacons be the husband of one wife, and let them manage their children and their households well;

In other biblical passages, entire households are referred to as being saved:
Luke 19:9 And Jesus said to him, "Today salvation has come to this house, since he also is a son of Abraham."

Acts 11:14 he will declare to you a message by which you will be saved, you and all your household.

Acts 16:31 And they said, "Believe in the Lord Jesus, and you will be saved, you and your household.
That's a pretty long leap if you are going to be honest with the text.
Do you want to actually make arguments against these passages or be content with one sweeping proclamation that is no argument?
Then of course there is also the analogy of infant baptism to circumcision: an argument that John Calvin makes at great length.
You might want to do a little diagramming of the acts passages you partially quoted and include the entire passage not simply lifting a word or two.
Okay, cool, Pastor [Name]. Show us how all those passages are out-of-context. That should be fun.
You made the leap from acts 16: "and their household too" which is probably the better English translation that it must include their infant children. It could mean adult children, they may have had no children… you are using a general term to make a specific point. Just from memory from my Greek classes, I believe the "and their household too" refers back to " they believed" a few verses earlier… I can pull out my diagrams if you need help.
So you maintain that whenever households are mentioned in connection with baptism, these could not have ever included children?

I'm not going to trade the plain and simple meaning of words for the hypothetical. Show me where Jesus baptized an infant, or told us to baptize infants and I'll change my mind.
I just showed how the Bible massively does. Also, where in the Bible are we told that we can believe nothing that Jesus did not specifically or explicitly address? Paul dealt with other things in a depth of specificity that Jesus never did (as, I think, we would fully expect).
I also don't buy the premise that Circumcision being equal to and being replaced by Baptism as far as infants go. I believe that's taking the parallel too far. Circumcision was the identifying mark of the Jews in Covenant relationship with God a relationship which begins at at birth. Baptism is the first act of obedience of a believer a relationship which begins when one believes (or repents "metanoia), if you will allow me to use that word). Both are indeed identifying acts of obedience but each is dependent upon when the relationship begins. And since I don't believe infants can repent, I don't baptize infants.
You are assuming that this is true in absolutely every case; just as we are assuming that "households" generally included infants.
How could it be different? [It] seems pretty specific to me. In issues of salvation, and direct relationship with God, Jesus is the ultimate authority, and the final word. in issues of Christian living and sanctification… Sure I'll go with Paul James and Peter. but if you are saying that Paul gives a different gospel or another way to be saved than Jesus taught… I'd be careful with that line of thinking.
Yeah, I know you said that. I asked, where in the Bible is such a notion found? I said nothing about a different Pauline gospel: only a more fully explained one.
Jesus also taught baptismal regeneration, which Baptists deny:
Mark 16:16 He who believes and is baptized will be saved; but he who does not believe will be condemned.

Paul seems to imply an organic connection between baptism (washed), sanctification and justification.
Titus 3:5 he saved us, not because of deeds done by us in righteousness, but in virtue of his own mercy, by the washing of regeneration and renewal in the Holy Spirit,

Compare this to John 3:5: Jesus answered, "I tell you the truth, unless a man is born of water and of the Spirit, he cannot enter the kingdom of God. (cf. 3:3: "unless a man is born again …")
The two passages are almost exactly parallel:
Titus: "saved" / John: "enter the kingdom of God"
Titus: "washing of rebirth" / John: "born of water"
Titus: "renewal by the Holy Spirit" / John: "born . . . of the Spirit"

And the NT teaches baptismal regeneration and salvation through baptism:
Acts 2:38-39 And Peter said to them, "Repent, and be baptized every one of you in the name of Jesus Christ for the forgiveness of your sins; [39] For the promise is to you and to your children and to all that are far off, every one whom the Lord our God calls to him."

1 Peter 3:18-21 For Christ also died for sins once for all, the righteous for the unrighteous, that he might bring us to God, being put to death in the flesh but made alive in the spirit; in which he went and preached to the spirits in prison, who formerly did not obey, when God's patience waited in the days of Noah, during the building of the ark, in which a few, that is, eight persons, were saved through water. Baptism, which corresponds to this, now saves you, not as a removal of dirt from the body but as an appeal to God for a clear conscience, through the resurrection of Jesus Christ,

Acts 22:16 And now why do you wait? Rise and be baptized, and wash away your sins, calling on his name.'

Romans 6:3-4 Or don't you know that all of us who were baptized into Christ Jesus were baptized into his death? We were therefore buried with him through baptism into death in order that, just as Christ was raised from the dead through the glory of the Father, we too may live a new life. (cf. Romans 8:11, 1 Cor 15:20-23, Col 2:11-13)

1 Corinthians 6:11 And such were some of you. But you were washed, you were sanctified, you were justified in the name of the Lord Jesus Christ and in the Spirit of our God.
I believe what I believe because I have studied scripture for decades, not because I read a theology book once and picked a side. I have a class to teach in about 30 min. We can pick this up tomorrow.
I believe what I believe because I have studied Scripture for decades, too: very intensely and continuously since 1981. Meanwhile, there are several questions I asked, and lines of argument, that you have either passed over altogether or (with all due respect) have not adequately addressed.
"For God so loved the world that He gave His one and only son. That who ever believes in Him, will not perish, but will be given eternal life" Jesus… Jn 3:16. If [salvation] was by baptism, don't you think Jesus would have included it here?
Not all theology can appear in any given verse. The same Jesus stated elsewhere: Mark 16:16 "He who believes and is baptized will be saved; but he who does not believe will be condemned."
With regard to the argument made from Jn 3:16: Peter, too, is preaching the gospel in the first Christian sermon in Acts 2, on the Day of Pentecost; and what does he include in his entire proclamation?: "Repent, and be baptized every one of you in the name of Jesus Christ for the forgiveness of your sins" (Acts 2:38).
The baptism brings about regeneration. It's not merely a symbolic act after regeneration has occurred: ". . . for the forgiveness . . . ". Baptism is the agent or means of regeneration. Peter makes the idea of salvation through baptism even more clear in 1 Peter 3:18-21.
I am curious to see how those who believe in adult, believer's baptism deal with all the passages that sure appear to suggest infant baptism.
See also this article by a traditional Presbyterian (OPC): The Biblical Basis for Infant Baptism.
There is a reason (probably dozens of reasons) that this has been a debate between Catholics, Calvinists, and Armenians and many sub-groups and denominations over the last 400 years. I can quote all the proof texts for what I believe, and others can counter with proof texts of their own. . . . If you want actual answers to actual questions I will be happy to respond with factual honest biblical translation and interpretation from my point of view.
As an evangelical [1977-1990], I believed exactly as you do, and was "baptized" (full immersion) at age 24. I believe my actual baptism, however, was as a baby in the Methodist church.

I still am very curious how the passages I produced can be plausibly, consistently exegeted in a way that avoids the implication of infant baptism. Simply dismissing them all with a line or two does not do that.
Ok. The passages in question are
Acts 16:15 The conversion of Lydia. I prefer to use the entire passage of thought rather than just lifting a partial quote from one phrase… 14 One who heard us was a woman named Lydia, from the city of Thyatira, a seller of purple goods, who was a worshiper of God. The Lord opened her heart to pay attention to what was said by Paul. 15 And after she was baptized, and her household as well, she urged us, saying, "If you have judged me to be faithful to the Lord, come to my house and stay." And she prevailed upon us."
I don't see what difference more context makes. The fact remains that her whole household was baptized. And that very likely included children. It's not absolutely certain, but quite likely: far more likely than not. It's extremely difficult and implausible to argue that none of these "households" mentioned in conjunction with baptism contained any infants. Presbyterian commentator Matthew Henry writes about this verse:
She was baptized, and by this solemn rite was admitted a member of the church of Christ; and with her her household also was baptized, those of them that were infants in her right, for if the root be holy so are the branches, and those that were grown up by her influence and authority. She and her household were baptized by the same rule that Abraham and his household were circumcised, because the seal of the covenant belongs to the covenanters and their seed.

John Wesley comments in his Explanatory Notes:
She was baptized and her family – Who can believe that in so many families there was no infant? Or that the Jews, who were so long accustomed to circumcise their children, would not now devote them to God by baptism?

The Catholic Encyclopedia (1913), "Baptism" states:
When the Redeemer declares (John 3) that it is necessary to be born again of water and the Holy Ghost in order to enter the Kingdom of God, His words may be justly understood to mean that He includes all who are capable of having a right to this kingdom. Now, He has asserted such a right even for those who are not adults, when He says (Matthew 19:14): "Suffer the little children, and forbid them not to come to me: for the kingdom of heaven is for such." It has been objected that this latter text does not refer to infants, inasmuch as Christ says "to come to me". In the parallel passage in St. Luke (18:15), however, the text reads: "And they brought unto him also infants, that he might touch them"; and then follow the words cited from St. Matthew. In the Greek text, the words brephe and prosepheron refer to infants in arms.

. . . The tradition of Christian antiquity as to the necessity of infant baptism is clear from the very beginning. . . .

Origen (in cap. vi, Ep. ad Rom.) declares: "The Church received from the Apostles the tradition of giving baptism also to infants".

St. Augustine (Serm. xi, De Verb Apost.) says of infant baptism: "This the Church always had, always held; this she received from the faith of our ancestors; this she perseveringly guards even to the end."

St. Cyprian (Epistle 58) writes: "From baptism and from grace . . . must not be kept the infant who, because recently born, has committed no sin, except, inasmuch as it was born carnally from Adam, it has contracted the contagion of the ancient death in its first nativity; and it comes to receive the remission of sins more easily on this very account that not its own, but another's sins are forgiven it."
Your argument is that she and her infant child(ren) were baptized and therefore saved.
1. In the previous verse, she was already a worshiper of God when she met Paul.
2. Also in verse 14 her heart was opened prior to her baptism.
Yes, of course. For the adult believer, such faith will precede baptism. In the Catholic Church, those being received who have never been baptized, make a profession of faith before they receive the sacrament: not unlike the Baptist "believer's baptism." But this doesn't exclude infants also receiving baptism.
3. "Her household too" could refer to anyone in her household, this is not proof that she had an infant child, or that infant children lived with her. Of course it is possible, but, by no means necessary.

As I said, it's much more likely than not. The implausibility lies in the claim that none of these households mentioned contained any infants or anyone under the age of reason. That strains credulity to the breaking point.
A. T. Robertson (Baptist) wrote about this passage: "In the household baptisms (Cornelius, Lydia, the jailor, Crispus) one sees 'infants' or not according to his predilections or preferences."
Yes, they do. But I'm saying that it's much more implausible to deny any and all infants in these passages than to posit them as a likelihood.
But we use the plain and clear meaning of words rather than the hypothetical or possible meaning of words to interpret the meaning of scripture.
This is not merely a hypothetical, but rather, an extremely straightforward deduction. I have already provided several passages that easily connect children with the notion of a household.
The plain and clear meaning of the Greek word oikos here is family. I assume you know families who do not constantly have infant children.
Yep. And in biblical times, in a society that believed in having lots of children, there would likely be many children of a young age if the mothers were of childbearing age, as we see in (relatively rare) large families today. My wife Judy and I have four children. Our youngest, the only daughter, was born when I was 43, and my wife almost 43. So our "household" that year, at age 43, included a newborn, and 10-, 8-, and 5-year-old boys.
So therefore it is a theological leap to make the word family mean that infant children of Lydia were necessarily baptized.
No one is saying it is "necessarily." But you are making the implausible leap here, not us. Believers' baptism of adults is not at all inconsistent with what we believe, but infant baptism is completely inconsistent with what you believe. So you have to alternately interpret these (I think straightforward) verses, and I submit that it's very difficult to do so, whereas we have no difficulty at all incorporating adult baptisms. They are in a different category, but they don't preclude infant baptisms.
As a side note… It is also possible to translate verse 15 that it was her entire household that urged Paul and his companions to stay with them. It's not the most likely most logical translation but if you are ignoring the logical order of the Greek verb and subject you could interpret it as her entire household urged them to stay with them. But there is reason we use rules for biblical interpretation. Ie… we use plain and clear passages to clarify those that are less plain and less clear.
I agree with the latter comment. I think this is very clear: that a biblical household, in a culture that highly valued procreation and children, very often included infants. In our times, not as likely, but then and there, yes.
Next
Acts 16:33… Again it is very helpful to read the entire thought in Scripture rather than lifting a few words out of the text. We call that "out of context"
And that is the most often-used retort there is: frequently a bum rap. We Bible people also call citation of individual or a few passages "systematic theology." There is nothing wrong with that. More context can always be provided, and all parties acknowledge it. I am constantly consulting immediate context in order to overthrow over-used Protestant prooftexts. Oftentimes, the answer to the bad argument lies in the verse before or after the one given.
Few people are more aware of how context is butchered, than apologists like myself. We deal with prooftexts (in my case, for some brand of Protestantism and purportedly against Catholicism) all the time.
It doesn't, in any event, make it wrong to highlight one verse in a collection of texts having relevance to a sub-topic (i.e., systematic theology). A quick perusal of well-known texts of systematic theology (e.g., Strong, Hodge, even St. Thomas Aquinas' Summa Theologica) will make this evident, for anyone who doubts what I am saying. It would be foolish for someone to claim that every single verse cited is "out-of-context."
Acts 16:29–34 (ESV)
29 And the jailer called for lights and rushed in, and trembling with fear he fell down before Paul and Silas. 30 Then he brought them out and said, "Sirs, what must I do to be saved?" 31 And they said, "Believe in the Lord Jesus, and you will be saved, you and your household." 32 And they spoke the word of the Lord to him and to all who were in his house. 33 And he took them the same hour of the night and washed their wounds; and he was baptized at once, he and all his family. 34 Then he brought them up into his house and set food before them. And he rejoiced along with his entire household that he had believed in God.
Once again, this has no bearing against possible infant baptism. The adults and those above the age of reason present would obviously profess faith before being baptized. The false assumption is to apply that to all baptisms.
Your argument is again that the Phillipian Jailor had infant children who were baptized and that it was the baptism that saved them.
That baptism saves and regenerates is based on another batch of verses that I have already provided. Another principle of Bible interpretation (as you well know) is to cross-reference and to incorporate all relevant data. And with regard to baptism, this includes very clear references to regeneration and/or salvation as a result of baptism. And of course that is virtually unanimous patristic teaching. To deny baptismal regeneration came only with early heretics and non-Lutheran so-called "reformers" in the 16th century. It's a late, man-made, non-apostolic tradition.
I could see that if you ignore the previous verses that "they "Believed" which precludes "and they were baptized". The answer Paul gave to the jailor who asked "what must I do to be saved?" was "Believe in the Lord Jesus Christ, and you will be saved". He did not say and be baptized. Yes they were baptized, not as a condition of salvation but as a reaction to salvation.
That's how you interpret it, but again, you must somehow counter-exegete the various clear references elsewhere to baptismal regeneration. Different parties can variously interpret the relation of belief and baptism here. Yours doesn't lack all plausibility. But I think when we cross-reference, we can see that baptism supernaturally brings about entrance into the kingdom of God and salvation.
I already mentioned Acts 2:38-39 in this connection. Here it is again:
Acts 2:38-39 (RSV) And Peter said to them, "Repent, and be baptized every one of you in the name of Jesus Christ for the forgiveness of your sins; and you shall receive the gift of the Holy Spirit. [39] For the promise is to you and to your children and to all that are far off, every one whom the Lord our God calls to him."

Now, of course, you say the repentance only brings about the forgiveness and salvation and reception of the Holy Spirit, and the baptism is mere symbol. I say it is just as, if not more plausible to interpret this (especially in light of other verses) as baptism having as much relation to forgiveness as the repentance does.
In other words, here Peter does seem to connect salvation and baptism. The fact remains that the Philippian jailer was baptized as soon as possible. This is not inconsistent with what we (and Lutherans, Orthodox, etc.) teach. It's just not spelled out as explicitly as it is in Acts 2:38-39.
Nor is "just believe" all that ever has to be done in order to be saved or gain eternal life. The rich young ruler asked almost exactly the same question, and Jesus didn't tell Him, "just believe in Me!" Rather, He said the following:
Luke 18:18, 20-27 And a ruler asked him, "Good Teacher, what shall I do to inherit eternal life?" . . . [20] You know the commandments: `Do not commit adultery, Do not kill, Do not steal, Do not bear false witness, Honor your father and mother.'" [21] And he said, "All these I have observed from my youth." [22] And when Jesus heard it, he said to him, "One thing you still lack. Sell all that you have and distribute to the poor, and you will have treasure in heaven; and come, follow me." [23] But when he heard this he became sad, for he was very rich. [24] Jesus looking at him said, "How hard it is for those who have riches to enter the kingdom of God! [25] For it is easier for a camel to go through the eye of a needle than for a rich man to enter the kingdom of God." [26] Those who heard it said, "Then who can be saved?" [27] But he said, "What is impossible with men is possible with God."

That's a far cry from "just believe!" isn't it? Therefore, if various acts and works are involved in being saved (all by and through God's grace, always), then baptism is not excluded from being one of these. And from the biblical data elsewhere, we see that it certainly is included in the whole mix of salvation.
The Ethiopian eunuch does the same thing in Acts 8: he gets baptized. Moreover, we see what happened in the case of adult convert Paul. He gives his own account of what happened:
Acts 22:10-16 And I said, `What shall I do, Lord?' And the Lord said to me, `Rise, and go into Damascus, and there you will be told all that is appointed for you to do.' [11] And when I could not see because of the brightness of that light, I was led by the hand by those who were with me, and came into Damascus. [12] "And one Anani'as, a devout man according to the law, well spoken of by all the Jews who lived there, [13] came to me, and standing by me said to me, `Brother Saul, receive your sight.' And in that very hour I received my sight and saw him. [14] And he said, `The God of our fathers appointed you to know his will, to see the Just One and to hear a voice from his mouth; [15] for you will be a witness for him to all men of what you have seen and heard. [16] And now why do you wait? Rise and be baptized, and wash away your sins, calling on his name.'

The first thing Paul did was get baptized, and what did the baptism do? "Wash away your sins." There is no way out of that. It would require an unnatural, eisegetical attempt to separate the "wash[ing]" here from baptism. This is baptismal regeneration: expressly taught by the apostle Paul.
Again this is the plain and clear meaning of the words. But the phrase in verse 34 "he rejoiced along with his entire "panoikei" (everyone under his authority) what were they rejoicing over? That they had believed in God…
That's clear enough from the passage, but it does nothing whatever to rule out infant baptism. Abraham was circumcised as an adult. It didn't follow that he and Moses didn't teach that infants were to be circumcised.
now my question is, can infants express joy over a specific belief? Those of us with children will tell you that while we may have generally happy infants, they cannot make a self determination to believe that the sky is blue, to believe in God, to believe 10+10=20, or anything else, the word believe is pretty specific here.
They cannot, but it's irrelevant. The adult convert can do so. You apply the particular of the adult convert to all baptism scenarios, and that is illogical and circular argumentation.
and Acts 18:8. I'm adding verse 7 just because I love this story and it adds a bit of flavor to the passage. 7 And he left there and went to the house of a man named Titius Justus, a worshiper of God. His house was next door to the synagogue. 8 Crispus, the ruler of the synagogue, believed in the Lord, together with his entire household. And many of the Corinthians hearing Paul believed and were baptized.
Much the same as the previous verses and no need to repeat the "household" could but not must include infant children.
Even you admit (as you must), that "household" could possibly include children. If it does, then infant baptism is taught in the NT. It seems like a huge stretch to hang your hat on these scenarios where you have to hold that no household included an infant. Sorry, I just don't find it a credible claim.
But I will point out that in every passage we've looked at so far the belief precedes the baptism, and by my translation and interpretation is a reaction to it not a condition of it. Baptism is the first act of obedience for these believers.
But we can also make a further distinction of repentance and belief, then baptism, then received forgiveness of sins and salvation (regeneration). That was the order in Acts 2:38-39:


1) repentance,
2) baptism,
3) forgiveness of sins,
and
4) reception of the Holy Spirit.

A person (beyond the age of reason) must repent to be saved, but surely if they have not yet received forgiveness of sins (reconciliation) or the Holy Spirit (Whom all Christian believers possess), they are not yet a Christian abiding in God's grace as His friend and child. And this is the order of things that Acts 2:38-39 teaches us.
It's the same with the Apostle Paul in Acts 22:16. He is baptized, and then his sins are washed away: which has to take place in order for him to be saved in the present sense and tense of the word, and regenerated. These two instances directly contradict the Baptist schema and outlook of how regeneration takes place in Holy Scripture.
Something perplexes me about your augments. These are a few of the verses that are historically used by certain theological camps as proof texts for infant baptism and baptismal regeneration, but they are by far the weakest of the arguments used by those from your point of view, there are one or two passages that are more problematic for the "uneducated and un-equipped Baptist" I'm just curious why you chose the weakest of your arguments and not the strongest?
Not having infinite time, I drew them from my book, Bible Proofs for Catholic Truths. What are these better arguments you refer to? We must bring them in too! I have mentioned the analogy to circumcision and regeneration passages, including John 3.

Even though one of my degrees is in Theology, I believe that much of our "theology" is just finding ways to argue with God, I believe it is much better if we just let scripture speak for itself and for God.
I couldn't agree more. I find the biblical evidence compelling and profoundly in favor of the Catholic view on baptism and everything else. It's my specialty: biblical arguments for Catholicism.
And if that confuses our theological system then we should defer to scripture for what we believe and teach.
Yes we should. And I constantly do just that in my work. I just wrote an article, to be published in a major Catholic magazine, providing more than 50 biblical proofs in favor of veneration of the Blessed Virgin Mary. I have found 50 in favor of Petrine Primacy, and 50 for the place of works as the requirement to enter heaven. I love the Bible! There is no book I more enjoy reading and studying. I even put out my own "version," utilizing good "KJV"-type English of other versions.
I wish I had more time to give a more thorough treatment of this subject but if you will be patient I will respond as I have time and opportunity.
Sounds good! I have compiled our dialogue into a back-and-forth exchange on my blog (since this is already public). So far, I haven't mentioned your name. If you want me to, I can do so, and provide whatever links you would like.
You specifically asked for my perspective on these passages. Hopefully my schedule will relax a bit and we can continue a discussion at a relaxed pace.
I appreciate your time and effort very much, Pastor [Name], and the opportunity to flesh out and develop my own arguments a bit. I have enjoyed it, and hope we can continue.

[see also the accompanying Facebook discussion on my own page]
[will be continued if and when the pastor makes more arguments.]
* * * * *