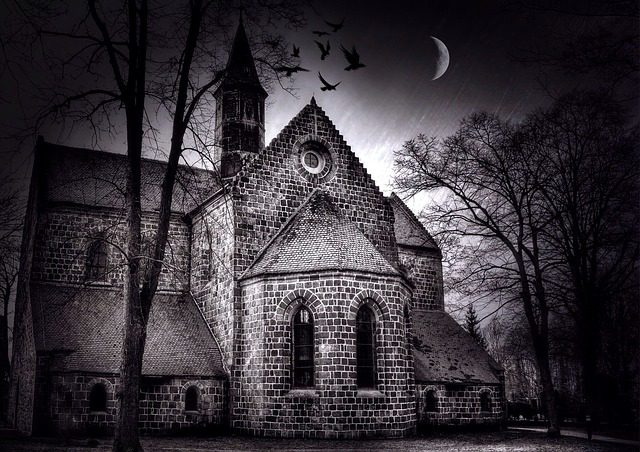 Photo by "wolter_tom" [public domain / Pixabay]
* * * * *
Our Protestant friends often tell us that "the Church is the invisible sum total of all true believers." Many Protestants (including myself in my evangelical years in the 80s) are taught that institutions are "bad" and that "religion" (another bad word) is infested with the "barnacles" of man-made traditions. This sort of thinking, I submit, has more of "the 60s" in it than of 60 A.D.
The Bible teaches us that the Church is a visible, identifiable institution, which has a verifiable history of continuous true apostolic teaching.
It is true, however, that Catholics believe in a "mystical" Body of Christ in some sense. We hold that all Christians who have been baptized in the name of the Father, Son, and Holy Spirit are part of the Church, albeit imperfectly. But from this it doesn't follow that there is no institutional (or "one true") Church. Here are two biblical passages about the visible Church:
Matthew 5:14-16 You are the light of the world. A city set on a hill cannot be hid. Nor do men light a lamp and put it under a bushel, but on a stand, and it gives light to all in the house. Let your light so shine before men, that they may see your good works and give glory to your Father who is in heaven. (cf. 18:15-17)
1 Timothy 3:15 . . . the household of God, which is the church of the living God, the pillar and bulwark of the truth. (cf. Matt. 16:18)
Some Christians seem to think that the Apostle Paul was a kind of "lone ranger," as if he were on his own. The Bible contradicts this notion in several passages. Paul was subject to the direction and sanction of the institutional Church. He, too was under authority:
Acts 15:2-3, 22-23, 30 And when Paul and Barnabas had no small dissension and debate with them, Paul and Barnabas and some of the others were appointed to go up to Jerusalem to the apostles and the elders about this question. So, being sent on their way by the church, they passed through both Phoeni'cia and Sama'ria, . . . . Then it seemed good to the apostles and the elders, with the whole church, to choose men from among them and send them to Antioch with Paul and Barnabas. They sent Judas called Barsab'bas, and Silas, leading men among the brethren, with the following letter: . . . So when they were sent off, they went down to Antioch; and having gathered the congregation together, they delivered the letter. (cf. 13:1-4; 14:26-28)
Galatians 1:18-19 . . . I went up to Jerusalem to visit Cephas, and remained with him fifteen days. But I saw none of the other apostles except James the Lord's brother.
Galatians 2:9 and when they perceived the grace that was given to me, James and Cephas [Peter] and John, who were reputed to be pillars, gave to me and Barnabas the right hand of fellowship, that we should go to the Gentiles and they to the circumcised;
Our Protestant friends also argue for an invisible church by noting that Jesus used the analogy of the sheep and the shepherd (Jn. 10:1-16; cf. 2 Tim. 2:19; 1 Jn. 2:19), who know each other (Jn. 10:14). They say that this shows that the Church is merely or exclusively a mystical body consisting of the elect and truly saved only.
The problem with this line of thinking is that Scripture also describes the unsaved reprobate as "sheep" (Ps. 74:1), refers to "sheep" that have "gone astray" (Ps. 119:176), and applies the description to the nation of Israel (Ezek. 34:2-3, 13, 23, 30), and indeed, all men (Isa. 53:6).
It is far better for Protestants to heed the advice of one of their own founders: John Calvin:
But because it is now our intention to discuss the visible church, let us learn even from the simple title "mother" how useful, indeed how necessary, it is that we should know her. For there is no other way to enter into life unless this mother conceive us in her womb, give us birth, nourish us at her breast, and lastly, unless she keep us under her care and guidance until, putting off mortal flesh, we become like the angels [Matt. 22:30]. Our weakness does not allow us to be dismissed from her school until we have been pupils all our lives. Furthermore, away from her bosom one cannot hope for any forgiveness of sins or any salvation, as Isaiah [Isa. 37:32] and Joel [Joel 2:32] testify . . .
(Institutes of the Christian Religion, edited by John T. McNeill; translated by Ford Lewis Battles, Philadelphia: The Westminster Press, 1960, IV, 1, 4; Vol. 2, p. 1016)