The Book of Concord and the Catholic Mass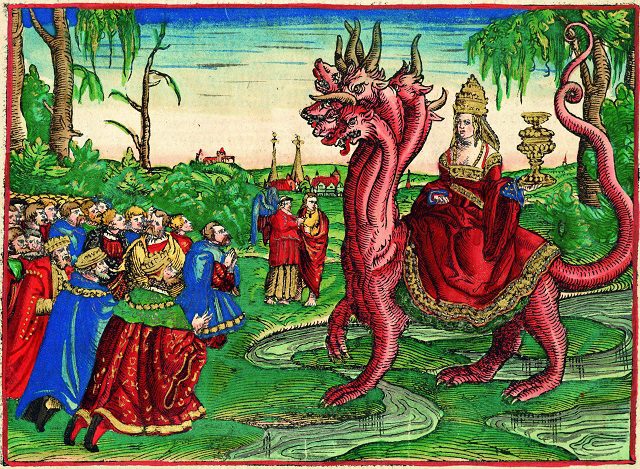 Colored version of the Whore of Babylon illustration from Martin Luther's 1534 translation of the Bible, from the Workshop of Lucas Cranach
[public domain /
Wikimedia Commons
].
(4-26-05)
The following dialogue with Lutheran "BWL" occurred in comments below. Since I did a little work in my reply, I thought it would be appropriate to make it a new paper of its own. His words will be in

blue

.

Citations from the Book of Concord will be in

green

.
Not to be nit-picky, but my understanding is that Luther and Calvin saw the RCC not as a false church, but as an impure one, which is an important distinction. They both recognized the validity of Catholic baptisms, and Luther thought the RC also had a true communion. Although Luther was critical of certain elements of RC communion practice (communion in one kind, the mass as a sacrifice) he did famously say that he'd rather drink blood with the pope than wine with the Reformed. Just a suggestion, but if you want to take on anti-Catholics, bringing up Calvin and Luther's view of Rome actually helps your case.
As I've mentioned before, this should work against Reformed Baptist types by showing how Luther and Calvin would see their sacramentology (or anti-sacramentology, however you want to put this) as conflicting with Reformational soteriology. In other words, on the whole it helps you to point out how while Reform Baptist like to claim the mantel of defending the Reformation they actually conflict with the Reformers on numerous and important points.

I believe that it is a mixed bag, when it comes to Luther and Calvin's view of the Catholic Church. I think they contradict themselves. I've found it impossible to interpret their views in this vein in a consistent, coherent fashion. On the other hand, I've written about Luther's more "Catholic" beliefs (including compiling an entire book of these).
I'd be delighted to conclude that they regarded Catholics as more or less equal brothers-in-Christ, but there is too much that suggests otherwise, which has never been adequately explained to me by those like yourself who believe that they were not anti-Catholics (you're welcome to be the first; be my guest). I always say regarding Calvin, that if he thinks I participate in the grossest blasphemy, sacrilege, and idolatry every week at Mass, then that can hardly be squared with thinking that all this is Christian.
First, as you know Luther was prone to uh, exaggerations and harsh, polemical language. This certainly was a big flaw of his, though it's worth pointing out his Catholic opponents were at times prone to nasty polemics at first. My point is, however, that Luther should be taken with a grain of salt.
Are you maintaining, then, that every time Luther wrote something which could reasonably be construed as denying that the Catholic Church is truly Christian, it should be taken in this way, as merely his excess in language? There is not a single instance of these utterances that he meant literally? It seems to me that this would be an extraordinary claim, and almost impossible to prove.
To my knowledge, however, Luther and the Lutheran church has always regarded Rome as a christian church, though an impure one with many doctrinal flaws. That includes the sacrifice of the mass. I don't see, however, why you think serious disagreements in this regard makes Luther and the Lutherans, for example, "anti-Catholic."
I think it has to be judged on an individual case basis (as regards individual opinions). Lutherans, like Anglicans and Reformed, contain both views, and many members seem confused about even their own positions.
The RCC doesn't recognize Lutheran orders, nor from what I understand does it think that Lutherans receive Christ's true body and blood when they take communion.

That's correct.
So, if the Lutheran disagreement over the sacrifice of the mass makes Lutherans "anti-Catholic", why isn't the Catholic church "anti-Lutheran" since the RC doesn't recognize Lutheran communion?The difference would be if the mass is considered blasphemy and sacrilege and idolatry (whereas we would never say that about a Lutheran service, or any standard Protestant worship service; we would say they convey grace of some sort, even if not technically "sacramental").
The above view (where it occurs) would make the mass, by definition, a non-Christian thing. Then you would be in the incoherent, odd position of agreeing that Catholicism is Christian, despite the fact that its central rite is utterly non-Christian (and, far beyond that, anti-Christian, as it is idolatry, blasphemy, etc.). Quite a bizarre state of affairs, there . . .
In fact, the Book of Concord confirms my suspicion that Lutheranism is officially anti-Catholic. Lutherans are bound to this as their confession, so it can't be cavalierly dismissed as some old irrelevant document.
Smalcald Articles [1537], Part II, Article II: The Mass:
The Mass in the papacy must be regarded as the greatest and most horrible abomination because it runs into direct and violent conflict with this fundamental article. Yet, above and beyond all others, it has been the supreme and most precious of the papal idolatries . . .
If there were reasonable papists, one would speak to them in the following friendly fashion:
"Why do you cling so tenaciously to your Masses?
1. "After all, they are a purely human invention. They are not commanded by God . . . Christ says, 'In vain do they worship me, teaching as doctrines the precepts of men' (Matt. 15:9)."
. . . 3. . . . "one can be saved in a better way without the Mass. Will the Mass not then collapse of itself — not only for the rude rabble, but also for all godly, Christian, sensible, God-fearing people — especially if they hear that it is a dangerous thing which was fabricated and invented without God's Word and will?"
. . . 5. "The Mass is and can be nothing else that a human work, even a work of evil scoundrels . . ."
Accordingly we are and remain eternally divided and opposed the one to the other. The papists are well aware that if the Mass falls, the papacy will fall with it.Before they would permit this to happen, they would put us all to death.
Besides, this dragon's tail — that is, the Mass — has brought forth a brood of vermin and the poison of manifest idolatries.
(The Book of Concord, translated and edited by Theodore Tappert, St. Louis: Concordia Publishing House / Muhlenberg Press, 1959, pp. 293-294)
Apology of the Augsburg Confession [1531], Article XXIV: The Mass
Carnal men cannot stand it when only the sacrifice of Christ is honored as a propitiation. For they do not understand the righteousness of faith but give equal honor to other sacrifices and services. A false idea clung to the wicked priests in Judah, and in Israel the worship of Baal continued; yet the church of God was there, condemning wicked services. So in the papal realm the worship of Baal clings — namely, the abuse of the Mass . . . And it seems that this worship of Baal will endure together with the papal realm until Christ comes to judge and by the glory of his coming destroys the kingdom of Antichrist. Meanwhile all those who truly believe the Gospel should reject those wicked services invented against God's command to obscure the glory of Christ and the righteousness of faith.
(Tappert, ibid., 268)
I guess at the end of the day I don't see why strong disagreements among Christians makes them "anti".

Not disagreements, but denial of the status of other Christians as Christians. It's the devil's biggest victory: if half of the Body of Christ denies that the other half even belongs in the Body at all, then what could be better for the devil's purposes? We'll always be hopelessly divided. So the world keeps going to hell because (anti-Catholic, anti-Protestant, anti-Orthodox) Christians can't even recognize fellow believers.
If we all recognize each others baptisms, why is this "anti" stuff even a real question? It's not like Lutherans are Reformed or fundamentalist Baptists or something.
Because (obviously) if anti-Catholicism is entrenched in both the founding confessional documents and the founders of a religious point of view, then it will continue on, because it was in the roots from the beginning. How Lutherans square the realities of these aspects of the Book of Concord, I don't know, but it creates an internal contradiction if one says that they follow the Lutheran confessions, yet dissent on the nature of the Mass and so forth, and are not themselves anti-Catholic.
How would you square these two things, BWL, if you have become aware of some passages that perhaps you were not aware of before, in the Book of Concord? I'm very curious. There may very well be a way that ecumenical Lutherans reconcile this, through some interpretive means that I am not yet aware of. I'd be more than happy to be educated by those who feel that they have a solution to this apparent dilemma for ecumenical Lutherans. Please (you or friends of yours who might help us better understand) teach me . . . I don't want division; I would love for there to be a way to reconcile these two things. No one would be happier than I would be to learn that there is some coherent explanation of this, so that anti-Catholicism is not necessary to hold as a confessional Lutheran.
***
Meta Description: Portions of the Lutheran confessional Book of Concord are vehemently anti-Catholic, even equating the Catholic Mass with Baal-worship.
Meta Keywords: anti-Catholic, anti-Catholicism, antichrist, whore of Babylon, Lutheranism, Lutheran anti-Catholicism, Catholic Mass, Book of Concord, Lutheran-Catholic relations, ecumenism