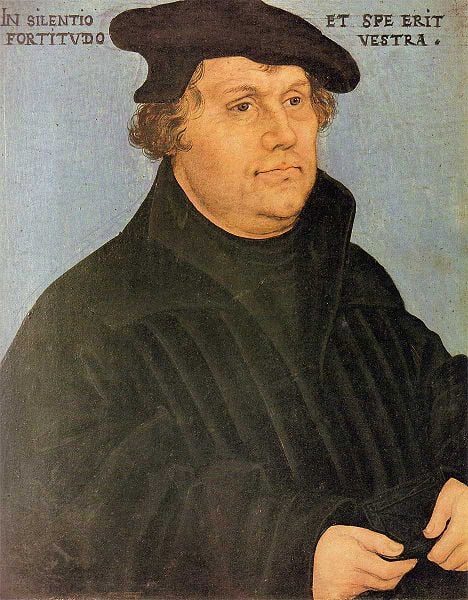 Martin Luther (1532), by Lucas Cranach the Elder (1472-1553) [public domain / Wikimedia Commons]
***
21 papers about Martin Luther: the founder of Protestantism and key early figure, from Catholic apologist Dave Armstrong, dating from 2004-2011.
***
These are old Blogspot papers of mine, retrieved from Internet Archive. Be sure to allow a minute or two for them to load, and select archived versions from July 2015 or earlier.
*****
On "Controversial" Issues Concerning Martin Luther (My Motivations and Opinions) [9-19-04]
The Importance of Studying Luther / The Inevitability of Protestant Tradition and "Human" Authority [9-29-04]
Luther's Depression, Spiritual Crises, and Projection of His "Evangelical Experience" Onto St. Paul [6-1-06]
The Supreme Importance of Interpreting Martin Luther in Context (E.g., His Views on Marriage and Sexuality) [2-22-07]
Martin Luther's Reactions to the Deaths of Zwingli, St. Thomas More, and St. John Fisher [11-30-07]
Martin Luther: The Civil Government Ought to Put Frigid Wives and Adulterers to Death [12-20-07]
Laudable Lucid Lutheran Luminary Leibniz's Lousy, Lax, Lacerated Luther Line Letdown (?) [1-9-08]
A Curious Luther Citation (On Councils) Examined in Extreme Depth (+ Part II / Part III) [1-27-08]
Martin Luther's Obedience to Pope Leo X and the Catholic Church from 1518 to 1520 (+ References to Pope as "Antichrist") [6-11-08]
Dialogue: Why Was Luther Excommunicated? / Luther's Expressed Obedience to the Pope's Decision Regarding His Orthodoxy [6-18-08]
Luther's Early Christology: Manichaean and Gnostic Elements (Theobald Beer, Balthasar, and Pope Benedict XVI) [5-26-09]
Lightning and Monastic Vows: Did Martin Luther Kill a Man in a Duel in 1505, and Then Seek Refuge as a Monk? [6-1-09]
Choice Tidbits from Luther's 1522 Blast Against Henry VIII: Delusions of Grandeur and Extreme Anti-Traditionalism [6-17-09]
Martin Luther Advocates Torture and Execution for Prostitutes, Female Sorcerers, Burning of "All" Witches [2-22-10]
Erik Erikson Believed That Martin Luther Was a "Manic-Depressive" (Bipolar) [2-26-10]
Martin Luther: God is the Author of Evil and Eternally Hates Some Men / Horse and Rider Analogy / Everything (+ Damnation) Predetermined [2-27-10]
Martin Luther Despised Antinomian Distortions of His Teaching on Faith Alone and Didn't Reject Mosaic Law [2-28-10]
Did Martin Luther Suffer from Neurosis? Some Protestant Biographers Think So [4-28-10]
Martin Luther's Condemnation of the "Secret Sin" of Masturbation and Acceptance of Celibacy for Those Called to It By God [6-2-10]
Martin Luther Clearly Taught Predestination of the Damned (Reprobate) [5-28-11]
*****
Meta Description: 21 papers about Martin Luther from Catholic apologist Dave Armstrong, dating from 2004-2011.
Meta Keywords: Luther, Martin Luther, Origin of Protestantism, Protestant Reformation, Protestant Revolt, Protestant Revolution, Protestantism, Reformation