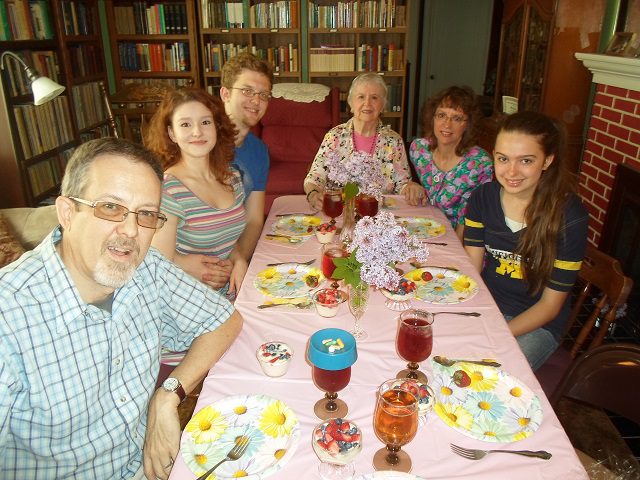 Mother's Day 2015. Left to right: yours truly, Anna Loftus, son Michael (they are to be married on 5-21-16), Judy's mother Joan Kozora, wife Judy, and daughter Angelina (sons Matthew and Paul not in the picture) [family photo]
*****
(5-11-08)
*****
The Ideal Mother
Many's the guy who's wished for a wife
Who measured up as the perfect "other".
Yet how rare a thing to experience in life:
A soulmate who's also the ideal mother.
I watch my children learn week after week
And marvel at your attentive loving care.
Teaching, instructing, patient, and meek
Your time and love always willing to share.
How blessed our children, with a mom like you
I couldn't be more proud; nor one bit fonder.
Raising four Christian disciples, God's will to do.
So that when grown, they'll not falter or wander.
So I thank you, dear Judy, my love and my life
For all that you do: heart and soul of our home.
Sacrificial service without demand or strife,
The "Lord's work," lest children stray or roam.
I thank God every day to have found such joy:
A lovely time and place all six of us can share.
Seeing spiritual growth of a girl and three boys
And feeling great happiness, because you're there.
Written on Mother's Day: 11 May 2008, 11:42 PM
*****
Meta Description: Poem written for my wife on Mother's Day 2008, in appreciation of her fabulous service as a mother, homeschooler, and wife.
Meta Keywords: Mother, Mother's Day, homeschooling, family, motherhood, childrearing, discipleship