God Condescending to Human Limitations of Understanding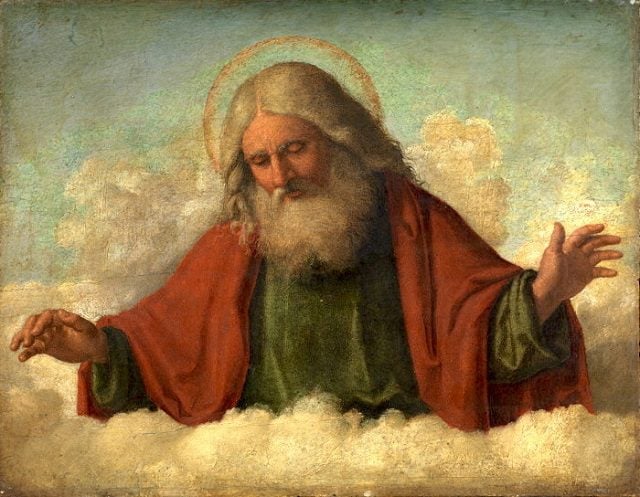 God the Father, attributed to Cima da Conegliano (1460-1518) [public domain / Wikimedia Commons]
***
(1-20-09)
***
Anthropopathism is a fancy word for the attribution of non-physical human emotions and passions to God. The related term, anthropomorphism, is the attribution of physical human properties (or animal properties such as wings) to God. Most Christians — of any stripe — recognize the metaphorical nature of the many anthropomorphisms in Scripture since they agree that God the Father is a spirit. But there is some debate about anthropopathism.
The traditional Christian view (Catholic, Orthodox, classical Protestant) holds that God is immutable, impassible (without human passion or emotion), so that it would be impossible for Him to "repent" or "change His mind." This is also inconsistent with omniscience.
Some fundamentalist Protestants, "traditionalist" Catholics, and process theologians, or open theists, as they call themselves (two theologically liberal schools of thought today: the latter even infiltrating evangelical Protestantism) deny these ancient orthodox doctrines on God's nature, and deny that Scripture (in other words, God, Who inspired Scripture) utilizes the literary or teaching device of anthropopathism as a means to teach men about the nature and ways of an almost incomprehensible and extraordinary God.
The particular "biblical problem" to be resolved is the presence in Scripture of several passages that describe God as having changed His mind or expressing emotions and passions:
Exodus 32:14 (RSV): And the LORD repented of the evil which he thought to do to his people.

1 Samuel 15:11 I repent that I have made Saul king; for he has turned back from following me, and has not performed my commandments. . . .

1 Samuel 15:35 And Samuel did not see Saul again until the day of his death, but Samuel grieved over Saul. And the LORD repented that he had made Saul king over Israel.

2 Samuel 24:16 And when the angel stretched forth his hand toward Jerusalem to destroy it, the LORD repented of the evil, and said to the angel who was working destruction among the people, "It is enough; now stay your hand." . . .

Psalms 106:45 He remembered for their sake his covenant, and relented according to the abundance of his steadfast love.

Jeremiah 18:7-10 If at any time I declare concerning a nation or a kingdom, that I will pluck up and break down and destroy it, and if that nation, concerning which I have spoken, turns from its evil, I will repent of the evil that I intended to do to it. And if at any time I declare concerning a nation or a kingdom that I will build and plant it, and if it does evil in my sight, not listening to my voice, then I will repent of the good which I had intended to do to it.

Jeremiah 26:13 Now therefore amend your ways and your doings, and obey the voice of the LORD your God, and the LORD will repent of the evil which he has pronounced against you.

Jeremiah 26:19 Did Hezeki'ah king of Judah and all Judah put him to death? Did he not fear the LORD and entreat the favor of the LORD, and did not the LORD repent of the evil which he had pronounced against them? But we are about to bring great evil upon ourselves."

Joel 2:13 . . . Return to the LORD, your God, for he is gracious and merciful, slow to anger, and abounding in steadfast love, and repents of evil.

Amos 7:3 The LORD repented concerning this; "It shall not be," said the LORD.

Amos 7:6 The LORD repented concerning this; "This also shall not be," said the Lord GOD.

Jonah 3:10 When God saw what they did, how they turned from their evil way, God repented of the evil which he had said he would do to them; and he did not do it.
Other passages (of a more sweeping or "theological" nature, rather than narrative) plainly state that God doesn't change:
Exodus 3:14 God said to Moses, "I AM WHO I AM." And he said, "Say this to the people of Israel, `I AM has sent me to you.'"

Numbers 23:19 God is not man, that he should lie, or a son of man, that he should repent. . . .

1 Samuel 15:29 And also the Glory of Israel will not lie or repent; for he is not a man, that he should repent.

Psalms 33:11 The counsel of the LORD stands for ever, the thoughts of his heart to all generations.

Psalms 102:27 but thou art the same . . .

Psalms 132:11 The LORD swore to David a sure oath from which he will not turn back: . . .

Malachi 3:6 For I the LORD do not change . . .

2 Timothy 2:13 if we are faithless, he remains faithful — for he cannot deny himself.

Hebrews 1:12 . . . they will be changed. But thou art the same . . .

Hebrews 6:17-18 So when God desired to show more convincingly to the heirs of the promise the unchangeable character of his purpose, he interposed with an oath, so that through two unchangeable things, in which it is impossible that God should prove false, we who have fled for refuge might have strong encouragement to seize the hope set before us. (cf. Titus 1:2)

James 1:17 . . . the Father of lights with whom there is no variation or shadow due to change.
My contention (and, as far as I know, the mainstream traditional Christian view) is that God "condescends" to the limited understanding of human beings, by expressing many truths about himself analogically (as compared to human actions and emotions) so that we can understand Him at all. Otherwise, we would not be able to comprehend a Being so startlingly different and distinct from us and greater than we are. Thus, the passages (in this framework) that say He doesn't and cannot change are to be interpreted literally, while the ones stating the opposite are to be interpreted figuratively or metaphorically or anthropopathically. I have already produced a great deal of patristic support for this notion in my paper above that compiled views of the Church fathers (see the final section of four). Now I would like to produce some internal biblical evidence that God has this intention.
In this regard, I found a very helpful web page from the Oak Ridge Reformed Baptist Church: a series of teachings on the attributes of God (one in particular). It provided a number of Bible passages that are a great starting-point in defending the notion of God's "condescension" to man's limitations in His revelation to mankind. It also makes some very helpful observations:
With a great many subjects we might feel ourselves to have a great handle, but when contemplating God, we must all utterly admit our inadequacies! If having a full grasp of mathematics or history or science is impossible for us, surely the contemplation of the One who brought all these into existence will be utterly beyond us! It is the nature of the knowledge being gained that makes this subject particularly difficult . . . At the outset we must admit that God is NOT like anything else! But meanwhile, thinking itself is dependent upon the familiar to bridge into the unknown. Even the most "inventive" minds make use of that which is already known or contemplated in order to then draw conclusions and develop new thinking . . . So the process by which we think about what God is like is really a process (by necessity) of using things which are not God as raw material to think upon what God is. Obviously whatever is being used as material for comparison is not God Himself for it is God's creation (other than Himself). . . .

While under no obligation to communicate with human beings, once having decided to
communicate with us, a language of revelation was a condescension to the limited mental capacities of human beings ("baby talk") . . .

When the Bible calls God "Father" it is not communicating that God is exactly like an earthly father. Meanwhile, it also not communicating that He is so unlike an earthly father that the statement means nothing. It means that God is similar to an earthly father—He is a provider, an authority, a protector etc. When the Bible does this it is like "baby-talk" it is condescending (or getting down) to our level.

All knowledge, thoughts, emotions, and character of other persons is analogical. I have no ability of direct sensation of personality in others. For example, if someone else cries I have no direct sensation of the person's feelings, but only understand what is being felt "analogically" by how I feel when something produces tears in me. This perceived knowledge, though, is not perfect. It can be distorted by distorted self-knowledge.
Man Doesn't Comprehend God and Sees Him in a "Mirror Dimly"
*
We know that we do not fully see or comprehend God now, because Scripture tells us so:
Job 42:1-3 Then Job answered the LORD: "I know that thou canst do all things, and that no purpose of thine can be thwarted. 'Who is this that hides counsel without knowledge?' Therefore I have uttered what I did not understand, things too wonderful for me, which I did not know.

Isaiah 40:12-13 Who has measured the waters in the hollow of his hand and marked off the heavens with a span, enclosed the dust of the earth in a measure and weighed the mountains in scales and the hills in a balance? Who has directed the Spirit of the LORD, or as his counselor has instructed him? Whom did he consult for his enlightenment, and who taught him the path of justice, and taught him knowledge, and showed him the way of understanding?

Isaiah 40:28 Have you not known? Have you not heard? The LORD is the everlasting God, the Creator of the ends of the earth. He does not faint or grow weary, his understanding is unsearchable.

1 Corinthians 2:9-11 But, as it is written, "What no eye has seen, nor ear heard, nor the heart of man conceived, what God has prepared for those who love him," God has revealed to us through the Spirit. For the Spirit searches everything, even the depths of God. For what person knows a man's thoughts except the spirit of the man which is in him? So also no one comprehends the thoughts of God except the Spirit of God.

1 Corinthians 13:8-12 Love never ends; as for prophecies, they will pass away; as for tongues, they will cease; as for knowledge, it will pass away. For our knowledge is imperfect and our prophecy is imperfect; but when the perfect comes, the imperfect will pass away. When I was a child, I spoke like a child, I thought like a child, I reasoned like a child; when I became a man, I gave up childish ways. For now we see in a mirror dimly, but then face to face. Now I know in part; then I shall understand fully, even as I have been fully understood.

1 John 3:2 Beloved, we are God's children now; it does not yet appear what we shall be, but we know that when he appears we shall be like him, for we shall see him as he is.
God's Omniscience Means That Man Cannot Fully Understand Him
1 Chronicles 28:9 . . . the LORD searches all hearts, and understands every plan and thought. . . .

Job 31:4 Does not he see my ways, and number all my steps?

Job 34:21 For his eyes are upon the ways of a man, and he sees all his steps.

Psalms 139:1-6 O LORD, thou hast searched me and known me! Thou knowest when I sit down and when I rise up; thou discernest my thoughts from afar. Thou searchest out my path and my lying down, and art acquainted with all my ways. Even before a word is on my tongue, lo, O LORD, thou knowest it altogether. Thou dost beset me behind and before, and layest thy hand upon me. Such knowledge is too wonderful for me; it is high, I cannot attain it.

Psalms 145:3 Great is the LORD, and greatly to be praised, and his greatness is unsearchable.

Psalms 147:5 Great is our LORD, and abundant in power; his understanding is beyond measure.

Jeremiah 16:17 For my eyes are upon all their ways; they are not hid from me, nor is their iniquity concealed from my eyes.

Ezekiel 11:5 . . . I know the things that come into your mind.

Colossians 2:2-3 . . . Christ, in whom are hid all the treasures of wisdom and knowledge.

Hebrews 4:12-13 For the word of God is living and active, sharper than any two-edged sword, piercing to the division of soul and spirit, of joints and marrow, and discerning the thoughts and intentions of the heart. And before him no creature is hidden, but all are open and laid bare to the eyes of him with whom we have to do.

1 John 3:20 . . . he knows everything.
God is Fundamentally Different From Man
Therefore, it would necessarily be difficult for Him to communicate all His attributes to human beings:
1 Samuel 16:7 . . . the LORD sees not as man sees; man looks on the outward appearance, but the LORD looks on the heart.

Job 9:3, 10 If one wished to contend with him, one could not answer him once in a thousand times. . . . who does great things beyond understanding, and marvelous things without number.

Job 37:5 God thunders wondrously with his voice; he does great things which we cannot comprehend.

Job 37:16, 18 Do you know the balancings of the clouds, the wondrous works of him who is perfect in knowledge, . . . Can you, like him, spread out the skies, hard as a molten mirror?

Job 38:4 Where were you when I laid the foundation of the earth? Tell me, if you have understanding.

Job 38:31-33 Can you bind the chains of the Plei'ades, or loose the cords of Orion? Can you lead forth the Maz'zaroth in their season, or can you guide the Bear with its children? Do you know the ordinances of the heavens? Can you establish their rule on the earth?

Job 40:1-2 And the LORD said to Job: "Shall a faultfinder contend with the Almighty? He who argues with God, let him answer it."

Psalms 50:21 These things you have done and I have been silent; you thought that I was one like yourself. But now I rebuke you, and lay the charge before you.

Isaiah 40:18 To whom then will you liken God, or what likeness compare with him?

Isaiah 40:25 To whom then will you compare me, that I should be like him? says the Holy One.

Isaiah 44:7 Who is like me? . . .

Isaiah 55:8-9 For my thoughts are not your thoughts, neither are your ways my ways, says the LORD. For as the heavens are higher than the earth, so are my ways higher than your ways and my thoughts than your thoughts.

Hosea 11:9 . . . I am God and not man . . .

Romans 11:33-34 O the depth of the riches and wisdom and knowledge of God! How unsearchable are his judgments and how inscrutable his ways! "For who has known the mind of the Lord, or who has been his counselor?"

1 Corinthians 1:19-21, 25 For it is written, "I will destroy the wisdom of the wise, and the cleverness of the clever I will thwart." Where is the wise man? Where is the scribe? Where is the debater of this age? Has not God made foolish the wisdom of the world? For since, in the wisdom of God, the world did not know God through wisdom, it pleased God through the folly of what we preach to save those who believe. . . . For the foolishness of God is wiser than men, and the weakness of God is stronger than men.
God's Condescension to Man, to Help Man Understand Him
All this being the case, God must necessarily condescend to man in order to be known at all (the incarnation itself is a huge manifestation of this as well: Philippians 2:5-8):
Deuteronomy 29:4 but to this day the LORD has not given you a mind to understand, or eyes to see, or ears to hear.

Job 32:8 But it is the spirit in a man, the breath of the Almighty, that makes him understand.

Daniel 2:21 . . . he gives wisdom to the wise and knowledge to those who have understanding;

Matthew 11:25-26 At that time Jesus declared, "I thank thee, Father, Lord of heaven and earth, that thou hast hidden these things from the wise and understanding and revealed them to babes; yea, Father, for such was thy gracious will.

1 Corinthians 1:27-29 but God chose what is foolish in the world to shame the wise, God chose what is weak in the world to shame the strong, God chose what is low and despised in the world, even things that are not, to bring to nothing things that are, so that no human being might boast in the presence of God.

1 Corinthians 2:1-8 When I came to you, brethren, I did not come proclaiming to you the testimony of God in lofty words or wisdom. For I decided to know nothing among you except Jesus Christ and him crucified. And I was with you in weakness and in much fear and trembling; and my speech and my message were not in plausible words of wisdom, but in demonstration of the Spirit and of power, that your faith might not rest in the wisdom of men but in the power of God. Yet among the mature we do impart wisdom, although it is not a wisdom of this age or of the rulers of this age, who are doomed to pass away. But we impart a secret and hidden wisdom of God, which God decreed before the ages for our glorification. None of the rulers of this age understood this; for if they had, they would not have crucified the Lord of glory.

1 Corinthians 2:12-16 Now we have received not the spirit of the world, but the Spirit which is from God, that we might understand the gifts bestowed on us by God. And we impart this in words not taught by human wisdom but taught by the Spirit, interpreting spiritual truths to those who possess the Spirit. The unspiritual man does not receive the gifts of the Spirit of God, for they are folly to him, and he is not able to understand them because they are spiritually discerned. The spiritual man judges all things, but is himself to be judged by no one. "For who has known the mind of the Lord so as to instruct him?" But we have the mind of Christ.
God Utilizes Anthropomorphic Metaphorical Analogies in Scripture in Order to Be Comprehended By Man
*
ARM / ARMS
Deuteronomy 33:27 The eternal God is your dwelling place, and underneath are the everlasting arms.

Isaiah 51:9 Awake, awake, put on strength, O arm of the LORD; awake, as in days of old, the generations of long ago. Was it not thou that didst cut Rahab in pieces, that didst pierce the dragon?

Isaiah 53:1 Who has believed what we have heard? And to whom has the arm of the LORD been revealed?

John 12:38 it was that the word spoken by the prophet Isaiah might be fulfilled: "Lord, who has believed our report, and to whom has the arm of the Lord been revealed?"
EARS
James 5:4 . . . the cries of the harvesters have reached the ears of the Lord of hosts.
EYES
2 Chronicles 16:9 For the eyes of the LORD run to and fro throughout the whole earth . . .

Psalms 17:8 Keep me as the apple of the eye; . . .

Proverbs 15:3 The eyes of the LORD are in every place, keeping watch on the evil and the good.

Proverbs 22:12 The eyes of the LORD keep watch over knowledge, but he overthrows the words of the faithless.

Amos 9:8 Behold, the eyes of the Lord GOD are upon the sinful kingdom, . . .
FACE / BACK
Exodus 33:20-23 But," he said, "you cannot see my face; for man shall not see me and live." And the LORD said, "Behold, there is a place by me where you shall stand upon the rock; and while my glory passes by I will put you in a cleft of the rock, and I will cover you with my hand until I have passed by; then I will take away my hand, and you shall see my back; but my face shall not be seen."

Numbers 6:25 The LORD make his face to shine upon you, and be gracious to you:

Jeremiah 18:17 Like the east wind I will scatter them before the enemy. I will show them my back, not my face, in the day of their calamity.

Micah 3:4 Then they will cry to the LORD, but he will not answer them; he will hide his face from them at that time, because they have made their deeds evil.
Exodus 24:10 and they saw the God of Israel; and there was under his feet as it were a pavement of sapphire stone, like the very heaven for clearness.

I Kings 5:3 You know that David my father could not build a house for the name of the LORD his God because of the warfare with which his enemies surrounded him, until the LORD put them under the soles of his feet.

Psalms 58:10 The righteous will rejoice when he sees the vengeance; he will bathe his feet in the blood of the wicked.

Ezekiel 43:7 and he said to me, "Son of man, this is the place of my throne and the place of the soles of my feet, where I will dwell in the midst of the people of Israel for ever. . . .

Nahum 1:3 . . . the clouds are the dust of his feet.
HAND / HANDS
Exodus 15:6 Thy right hand, O LORD, glorious in power, thy right hand, O LORD, shatters the enemy.

Ruth 1:13 . . . the hand of the LORD has gone forth against me.

Job 36:32 He covers his hands with the lightning, . . .
Psalms 28:5 . . . they do not regard the works of the LORD, or the work of his hands, . . . .

Psalms 75:8 For in the hand of the LORD there is a cup, . . . (many clearly metaphorical uses as well)

Psalms 95:5 The sea is his, for he made it; for his hands formed the dry land.

Proverbs 21:1 The king's heart is a stream of water in the hand of the LORD; he turns it wherever he will.

Isaiah 5:12 . . . they do not regard the deeds of the LORD, or see the work of his hands.

Isaiah 14:26 This is the purpose that is purposed concerning the whole earth; and this is the hand that is stretched out over all the nations.

Isaiah 49:16 Behold, I have graven you on the palms of my hands; your walls are continually before me.

Isaiah 65:2 I spread out my hands all the day to a rebellious people, . . .
MULTIPLE FEATURES
Psalms 18:6-9, 13 In my distress I called upon the LORD; to my God I cried for help. From his temple he heard my voice, and my cry to him reached his ears. . . . he was angry. Smoke went up from his nostrils, and devouring fire from his mouth; glowing coals flamed forth from him. He bowed the heavens, and came down; thick darkness was under his feet. . . .The LORD also thundered in the heavens, and the Most High uttered his voice, hailstones and coals of fire.

Psalms 34:15-17 The eyes of the LORD are toward the righteous, and his ears toward their cry. The face of the LORD is against evildoers, to cut off the remembrance of them from the earth. When the righteous cry for help, the LORD hears, and delivers them out of all their troubles.

Psalms 44:23-24 Rouse thyself! Why sleepest thou, O Lord? Awake! Do not cast us off for ever! Why dost thou hide thy face? Why dost thou forget our affliction and oppression?

Psalms 78:65 Then the Lord awoke as from sleep, like a strong man shouting because of wine.

Isaiah 30:30 And the LORD will cause his majestic voice to be heard and the descending blow of his arm to be seen, in furious anger and a flame of devouring fire, with a cloudburst and tempest and hailstones.

Isaiah 40:11 He will feed his flock like a shepherd, he will gather the lambs in his arms, he will carry them in his bosom, and gently lead those that are with young.

Isaiah 59:1-2 Behold, the LORD's hand is not shortened, that it cannot save, or his ear dull, that it cannot hear; but your iniquities have made a separation between you and your God, and your sins have hid his face from you so that he does not hear.

Daniel 10:6 His body was like beryl, his face like the appearance of lightning, his eyes like flaming torches, his arms and legs like the gleam of burnished bronze, and the sound of his words like the noise of a multitude. (cf. 11:17-19)

1 Peter 3:12 For the eyes of the Lord are upon the righteous, and his ears are open to their prayer. But the face of the Lord is against those that do evil.
REST
Exodus 20:11 for in six days the LORD made heaven and earth, the sea, and all that is in them, and rested the seventh day; therefore the LORD blessed the sabbath day and hallowed it.

Exodus 31:17 It is a sign for ever between me and the people of Israel that in six days the LORD made heaven and earth, and on the seventh day he rested, and was refreshed.
SMELLING / NOSTRILS
Genesis 8:21 And when the LORD smelled the pleasing odor, . . .

2 Samuel 22:16 Then the channels of the sea were seen, the foundations of the world were laid bare, at the rebuke of the LORD, at the blast of the breath of his nostrils.

Psalms 18:15 Then the channels of the sea were seen, and the foundations of the world were laid bare, at thy rebuke, O LORD, at the blast of the breath of thy nostrils.

Isaiah 65:5 . . . These are a smoke in my nostrils, a fire that burns all the day.
Exodus 6:13 But the LORD spoke to Moses and Aaron, . . . (cf. 6:28; Lev 10:8; 16:1; Num 1:1; 3:1; 9:1; 22:8; 23:17; 24:13; Dt 4:12,15; 5:4,22; Josh 14:10,12; 1 Kgs 12:15; 13:26; 1 Chr 21:9; 2 Chr 33:10; Is 7:10; 8:5,11; Jon 2:10)

Exodus 19:3 And Moses went up to God, and the LORD called to him out of the mountain, saying, "Thus you shall say to the house of Jacob, and tell the people of Israel:

Leviticus 1:1 The LORD called Moses, and spoke to him from the tent of meeting, . . . (cf. 1 Samuel 3:4,6,8)

Deuteronomy 2:1 . . . as the LORD told me . . . (cf. Josh 4:8; 1 Sam 9:17)

Deuteronomy 11:12 a land which the LORD your God cares for; the eyes of the LORD your God are always upon it, from the beginning of the year to the end of the year.

Numbers 7:89 And when Moses went into the tent of meeting to speak with the LORD, he heard the voice speaking to him from above the mercy seat that was upon the ark of the testimony, from between the two cherubim; and it spoke to him.

Matthew 3:17 and lo, a voice from heaven, saying, "This is my beloved Son, with whom I am well pleased.

Matthew 17:5-6 He was still speaking, when lo, a bright cloud overshadowed them, and a voice from the cloud said, "This is my beloved Son, with whom I am well pleased; listen to him." When the disciples heard this, they fell on their faces, and were filled with awe.

2 Peter 1:17-18 For when he received honor and glory from God the Father and the voice was borne to him by the Majestic Glory, "This is my beloved Son, with whom I am well pleased," we heard this voice borne from heaven, for we were with him on the holy mountain.

(see also twelve examples of "the mouth of the Lord")
THEOPHANIES
Genesis 18:1-4 And the LORD appeared to him by the oaks of Mamre, as he sat at the door of his tent in the heat of the day. He lifted up his eyes and looked, and behold, three men stood in front of him. When he saw them, he ran from the tent door to meet them, and bowed himself to the earth, and said, "My lord, if I have found favor in your sight, do not pass by your servant. Let a little water be brought, and wash your feet, and rest yourselves under the tree,

(other similar instances of what is known as "theophanies," occur in Gen 32:24,30; 35:9-15; Ex 24:10-11. Also, the "angel of the Lord" is equated with God Himself in several passages: Gen 31:11-13; Ex 3:2-6,14,16; Jud 2:1; 6:12-23; Josh 5:14-15; Zech 12:8; Acts 8:26,29)
WALKING
Genesis 3:8 And they heard the sound of the LORD God walking in the garden in the cool of the day, . . .
Ruth 2:12 The LORD recompense you for what you have done, and a full reward be given you by the LORD, the God of Israel, under whose wings you have come to take refuge!
Psalms 17:8 . . . hide me in the shadow of thy wings,

Psalms 36:7 How precious is thy steadfast love, O God! The children of men take refuge in the shadow of thy wings. (cf. 57:1; 61:4; 63:7; 91:4)
In actuality, of course, God the Father is an invisible spirit (John 1:18; 5:37; 6:46; 1 Timothy 1:17; 6:16; 1 John 4:12). Jesus, God the Son reveals the invisible Father and is the image (Gk.: eikon) of God the Father (2 Corinthians 4:4; Colossians 1:15; Hebrews 1:3). Besides these anthropomorphisms (excepting wings), God is said to be specially present in non-human objects as well; for example, the burning bush (Ex 3:1-6), the pillars of cloud and fire (Ex 13:21-22), the cloud and fire of Mt. Sinai (Ex 24:16-18), and the Shekinah glory cloud (Ex 40:34-38).
God Also Utilizes Anthropopathic Metaphorical Analogies (Including Motherhood) in Scripture in Order to Be Comprehended By Man
Exodus 4:14 Then the anger of the LORD was kindled against Moses . . .

Exodus 32:10-11 now therefore let me alone, that my wrath may burn hot against them and I may consume them; but of you I will make a great nation." But Moses besought the LORD his God, and said, "O LORD, why does thy wrath burn hot against thy people, whom thou hast brought forth out of the land of Egypt with great power and with a mighty hand?

Numbers 11:1 And the people complained in the hearing of the LORD about their misfortunes; and when the LORD heard it, his anger was kindled, and the fire of the LORD burned among them, and consumed some outlying parts of the camp.

Deuteronomy 1:37 The LORD was angry with me also on your account . . .

Deuteronomy 13:17 None of the devoted things shall cleave to your hand; that the LORD may turn from the fierceness of his anger, and show you mercy, and have compassion on you, and multiply you, as he swore to your fathers,

Judges 2:20 So the anger of the LORD was kindled against Israel . . .

Psalms 76:7 . . . Who can stand before thee when once thy anger is roused?

Psalms 78:38-41 Yet he, being compassionate, forgave their iniquity, and did not destroy them; he restrained his anger often, and did not stir up all his wrath. He remembered that they were but flesh, a wind that passes and comes not again. How often they rebelled against him in the wilderness and grieved him in the desert! They tested him again and again, and provoked the Holy One of Israel.

Psalms 106:40 Then the anger of the LORD was kindled against his people, and he abhorred his heritage;

Ezekiel 38:18 But on that day, when Gog shall come against the land of Israel, says the Lord GOD, my wrath will be roused.

Hosea 14:4 I will heal their faithlessness; I will love them freely, for my anger has turned from them.

Sirach 45:19 The Lord saw it and was not pleased, and in the wrath of his anger they were destroyed; . . .

FEMININE / MOTHERHOOD ANALOGIES

Isaiah 42:13-14 The LORD goes forth like a mighty man, like a man of war he stirs up his fury; he cries out, he shouts aloud, he shows himself mighty against his foes. For a long time I have held my peace, I have kept still and restrained myself; now I will cry out like a woman in travail, I will gasp and pant.

Isaiah 46:3-4 "Hearken to me, O house of Jacob, all the remnant of the house of Israel, who have been borne by me from your birth, carried from the womb; even to your old age I am He, and to gray hairs I will carry you. I have made, and I will bear; I will carry and will save. (cf. Jer 3:19-20; 2 Cor 6:18)Isaiah 49:14-15 But Zion said, "The LORD has forsaken me, my Lord has forgotten me." "Can a woman forget her sucking child, that she should have no compassion on the son of her womb? Even these may forget, yet I will not forget you. (cf. Matthew 23:37-38)

Isaiah 66:13 As one whom his mother comforts, so I will comfort you; you shall be comforted in Jerusalem. (cf. Ps 131:2-3)

JEALOUSY

Deuteronomy 4:24 For the LORD your God is a devouring fire, a jealous God. (cf. Ex 20:5; 34:14; Dt 5:9; 6:15; 29:20; Josh 24:19; 1 Kgs 14:22; Ps 79:5; Ezek 5:13; Zeph 1:18; Zech 1:14; 8:2)

Deuteronomy 32:16, 21 They stirred him to jealousy with strange gods; with abominable practices they provoked him to anger. . . . They have stirred me to jealousy with what is no god; they have provoked me with their idols. So I will stir them to jealousy with those who are no people; I will provoke them with a foolish nation.

Ezekiel 36:5-6 therefore thus says the Lord GOD: I speak in my hot jealousy against the rest of the nations, and against all Edom, who gave my land to themselves as a possession with wholehearted joy and utter contempt, that they might possess it and plunder it. Therefore prophesy concerning the land of Israel, and say to the mountains and hills, to the ravines and valleys, Thus says the Lord GOD: Behold, I speak in my jealous wrath, because you have suffered the reproach of the nations;

Nahum 1:2 The LORD is a jealous God and avenging, the LORD is avenging and wrathful; the LORD takes vengeance on his adversaries and keeps wrath for his enemies.

LAUGHING

Psalms 2:4-5 He who sits in the heavens laughs; the LORD has them in derision. Then he will speak to them in his wrath, and terrify them in his fury, . . .

Psalms 37:13 but the LORD laughs at the wicked, for he sees that his day is coming.

Psalms 59:8 But thou, O LORD, dost laugh at them; thou dost hold all the nations in derision.

Wisdom 4:18 They will see, and will have contempt for him, but the Lord will laugh them to scorn.

PITY

Judges 2:18 . . . the LORD was moved to pity by their groaning because of those who afflicted and oppressed them.

Isaiah 15:5 My heart cries out for Moab; . . .

Isaiah 16:11 Therefore my soul moans like a lyre for Moab, and my heart for Kir-he'res.

Jeremiah 3:15 And I will give you shepherds after my own heart, who will feed you with knowledge and understanding.

Jeremiah 31:20 . . . my heart yearns for him . .

Joel 2:18 Then the LORD became jealous for his land, and had pity on his people.

"PLEASED"

Numbers 24:1 . . . Balaam saw that it pleased the LORD to bless Israel . . .

1 Samuel 12:22 For the LORD will not cast away his people, for his great name's sake, because it has pleased the LORD to make you a people for himself.

1 Kings 3:10 It pleased the Lord that Solomon had asked this.

Isaiah 42:21 The LORD was pleased, for his righteousness' sake, to magnify his law and make it glorious.

Sirach 44:16 Enoch pleased the Lord, and was taken up; . . .

Mark 1:11 and a voice came from heaven, "Thou art my beloved Son; with thee I am well pleased."

REMORSE / "HEART"

Genesis 6:6-7 And the LORD was sorry that he had made man on the earth, and it grieved him to his heart. So the LORD said, "I will blot out man whom I have created from the face of the ground, man and beast and creeping things and birds of the air, for I am sorry that I have made them."

Genesis 8:21 . . . the LORD said in his heart, "I will never again curse the ground because of man, for the imagination of man's heart is evil from his youth; neither will I ever again destroy every living creature as I have done.
God's Omnipotence (Possession of All Power and the Ability to Do All That is Possible) Means That His Decrees and Purposes Are Eternal and Do Not Change
Genesis 18:14 Is anything too hard for the LORD? . . .

Job 11:7-11 Can you find out the deep things of God? Can you find out the limit of the Almighty? It is higher than heaven — what can you do? Deeper than Sheol — what can you know? Its measure is longer than the earth, and broader than the sea. If he passes through, and imprisons, and calls to judgment, who can hinder him?

Job 42:2 I know that thou canst do all things, and that no purpose of thine can be thwarted.

Proverbs 19:21 Many are the plans in the mind of a man, but it is the purpose of the LORD that will be established.

Isaiah 14:27 For the LORD of hosts has purposed, and who will annul it? His hand is stretched out, and who will turn it back?

Isaiah 26:4 Trust in the LORD for ever, for the LORD GOD is an everlasting rock.

Isaiah 46:9-11 . . . I am God, and there is no other; I am God, and there is none like me, declaring the end from the beginning and from ancient times things not yet done, saying, `My counsel shall stand, and I will accomplish all my purpose,' . . . I have spoken, and I will bring it to pass; I have purposed, and I will do it.

Jeremiah 4:28 . . . I have spoken, I have purposed; I have not relented nor will I turn back.

Jeremiah 18:6 Behold, like the clay in the potter's hand, so are you in my hand, O house of Israel.

Jeremiah 23:20 The anger of the LORD will not turn back until he has executed and accomplished the intents of his mind.

Jeremiah 32:17 Ah Lord GOD! It is thou who hast made the heavens and the earth by thy great power and by thy outstretched arm! Nothing is too hard for thee.

Matthew 19:26 But Jesus looked at them and said to them, "With men this is impossible, but with God all things are possible."

Matthew 28:18 And Jesus came and said to them, "All authority in heaven and on earth has been given to me.

Luke 1:37 For with God nothing will be impossible.

Luke 18:27 But he said, "What is impossible with men is possible with God.

Romans 1:20 . . . his eternal power . . .

Ephesians 1:9-11 For he has made known to us in all wisdom and insight the mystery of his will, according to his purpose which he set forth in Christ as a plan for the fulness of time, to unite all things in him, things in heaven and things on earth. In him, according to the purpose of him who accomplishes all things according to the counsel of his will,

Philippians 3:20-21 the Lord Jesus Christ, who will change our lowly body to be like his glorious body, by the power which enables him even to subject all things to himself.

Hebrews 1:3 . . . upholding the universe by his word of power . . .

Revelation 19:6 . . . For the Lord our God the Almighty reigns.

Revelation 21:22 . . . the Lord God the Almighty . . .

(God the Father is called "Almighty" in many other verses: Gen 17:1, 28:3, 35:11, 43:14, 48:3, 49:25, Ex 6:3, Job 5:17, 6:4,14, 8:3,5, 21:15,20, 27:2,10-11,13, 31:2,35, etc., Ezek 10:5, 2 Cor 6:18, Rev 1:8, 4:8, 11:17, 15:3, 16:7,14, 19:15)
The Hermeneutical and Exegetical Synthesis of All These Scriptural Themes, According to the Church Fathers
St. Clement of Alexandria (c. 150 – c. 215)


*
Here again arise the cavillers, who say that joy and pain are passions of the soul: for they define joy as a rational elevation and exultation, as rejoicing on account of what is good; and pity as pain for one who suffers undeservedly; and that such affections are moods and passions of the soul. But we, as would appear, do not cease in such matters to understand the Scriptures carnally; and starting from our own affections, interpret the will of the impassible Deity similarly to our perturbations; and as we are capable of hearing; so, supposing the same to be the case with the Omnipotent, err impiously. For the Divine Being cannot be declared as it exists: but as we who are fettered in the flesh were able to listen, so the prophets spake to us; the Lord savingly accommodating Himself to the weakness of men. (Miscellanies [Stromateis], 2, 16; in ANF, Vol. 2; footnote from translator: "This anthropopathy is a figure by which God is interpreted to us after the intelligible forms of humanity. Language framed by human usage makes this figure necessary to revelation")
On this account did Moses also say, "Show yourself to me," indicating most clearly that God cannot be taught to men nor expressed in words, but can be known only by an ability which He Himself gives. (Miscellanies [Stromateis], 5, 11, 71, 3; in JUR-1, 183)
Origen (c. 185 – c. 254)


*
But as, in what follows, Celsus, not understanding that the language of Scripture regarding God is adapted to an anthropopathic point of view, ridicules those passages which speak of words of anger addressed to the ungodly, and of threatenings directed against sinners, we have to say that, as we ourselves, when talking with very young children, do not aim at exerting our own power of eloquence, but, adapting ourselves to the weakness of our charge, both say and do those things which may appear to us useful for the correction and improvement of the children as children, so the word of God appears to have dealt with the history, making the capacity of the hearers, and the benefit which they were to receive, the standard of the appropriateness of its announcements (regarding Him). . . . he who is anxious to attain a true understanding of holy Scripture, will discover the spiritual truths which are spoken by it to those who are called "spiritual," by comparing the meaning of what is addressed to those of weaker mind with what is announced to such as are of acuter understanding, both meanings being frequently found in the same passage by him who is capable of comprehending it.
We speak, indeed, of the wrath of God. We do not, however, assert that it indicates any passion on His part, but that it is something which is assumed in order to discipline by stern means those sinners who have committed many and grievous sins. For that which is called God's wrath, and anger, is a means of discipline; and that such a view is agreeable to Scripture, is evident from what is said in the sixth Psalm, O Lord, rebuke me not in Your anger, neither chasten me in Your hot displeasure; and also in Jeremiah. O Lord, correct me, but with judgment: not in Your anger, lest You bring me to nothing. Any one, moreover, who reads in the second book of Kings of the wrath of God, inducing David to number the people, and finds from the first book of Chronicles that it was the devil who suggested this measure, will, on comparing together the two statements, easily see for what purpose the wrath is mentioned, of which wrath, as the Apostle Paul declares, all men are children: We were by nature children of wrath, even as others. Moreover, that wrath is no passion on the part of God, but that each one brings it upon himself by his sins, will be clear from the further statement of Paul: Or do you despise the riches of His goodness, and forbearance, and long-suffering, not knowing that the goodness of God leads you to repentance? But after your hardness and impenitent heart, treasurest up unto yourself wrath against the day of wrath, and revelation of the righteous judgment of God. How, then, can any one treasure up for himself wrath against a day of wrath, if wrath be understood in the sense of passion? or how can the passion of wrath be a help to discipline? Besides, the Scripture, which tells us not to be angry at all, and which says in the thirty-seventh Psalm, Cease from anger, and forsake wrath, and which commands us by the mouth of Paul to put off all these, anger, wrath, malice, blasphemy, filthy communication, would not involve God in the same passion from which it would have us to be altogether free. It is manifest, further, that the language used regarding the wrath of God is to be understood figuratively from what is related of His sleep, from which, as if awaking Him, the prophet says: Awake, why do You sleep, Lord? and again: Then the Lord awoke as one out of sleep, and like a mighty man that shouts by reason of wine. If, then, sleep must mean something else, and not what the first acceptation of the word conveys, why should not wrath also be understood in a similar way? The threatenings, again, are intimations of the (punishments) which are to befall the wicked: for it is as if one were to call the words of a physician threats, when he tells his patients, I will have to use the knife, and apply cauteries, if you do not obey my prescriptions, and regulate your diet and mode of life in such a way as I direct you. It is no human passions, then, which we ascribe to God, nor impious opinions which we entertain of Him; nor do we err when we present the various narratives concerning Him, drawn from the Scriptures themselves, after careful comparison one with another. For those who are wise ambassadors of the word have no other object in view than to free as far as they can their hearers from weak opinions, and to endue them with intelligence. (Contra Celsus, 4, 71-72; in ANF, vol. 4)
In order, therefore, that the human mind might be purged from falsities of this kind, Holy Scripture, which suits itself to babes has not avoided words drawn from any class of things really existing, through which, as by nourishment, our understanding might rise gradually to things divine and transcendent. For, in speaking of God, it has both used words taken from things corporeal, as when it says, Hide me under the shadow of Your wings; and it has borrowed many things from the spiritual creature, whereby to signify that which indeed is not so, but must needs so be said: as, for instance, I the Lord your God am a jealous God; and, It repents me that I have made man. But it has drawn no words whatever, whereby to frame either figures of speech or enigmatic sayings, from things which do not exist at all. And hence it is that they who are shut out from the truth by that third kind of error are more mischievously and emptily vain than their fellows; in that they surmise respecting God, what can neither be found in Himself nor in any creature. For divine Scripture is wont to frame, as it were, allurements for children from the things which are found in the creature; whereby, according to their measure, and as it were by steps, the affections of the weak may be moved to seek those things that are above, and to leave those things that are below. But the same Scripture rarely employs those things which are spoken properly of God, and are not found in any creature; as, for instance, that which was said to Moses, I am that I am; and, I Am has sent me to you.  (On the Trinity, 1, 1, 2; in NPNF 1, Vol. 3)
The Lord has made a faithful oath unto David, and He shall not repent Psalm 131:11. What means, has made an oath? Hath confirmed a promise through Himself. What means, He shall not repent? He will not change. For God suffers not the pain of repentance, nor is He deceived in any matter, so that He would wish to correct that wherein He has erred. But as when a man repents of anything, he wishes to change what he has done; thus where you hear that God repents, look for an actual change. God does it differently from you, although He calls it by the name of repentance; for thou dost it, because you had erred; while He does it, because He avenges, or frees. He changed Saul's kingdom, when He repented, as it is said: and in the very passage where the Scripture says, It repented Him; it is said a little after, for He is not a man that He should repent. When therefore He changes His works through His immutable counsel, He is said to repent on account of this very change, not of His counsel, but of His work. But He promised this so as not to change it. Just as this passage also says: The Lord sware, and will not repent, You are a Priest for ever after the order of Melchizedec; so also since this was promised so that it should not be changed, because it must needs happen and be permanent; he says, The Lord has made a faithful oath unto David, and He shall not repent; Of the fruit of your body shall I set upon your seat. He might have said, of the fruit of your loins, wherefore did He choose to say, Of the fruit of your body? Had He said that also, it would have been true; but He chose to say with a further meaning, Ex fructu ventris, because Christ was born of a woman without the man. (Commentary on the Psalms, 132, 11; in NPNF 1, Vol. 8)
Pope St. Gregory the Great (c. 540 – 604)


*
God is called jealous, angered, repentant, merciful, and foreknowing. These simply mean that, because He guards the chastity of every soul, He can, in human fashion, be called jealous, although He is not subject to any mental torment. Because He moves against faults, He is said to be angered, although He is moved by no disturbance of equanimity. And because He that is immutable changes what He willed, He is said to repent, although what changes is a thing and not His counsel. (Moral Teachings From Job, 20, 32, 63; in JUR-3, 317)
PATRISTIC SOURCES
*
Jurgens, William A. (translator and editor), The Faith of the Early Fathers, Collegeville, Minnesota: The Liturgical Press, three volumes, 1970 (I), and 1979 (II, III). Abbreviated as "JUR-1", "JUR-2," and "JUR-3."
Roberts, Alexander & Sir James Donaldson, editors, The Ante-Nicene Fathers ("ANF"), ten volumes, originally published in Edinburgh, 1867, available online.
Schaff, Philip, editor, Early Church Fathers: Nicene & Post-Nicene Fathers Series 1 ("NPNF 1"), 14 volumes, originally published in Edinburgh, 1889, available online.
* * * * *
For an excellent, comprehensive survey of this topic, see, "God Without Mood Swings: Recovering the Doctrine of Divine Impassibility," by Phillip R. Johnson.
***
*
Or you may believe my work is worthy to support for the purpose of apologetics and evangelism in general. If so, please seriously consider a much-needed financial contribution. I'm always in need of more funds: especially monthly support. "The laborer is worthy of his wages" (1 Tim 5:18, NKJV). 1 December 2021 was my 20th anniversary as a
full-time Catholic apologist
, and February 2022 marked the 25th anniversary of my blog.