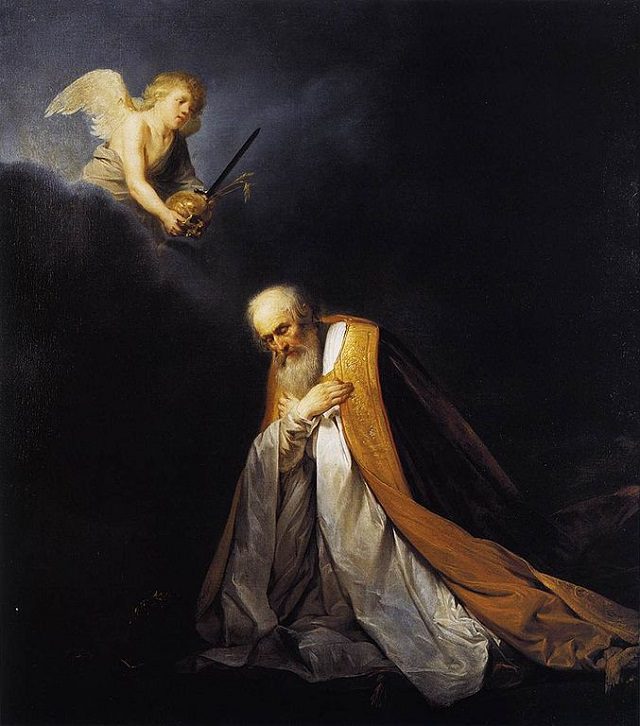 From my 2009 book, Bible Proofs for Catholic Truths, except the verses are in RSV below (not KJV).
*****
Psalm 136:1-5 [1] O give thanks to the LORD, for he is good,
for his steadfast love endures for ever.
[2] O give thanks to the God of gods,
for his steadfast love endures for ever.
[3] O give thanks to the Lord of lords,
for his steadfast love endures for ever;
[4] to him who alone does great wonders,
for his steadfast love endures for ever;
[5] to him who by understanding made the heavens,
for his steadfast love endures for ever;
The same exact phrase is repeated in 26 straight verses, for the entire Psalm. Obviously, then, God is not opposed to all repetition whatsoever. Repetition is a device used throughout the Psalms and also in Proverbs and the prophets. For example, in Psalm 29 "voice of the Lord" is repeated seven times in as many verses. "Thou hast" is repeated in six straight verses in Psalm 44:9-14.

Instructions concerning the Mosaic Law in the first five books are extremely repetitious. Elaborate, painstaking Instructions for the ark of the covenant (Ex 25:1-22), the tabernacle (Ex 25:23-40; chapters 26-27), and the Temple (1 Kings, chapters 6-7) illustrate the highly ritualistic nature of Hebrew worship (see also Leviticus 23:37-38 and 24:5-8). The four gospels often repeat each other's sayings. Many other examples could be cited.
Matthew 6:7 And in praying do not heap up empty phrases [KJV: "vain repetitions"] as the Gentiles do; for they think that they will be heard for their many words.
Jesus is discussing "empty phrases". The Greek battalogeo here means "to repeat idly," or "meaningless and mechanically repeated phrases." So the Lord is condemning prayers uttered without the proper reverence or respect for God.
Revelation 4:8 And the four living creatures, each of them with six wings, are full of eyes all round and within, and day and night they never cease to sing, "Holy, holy, holy, is the Lord God Almighty, who was and is and is to come!"
God is concerned with the inner dispositions and righteousness of the worshiper, and adherence to His commands (e.g., Is 56:6-7; Jer 17:24-26; Mal 1:11), not with outward appearance or how often something is repeated (which is contradicted by Psalm 136 and the passage above). This is a common theme in Scripture, and is seen in the following passages:
Isaiah 1:13-17 Bring no more vain offerings; incense is an abomination to me. New moon and sabbath and the calling of assemblies — I cannot endure iniquity and solemn assembly.Your new moons and your appointed feasts my soul hates; they have become a burden to me, I am weary of bearing them. When you spread forth your hands, I will hide my eyes from you;even though you make many prayers, I will not listen; your hands are full of blood. Wash yourselves; make yourselves clean; remove the evil of your doings from before my eyes; cease to do evil, learn to do good; seek justice, correct oppression; defend the fatherless, plead for the widow.
Jeremiah 6:19-20 Hear, O earth; behold, I am bringing evil upon this people, the fruit of their devices, because they have not given heed to my words; and as for my law, they have rejected it. To what purpose does frankincense come to me from Sheba, or sweet cane from a distant land? Your burnt offerings are not acceptable, nor your sacrifices pleasing to me.
Amos 5:11-14, 21-24: Therefore because you trample upon the poor and take from him exactions of wheat, you have built houses of hewn stone, but you shall not dwell in them; you have planted pleasant vineyards, but you shall not drink their wine. For I know how many are your transgressions, and how great are your sins — you who afflict the righteous, who take a bribe, and turn aside the needy in the gate. Therefore he who is prudent will keep silent in such a time; for it is an evil time. Seek good, and not evil, that you may live; and so the LORD, the God of hosts, will be with you, as you have said . . . I hate, I despise your feasts, and I take no delight in your solemn assemblies. Even though you offer me your burnt offerings and cereal offerings, I will not accept them, and the peace offerings of your fatted beasts I will not look upon. Take away from me the noise of your songs; to the melody of your harps I will not listen. But let justice roll down like waters, and righteousness like an ever-flowing stream. (cf. Prov 15:8; 21:27; Mal 1:6-14)
Matthew 15:7-9 You hypocrites! Well did Isaiah prophesy of you, when he said: "This people honors me with their lips, but their heart is far from me; in vain do they worship me, teaching as doctrines the precepts of men." (cf. Mk 7:6-7)
Matthew 23:23 Woe to you, scribes and Pharisees, hypocrites! for you tithe mint and dill and cummin, and have neglected the weightier matters of the law, justice and mercy and faith; these you ought to have done, without neglecting the others.
James 1:26-27: If any one thinks he is religious, and does not bridle his tongue but deceives his heart, this man's religion is vain. Religion that is pure and undefiled before God and the Father is this: to visit orphans and widows in their affliction, and to keep oneself unstained from the world.
Ritualistic, formal worship of God is described as taking place in heaven (Rev 4:8-11; 5:8-14), complete with repetitious prayer (Rev 4:8 above), and repeated chants or hymns (4:11, 5:9-10).
***
Photo credit: King David in Prayer, by Pieter de Grebber (c. 1600-c. 1653) [public domain / Wikimedia Commons]
***