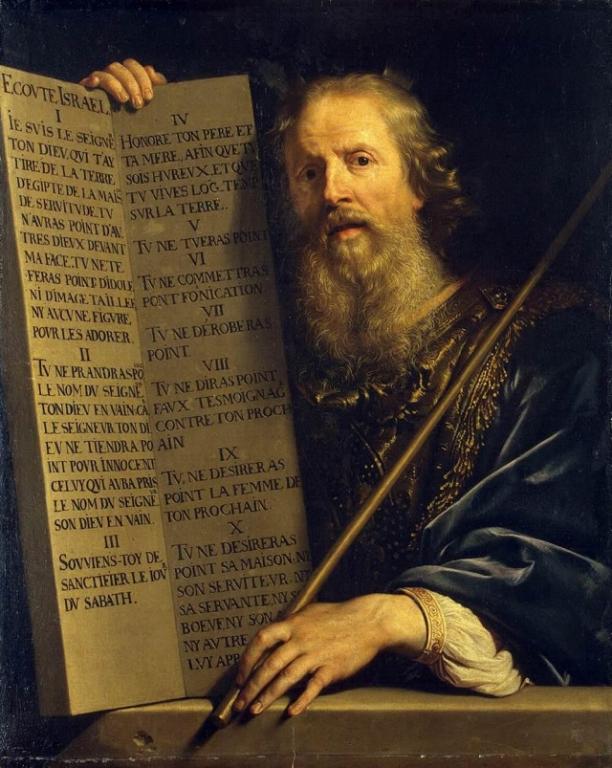 My dialogue opponent (on my blog) is a self-described "liberal" Catholic. His words will be in 

blue

.

* * * * *
Then there is the whole sacrifice of Isaac scene. What is being portrayed in Genesis is not a God who issues eternal decrees conveying rational and consistent laws. Rather, we have a God who acts quite arbitrarily, and issues decrees that are temporal and specific to the individual.
God cannot act arbitrarily. That is blasphemy. So you are either questioning God or biblical inspiration. This incident is mentioned in Hebrews 11:17-19 and James 2:21. So do you now doubt the inspiration of the NT? Or do you simply pick and choose the verses you like and discard those that you don't understand or don't care for? Who is arbitrary now? Sounds like you, not our Lord God.
The moral lesson in Genesis, if there is one, is that we must always obey the dictates of conscience in absolute trust, and it this obedience that is credited to us as righteousness!
We must obey God, even though we don't understand, yes. That's what the book of Job is about. God has the power over life and death. Abraham could theoretically sacrifice his own son (but note that God didn't really intend for this to happen, since He prevented it), because God the Father sacrificed His own Son.
I do not believe that Exodus and Genesis are written entirely by the same human author, or even in the same time period, which may be part of the confusion I see coming out over the high level exegesis I have already provided. I believe that there are different sources at work here, and though I am not a strict four-sourcer, I do find the J,P,E and D categories helpful to understanding a point I will make later.
I reject that, for various reasons, and think that it is fatal to solid exegesis. In a nutshell, what I would call the "liberal" exegete always has an "out" of simply denying that the text was in the original, or attributing it to one of the other "letter guys" (J,E,P,D), to explain all so-called "discrepancies." Thus, a person is freed from the burden of trying to interpret the Bible as a harmonious whole: consistent with a notion of ultimate inspiration (being "God-breathed"). I find this to be absurd, because it is arbitrary in many ways, and most unfair (in a discussion such as this) to the exegete who accepts the entire Bible as inspired, and Genesis as written by one author originally (Moses).
The liberal is always a "moving target" (like the ducks in a carnival sideshow) whereas the Catholic who accepts the traditional dogma of inspiration is a "huge barn" or "sitting duck." That destroys constructive exegetical dialogue. In a nutshell, what I would call the "liberal" exegete always has an "out" of simply denying that the text was in the original, or attributing it to one of the other "letter guys" (J,E,P,D), to explain all so-called "discrepancies."
In exegeting the Genesis passage, I am not trying to start by presuming to know God is a consistent being who cannot contradict himself.
If the Bible is indeed inspired in toto, that would follow as a matter of course, would it not? The question isn't whether theological and cultural understanding develops. It certainly does (and development of doctrine is my favorite topic in theology and one of my specialties — and indeed what made me a Catholic in large part). Rather, it is a fundamental question about the nature of revelation and inspiration. If one believes in those on other grounds, your premise above in how you approach the text is either irrelevant or meaningless. So we have fundamental disagreements.
Rather, I am saying I am going to approach this text as a piece of literature and try to determine what the human author intended.
That goes only so far. The danger is to reduce Holy Writ to a mere archaeological piece rather than God's inspired, infallible, and inerrant revelation (all de fide dogmas, too, by the way, and not optional for an orthodox Catholic).
Only after making this determination, will I then move to the issue of what God might be saying to us today through this human author. I believe this approach is justified in Dei Verbum and in the Catechism. In Church teaching, the classical "literal sense" of Scripture is the meaning intended by the human author who wrote in idioms and forms common to his or her culture.
Again, that is true to a large extent, but it is distorted by being applied to the exclusion of the inspired and self-harmonious nature of the document (the Bible).
I gave several examples where the J source behind much of Genesis acts in ways we would consider arbitrary. One minute, Yahweh is telling Abraham to kill Isaac, the next he's not.
This is a sterling example of the ludicrosity often involved in the adoption (or I should say, application) of the JEPD theory, or something akin to it. What you find "arbitrary" and objectionable is easily explained as a test where God knew all along that He would not actually require Abraham to do the act. That was understood not far from this time period by the Jews, as illustrated in the book of Job. They were not so stupid that they couldn't figure it out. It is only modern liberal exegesis that reaches heights of (what Malcolm Muggeridge would call) "fathomless imbecility."
And though Abraham committed murder in his heart, his faith in Yahweh is credited to him as righteousness.
This is absurd also, because if this was murder, then God the Father "murdered" Jesus because it was His will that He be sacrificed to save mankind. Likewise, Jesus committed suicide because He came to earth with the intent all along to be sacrificed.
Circumcision was another example of J's sense of God giving arbitrary commands. What moral purpose does self mutilation serve?
It is a sign of the covenant, as the Bible says about 50 times. A foreskin is not exactly an essential part of the human body, and there were certain health risks related to it in those days. What is truly self-mutilation is a practice totally consistent with the contraceptive mentality: a vasectomy.
I also pointed to Gen 15 and the way Abraham discerns Yahweh's will by cutting apart an animal and burning it. This text is written by a group of people who hold a very different theology of God than most Christians hold today.
This is directly related to the Mosaic Law: the same Law which Jesus said was in full effect in some sense, and which He came to fulfill (Matthew 5:17-19). It would also come as a great surprise to the author of Hebrews or to the Gospel writers who refer to the "Lamb of God" (see also the book of Revelation). Where do you think all that comes from? Where you see "very different" I simply see development. I am not approaching the Bible as an anthropologist, but as a Christian, who believes it to be inspired and entirely self-consistent.
Their God is arbitrary, and one acts with virtue not by acting rationally, but by obeying God's every whim!
Sheer nonsense. What the Hebrews believed is shown in the book of Job and in books like Isaiah: God's ways are higher than our ways, but He is not arbitrary or capricious: simply above our understanding (as we would expect of such a Being).
Two quick points: First, Pope John Paul II references the Yahwists and Elohists sources several times in Evangelium Vitae in his exegesis of the Cain and Abel story. Whether the theory is perfect or not, the use of this type of Biblical criticism has the papal stamp.
I am not absolutely against (some form of) the theory per se (let alone historical processes in compiling OT books); rather, I am primarily opposed to widespread uses of this theory which are arbitrary (as I explained) and which militate against a theory of unified inspiration (in other words, those which smack of theological liberalism and dissent).
Hermeneutics and belief in biblical inspiration and revelation are two different things. If the Bible as we know it is inspired in its entirety, then contradictions in theology cannot occur. I am presupposing development when I state this (bear in mind). But the whole thing is harmonious. That follows from the nature of the case: if it is "God-breathed," it cannot be contradictory (at least in the original manuscripts: another discussion again).
You have actually said things like (paraphrasing): "I doubt that God told Abraham to kill Isaac." That would entail a denial of inspiration and the trustworthiness of the biblical record (even involving New Testament espousal of these events). That leads you far afield from merely the Documentary Hypothesis.
Second, the goal of historical-critical methods is not to "explain away" what is inconvenient. Indeed, the methods often raise tougher questions for us. Rather, the goal of historical critical and literary methods of studying the Bible is truly and honestly trying to discern what the author of a particular passage intended.
I'm not opposed to intent of the author or a legitimate use of the historico-critical method, either (as I have already noted): only abuses of the same and the efforts of people who no longer hold to the high view of Holy Scripture, and who approach the study of the Bible like a butcher approaches a hog.
I have made my individual criticisms of your method. You would be mistaken to generalize those criticisms to all serious modern biblical scholarship. I am opposed to what I feel (as a Catholic) are departures from legitimate, tradition-affirming Bible scholarship, based on various hostile presuppositions brought to the work.
Furthermore, as a Catholic, I believe that there is more than one sense of Scripture (i.e. – the literal, the spiritual, the moral, the allegorical, and the anagogical, as well as the reading within tradition – see par 113-117 of the CCC).
So do I, which is why I possess and am rather fond of, Mark Shea's book, Making Senses Out of Scripture, and I have noted this different hermeneutic in replying to Protestants.
However, as par 116 indicates, all meanings must be based in some way on the literal sense, which is the sense intended by the author derived through sound exegesis.
That's right. I noted that in my paper above also.
Thus, I object to interpreting Gen 38 as though the same human author of Dt 25 were writing both passages, because the two pieces of literature have very different literary styles and theologies of God.
This illustrates the problem I have with your method (at least insofar as I am familiar with it, from this dialogue). So what if there are different literary styles!? This proves nothing in and of itself (though I agree that it might suggest a different author — just not necessarily, on these grounds alone).
I have many different styles of writing myself. I do satires, love poems, musical criticism, movie reviews, exegetical writing, analyses of historical theology; more sentimental and pastoral writing, conversion stories (first-person narrative), jeremiads, Christmas poems, socratic dialogues, straight philosophy, sociological writing, social-cultural analysis (such as on abortion or race relations), "literary" writing, psychological-type speculation, free-form poetry, political writing, homiletic / "preachy" stuff, philosophy of science, etc. That's 21 different "styles" already.
Secondly, it is not at all clear to me that you have established that these two authors (granting there are two for the sake of argument) have different theologies. All I saw you doing was reading your subjective opinion into it (eisegesis), whereas I could easily submit a plausible synthesis, just as reasonable as your assumption that there is a discrepancy here.
I understand your feeling here [concerning arbitrariness of interpretation], which is why I also quoted some maxims of such people as Hank Hanegraaff and Norman Geisler.
I'm very familiar with them. Geisler is my favorite Protestant apologist.
This is the way I would like the Roman Catholic Church to handle such a controverted issue.
Another instance of you reasoning precisely as a Protestant would: you accept evangelical Hanegraaff's approach to contraception but reject the papal approach of several very prominent encyclicals. Very curious . . .
Geisler is the co-author with Ralph Mackenzie of Catholics and Protestants: Agreements and Differences, which is probably the most balanced work on the subject by conservative Evangelical Protestants.
Yes, I agree. I talked to MacKenzie on the phone once.
I was trying to have a discussion on the exegesis by referencing people who think like you do (and I need to go to Protestants to do it).
But you misunderstood how sweeping my criticisms were. I don't just think like Protestant Bible scholars. On the other hand, many of them hold to views on the Bible that most Catholics used to hold, and no longer do, because of the liberal decimation of Catholic education. So when they continue to hold infallibility and inerrancy, they are more "Catholic" in that regard than a liberal Catholic who tosses that and accepts any number and manner of ludicrous, anti-traditional notions.
Let me add this, however. I am not personally aware of any Catholic Biblical scholar in the entire world who thinks that the Pentateuch was written by one human author, and I am not aware of any Catholic biblical scholar who does not make use of historical critical methods.
I am not so concerned about one author as I am about biblical unity and inspiration and self-consistency, no matter how many authors are involved. They were all inspired, by definition. So it really doesn't matter if Moses was the sole author of the Pentateuch. I tend (as a non-scholar) to think that he was at least the primary author. I agree with Fr. John A. Hardon, S. J. (whom I knew: he received me into the Church and wrote the Foreword to my first book):
A decision of the Biblical Commission (June 27, 1906) stated that Moses was the principal and inspired author of the Pentateuch and that the books were finally published under his name. But in 1948 the secretary of the pontifical Biblical Commission acknowledged that "today there is no longer anyone who questions the existence of sources used in the composition of the Pentateuch or who does not admit the progressive accretion of Mosaic Laws due to the social and religious conditions of later times."(Modern Catholic Dictionary, Garden City, New York: Doubleday, 1980, "Pentateuch," 414)
I am not saying that I am sure that there are none. However, I haven't read or heard or one.
Fr. William G. Most was a decent scholar. I found an article online where he critiques the Documentary Hypothesis. Here is a portion:
1. Concentric circles in Scripture:
*

a) J. Schildenberger, Vom Gehemnis des Gotteswortes,
Heidelberg, 1950, p. 163ff (cited from Le Frois, p. 190): "As a
consequence of the Hebrew's thinking in totalities, it is easy to see
that in presenting his subject-matter, the Hebrew does not develop it
so much in logical order step by step from general to particular, but
rather from the very outset he has the complete topic concretely in
mind, and not being able to present it all at once, he keeps coming
back to it, letting it be seen from various aspects, now emphasizing
this angel, now that, until in the end the full picture, which we saw
totally but not clearly from the very start, has been imbibed with
full grasp and satisfaction."

b) John 1:1-18 comes in three waves:

1-5: General statement: the Word was God, in the beginning, madeall things. Had life for men, but darkness did not overcome it.

*

6-13: John witnesses to the true light coming into the world,
who had make the world, but the world did not know or accept
Him.

14-18: The Word became flesh, John bore witness to Him. We
receive fullness through Him who makes the Father known.

. . . COMMENTS ON SPECIFIC CASES OF DOUBLETS
*

1. Genesis 1 and 2. It is claimed:

a) Doublet–the repeat shows two sources.

*

b) Difference of style–transcendent God in Gen 1, but naive
anthropomorphisms in Gen 2.

c) Difference in words for God– Elohim in Gen 1, Yahweh
Elohim in 2.

COMMENTS: a) On Doublets: Concentric rings seem to be a
Biblical pattern. Kitchen shows some plausible, though not
conclusive examples of same in Urartu and Egypt.
*

b) Difference in style: There are also anthropomorphisms in
Gen 1 –God called by same, saw, blessed, made man, who is bodily in
His image.

Further, the argument from style is partly circular — the P
source has arid precise style partly because just such matter was
assigned to P because the matter was such.

Finally: Arguments from style are flimsy –cf.the case of
Tacitus' Dialogus, and Inscription of Uni (Kitchen AC and OT p.125).

c) Difference in words for God: It is at least probable from
Ebla (see separate sheet) that Yahweh and El are interchangeable. —
Genesis 2 actually uses both most of the time, together, and the fact
that the second concentric ring is fuller could be a reason. –The
LXX does not adhere so closely as does the MT. MT has Yahweh Elohim
in 2,4,5,7 –LXX has only Theos in each case.

Further: Chapter 3 is considered all from J –yet it uses
Elohim alone 3 times (verses 1,3,5).

Chapter 4 is all J –has Elohim alone in 25.
Chapter 5 is all but 29 from P –29 alone has Yahweh.
Chapter 6: 1-8 are J –but include 3 times Elohim alone (verses 2,4,5).
Chapter 7 is a medley, they say –much slicing and re-gluing, even cutting
verse 16 in two since it has Elohim and Yahweh separately in two parts of
the verse.

Chapter 8 includes much of the save slicing and re-gluing
–has E 3 times, and Y 3 times.

Near Eastern usage also shows variations in divine names. In
the Enuma elish in tablet 1 –Tiamat 13 times, Khubur once. In
tablet 2, 15 times T once K, in tablet 3 –9 times T, twice K. In
tablet 1 –5 times Ea, twice Nudimmud. In tablet 2, 4 times Ea, once
N. In tablet 3, N twice, Ea not at all. In tablet 4, N twice, Ea
not at all. In tablet 4 Marduk 4 times, Bel once.

. . . CRITIQUE OF THE DOCUMENTARY THEORY

II. The argument from shifts in divine names

It is claimed that the variation between Elohim and Yahweh is due to
the use of two sources.

COMMENT: See P above ("Comments on Specific Cases of Doublets 1,c).

III. The argument from difference in style between documents

The style of the Yahwist contains unified scenes bound together by a
continuous thread. He prefers the concrete and picturesque and is
good at character portraits. He is a good storyteller, and a
psychologist who is concerned with the secrets of man's heart. –The
Elohist lacks the lively picturesque manner, has less dramatic vigor,
less warmth of nationalism, is simpler, smoother, even more
disciplined, and perhaps somewhat of an archaizing manner.

Further, the Yahwist goes in for anthropomorphisms, which the Elohist
does not do.

COMMENTS: 1) The reasoning is partly circular –parts were
selected precisely for reason of the style. As we saw above (p.1.c)
the use of Yahweh vs. Elohim is not strictly observed as a criterion.
In fact, there is much disagreement about which verses belong to
which writer –and a lot of scissors and paste reassembling to locate
each document.

2) There are at least some anthropomorphisms in E–

("Rested" 2.2-3) God saw, He called by name, He made man (who is
bodily) in His own image.

3) Arguments based on style are always inconclusive, and
often flimsy –cr.the case of the Dialogues of Tacitus.

4) Kitchen (AO and OT p.125) asserts style variations are
common in Near East and mentions:

a) Biography of Uni (c 2400 BC Egypt) which has flowing
narrative, summary statements, a victory hymn, two different refrains
repeated at suitable but varying intervals.

b) Royal inscriptions of kings of Urartu –9th to 8th
centuries BC (through at least 4 reigns) which include fixed formula
for the going forth of the god Haldi, a triple formula and variants
for that of the king, compact statements of success, or first person
narrative, at times statistics of forces of Urartu and of prisoners
and booty.
I am defining "Biblical Scholar" as a Catholic with a graduate level degree in the specific field of Sacred Scripture from an accredited Catholic university or seminary. Even the Gregorian in Rome uses the historical critical methods, as does the Pontifical Biblical Commission, and even the more conservative Navarre Bible out of Spain, while being conservative in approach, does use historical critical methods. To my knowledge, the only people who outright reject multiple source theories in scholarly circles are Evangelical Protestants.
Pope Pius XII, in his encyclical Humani Generis (1950), was already responding to liberalism-run-amok in Scripture studies (which, as I have noted, is my primary concern here):
We must specially deplore a certain excessively free way of interpreting the historical books of the Old Testament . . . the first eleven chapters of Genesis, even though they do not fully match the pattern of historical composition used by the great Greek and Latin writers of history, or by modern historians, yet in a certain true sense — which needs further investigation by scholars — do pertain to the genre of history. (DS 3898)
Did Vatican II (1962-1965) in any way countenance the sort of liberal "Bible butchery" that I am decrying? No, of course not:
Since Sacred Scripture must be read and interpreted according to the same Spirit by whom it was written, no less attention must be devoted to the content and unity of the whole of Scripture, taking into account the Tradition of the entire Church and the analogy of faith. (Dogmatic Constitution On Divine Revelation, 12; p. 758 in Flannery: 1988 revised edition)
Catholic scholar Eugene Maly, writing in the Jerome Biblical Commentary (1968), stated:
Moses is at the heart of the Pentateuch, and can, in accord with the common acceptance of the ancient period, correctly be called its author. (I, p. 5)
The 1964 Biblical Commission Instruction on Form Criticism warned of the errors that I have been criticizing:
He [the scholar] should act circumspectly because philosophical and theological principles that cannot at all be approved are often found mixed with this method, [principles] which not rarely vitiate both the method and the conclusions on literary matters. For certain practitioners of this method, led astray by prejudiced opinions of rationalism often refuse to admit the existence of the supernatural order, and the intervention of a personal God in the world by revelation properly so-called, and the possibility and actual existence of miracles and prophecies.
Vatican II also upheld the traditional belief that Scripture was without error (Dogmatic Constitution On Divine Revelation, 11), referring to statements of Vatican I, Leo XIII, and Pius XII, all of whom believed that the Bible contained no error at all (not even scientific or historical — see their two famous encyclicals on Holy Scripture).
So is this a "Protestant" or "fundamentalist" approach to Scripture? Hardly: it is thoroughly Catholic. I am as entitled to criticize aspects of the Documentary Theory or any other type of critical method, as you are to utilize them (in accordance with Church instruction).
Fr. William Most wrote elsewhere:
a) Mosaic authorship of Pentateuch: The Biblical Commission said on June 27, 1906 it was permissible to hold "that the work, conceived by [Moses] under divine inspiration, was entrusted to another or to several to be written… and that finally the work done in this way and approved by the same Moses as the leader and inspired author was published." . . . It is believed by many that the Pentateuch was put together out of four basic documents: Yahwist, Elohist, Priestly Code, and Deuteronomist – hence the name JEPD for the Documentary Theory. But that Documentary theory is not proved.Joseph Blenkinsopp of Notre Dame in his review of R. N. Whybray, The Making of the Pentateuch (Journal For Study of Old Testament Supplement 5. Sheffield, 1987) wrote (CBQ Jan. 1989, pp. 138-39): "It is widely known by now that the documentary hypothesis is in serious trouble, with no viable alternative yet in sight." He continues saying that Whybray has easily shown the fragility of many of the arguments given for the theory, sometimes requiring an unreasonable level of consistency within the sources, at other times not.

Further, Newsweek of Sept. 28, 1981, p. 59 reported that Yehuda Radday, coordinator of the Technion Institute in Israel, fed the Hebrew text of Genesis into a computer, and concluded: "It is most probable that the book of Genesis was written by one person."

So we cannot be sure Moses was not the author of the Pentateuch in the ancient sense.
See also Fr. Most's works, Free From All Error: Authorship, Inerrancy, Historicity of Scripture, Church Teaching, and Modern Scripture Scholars and Basic Scripture (as well as many other wonderful articles and books). For good evangelical critiques of the Documentary Hypothesis, see Gleason Archer: "What Evidence Proves Moses Wrote the First Five Books of the Bible?"; also, Wayne Jackson: "Destructive Criticism and the Old Testament".
Catholic writer Mark Shea provided (in 2002: link unable to be found) a funny satire on Documentary Theory, using The Lord of the Rings:
Applying JEPD Theory to The Lord of the RingsOne standard staple of biblical criticism for the past century has been the theory that the Old Testament isn't composed of "books" that somebody "wrote" but is instead a pastische of "sources" that religio political factions "assembled". If you find yourself thinking "Only an academic–and a German one–could suppose that the foundational literature of Western civilization could be pasted together by a committee and only an academic–and a German one–could suppose that you find out what the text really means by dissolving it in the acid bath of deconstruction to tease out the supposedly original Yahwist (J), Elohist (E), Priestly (P) and Deuteronomic (D) sources", you're right. The theory has run into trouble (since nobody seems to agree on which cut n paste fragments belong to which source and nobody knows why the editors who allegedly stuck all these sources together did what they did. But, as with pure naturalistic theories of evolution, your task is to shut up and bow to your superiors, not ask obvious questions.

In the spirit of redaktion criticism, Bruce Baugh now offers some preliminary theories on the variation in sources used by the makers of the Two Towers. I think he's on to something. Jackson is clearly operating from Rohanian sources for purely political reasons. Truly educated people can see these things right off the bat. It's obvious to any thinking person that the whole "Tolkien Authorship Myth" must go. The Lord of the Rings was not "written" by a so-called "author" named "Tolkien". Rather, it is a final redaction of sources ranging from the Red Book of Westmarch, to Elvish Chronicles, to Gondorian records, to tales of Rohirrim which were only transcribed centuries later. The various pressure groups which preserved these stories all had their own agendas. For instance, the Gondorian records clearly seek to elevate the claims of the Aragorn monarchy over the house of Denethor. So the record has been sanitized. Indeed, many scholars now believe the "Faramir being healed by Aragorn" doublet of the "Frodo being helped by Aragorn" is a sanitized version of the murder of Denethor by Aragorn through the administration of poison. "Faramir" never existed and is a corruption of "Boromir", who died under uncertain circumstances in the wilderness. Since the scenes of Aragorn healing "Frodo" also take place in the wilderness, most scholars conclude that "Frodo" is a mythic echo of Boromir, whose quest for Power is like Aragorn's quest for the Throne. Perhaps, Boromir was one of Aragorn's first victims. Of course, the whole "Ring" motif appears in countless folk tales and is to be discounted altogether. The real "War of the Ring" was doubtless some small tribal dispute that was exaggerated by bardic sources, much like the Exodus or the Fall of Troy. Gandalf appears to have been some sort of shamanistic figure, introduced to the Narrative by W (the Westmarch source) out of deference to local Shire cultic practice.

Rohan seems to have been of much help to the establishment of the Aragorn monarchy and so R sources find their way into the final version of the LOTR narrative, but greatly altered so as to give Theoden a subordinate role. Meanwhile, we can only guess at the Sauron and Saruman sources, since they seem to have been destroyed by the victors and give a wholly negative view of these doubtlessly complex, warm, human and many-sided figures. Scholars now know, of course, that the identification of Sauron with "pure evil" is simply wrong. Indeed, many scholars have become quite fond of Sauron and are searching the records with a growing passion and zeal for any lore connected with the making of the One Ring. "It's all nonsense, of course," says Dr. Gol M. Smeagol, "There never was such a Ring. Still… I… should… very much like to have a look at it. Just for scholarly purposes of course."
***
(originally 2-12-04)
Photo credit: Moses with the Ten Commandments (1648), by Philippe de Champaigne (1602-1674) [public domain / Wikipedia]
***