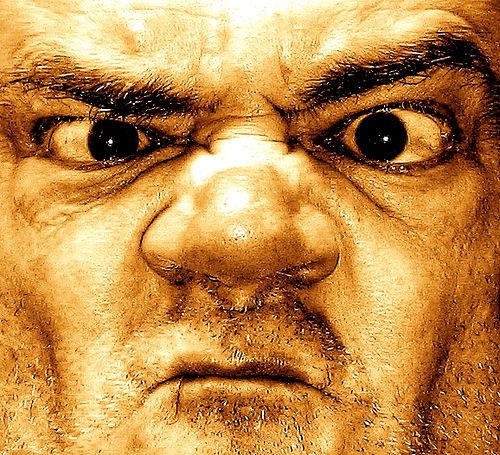 I dared to ban atheist icon / sacred cow Bob Seidensticker, for reasons carefully explained in these two papers:
*
That set off (utterly predictably) a "feeding frenzy" on his blog: a no-holds-barred / anything goes insult-fest against yours truly. I had hell to pay. One simply doesn't criticize the big shot atheists online. As usual in such instances, I shall now merely document and expose it, so folks who "argue" like this can hang themselves, so to speak. There is little rational argument here to respond to anyway (even if one desired to).
*
It's proof #4,298,109 that there is a class sometimes called "angry atheists" or "anti-theists" (a sub-group of all atheists, but very prominent and vocal online). They are incapable of constructive discussion with Christians. The incipient bigotry and hostility will come out every time, wrecking any such prospects. Also alluded to in the frenzy, or otherwise relevant, are these two papers (the first directed towards a dumb comment that Seidensticker made, and the second in reply to "Grimlock": see more about him below):
*
*
All of the following [until the very end: where noted] occurred in the combx of
one blog post
: complete with the [ultra-ironic] obligatory disclaimer at the top: "Civility is preferred, though frank comments are allowed." The usual warning for R-rated language . . . Links of names are to the Disqus profiles. Note especially one "Grimlock." He tried to put up a show of objectivity and desire for sincere dialogue on my site, but as we see, he was at the same time having a field day running me down behind my back. I could pretty much see this coming in the last few days, but as a hopeless idealist, I held out hope till the end. Believing the best of people almost in the face of all evidence to the contrary is a great fault of mine.
*
Words of Seidensticker [see his
Disqus profile
]  words will be in
blue
; Grimlock's [see his
Disqus profile
] in
green
; Otto's in
purple
, pofarmer in
red
, Damien Priestly in
brown
. Others will be in regular black. They are not in chronological order, but rather, how they appear on the discussion thread.
*
***
Otto: I would say banning people is about as intolerant as you can get on a blog. It is at times necessary and it is certainly at the discretion of the blogger. But c'mon….who is really showing themselves to be a bigot (a person intolerant of those holding different opinions)? This isn't even a close call. Dave can't stand to hear anybody offering blunt, stark criticism of Christianity or especially Catholicism, it does not matter if the criticisms hold validity or not. Now on the other hand Christians come to this site and spew all kinds of nonsense about atheists and atheism…and the response here is to talk to them, very rarely does anyone get banned. Dave's lack of self-awareness is really something to behold.
*
HairyEyedWordBombThrower: Dave's not lacking in self-awareness, IMHO. He's just projecting like thermonuclear IMAX, to fool the rubes and keep them quiescent and in the pews.
It's a special kind of chicken shit to pull someone's comments out of a blog without notifying them or at least allowing them to comment.
With people like Dave, chickenshit is their middle name.
Hey–did you hear the one about how I was mean to Patheos Catholic blogger Dave Armstrong? He spills all with "Why I Blocked Anti-Theist Atheist Bob Seidensticker." What's fascinating is how he looks at our conversation and determines that I am the one who's hateful. Anyway, here it is, for anyone who's interested. (I haven't read it.)
Armstrong interpreted a remark you made to mean that you think that the only legitimate knowledge is scientific. I'm of the opinion that this is an utterly uncharitable and unreasonable interpretation.
I just noticed that Dave wrote about you yesterday. His title is bizarrely self-reflective: "Am I the Christian Equivalent of the "Angry Atheist"?" Thankfully, after a quick browse, I see that his question was just rhetorical. Whew–the planets are back in their orbits.
1. Yes, logic and math is another kind of knowledge (though perhaps they are tools rather than a kind of knowledge?). Another important category would be fields that aren't precisely science but are evidence-based, like history. I've noticed apologist who are quick to point out "yeah, but there are other types of knowledge besides science!" (meaning history and math, for example), but they don't usually then go explore whether religion (or its ways of "knowing" like revelation and revealed scripture stand up to scrutiny like sciencey approaches do).
*
2. My main point was that religion is where we get precisely none of our knowledge about reality.
You old meany you. Dave certainly has the aggressive/hateful schtick going on. He even uses it on other theists who rub him the wrong way. . . . So, you/re saying Dave's full of shit? In addition to being a thin skinned bully. . . . To make their pretend knowledge acquisition tenable they have to call all knowledge into question. . . . And yet, they'll never actually explain what their own level of rigour is, or how they delineate real knowledge from false knowledge. They'll just whine about "other ways of knowing" but never how, ya know, actually reliable it is.
JustAnotherAtheist2: Dave . . . seems to think that once the beakers and bunsen burners are put away, people stop doing science. That the process of drawing inferences from the data and forming new hypotheses lies purely in the realm of philosophy. He doesn't seem to realize that science was once called "natural philosophy". If he wants to draw such a hard line, then that is perfectly fine. But he doesn't get to pretend that he is using terms the same way Bob (and I) meant. Nor does he get to accuse others of dogmatic thinking that it required his own equivocation to conclude. . . . there does seem to be a whiff of "we can't know reality is really real…. so my bullshit should just be taken at face value.
* The whole thing is a red herring. He can't properly justify his own methods for "acquiring knowledge", like divine revelation, miracle claims or appeals to faulty arguments, so he resorts to shifting the burden of proof by attacking science. But the point isn't if "science is the only way of knowing anything" or if there are "other methods of gaining knowledge". The point is that science, however limited in scope you want to define it, actually works: you can make claims, test them, verify them and ground them to reality. You can't do that with the other methods he wants to use, so when confronted head-on he'll obfuscate the issue however he can.

Congrats, you've made it into the "Dave has misquoted me and used me for a blog post" club. Anytime now you should be earning a promotion to the "I've been blocked" level. Your certificate of accomplishment is in the mail.
Thanks! But to be honest, this is actually the sixth post dedicated to an attempt to rebutt me. I've been semi-regular there since when he started trying to pick a fight with Bob back in May. There seems to be a rather predictable pattern to how I end up in a blog post; I make a comment he doesn't like, and be makes a response in a blog post that doesn't actually address the points that I was making. I then make a detailed counter-response in the comments, and he ceases the conversation. Haven't been banned yet, but I suspect that it's been close a few times.
*

I read your very thorough and completely fair assessment of the disconnect between what Dave perceives of his own interaction and his perception of Bob. You were absolutely spot on. You did not allow him to veer off topic and held the discussion right where it should be, but apparently there are just too many things that Dave views as self-evident, and if you don't agree with his proclamations, well, complete dismissal is his last line of defense. Well done Grim. I commend you for not doing what many of us here have fallen for, which is being baited by Dave and falling for his trap so he can dismiss any criticism by claiming he is dealing with an unapologetic bigot and banning you. You put a whole lot of work into that reply and he summarily dismissed the whole thing unceremoniously. I highly recommend that anyone who is interested in how a person like Dave can be confronted on his behavior, without stepping on the land mines laid out for them, should read Grim's response. Bravo.  . . . Watching a conversation between you and Dave is like watching a soldier run across no-man's land, narrowly escaping every bullet and bomb, and the landmines he can't see. I can't believe you haven't been banned yet…not that you have done anything ban worthy but that has never been an issue for Dave.
I assume you were trying to help, but I'm not surprised that it wasn't taken that way. I made a couple of remarks on the post he wrote, and it looks like it'll be one of the more lively comboxes over there. Might get fun. That drinking game sounds fun! But it'd go contrary to my wish of keeping my liver alive.
Unfortunately, I am now banned . . ., so I, for one, won't be following up that discussion there. Oh well. Three months before I got banned! Is that some sort of record? I should get a medal. I'd say that religion gives us knowledge in one sense. You know DnD, right? With made-up rules and magic systems and whatnot? Religion gives us that kind of knowledge. The knowledge of made-up rules. . . . Well, he just started blustering and ignoring me when I brought up the distinction between an internalist and externalist account of properly basic knowledge. So I'm pretty sure he's simply quoting stuff without actually understanding it.

. . . 

Shoot, you were right. I got banned. Apparently, I made him look like a hypocrite when I quoted his own words at him. Clearly a ban-able offense.
***
[comments below appeared after this reply was posted]
*
It's interesting to note that you complain about how I make you look like a hypocrite. If quoting your own words at you makes you look like a hypocrite, who, precisely, is the problem? . . . Unfortunately, I stepped on a landmine when I (once again) quoted his own words at him and made him look like a hypocrite. Clearly, that's not acceptable behaviour on his blog. Oh well. . . . I find it to be an excellent illustration of how apologetics at its core is all about reconciling believers with their difficulties, and not about investigating the truth claims of, say, Christianity.
*
If empiricism is the way science does it but religion has its own approach, how do you know it's a valid approach … without empiricism?

*
Slink back under your rock, COWARD! When the day comes that you're willing to argue fairly and not simply stifle any competing narratives, maybe you'll be worth more than use as shark snacks. . . . Dude…you stifle dissent, and claim to be a hero. The only place you're a hero is in your own, pathetic, Walter-Mitty-Miniver-Cheevy mind. And the fact that you'll attempt to rub it in our faces is a demonstration of what a waste of protoplasm you are.
Your blog and lack of self-awareness/projection is pure unintentional comedy…the pleasure is all ours. Notice you can post here…and your readers can post here….now tell us again who the bigot is. . . . Quoting Bob and coming to self evident conclusions about him is fine…but quoting Dave and trying to be fair about it is just too much…don't you forget it Mister! . . . 

Wow…you ban people and then quote them on your blog when they talk about you as if we are doing it behind your back. How very mature of you, you are really a 'special' case aren't you Dave. You refused to address Grim's very fair treatment of the situation, I completely agreed with him when he said those quotes probably weren't fair to be read with the worst possible perception, but far be it from you to give anyone the same respect. I mean you are the UMPIRE…and an umpire has to make a call…amiright? Well at least you can look forward to the time all of us here are punished in the afterlife for our transgressions against you…you poor thing.
Quoting Bob and coming to self evident ridiculously unjustified conclusions about him is fine. You had a typo there.
*
I have a sneaking suspicion that Dave had a manic bipolar episode …

o he bans Bob, then he comes over to Bob's blog to troll…Real class act!! We all know he was watching this OP the whole time…makes sense — nothing serious going on over at his lame blog.
*
So, I've been quoted on Armstrong's blog. Wasn't notified, and I have been banned there for a long time. The chickenshit comment stands. That's a whole lotta butthurt over there. . . . Plus, once you are banned and can't point out all of the incorrect premises, assumptions, etc, it's endlessly frustrating to read his psuedo

[sic]

-intellectual drivel. I hadn't wasted time there since I was banned. Didn't take long, either. . . . Who dares to question the one and powerful Oz!!!

Being a webmaster lets Dave pretend to be God, banning is condemning atheists to the nether regions of the internet, that is, every other site and blog.

Religion is like dungeons 'n dragons. Or like the local sports team. Or even like the person who's read the Harry Potter canon many times and always wins Harry Potter trivia. The difference, of course, is that those players know that these are just pastimes, and (deep down, anyway) they know that there's no deep, objective truth in these games. The theists have other pretensions.
*
*
Me:  If a blog clearly has no standards of discourse (like this one: anything can be said about anyone), when would banning ever become an issue or a possibility? There are no standards, so no one can break them! Hence, no banning. DUH!!!! But if a blog actually has ethical standards, those who violate them will be banned: just as if you were in a movie theater and decided to start throwing mud pies at everyone, you would be escorted out. DUH #2!!!!!
*
*
[directly to me] 

I'm afraid your clairvoyance has failed you here. I've banned dozens of people. One difference is that I'm a lot more tolerant of contrary voices. "Where never is heard a discouraging word" is the rule for your comments, not mine.

[my response, posted on his blog] Okay good. So if you in fact banned "dozens of people," just as I do (ostensibly for some reason consistent with your stated purposes), how is it that you're not automatically accused of being a coward and a censoring bully opposed to free speech:
*

Any objective viewer of both blogs would agree that I give almost everyone far, far more license than they deserve or that most of the other commenters want. When they're banned, one and all are happy to see them go. You, by contrast, ban people for raining on your parade. I love thoughtful Christians who will publicly point out where I've made a mistake or raise new points.


*

[me] . . . proven beyond all doubt by that very act, as if there could be no other possible reason? After all, that's how I am treated by everyone here (clones and groupthinkers one and all), even though I laid out very carefully and meticulously exactly why you were banned: which no one has the willingness to interact with to the slightest degree, because that would actually require the use of reason and not just vapid wagging tongues and mudslinging. But if you banned for reasons other than cowardice and a desire to shut down opposing opinions, then by the same token I could do the same thing (and indeed that is the truth of the matter: I simply enforced my well-known guidelines). Goose and gander . . .
*
You want to treat commenters like I do? Sounds great. You sure as hell haven't so far.
*

If you have to go through a meticulous effort to explain exactly why somebody was banned…you probably should not have banned them.

[I reply] That doesn't follow at all. You see how I have been treated here. Knowing exactly what was gonna happen, I prepared my reasoning for why Bob was banned. And I knew it would be perfectly futile, too, because you guys couldn't care less about reasoned dialogue with a Christian.
*
This is why you're a waste of time. In fact, I do care about reasoned dialogue with a Christian. You just won't provide it. When I get too close to uncomfortable issues, you get shrill and petulant. Even before I was banned, you would make it so unpleasant that I would just leave the conversation. Since you see the reality of the conversation so differently, I've lost patience to try anymore to engage with you.
*
*
[me] But the reasoning is still out there nonetheless for all to see, and it's a good thing to have done.

No serious debate is possible with whatever you are. And that's too bad (from my standpoint, anyway). Whenever you and I have gotten near some interesting observations, you always get hysterical and drive me away. I suspect you do that with other knowledgeable atheists as well. . . . It's marvelous how much an atheist can learn when reading (or even engaging with) a Christian who has enough self-confidence to not need to drive away dissenters. . . . So you're just a trolling asshole. I'm surprised you'd make that so plain. Be sure to include this in your next post.

[I reply] If you think I'm a troll, then ban me, since you say you have banned dozens of people. What stops you?

*


Since I can't find Armstrong's "Thanks much for the laughs and the entertainment!" comment, I'll reply to that here. 1. It isn't really kosher to write so many posts that are regurgitations of comments without warning people. Yes, what he does is legal. No, it's not ethical. 2. I continue to marvel at his lack of self-awareness. His bag of tactics hasn't changed since he was 10. These are what playground bullies do–taunt and lampoon and never admit you're wrong. I'll admit that playground bully tactics have become a little more in vogue thanks to Trump, but that's not really who to model oneself after.

So then why are you here now?


*
[me] Mainly entertainment purposes, boredom . . .
*

…trolling


*
[me] That's what you call any Christian or theist who refuses to be bowled over by your groupthink, clonelike insults and doesn't put up with your crap.

*

You said you are here for entertainment and because of boredom…essentially the definition of trolling.

[me]  No, essentially a flippant, semi-sarcastic remark to a hostile crowd of clones. When reason doesn't work, one resorts to humor. But I didn't expect anyone here to get that. That would be asking too much, in light of the troglodyte level of commenting that has been observed in this thread. Again, if I really am a troll, and the terrible person so many here make me out to be, let Bob ban me.

Write a post that makes an interesting argument and I'll think about it. You seem to prefer the "Atheists Were Mean to Me AGAIN!!" post. . . . Assuming that last comment of Dave's was in earnest, it is hard to imagine where you go from there. He has an inverted view of the world where he's the seeker of truth, eager to see everyone get their say so that truth will win out. . . . 

You act like an asshole to see what reaction you'll get? Jesus must be so pleased. Or does Jesus not consider what you do in your worldview? . . . Now, if you'd stop being mean to poor ol' Dave, I'm sure we'd see the friendly, helpful side of him pretty quick.


*

I doubt if any commenter has questioned why someone got banned on my blog. I have, on the other hand, gotten many requests (that I'm slow to act on) to remove an obnoxious commenter. . . . 

And you change the subject. Of course. The subject is your childish, schoolyard attitude. You got nothing thoughtful to say? I've got 1000+ posts here attacking your worldview. You just going to let that stand? Or could you present a helpful new perspective that I've ignored on one or two of those posts?

Clearly using you to try to drum up traffic to his site. Not sure how that helps him when he just turns around and bans everyone. Guy seems a little mental to me, though. This isn't normal behavior unless you're a 13 year old.

[me] Nice try. First of all, I was second in traffic for the last month of records at Patheos Catholic, out of some 65 blogs. Secondly, we have a way to actually see what is generating traffic, called Google Analytics (Bob can do this for his site, too). Checking out mine for the period of July 1st to now, I see that the top ten most-visited posts have nothing to do with atheism:
*
1. Cain and his wife
2. Chappaquiddick
3. Papal guidance
4. Death penalty
5. Biblical canon
6. Death penalty
7. Early development of the papacy
8. Luther's view of priestly celibacy
9. Titles: "Catholic" or "Roman Catholic"
10. Death penalty
*
Looking at the next ten most popular, I see two articles about atheism. 2 out of top 20 hardly suggests that I have to rely on Bob's site (or any atheist site or interaction with them) to drive traffic to mine. It's ridiculous, and those are the objective stats to prove it. This isn't a normal "argument" unless you are a three-year-old.
*


Is he just trying to get clicks on his posts?? Pathetic. . . . This is bullying behavior, not the behavior of anyone actually interested in the exchange of ideas. . . . 

Adorable! You're not going to change your attitude. No reason for you to improve, and even less reason to admit your shitty approach. Instead, I can get rid of you only by banning. Baby Jesus is crying.

Yes, that's true. Patheos lists the top 3 Catholic blogs for last quarter as The Deacon's Bench, Biblical Evidence for Catholicism, and then Through Catholic Lenses. As for MR's comment, he's just trying to make sense of your actions. And they don't make sense. And that could just be our fault–we assume that acting like a thoughtful adult is the best route. If you're succeeding by being a petulant schoolyard bully, that is surprising.


*
You also ban people for calling you out on your "on ending abortion, the ends justify the means" rationale for supporting Trump. To you, the possibility of restricting legal abortion or maybe eliminating it altogether down the road, took precedence over the certainty the harm his policies, rhetoric and general incompetence would do to the US and the world at large. Not to mention all the ways in which they go against Catholic doctrine. You act as though you made some kind of courageous stand, but you simply named your price. You know, you never did answer the question: how much is your soul worth Mr. Armstrong? Because you sold it quite cheaply.
*


No, I hope Bob does not ban you…it would just add to your victimhood complex. You realize this is an atheist blog and that most atheists, as of now, were previously Christians. I was a Catholic for most of my life. So I have heard all the Christian arguments for decades — and rejected the real case that priests and clergy were making…For many with religious family that is a difficult thing to go through. So after finally determining a good chunk of my life was wasted after being indoctrinated with nonsense as a child, abusive in my view — about being fallen, and how an incoherent "resurrection" of an illiterate rabbi somehow saved me…when I never asked to be saved…I, and many atheists are in no mood to to exchange pleasantries with yet another apologist who just pigeon-holes us as a stereotypical "angry" atheists. No — you get pushback…rightfully so !!

Still doesn't mean you aren't trying to use Bob to drum up traffic to your site. And your behavior is still that of a 13 year old, though it appears others appear to find you even more immature. Have you been drinking or something? This is not normal behavior. . . . He's not trying to drum up traffic but conveniently provided a list of top posts. Yeah, right. I'm just surprised he didn't provide the links.

*
HairyEyedWordBombThrower: Doesn't all that projection get to be tiring, Davie-poo? . . . Dave, try the Outsider test for your assertions. TRY to look at your behavior as if it was somebody other than yourself, and see if you would approve of said behavior(s). Somehow, I doubt you would, as you're a sanctimonious hypocritical wanker. . . . Now you're just trying to drive up your traffic numbers. If you can't bullet-point it concisely and make it interesting enough that we would WANT to visit, why should we give you the clicks / pageviews? . . . I don't see any gossiping or lying. How about some EVIDENCE? Or don't YOU go in for that kind of thing, as it would hurt your narcissistic self-image? . . . You're just an asshole, no more annoying than a fly. You'll have to up your game to be considered a troll around here. . . . you'll let stuff be posted….but then erase/twist it to make yourself seem a victim. WHY should we waste our time giving you text and clicks? You're acting like an asshat and being completely unethical and opaque in your blog censorship. . . . How sad and featureless your life must be . . . Dammit, Dave! Can't you do ANYTHING besides project your bad-faith immaturity, shitheel?

*
Time for you to leave, don't you agree? . . . we're stuck dealing with the emotionally fragile apologist. Ah, well–it's not like I had anything to actually do instead. . . . Cute. Everyone is mean to you, and their charges are all biased. Sucks to be you, I guess. . . . Dave's MO is to present a biased viewpoint, figuring that everyone does it that way. That an atheist would prefer to present a complete argument, giving full consideration to the best Christian arguments, seems to be impossible to imagine. . . . C'mon, take it easy! I'm playing the Dave Armstrong drinking game, and I now need to take a shot for your use of "I'm at an atheist site and everyone's ganging up on me (but I'm still kicking ass!)!" and for "I've thrashed atheist arguments over and over and over in my long career!" Have some consideration, please.*[L]et me clarify my own position. I don't want any comment of mine, either here or at your blog, used in a future post. Further, I don't want any comment in this blog being used in one of your posts. 

I predict what's going through your head is, "You're not the boss of me! I can do whatever I wanna!" In fact, I don't know what the law says. But this should make clear my wishes for my comments and all comments at my blog.

*

[me] If you and your cronies keep lying about me here I will publicize it on my blog. This is public; that is public. If you don't want to be ashamed and embarrassed by your ridiculous rhetoric, don't spout it, and don't act like pompous asses and idiots. It's real simple. If you don't want to be cited by me then ignore me and stop lying about me.

*

Your view of reality is completely different from ours. It's clear that talking to you is a waste of time.

*

Take down this bullcrap and then we'll be happy to take down the mere documentation of it. It's only documented because it's here out in public for all and sundry to see in the first place.

*

You have to publicly show the comments . . . because they're already public. Yeah, makes sense.

*

I'm the one that every atheist who reads this BS will think is Attila the Hun and Vlad the Impaler: the scum of the earth. That's what gossip does; that is its purpose. It should all be under a rock where it belongs: with the cockroaches. But I never bow to double standards.
*

You just create them.

*

If I'm attacked in a public piece, I expose it on my website. If I am lied about here, I have every right (legal and ethical) to expose it on my site.
*

You need to get that paranoia checked. Seriously.

*

It's too ridiculous to be refuted (one can't refute nonsense and mere epithets), so I just expose it. And people who do things like this always complain when I expose it.

*

Ask an unbiased third party to read your comments here and/or the posts you make that collect them. Ask how you come across in this.

*

Take it down, and I take mine down. I'd be severely embarrassed, too, if I carried on like you have — and allowed all of my clone-buddies to do the same. I perfectly understand why you don't want that spread around further.

*

There really is no talking to you, is there? You have no idea how you come across. The harsh comments calling you an asshole are, believe it or not, aimed (at least in part) on helping you.

*

No one cares on my site. There are hardly any comments about it. It's a big ho-hum. They aren't going bananas lying about atheists or you. They know I wouldn't allow it anyway. That's what good moderation brings about.
*

Why make those posts then? Just because it's fun to vent?

*

Your choice. I think it's in your interest to take this down. It only hurts you and your clone-buddies. My offer to take down my "exposing" post as a reciprocal action is, believe it or not, aimed (at least in part) on helping you.

*

I doubt that. You've never shown any interest in helping me, in particular since you came here a few days ago with the admitted purpose of being a troll. It sounds like your point is, "I'll remove comments at my blog where I'm an asshole to you if you remove your comments here where you were an asshole to me." Nope. I'm sure your bluster convinces some people that, indeed, we've been unfair to a courageous Christian defender of righteousness, speaking his plain and simple truth and undaunted by the slings and arrows of the unfair atheists. But I'm happy to have a record of you acting like a petulant bully, both here and at your site. I don't even know why you're asking, since you're happy to have all your hatred on public display at your blog. How could you improve that??

*

Meanwhile, I've been thinking about your comment elsewhere in this thread: "You got nothing thoughtful to say? I've got 1000+ posts here attacking your worldview. You just going to let that stand? Or could you present a helpful new perspective that I've ignored on one or two of those posts?" I'm always one to oblige people's wishes, insofar as I am able, and am not known to back down from a challenge, when it comes to apologetics, so I decided to do a series of posts with (hopefully) "a helpful new perspective" for one and all. I already decided (as is well-known and the cause for the volcano of verbal diarrhea in this thread against me), that "talking to you is a waste of time." The fact that you now conclude that about me is of no concern to me whatever.

*

Is this, "You can't fire me–I quit!"?

*

I'm not in the least bit interested in pseudo-"dialogue" with people who have not the slightest interest in genuine dialogue.

*

Your actions show you're a liar. You've hung around here and made dozens of comments, seemingly with the purpose of attacking in response to your perception of being attacked.

*

But attacking my Christian faith is quite another thing. Since you insist on doing that, and have personally challenged me, I will take up that challenge. One of my sub-specialties in apologetics, as it is, is dealing with how atheists distort the Bible. I was already seeking further opportunities to demonstrate that. And lo and behold!: here you come, with 1000+ posts, daring me to do it. It's a goldmine! This is, of course, completely distinct from dialogue. You're incapable of that with Christians, and so I have less than no interest in it with you. But I can refute your uniformly pathetic, misguided public arguments.

*

"You can't fire me—I quit!"

*

It's also been said, "be careful what you wish for."

*

He's having a hard time distinguishing "all atheists are mean" vs. "my arguments suck, and my doubling down on them after errors are pointed out provokes angry responses from atheists." . . . Alas, Dave won't get the chance to show us that he's improved. He's in timeout [i.e., I've been banned], which might've been the goal of his shit storm all along. . . . If I needed to see this blog as my chance to show how smart I was, I'd have a hard time with comments, just like Dave. Luckily, I realize that I'm just a student of this stuff, like everyone else. Being corrected is sometimes easy and sometimes painful, but it's necessary either way.

***

[Bob kept it up under a second post: "When Christianity Was in Charge, This Is What We Got"]

*

He is a waste of space, isn't he? Thanks for the input. I'm hoping he'll remove himself, but if that doesn't happen I'll follow your suggestion. I marvel at how he comes back despite it being clear that he has only hatred to offer. At the moment, he amuses me. . . . He is definitely angling for that, but it doesn't matter what we do or don't do; he'll spin anything so that he comes out on top. . . . It's easy to rationalize ("OK, for someone else to do this might be sinful, but I have an excuse"). . . . We can always count on you to bring up the mindless talking points. I knew there was a reason we kept you as court jester!

*

Time to pack up your snake oil tent and move to another town, I think.

*
[cites me] I have are always made public on my blog, for teaching purposes
*
Teaching? Who benefits from this "teaching"? Aren't all the regurgitated comments posts the same–"atheists were mean to me again," "watch me kick some ass," and so on? Seems like it's just ego stroking on your part. I'm getting closer …
*
[I went to respond to someone else being relatively rational and calm, regarding the profound Christian influence on the origins of modern science (was gonna massively cite this post), only to discover that I had been banned from Bob's site]
***
Photo credit: Jan Tik [Flickr / CC by 2.0 license]
***