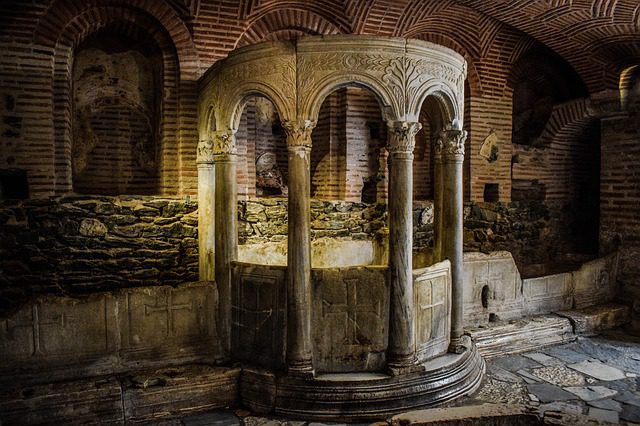 These lively exchanges occurred on my Facebook page underneath a link to my post, Baptized for the Dead: THE "UnProtestant" Verse (1 Cor 15:29). Both men are Lutheran pastors (LCMS). Ken Howes' words will be in blue; Eric Phillips' in green.
*****
He [Presbyterian Matt Slick, commenting on the passage] gives it the old college try, and e for effort, but I find it quite a stretch. In context, Paul is not rhetorically disagreeing with the practice he mentions in passing, but rather, agreeing with it.
One reason why I believe that is because Paul continues with analogous examples of practices that he is himself engaged in: "Why am I in peril every hour? . . . I die every day!"
He's doing penance (on behalf of the dead): just like he prayed for the dead Onesiphorus. Therefore, I think the interpretation of St. Francis de Sales is the plausible one: he is referring metaphorically (cf. "baptism of fire") to real penances on behalf of the dead: that he himself practices.
He practices them and sanctions them because of the resurrection of the dead: the lacking of which would make such practices futile or null and void.
I have prayed for the dead, and I'm sure I will again. But the doctrine of Purgatory is grossly injurious to the Gospel.
50 Bible Passages on Purgatory & Analogous Processes
The de Sales explanation is better than some of those others, but it's still not very good.
1) It is not true that Jesus used "baptism" to mean "afflictions and penances." He used it to refer to His death.
2) St. Paul doesn't use the word even in that sense. Everywhere else he uses the noun or the verb, it is plainly in reference to the Sacrament of Baptism.
Jesus:
Mark 10:38-39 (RSV) But Jesus said to them, "You do not know what you are asking. Are you able to drink the cup that I drink, or to be baptized with the baptism with which I am baptized?" [39] And they said to him, "We are able." And Jesus said to them, "The cup that I drink you will drink; and with the baptism with which I am baptized, you will be baptized;

Luke 12:50 I have a baptism to be baptized with; and how I am constrained until it is accomplished!
Why would that not refer to His passion as well as His death? His death was but a moment. The entire Passion was the baptism ("of fire"), or so it seems most plausible to me. The Bible says that not only His death saves us, but also His "stripes" (i.e., wounds). We're saved by His blood, too, no?
John the Baptist:
Matthew 3:11 "I baptize you with water for repentance, but he who is coming after me is mightier than I, whose sandals I am not worthy to carry; he will baptize you with the Holy Spirit and with fire."

Luke 3:16 John answered them all, "I baptize you with water; but he who is mightier than I is coming, the thong of whose sandals I am not worthy to untie; he will baptize you with the Holy Spirit and with fire.
St. Paul could use the meaning in this fashion once. I submit that there would be several things that he said (or applied one specific meaning of a word among many) only once. The context and comparison to 2 Maccabees 12:44: "It is superfluous and vain to pray for the dead if the dead rise not again" are key, I think, to unpack his intention.
I wasn't suggesting that Jesus applied it only to the moment when His soul left His body. He was referring to the whole event.
Then how does that exclude "afflictions and penances"?
He wasn't talking about affliction of the self-inflicted, non-lethal sort, and He certainly wasn't talking about penance.
He was partially referring to His Passion but that's not penance? It's not if you don't think that Jesus' suffering has power to save souls. The Bible teaches repeatedly that even our own sufferings can do that!
You just need to be a bit more systematically biblical, Eric. :-)
Penance flows out of repentance, and Jesus had nothing to repent of. You're basically suggesting that His vicarious suffering could be inexactly labeled as vicarious penance. And perhaps it could. But inexact labeling doesn't get you want you want exegetically.
The point is that Jesus died. And that is why He could use the metaphor, "be baptized." Because He was overwhelmed. And to help us understand what it would mean for us to be baptized into Him.
Were we saved by His Passion and blood as well as by His death?:
Romans 3:25 whom God put forward as an expiation by his blood, to be received by faith. This was to show God's righteousness, because in his divine forbearance he had passed over former sins;

Romans 5:9 Since, therefore, we are now justified by his blood, much more shall we be saved by him from the wrath of God.

Ephesians 1:7 In him we have redemption through his blood, the forgiveness of our trespasses, according to the riches of his grace

Ephesians 2:13 But now in Christ Jesus you who once were far off have been brought near in the blood of Christ.

Hebrews 9:14 how much more shall the blood of Christ, who through the eternal Spirit offered himself without blemish to God, purify your conscience from dead works to serve the living God.

1 Peter 1:18-19 You know that you were ransomed from the futile ways inherited from your fathers, not with perishable things such as silver or gold, [19] but with the precious blood of Christ, like that of a lamb without blemish or spot.

Revelation 1:5 . . . To him who loves us and has freed us from our sins by his blood
Yes, I agree, that "penance" in His case has a different meaning than in ours, because He was without sin. It's more technically accurate to say that He suffered for the sake of our salvation, and that we can literally join in that suffering, as Paul teaches: most notably in Colossians 1:24.
But Jesus was also baptized, and He had no need for that, either, since for us, it is to regenerate and wash away sins. Jesus, of course, needs neither thing. You still haven't told us what 1 Cor 15:29 means.
Dave, nobody knows what it means, so I feel no obligation to join the long line of people with half-baked theories. I think it's a reference to an early practice that was so short-lived, likely also so local, that no one remembered what that verse meant even a hundred years later.
Thanks for affirming the point that I made, except that I think Catholics do know.
There is no such thing as "the Passion and blood of Jesus" apart from His death.
I never said the blood and Passion were apart from His death. But it is suffering on our behalf and it was Jesus' baptism of fire.
But you did say that self-inflicted suffering entirely disconnected from death could count as "Baptism," even though the only metaphorical way that Christ used the word was to refer to His passion-and-death.
But there are also the statements by John the Baptist, saying that we will be baptized by fire (Mt 3:11; Lk 3:16).
And there is the fact that we participate in the redemptive suffering of Christ, according to many statements of Paul, that I linked to.
***
On this passage, everybody is in the dark. Francis de Sales adds a theory to the heap. That's all.
The beauty of St. Francis' take is that it makes sense of immediate context and also the closest (clearly analogous, I submit) scriptural cross-reference: 2 Maccabees 12:44.
I'm interested in what all Scripture means, because it is there for us: for instruction. I'm saying, "here is our theory as to what it means; show us something more plausible if you think it exists, and show us specifically how our interpretation is wrong."
Catholics have seen all kinds of fruit in following Pauline thought and participating in redemptive / penitential suffering on behalf of the souls of others: alive and dead.
If 2 Maccabees used the term "baptize," then we would have a clear analogy to 1 Corinthians 15.
There is plenty of analogy:
1 Corinthians 15:29 [RSV] Otherwise, what do people mean by being baptized on behalf of the dead? If the dead are not raised at all, why are people baptized on their behalf?

2 Maccabees 12:44 [RSV] For if he were not expecting that those who had fallen would rise again, it would have been superfluous and foolish to pray for the dead.
Thus, K. Stauffer observed:
Paul writes about the Corinthian baptism for the dead, quite in the spirit, indeed in the same form as the argument of II Macc. 12. Accordingly he conceives the Corinthian baptism pro-defunctis as an analogy to the Jewish oblatio pro defunctis. (New Testament Theology, London: SCM, 5th ed., 1955 [cited in a paper on 1 Corinthians 15:29] )
He seems to think it is water baptism, but otherwise he sees an analogy. See also:
"1 Cor. 15:29 and Taharat Hamet: Purification of the Dead as Proof of Resurrection?", by Hanoch Ben Keshet.
"1 Corinthians 15:29", by Rick Wadholm.
Dave, the only similarity is that something is done for the dead. In one case it is baptism, in another case it is an offering.
***
I doubt that Lutherans are clueless. This is the first time I've been presented with this question, so I checked what a Lutheran response might be. To use this verse as being analogous to the verse in 2 Maccabees on which the Roman Church bases its prayers for the dead would seem to require approval of the practice of vicarious, or what you call "proxy", baptism–something done by us for the benefit of those already deceased.
A quick look suggests that Lutheran theologians have understood this to mean that our baptism remains with us beyond our own deaths, to the resurrection of our own bodies. It relates to our own hope of resurrection, not to some practice of being baptized on behalf of others. Lockwood, in his commentary, says that there is no suggestion anywhere else in Scripture of some kind of vicarious baptism on behalf of others. He doesn't rule out that there may have been some practice in Corinth on those lines, in which case St. Paul's comment wouldn't necessarily be endorsing that practice but only saying that it would be completely pointless if there were no resurrection.
I took a look at some ancient Church fathers' comments on the verse. Lockwood is evidently echoing Ambrosiaster (late 4th century) "It seems that some people were at that time being baptized for the dead because they were afraid that someone who was not baptized would either not rise at all or else rise merely in order to be condemned." (Commentary on Paul's Epistles) Didymus the Blind (319-398) says this was a practice of the Marcionites: "The Marcionites baptizre the living on behalf of dead unbelievers, not knowing that baptism saves only the person who receives it." (Pauline Commentary From the Greek Church.) St. John Chrysostom (Homily 40) also attributes this practice to the Marcionites. That would seem to support Lockwood's comment and even support it with further information.
Another Lutheran commentator, R.C.H. Lenski, says "'The dead' of whom Paul speaks are not any persons who are dead but the baptized Christians who died in such Christians in the sure hope of a blessed resurrection. Their example, i.e., their baptism and their godly life and final death in this sure hope, furnishes the *motive* that prompts the living also to desire and to receive baptism for the same blessed purpose. Paul's question, therefore, has this sense: that all who are thus moved to receive baptism have no hope, and their baptism is wholly in vain if there is no resurrection (for Christ and for Christians). This is the force of: 'Else what shall they do?', etc." He mentions that, in addition to Chrysostom, Tertullian and Epiphanius mention the practice of vicarious baptism as one carried on by heretics.
So your implicit analogy of prayers for the dead to these vicarious baptisms would necessarily take you somewhere I don't think you want to go. To try to get this verse to support your analogy without endorsing vicarious or "proxy" baptism would require really tortured exegesis. All that said, as we know the saints pray for us before God, it would seem to be fitting that we also pray for them, who like us, will be raised in the body to live in the new heaven and the new earth.
Our prayers would not be that they be spared any kind of danger, or for his receiving them into his kingdom, for they are in no more danger and they are already in his kingdom; but to thank and praise the Lord for having had them go before us, providing to us examples of, to use a very Catholic expression, faith and morals, that we might follow those examples and, when the time comes, join them in eternal life. We can also thank and praise him for the various benefits that we have by means of their labors–the Blessed Virgin for bearing him, the apostles for bringing the faith to other nations, and the other saints for their respective services to him. This is of course an imperfect response to you, done in about twenty minutes, but I think it is a fair one as far as it goes.
It's by far the meatiest and most substantive counter-reply yet. Thanks! We're not arguing for vicarious baptism, so that's neither here nor there. The Mormons are doing that. St. Francis' argument (which I follow) states:
This passage properly understood evidently shows that it was the custom of the primitive Church to watch, pray, fast, for the souls of the departed.
None of that is being water-baptized for them. It's figurative or metaphorical "baptism" (i.e., by fire).
So the analogy to 2 Macc 12:44 is: pray for the dead = fasting and doing other penances for the dead. It's all in what Paul means by "baptism" here. We know that in Scripture the word can mean something other than the sacrament of baptism.
I think the Lutheran exegesis is not "really tortured" but it is not plausible or straightforward to me at all. I think it's really stretching it. I believe that the Protestant problems in exegeting the verse stem directly by their rejection of penance (above all for the dead) before they even get to the verse.  Thus they rule out what I believe is far and away the most plausible take: the one that easily explains direct context and the related cross-reference (that I would say Paul had directly in mind).
At least you take some sort of position (I think). Your fellow Lutheran pastor, Rev. Phillips, thinks, on the other hand: "nobody knows what it means, so I feel no obligation to join the long line of people with half-baked theories."
I would rather speculate and be wrong in good faith than give up and act as if a passage of Scripture is impossible to understand. So in that sense, you and I are closer in spirit than Eric and I.
When all's said in done, I think my conclusion in my book chapter on this from 2004 is a good one-sentence summary:
This verse offers a classic example of Protestant confusion and incoherence in the face of a biblical passage that appears to be utterly at odds with Protestant theology.
Dave, if Ken gave you a set opinion, I missed it. He gave a survey of multiple opinions, including a number of Patristic quotations that back up what I am saying.
That's why I replied, " At least you take some sort of position (I think)." He started out by saying, "I doubt that Lutherans are clueless." You seem to think that they are, along with everyone else. Me, I think Scripture is more perspicuous than that. :-)
Since we're not arguing for proxy baptism, that is a non sequitur; it's arguing against Mormons, not Catholics; and we agree with you and the Fathers on that point.
My position is that since our baptism is not for someone else, then the baptism for the dead, in the only sense that pertains for us, has to do not with any work we do for the deceased and hence has nothing to do with the passage in 2 Maccabees, but with the resurrection of the body and life everlasting which every true Christian, Catholic, Protestant or Orthodox, confesses.
It's the same as Luther and Lenski. It's true that Lockwood doesn't stake out a position very forcefully, though he's certainly pointed in the same direction. I don't think the verse, when rightly considered, is confusing. Indeed, it's sufficiently confusing if not rightly considered, that I might be inclined to take it up as a sermon text or the subject of a Bible study at some future time. By the way, something as to which I would agree with Catholics and with my fellow Lutheran pastors and theologians, and disagree with a certain sort of Protestants who have a distorted understanding of the principle of sola Scriptura, is that the writings of the early Church Fathers are enormously beneficial in the study of Scripture.
I remember a long time ago, before I studied at seminary, having a conversation with a Lutheran pastor. I said, "But traditions can take you a hundred different ways. What if Irenaeus said one thing, Augustine another, Jerome another, Aquinas another, Luther another?" He answered, "Very true. The value of tradition is that if Irenaeus, Augustine, Jerome, Aquinas and Luther all say the same thing, it's crazy and even a little presumptuous to try to reinvent the wheel."
I like how he thinks. Both you and Eric, however, seem to completely overlook the possibility of baptism being used in a different sense here by Paul.
Dave, I haven't "overlooked" the theory that "baptism" is being used to mean "something else" here. What I actually did was to argue specifically against it.
***
Photo credit: ancient Christian catacomb; photograph by dimitrisvetsikas1969 (9-1-17) [Pixabay / CC0 Creative Commons license]
***