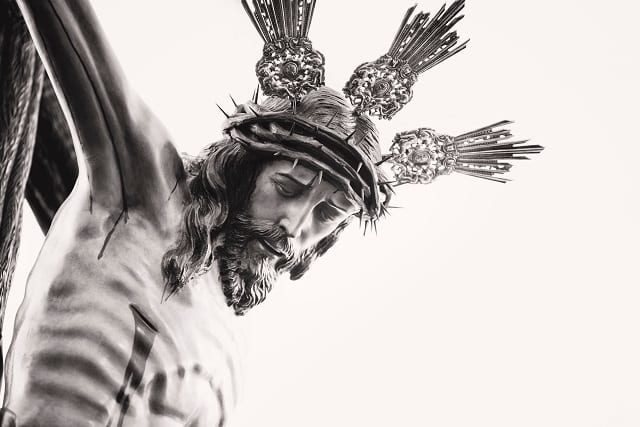 "SolusChristus": a Calvinist, responded underneath my (former) blog article, 25 Biblical Passages Against Limited Atonement. His words will be in blue.
*****
Many of these are not even support for universal atonement, but actually support Monergism (or Calvinism) such as the first one Luke 19:10 Christ has come to seek and save that which is lost. It shows that Christ has the ability to save whomever He wills, therefore possibly promoting limited atonement since salvation is up to Christ Himself and not man. But personally I wouldn't use this passage for limited atonement.
I agree. Catholics (in case you aren't aware) hold to sola gratia, too. Whoever is saved only is so because of God's grace: which is expressly stated by the Council of Trent (the contrary being the heresy of Pelagianism).
Some of the passages in my paper are much better than others; I freely grant or concede; and perhaps (in hindsight) it would have even been better for some to be removed because of relative weakness and vulnerability to your critique. In fact, on reflection, I have decided that the overall argument I made there is too weak for me to continue to have the paper on my blog, so I have removed it.
But some of the passages included in it are not so easily dismissed (at least not on the grounds you are using here), and I notice that you pass over those.
And where there is the term "world" is used Christ doesn't save EVERYONE in the world, since that is what you are reading into these texts. Such as John 6:33 Christ gives life to the world. Do you truly believe Christ gives life to the world? If so, universalism is on the cards.
I'm not a universalist at all, and in fact made the same argument you are making against texts such as these supposedly suggesting or proving universalism, in defending Pope St. John Paul II against this charge: from a Catholic reactionary / fundamentalist (see the listing of Bible passages near the end).
But I am sure you will say, it's up to man to choose, but we see that nowhere in the text.
Man chooses the free gift of salvation: made entirely possible by God's grace. He does this just as a prisoner accepts the pardon of a governor. The prisoner didn't create it or make it possible in any way. He merely accepts the "grace" or "mercy" or "forgiveness" in gratitude. As for the Bible stating that men do exactly this (make a decision whereby they accept and work with God's grace, we find many passages:
1 Corinthians 9:24 (RSV) Do you not know that in a race all the runners compete, but only one receives the prize? So run that you may obtain it.

Philippians 2:12-13 . . . work out your own salvation with fear and trembling; [13] for God is at work in you, both to will and to work for his good pleasure.

Philippians 3:8-14 Indeed I count everything as loss because of the surpassing worth of knowing Christ Jesus my Lord. For his sake I have suffered the loss of all things, and count them as refuse, in order that I may gain Christ [9] and be found in him, not having a righteousness of my own, based on law, but that which is through faith in Christ, the righteousness from God that depends on faith; [10] that I may know him and the power of his resurrection, and may share his sufferings, becoming like him in his death, [11] that if possible I may attain the resurrection from the dead. [12] Not that I have already obtained this or am already perfect; but I press on to make it my own, because Christ Jesus has made me his own. [13] Brethren, I do not consider that I have made it my own; but one thing I do, forgetting what lies behind and straining forward to what lies ahead, [14] I press on toward the goal for the prize of the upward call of God in Christ Jesus.

1 Timothy 2:15 Yet woman will be saved through bearing children, if she continues in faith and love and holiness, with modesty.

1 Timothy 4:16 Take heed to yourself and to your teaching; hold to that, for by so doing you will save both yourself and your hearers.

2 Timothy 3:15 . . . the sacred writings which are able to instruct you for salvation through faith in Christ Jesus. [we do the work of reading Scripture and this in turn can save us, so we helped save ourselves by reading it]

1 Peter 2:2 Like newborn babes, long for the pure spiritual milk, that by it you may grow up to salvation;
See also:
St. Paul on Grace, Faith, & Works (50 Passages)
Final Judgment & Works (Not Faith): 50 Passages
*
*
*
The term is used as Christ has already given life to the world. The consistent interpretation to use is as St. Augustine used for 1 John 2:2 that the term "world" is referring to the elect is who Christ saves and dies for. In the Gospel of John the term world has many meanings, such as in John 12:19 it states that the whole world has gone after Christ, well no… the Chinese, the Aussies etc.. didn't go after Jesus, it's a figure of speech.
That is just one example of assuming the term world always means world. This goes the same with the term "all". The Gospel writers didn't mean all literally, like in the Gospel of Luke 2:1 that the "all the world should be registered" but once again, did the Chinese or the Indians get registered? No. What is Luke saying here? That the all the Roman empire world was registered. So the term "all" in Greek can mean all kinds of people Jews and Gentiles, or all of the elect since in John 6:44 no one comes to the Father unless the one who sent Him draws Him, so it is clear from Holy Scripture God elects and draws sinners to Himself, making the doctrine of limited atonement all the more possible and believable which that is the case for me.
So, in conclusion we must understand the context of the terms being used "all" and "world".
I also agree that "all " doesn't always literally mean "everyone without exception." Catholics hear the argument that Mary can't be immaculately conceived and without actual sin because the Bible says, "all have sinned." In defending our view, I make exactly the same argument you just made: "All Have Sinned" vs. a Sinless, Immaculate Mary?
So I largely agree with these reasons of yours and have conceded as much. But this doesn't refute all of my examples from the now-discontinued article. I will point out ones that this legitimate criticism doesn't affect; and perhaps you would be so kind as to provide a further counter-reply. I'd like to see what you say, because you have argued well so far; just incompletely and selectively.
John 12:31-33 "Now is the judgment of this world, now shall the ruler of this world be cast out; [32] and I, when I am lifted up from the earth, will draw all men to myself." [33] He said this to show by what death he was to die.
If in fact limited atonement is true, and Jesus died only for the elect, how is it that the Bible says He drew "all men" to Himself on the cross. Wouldn't that be a false statement? In what sense was He drawing the reprobate / damned to Himself on the cross?
Romans 11:32 For God has consigned all men to disobedience, that he may have mercy upon all.
But doesn't limited atonement hold that He either doesn't show mercy to the non-elect reprobate, or far less mercy than to the elect (i.e., mercy that is not efficient unto salvation)?
1 Timothy 2:3-6 This is good, and it is acceptable in the sight of God our Savior, [4] who desires all men to be saved and to come to the knowledge of the truth. For there is one God, and there is one mediator between God and men, the man Christ Jesus, [6] who gave himself as a ransom for all, the testimony to which was borne at the proper time.
I think this is the single best "killer passage" against limited atonement. It's all there: if God desires all men to be saved, then clearly there are none that He desires (predestines from all eternity) to not be saved. That is utterly contrary to limited atonement. Likewise, Paul says Jesus was a ransom "for all": not just the elect. I don't think we can discount the instances of "all" in this passage in the way that you have for many others. If your view was correct, it sure seems like the Bible would flat-out state it: "God desires the elect to be saved" / "who gave himself as a ransom for the elect." But it doesn't state those things. It expresses precisely what one would expect if universal atonement were true and limited atonement false.
Hebrews 2:9 But we see Jesus, who for a little while was made lower than the angels, crowned with glory and honor because of the suffering of death, so that by the grace of God he might taste death for every one.
This shows that His atoning, redemptive death on the cross was for "every one": not just the elect. How could it be any clearer or more decisive than that?
2 Peter 2:1, 15 But false prophets also arose among the people, just as there will be false teachers among you, who will secretly bring in destructive heresies, even denying the Master who bought them, bringing upon themselves swift destruction.. . . [15] Forsaking the right way they have gone astray . . .
As I stated in my other article: If these are people who never were saved (as a Calvinist would say), then how can it be stated that Jesus "bought them"? Believers in Limited Atonement think that Jesus only "buys" those who are indeed saved and of the elect. See my related papers:
*
Limited Atonement, Free Will, & Failed Prayers of Jesus
Dialogue: Double Predestination, Total Depravity, & Limited Atonement
Gospel = Total Depravity, Limited Atonement, Irresistible Grace?
Limited Atonement Refuted? (John 12:32)
*
My book, Biblical Catholic Salvation: "Faith Working Through Love" (2010), contains 115 pages (seven chapters) devoted specifically to a critique of Calvinism and "TULIP". The chapter against limited atonement is twelve pages and contains many more biblical passages that refute it:
The following passages show that Jesus died for all men; His atonement applied to all men, and that God desires that all be saved, even though some (in their free will) accept His work on their behalf and others reject it:
Psalm 86:5 For thou, O Lord, art good and forgiving, abounding in steadfast love to all who call on thee.

Isaiah 55:1 Ho, every one who thirsts, come to the waters; . . . (cf. 45:22; Joel 2:32)

Matthew 11:28 Come to me, all who labor and are heavy laden, and I will give you rest.

Luke 19:10 For the Son of man came to seek and to save the lost.

John 3:14-16 "And as Moses lifted up the serpent in the wilderness, so must the Son of man be lifted up, [15] that whoever believes in him may have eternal life." [16] For God so loved the world that he gave his only Son, that whoever believes in him should not perish but have eternal life.

Acts 2:21 And it shall be that whoever calls on the name of the Lord shall be saved. (cf. Rom 10:13)

Romans 5:6 While we were still weak, at the right time Christ died for the ungodly.

Romans 5:15 But the free gift is not like the trespass. For if many died through one man's trespass [original sin], much more have the grace of God and the free gift in the grace of that one man Jesus Christ abounded for many. [universal atonement] (cf. 5:17, 20-21)

Romans 11:32 For God has consigned all men to disobedience, that he may have mercy upon all.

2 Corinthians 5:14-15, 19 For the love of Christ controls us, because we are convinced that one has died for all; therefore all have died. [15] And he died for all, that those who live might live no longer for themselves but for him who for their sake died and was raised.. . .

2 Peter 3:9 The Lord is not slow about his promise as some count slowness, but is forbearing toward you, not wishing that any should perish, but that all should reach repentance.

Revelation 22:17 The Spirit and the Bride say, "Come." And let him who hears say, "Come." And let him who is thirsty come, let him who desires take the water of life without price.
Saying that Christ died for the Church (as Paul does in Ephesians) is not at all contradictory to saying that He died for all men, or for the world. But to maintain that He died only for the Church or only for the elect (limited atonement) does indeed contradict the passages above.
Therefore, since inspired Scripture aids in interpreting itself through cross-referencing, and doesn't contradict itself, limited atonement is disproven from Holy Scripture.
***
Photo credit: Alem Sánchez [Pexels.com / Pexels license]
***