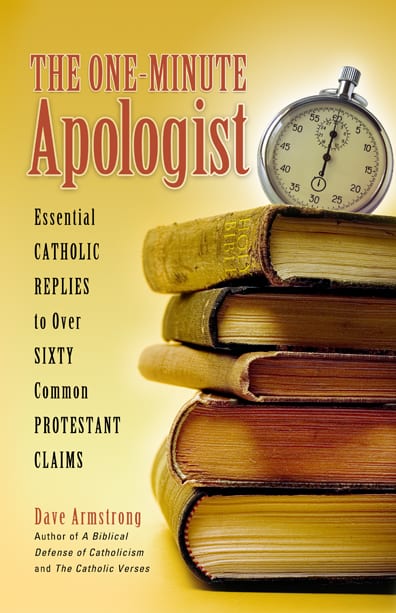 [the following is from my book, The One-Minute Apologist (Sophia Institute Press, 2007; available for as low as $2.99 in several e-book formats]
*****
The individual with his Bible has all that's necessary to be saved. He doesn't need a church or "tradition."
THE ONE-MINUTE APOLOGIST SAYS:
The Bible does not teach this doctrine. And the history of Protestantism, with its many doctrinal divisions, argues strongly against it. How could a perspicuous Bible lead so many believers to so many different interpretations?
The Bible is not always easy to understand. It's a complex book whose words and ideas have captivated the world's most brilliant minds for millennia. Without an authoritative voice of interpretation — like a Church — error and division are inevitable.
Such division appeared right at the beginning of Protestantism. Martin Luther believed in a Real Presence of Christ in the Eucharist, but John Calvin accepted a "mystical presence" only, while Huldreich Zwingli thought it was completely symbolic. They all read the same Bible, and professed the same belief in sola Scriptura, but the Bible alone was not sufficient to reconcile the matter.
Baptism is another example. Luther (again closest to Catholic doctrine) believed in baptismal regeneration; Calvin and Zwingli rejected it, but agreed with Luther that infants should be baptized. The Anabaptist movement, however, thought that only adult believers should be baptized (and Lutherans and Calvinists persecuted them for it). Later on, other Protestant groups did not baptize at all (Quakers, Salvation Army) or believed in regenerative adult baptism (Church of Christ), so that there are today five major competing doctrines of baptism. Protestants also differ among themselves in many other major areas of doctrine and practice, despite their belief in one and the same "perspicuous" Bible: limited atonement versus universal atonement; whether it's possible to lose salvation; church government and female clergy; the relation of sanctification to justification; the role of the charismatic gifts, and others.
One of the strongest scriptural indications against the doctrine of biblical perspicuity can be found in 2 Peter 3:15-17 [RSV]:
So also our beloved brother Paul wrote to you according to the wisdom given him, speaking of this as he does in all his letters. There are some things in them hard to understand, which the ignorant and unstable twist to their own destruction, as they do the other scriptures. You therefore, beloved, knowing this beforehand, beware lest you be carried away with
the error of lawless men and lose your own stability.1
A PROTESTANT MIGHT FURTHER OBJECT:
It's still better to have the freedom to believe what we find in the Bible, than to be told what to believe. Furthermore, Christians of different denominations may freely disagree about unessential doctrines, but on the essential matters of faith they usually agree. When they do disagree, though, it is because of their human sin and pride, not because the Bible's meaning isn't clear.
THE ONE-MINUTE APOLOGIST SAYS:
Both baptism (according to 1 Peter 3:21) and the Eucharist (John 6:53) are certainly "essential" — indeed, necessary — for salvation.
And even in seeming "non-essentials," God wills that we be unified in faith. Our Lord Jesus prayed in John 17:22, "that they may be one even as we are one." Acts 4:32 informs us that the earliest Christians were "of one heart and soul." St. Paul taught that "there is one body and one Spirit . . . one Lord, one faith, one baptism,"2 and that Christians were to "stand firm in one spirit, with one mind striving side by side for the faith of the gospel,"3 and to be "in full accord and of one mind."4 St. Peter urges us to have "unity of spirit."5 Denominationalism and doctrinal relativism are roundly condemned by the Apostle Paul:
1 Corinthians 1:10-13: "I appeal to you, brethren, by the name of our Lord Jesus Christ, that all of you agree and that there be no dissensions among you, but that you be united in the same mind and the same judgment. For it has been reported to me by Chloe's people that there is quarreling among you, my brethren. What I mean is that each one of you says, 'I belong to Paul,' or 'I belong to Apollos,' or 'I belong to Cephas,' or 'I belong to Christ.' Is Christ divided? Was Paul crucified for you? Or were you baptized in the name of Paul?"
Only an authoritative Church, commissioned by Christ to teach His truth and protected by the Holy Spirit from doctrinal error, can preserve individual Christians from the dissensions caused by their own flawed interpretations, and ensure the unity for which both Christ and St. Paul prayed.
"No one is trying to be dishonest. Everyone claims to be hearing the Word of God. But the indisputable fact of the matter is that Lutherans, Presbyterians, sectarians, liberals, conservatives, East Lansingites, East Berliners, southern Americans, southern Afrikaners, Indonesians, and Ghanians, all read the same Scriptures and all hear different things."

ROBERT MCAFEE BROWN (PROTESTANT SCHOLAR)
1 See also: Deut. 17:11, 2 Chron. 17:8-9, Mk. 4:33-34; cf. Neh. 8:7-8, Acts 8:27-31 2 Eph. 4:4-5 3 Phil. 1:27 4 Phil. 2:2 5 1 Pet. 3:8
***