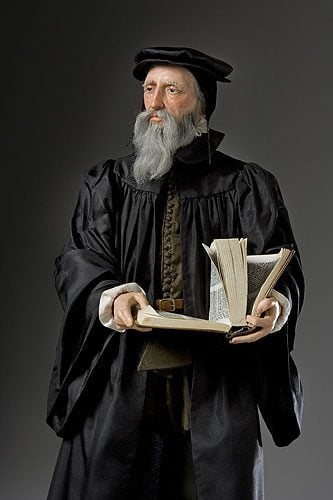 This is an installment of a series of replies (see the Introduction and Master List) to much of Book IV (Of the Holy Catholic Church) of Institutes of the Christian Religion, by early Protestant leader John Calvin (1509-1564). I utilize the public domain translation of Henry Beveridge, dated 1845, from the 1559 edition in Latin; available online. Calvin's words will be in blue. All biblical citations (in my portions) will be from RSV unless otherwise noted.
Related reading from yours truly:
Biblical Catholic Answers for John Calvin (2010 book: 388 pages)
A Biblical Critique of Calvinism (2012 book: 178 pages)
Biblical Catholic Salvation: "Faith Working Through Love" (2010 book: 187 pages; includes biblical critiques of all five points of "TULIP")
*****
IV, 19:14-17
***
Book IV
CHAPTER 19
OF THE FIVE SACRAMENTS, FALSELY SO CALLED. THEIR SPURIOUSNESS PROVED, AND THEIR TRUE CHARACTER EXPLAINED.
*
OF PENITENCE.
14. Of Penitence. Confused and absurd language of the Popish doctors. Imposition of hands in ancient times. This made by the Papists a kind of foundation of the sacrament of Penance.
The next place they give to Penitence, of which they discourse so confusedly and unmethodically, that consciences cannot derive anything certain or solid from their doctrine. In another place (Book 3 chap. 3 and 4), we have explained at length, first, what the Scriptures teach concerning repentance, and, secondly, what these men teach concerning it. All we have now to advert to is the grounds of that opinion of it as a sacrament which has long prevailed in schools and churches. First, however, I will speak briefly of the rite of the early Church, which those men have used as a pretext for establishing their fiction.
We shall see what is the true "fiction" — in light of the Bible and the early Church.
By the order observed in public repentance, those who had performed the satisfactions imposed upon them were reconciled by the formal laying on of hands. This was the symbol of absolution by which the sinner himself regained his confidence of pardon before God, and the Church was admonished to lay aside the remembrance of the offence, and kindly receive him into favour. This Cyprian often terms to give peace. In order that the act might have more weight and estimation with the people, it was appointed that the authority of the bishop should always be interposed. Hence the decree of the second Council of Carthage, "No presbyter may publicly at mass reconcile a penitent;" and another, of the Council of Arausica, "Let those who are departing this life, at the time of penitence, be admitted to communion without the reconciliatory laying on of hands; if they recover from the disease, let them stand in the order of penitents, and after they have fulfilled their time, receive the reconciliatory laying on of hands from the bishop." Again, in the third Council of Carthage, "A presbyter may not reconcile a penitent without the authority of the bishop." The object of all these enactments was to prevent the strictness, which they wished to be observed in that matter, from being lost by excessive laxity. Accordingly, they wished cognisance to be taken by the bishop, who, it was probable, would be more circumspect in examining. Although Cyprian somewhere says that not the bishop only laid hands, but also the whole clergy. For he thus speaks, "They do penitence for a proper time; next they come to communion, and receive the right of communion by the laying on of the hands of the bishop and clergy" (Lib. 3 Ep 14). Afterwards, in process of time, the matter came to this, that they used the ceremony in private absolutions also without public penitence. Hence the distinction in Gratian (Decret. 26, Quæst. 6) between public and private reconciliation. I consider that ancient observance of which Cyprian speaks to have been holy and salutary to the Church, and I could wish it restored in the present day. The more modern form, though I dare not disapprove, or at least strongly condemn, I deem to be less necessary.
Why? We can be thankful, however, that Calvin retains some remote notion of formal penance and absolution.
Be this as it may, we see that the laying on of hands in penitence was a ceremony ordained by men, not by God, and is to be ranked among indifferent things, and external exercises, which indeed are not to be despised, but occupy an inferior place to those which have been recommended to us by the word of the Lord.
The aspect of laying on of hands is not essential to the sacrament. Apparently (if we take Calvin's word) this was a practice in the early Church: making penance outwardly similar to confirmation. Be that as it may, there is indeed scriptural warrant for forgiveness of sins being associated with laying on of hands: at least insofar as anointing takes place (the same biblical proof that the Catholic produces regarding the sacrament of anointing):
James 5:14-15 Is any among you sick? Let him call for the elders of the church, and let them pray over him, anointing him with oil in the name of the Lord; [15] and the prayer of faith will save the sick man, and the Lord will raise him up; and if he has committed sins, he will be forgiven.
Also, indirectly, Ananias laying his hands on St. Paul could be interpreted as Paul being forgiven for his sins of persecuting Christians, as well as receiving the Holy Spirit:
Acts 9:10-17 Now there was a disciple at Damascus named Anani'as. The Lord said to him in a vision, "Anani'as." And he said, "Here I am, Lord." [11] And the Lord said to him, "Rise and go to the street called Straight, and inquire in the house of Judas for a man of Tarsus named Saul; for behold, he is praying, [12] and he has seen a man named Anani'as come in and lay his hands on him so that he might regain his sight." [13] But Anani'as answered, "Lord, I have heard from many about this man, how much evil he has done to thy saints at Jerusalem; [14] and here he has authority from the chief priests to bind all who call upon thy name." [15] But the Lord said to him, "Go, for he is a chosen instrument of mine to carry my name before the Gentiles and kings and the sons of Israel; [16] for I will show him how much he must suffer for the sake of my name." [17] So Anani'as departed and entered the house. And laying his hands on him he said, "Brother Saul, the Lord Jesus who appeared to you on the road by which you came, has sent me that you may regain your sight and be filled with the Holy Spirit."
Baptism is another instance of the "touch — forgiveness" dynamic. The person is anointed and touched by the baptismal waters and forgiveness and regeneration take place. Moreover, as a non-sacramental but analogous example of touch being associated with forgiveness, we have the father of the prodigal son (15:20: "embraced"):
Luke 15:18-24 I will arise and go to my father, and I will say to him, "Father, I have sinned against heaven and before you; [19] I am no longer worthy to be called your son; treat me as one of your hired servants."' [20] And he arose and came to his father. But while he was yet at a distance, his father saw him and had compassion, and ran and embraced him and kissed him. [21] And the son said to him, `Father, I have sinned against heaven and before you; I am no longer worthy to be called your son.' [22] But the father said to his servants, `Bring quickly the best robe, and put it on him; and put a ring on his hand, and shoes on his feet; [23] and bring the fatted calf and kill it, and let us eat and make merry; [24] for this my son was dead, and is alive again; he was lost, and is found.' And they began to make merry.
15. Disagreement among Papists themselves, as to the grounds on which penance is regarded as a sacrament.
*
The Romanists and Schoolmen, whose wont it is to corrupt all things by erroneous interpretation,
How charitable . . .
anxiously labour to find a sacrament here, and it cannot seem wonderful, for they seek a thing where it is not. At best, they leave the matter involved, undecided, uncertain, confused, and confounded by the variety of opinions. Accordingly, they say (Sent. Lib. 4 Dist. 22, cap. 3), either that external penitence is a sacrament, and, if so, ought to be regarded as a sign of internal penitence; i. e., contrition of heart, which will be the matter of the sacrament, or that both together make a sacrament, not two, but one complete; but that the external is the sacrament merely, the internal, the matter, and the sacrament, whereas the forgiveness of sins is the matter only, and not the sacrament. Let those who remember the definition of a sacrament, which we have given above, test by it that which they say is a sacrament, and it will be found that it is not an external ceremony appointed by God for the confirmation of our faith. But if they allege that my definition is not a law which they are necessarily bound to obey, let them hear Augustine, whom they pretend to regard as a saint. "Visible sacraments were instituted for the sake of carnal men, that by the ladder of sacraments they may be conveyed from those things which are seen by the eye, to those which are perceived by the understanding" (August. Quæst. Vet. Test. Lib. 3). Do they themselves see, or can they show to others, anything like this in that which they call the sacrament of penance? In another passage, he says, "It is called a sacrament, because in it one thing is seen, another thing is understood. What is seen has bodily appearance, what is understood has spiritual fruit" (Serm. de Bapt. Infant). These things in no way apply to the sacrament of penance, as they feign it; there, there is no bodily form to represent spiritual fruit.
Whether he called it a "sacrament" or not, St. Augustine accepted the entire notion of repentance, confession, absolution, and penance, as has already been shown, and has in more depth elsewhere. Sacraments, like Church offices, were more fluid in the early Church, and we can and should expect them to have taken a while to develop and crystallize. But if the essential teaching is present, that is sufficient. The Church has the power to forgive sins. That is established on direct biblical authority.
16. More plausibility in calling the absolution of the priest, than in calling penance a sacrament.
*
And (to despatch these beasts in their own arena) if any sacrament is sought here, would it not have been much more plausible to maintain that the absolution of the priest is a sacrament, than penitence either external or internal?
Indeed, we deem that as part of the sacrament, in terms of the process of it.
For it might obviously have been said that it is a ceremony to confirm our faith in the forgiveness of sins, and that it has the promise of the keys, as they describe them: "Whatsoever ye shall bind or loose on earth, shall be bound or loosed in heaven." But some one will object that to most of those who are absolved by priests nothing of the kind is given by the absolution, whereas, according to their dogma, the sacraments of the new dispensation ought to effect what they figure. This is ridiculous. As in the eucharist, they make out a twofold eating—a sacramental, which is common to the good and bad alike, and a spiritual, which is proper only to the good; why should they not also pretend that absolution is given in two ways? And yet I have never been able to understand what they meant by their dogma. How much it is at variance with the truth of God, we showed when we formally discussed that subject.
Fine; let's take a brief look at that, to see what arguments were made:
When they contend that judgment cannot be given unless the case is known, the answer is easy, that they usurp the right of judging, being only self-created judges. And it is strange, how confidently they lay down principles, which no man of sound mind will admit. They give out, that the office of binding and loosing has been committed to them, as a kind of jurisdiction annexed to the right of inquiry. That the jurisdiction was unknown to the Apostles their whole doctrine proclaims. Nor does it belong to the priest to know for certainty whether or not a sinner is loosed, but to Him from whom acquittal is asked; since he who only hears can ever know whether or not the enumeration is full and complete. Thus there would be no absolution, without restricting it to the words of him who is to be judged. We may add, that the whole system of loosing depends on faith and repentance, two things which no man can know of another, so as to pronounce sentence. It follows, therefore, that the certainty of binding and loosing is not subjected to the will of an earthly judge, because the minister of the word, when he duly executes his office, can only acquit conditionally, when, for the sake of the sinner, he repeats the words, "Whose soever sins ye remit;" lest he should doubt of the pardon, which, by the command and voice of God, is promised to be ratified in heaven. (Inst., III, 4:18)
The basic rationale for absolution is found in the following passages:
Matthew 16:19 I will give you the keys of the kingdom of heaven, and whatever you bind on earth shall be bound in heaven, and whatever you loose on earth shall be loosed in heaven.

Matthew 18:18 Truly, I say to you, whatever you bind on earth shall be bound in heaven, and whatever you loose on earth shall be loosed in heaven.

John 20:21-23 Jesus said to them again, "Peace be with you. As the Father has sent me, even so I send you." And when he had said this, he breathed on them, and said to them, "Receive the Holy Spirit. If you forgive the sins of any, they are forgiven; if you retain the sins of any, they are retained."
Calvin rationalizes these away by saying that all is occurring is a ratification of what has already taken place in heaven. He always seems to have to gut an act of its essence and power and make it merely symbolic. He also argues that since human beings cannot know the hearty of another person (whether he has truly repented); therefore they cannot absolve what is not known for certain. Calvin goes on:
But in pretending that he who has already obtained pardon before God is acquitted in the face of the Church, they unseasonably apply to the special use of every individual, that which we have already said was designed for common discipline when the offense of a more heinous and notorious transgression was to be removed. Shortly after they pervert and destroy their previous moderation, by adding that there is another mode of remission, namely, by the infliction of penalty and satisfaction, in which they arrogate to their priests the right of dividing what God has every where promised to us entire. While He simply requires repentance and faith, their division or exception is altogether blasphemous. For it is just as if the priest, assuming the office of tribune, were to interfere with God, and try to prevent him from admitting to his favor by his mere liberality any one who had not previously lain prostrate at the tribunicial bench, and there been punished. (Inst., III, 4:23)
So, let us review the heart of what Calvin is saying:
Nor does it belong to the priest to know for certainty whether or not a sinner is loosed, . . . the certainty of binding and loosing is not subjected to the will of an earthly judge, . . .

. . . they pervert and destroy their previous moderation, by adding that there is another mode of remission, namely, by the infliction of penalty and satisfaction, in which they arrogate to their priests the right of dividing what God has every where promised to us entire. While He simply requires repentance and faith, their division or exception is altogether blasphemous. For it is just as if the priest, assuming the office of tribune, were to interfere with God, . . .
It would be very odd and strange — granting that Calvin is correct for a moment — that St. Paul himself has no inkling at all of such a teaching, and contradicts it at every turn. Calvin says only God can bind and loose with certainty. But Paul does it himself with a great deal of authority and seeming certainty. Calvin says that priests cannot declare penalties and satisfaction, but Paul does both. Why? Is he so much dumber than Calvin, that he doesn't comprehend, as he states below, "a matter so plain and obvious to every man"? For St. Paul undeniably issued a binding decree of penance:
1 Corinthians 5:1-5 It is actually reported that there is immorality among you, and of a kind that is not found even among pagans; for a man is living with his father's wife. And you are arrogant! Ought you not rather to mourn? Let him who has done this be removed from among you. For though absent in body I am present in spirit, and as if present, I have already pronounced judgment in the name of the Lord Jesus on the man who has done such a thing. When you are assembled, and my spirit is present, with the power of our Lord Jesus, you are to deliver this man to Satan for the destruction of the flesh, that his spirit may be saved in the day of the Lord Jesus.
Later, he issued a loosing decree, or virtually what is now known as an indulgence (relaxation or abolition of temporal penalty for sin):
2 Corinthians 2:6-11 For such a one this punishment by the majority is enough; so you should rather turn to forgive and comfort him, or he may be overwhelmed by excessive sorrow. So I beg you to reaffirm your love for him. For this is why I wrote, that I might test you and know whether you are obedient in everything. Any one whom you forgive, I also forgive. What I have forgiven, if I have forgiven anything, has been for your sake in the presence of Christ, to keep Satan from gaining the advantage over us; for we are not ignorant of his designs.
I prefer to go with the judgment of the Apostle Paul, if it clashes with Calvin's. Calvin again plays games with the fathers. Generally speaking, he will claim that his system is closer to theirs than the Catholic system is (hence, his notion of himself as a "reformer" who is bringing the Church back to its former purer state). Yet when it comes to particulars he will admit otherwise. Hence, in this case, he finds that "almost all" fathers have "erred," according to his rock-solid judgment, but not, alas, to a degree anywhere near that of the dreaded papists:
I am little moved by the numerous passages in the writings of the Fathers relating to satisfaction. I see indeed that some (I will frankly say almost all whose books are extant) have either erred in this matter, or spoken too roughly and harshly; but I cannot admit that they were so rude and unskillful as to write these passages in the sense in which they are read by our new satisfactionaries. (Inst., III, 4:38)

I know that ancient writers sometimes speak harshly; nor do I deny, as I lately said, that they have perhaps erred; but dogmas, which were tainted with a few blemishes now that they have fallen into the unwashed hands of those men, are altogether defiled. (Inst., III, 4:39)
Here I only wish to show that no scruple should prevent them from giving the name of a sacrament to the absolution of the priest. For they might have answered by the mouth of Augustine, that there is a sanctification without a visible sacrament, and a visible sacrament without internal sanctification. Again, that in the elect alone sacraments effect what they figure. Again, that some put on Christ so far as the receiving of the sacrament, and others so far as sanctification; that the former is done equally by the good and the bad, the latter by the good only. Surely they were more deluded than children, and blind in the full light of the sun when they toiled with so much difficulty, and perceived not a matter so plain and obvious to every man.
There are several false Protestant premises here that have been dealt with previously, so I'll let this pass.
17. Penance not truly a sacrament. Baptism the sacrament of penitence.
*
Lest they become elated, however, whatever be the part in which they place the sacrament, I deny that it can justly be regarded as a sacrament; first, because there exists not to this effect any special promise of God, which is the only ground of a sacrament; and, secondly, because whatever ceremony is here used is a mere invention of man; whereas, as has already been shown, the ceremonies of sacraments can only be appointed by God.
Ceremonies are not of the essence of a sacrament, but rather, the understanding of what it is and what it does, in and through the ceremony which my differ somewhat. The essence of this sacrament is clearly laid out in Holy Scripture.
Their fiction of the sacrament of penance, therefore, was falsehood and imposture. This fictitious sacrament they adorned with the befitting eulogium, that it was the second plank in the case of shipwreck, because if any one had, by sin, injured the garment of innocence received in baptism, he might repair it by penitence. This was a saying of Jerome. Let it be whose it may, as it is plainly impious, it cannot be excused if understood in this sense; as if baptism were effaced by sin, and were not rather to be recalled to the mind of the sinner whenever he thinks of the forgiveness of sins, that he may thereby recollect himself, regain courage, and be confirmed in the belief that he shall obtain the forgiveness of sins which was promised him in baptism. What Jerome said harshly and improperly—viz. that baptism, which is fallen from by those who deserve to be excommunicated from the Church, is repaired by penitence, these worthy expositors wrest to their own impiety. You will speak most correctly, therefore, if you call baptism the sacrament of penitence, seeing it is given to those who aim at repentance to confirm their faith and seal their confidence. But lest you should think this our invention, it appears, that besides being conformable to the words of Scripture, it was generally regarded in the early Church as an indubitable axiom. For in the short Treatise on Faith addressed to Peter, and bearing the name of Augustine, it is called, The sacrament of faith and repentance. But why have recourse to doubtful writings, as if anything can be required more distinct than the statement of the Evangelist, that John preached "the baptism of repentance for the remission of sins"? (Mark 1:4; Luke 3:3).
So says Calvin. But this is a major problem of his whole approach. He appoints himself as Judge of the entire history of the Church, of the fathers and doctors, and of Holy Mother Church herself, and her Sacred Tradition. He appeals to Holy Scripture but arbitrarily makes himself its final interpreter, no matter how many or how eminent the persons who disagree with him.
Hence he freely admits above that there is much in the fathers about penance, that he deems to be in error, but to him that is irrelevant in the end. He simply dismisses it and adds that Catholics of his time do far worse than the fathers who were already wrong.
But what authority does Calvin truly have? Why should anyone believe him, if he dissents from so much prior Christian doctrinal history? This he never answers or establishes satisfactorily; he simply assumes it. And that is unacceptable and a major flaw in the entire edifice he attempts to construct in his Institutes. It's built on a foundation of sand, consisting of his various false premises and his groundless and absurd presumption of authority.