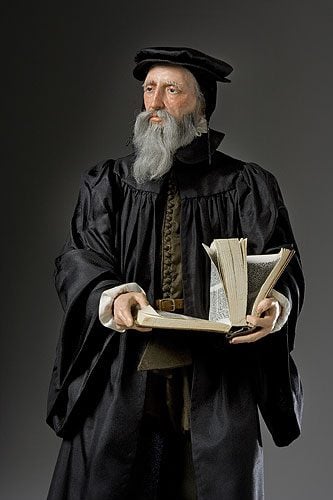 This is an installment of a series of replies (see the Introduction and Master List) to much of Book IV (Of the Holy Catholic Church) of Institutes of the Christian Religion, by early Protestant leader John Calvin (1509-1564). I utilize the public domain translation of Henry Beveridge, dated 1845, from the 1559 edition in Latin; available online. Calvin's words will be in blue. All biblical citations (in my portions) will be from RSV unless otherwise noted.
Related reading from yours truly:
Biblical Catholic Answers for John Calvin (2010 book: 388 pages)
A Biblical Critique of Calvinism (2012 book: 178 pages)
Biblical Catholic Salvation: "Faith Working Through Love" (2010 book: 187 pages; includes biblical critiques of all five points of "TULIP")
*****
IV, 18:3-4
***
Book IV
CHAPTER 18
OF THE POPISH MASS. HOW IT NOT ONLY PROFANES, BUT ANNIHILATES THE LORD'S SUPPER.
*
3. Impiety of the Mass continued. 2. It overthrows the cross of Christ by setting up an altar. Objections answered.
*
Another iniquity chargeable on the mass is, that it sinks and buries the cross and passion of Christ. 
To the contrary, the cross and passion of Christ are the very essence and focus of the Mass. It is beyond strange that Calvin cannot grasp this. Apparently his either/or mentality simply can't handle such a sublime concept.
This much, indeed, is most certain,—the cross of Christ is overthrown the moment an altar is erected. 
How odd, then, that Paul casually assumes the continued existence of altars among Christians (1 Cor 10:14-21), and that altars are mentioned in the New Testament in other places (apart from the many mentions of altars in heaven), as well:
Hebrews 13:9-12 Do not be led away by diverse and strange teachings; for it is well that the heart be strengthened by grace, not by foods, which have not benefited their adherents. [10] We have an altar from which those who serve the tent have no right to eat. [11] For the bodies of those animals whose blood is brought into the sanctuary by the high priest as a sacrifice for sin are burned outside the camp. [12] So Jesus also suffered outside the gate in order to sanctify the people through his own blood.
Therefore, if the cross is overthrown by an altar, then the New Testament is against the cross. Far more plausible is a state of affairs whereby Calvin has grossly misunderstood New Testament teaching; otherwise, Christianity (all Christianity: not just Catholicism) and the Bible alike are a mess of abominations and contradictions.
For if, on the cross, he offered himself in sacrifice that he might sanctify us for ever, and purchase eternal redemption for us, undoubtedly the power and efficacy of his sacrifice continues without end. 
Exactly!
Otherwise, we should not think more honourably of Christ than of the oxen and calves which were sacrificed under the law, the offering of which is proved to have been weak and inefficacious because often repeated. 
They are not hearkening back and making present one supreme, sublime sacrifice, as the Mass does.
Wherefore, it must be admitted, either that the sacrifice which Christ offered on the cross wanted the power of eternal cleansing, or that he performed this once for ever by his one sacrifice. 
We agree that He performed it once, forever. That is Catholic teaching. We believe that the sacrifice is eternally present, because it was an act of God, Who is outside of time, as well as an act of man. That's why Jesus appears even in heaven as a slain lamb.
Accordingly, the apostle says, "Now once in the end of the world hath he appeared to put away sin by the sacrifice of himself." Again: "By the which act we are sanctified through the offering of the body of Jesus Christ once for all." Again: "For by one offering he hath perfected for ever them that are sanctified." To this he subjoins the celebrated passage: "Now, where remission of these is, there is no more offering for sin." The same thing Christ intimated by his latest voice, when, on giving up the ghost, he exclaimed, "It is finished." 
Catholics disagree with not one iota of this. Calvin is simply ignorant, and mistakenly thinks that we do. Again, he quixotically wars against a straw man. One would think he would get tired of all that wasted energy after a while. But the demands of sophistry and misrepresentation overcome any possible fatigue for him.
We are accustomed to observe the last words of the dying as oracular. Christ, when dying, declares, that by his one sacrifice is perfected and fulfilled whatever was necessary to our salvation. To such a sacrifice, whose perfection he so clearly declared, shall we, as if it were imperfect, presume daily to append innumerable sacrifices? 
They are not innumerable sacrifices, but one and the same, brought to us, transcending time (as God does). But there is indeed a NT motif (above all, in Paul) of our participating in His sacrifice, too, which is not dissimilar to the notion of the Mass:
Romans 8:17 and if children, then heirs, heirs of God and fellow heirs with Christ, provided we suffer with him in order that we may also be glorified with him.

2 Corinthians 1:5-7 For as we share abundantly in Christ's sufferings, so through Christ we share abundantly in comfort too. [6] If we are afflicted, it is for your comfort and salvation; and if we are comforted, it is for your comfort, which you experience when you patiently endure the same sufferings that we suffer. [7] Our hope for you is unshaken; for we know that as you share in our sufferings, you will also share in our comfort.

2 Corinthians 4:10-11 always carrying in the body the death of Jesus, so that the life of Jesus may also be manifested in our bodies. [11] For while we live we are always being given up to death for Jesus' sake, so that the life of Jesus may be manifested in our mortal flesh.

Galatians 2:20 I have been crucified with Christ; it is no longer I who live, but Christ who lives in me; and the life I now live in the flesh I live by faith in the Son of God, who loved me and gave himself for me.

Galatians 6:17 Henceforth let no man trouble me; for I bear on my body the marks of Jesus.

Philippians 3:10 that I may know him and the power of his resurrection, and may share his sufferings, becoming like him in his death,

Colossians 1:24 Now I rejoice in my sufferings for your sake, and in my flesh I complete what is lacking in Christ's afflictions for the sake of his body, that is, the church,

2 Timothy 4:6 For I am already on the point of being sacrificed; the time of my departure has come.(cf. 2:10)

1 Peter 4:13 But rejoice in so far as you share Christ's sufferings, that you may also rejoice and be glad when his glory is revealed.
Calvin himself elsewhere applies the above teachings to a type of participation in the cross: a thing not all that different from what Catholics believe regarding the Sacrifice of the Mass:
[B]y fellowship with him he mortifies our earthly members that they may not afterwards exert themselves in action, and kill the old man, that he may not hereafter be in vigour and bring forth fruit. An effect of his burials moreover is that we as his fellows are buried to sin. For when the Apostle says, that we are ingrafted into the likeness of Christ's deaths and that we are buried with him unto sin, that by his cross the world is crucified unto us and we unto the world, and that we are dead with him, he not only exhorts us to manifest an example of his death, but declares that there is an efficacy in it which should appear in all Christians, if they would not render his death unfruitful and useless. Accordingly in the death and burial of Christ a twofold blessing is set before us—viz. deliverance from death, to which we were enslaved, and the mortification of our flesh (Rom. 6:5; Gal. 2:19, 6:14; Col. 3:3). (Inst., II, 16:7)
Calvin also shows that he comprehends a large part of the Catholic understanding of the importance of the Mass: the centrality of the cross and Jesus' sacrifice:
Nor is this to be wondered at; for, as another Apostle declares, Christ, "through the eternal Spirit, offered himself without spot to God," (Heb. 9:14), and hence that transformation of the cross which were otherwise against its nature. But that these things may take deep root and have their seat in our inmost hearts, we must never lose sight of sacrifice and ablution. For, were not Christ a victim, we could have no sure conviction of his being . . . our substitute-ransom and propitiation.  (Inst., II, 16:6)
Since the sacred word of God not only affirms, but proclaims and protests, that this sacrifice was once accomplished, and remains eternally in force, do not those who demand another, charge it with imperfection and weakness? 
Certainly. But since we don't "demand" another, we are not guilty of this outrageous presumption.
But to what tends the mass which has been established, that a hundred thousand sacrifices may be performed every day, but just to bury and suppress the passion of our Lord, in which he offered himself to his Father as the only victim? Who but a blind man does not see that it was Satanic audacity to oppose a truth so clear and transparent? 
More nonsense based on the same tragically clueless understanding of the Catholic doctrine . . .
I am not unaware of the impostures by which the father of lies is wont to cloak his fraud—viz. that the sacrifices are not different or various, but that the one sacrifice is repeated. Such smoke is easily dispersed. 
Yes, exactly (to the last sentence). So we have the spectacle of Calvin setting up the straw man of Catholics supposedly sacrificing Jesus over and over. He bashes that, then he steps back and admits that Catholics don't actually believe what he has just (rightly) demolished. But then he dismisses the Catholic explanation with virtually no argument, as "smoke" deriving from the devil.
Rather than bash a straw man and dismiss the actual Catholic argument, Calvin ought to interact with our real arguments. But he'd rather "refute" fictional opponents. It looks more impressive — to the inattentive reader, that is, who hasn't perceived the folly of his disgraceful methods of "disputation."
The apostle, during his whole discourse, contends not only that there are no other sacrifices, but that that one was once offered, and is no more to be repeated. 
We agree! What is so difficult for Calvin to grasp in this? There is either one sacrifice or there are many. We agree with Calvin and Protestants that there is but one. We contend that the Sacrifice of the Mass is included in the one: it transcends time. It is not an additional sacrifice. That means (agree with us or disagree) that we do not hold to "many" sacrifices. Calvin claims that we do because he defines our self-understanding according to his cynical, prejudiced, anti-Catholic pseudo-understanding of what we believe.
But we can't redefine other people's positions. We can honestly disagree, of course, but that gives us no right to caricature other beliefs and pretend that the caricature is held by those with whom we disagree. That is what makes a mockery of true dialogue.
Calvin's problem remains having to explain the references to the "table of the Lord" in Paul: to altars. Altars make no sense in his paradigm, because he thinks they are opposed to the cross of Christ. He also has to explain why Jesus is described repeatedly in Revelation as a "Lamb" — long after His crucifixion and resurrection and ascension and glorification (once, even as "a Lamb standing, as though it had been slain" — Rev 5:6).
He has to explain also how it is that an act of God (the crucifixion: an act of Jesus Who is God as well as man) could be in time. So how does he explain all this? Or does he even try? Once again, the Catholic view takes in and incorporates all of the Bible: not just the passages that teach one aspect of a multi-faceted truth or state of affairs.
But Calvin, when various of his arguments are taken together (along with related Scripture), actually proves by his own reasoning the possibility and plausibility of the Sacrifice of the Mass. It can be demonstrated as following, or at least not being at all inconsistent with, his own premises. Here is how it works:
1) What God decrees, and His acts (and one may contend that for God, these are one and the same), are from God's perspective outside of time, or decreed from eternity, because He is outside of time. They may intersect with history and be in time in that sense, from our perspective, but for God they are timeless and "present":

When we attribute prescience to God, we mean that all things always were, and ever continue, under his eye; that to his knowledge there is no past or future, but all things are present, and indeed so present, that it is not merely the idea of them that is before him (as those objects are which we retain in our memory), but that he truly sees and contemplates them as actually under his immediate inspection. This prescience extends to the whole circuit of the world, and to all creatures. (Inst., III, 21:5)

Should any one object, that in this there is nothing to prevent the same Christ who redeemed us when condemned from also testifying his love to us when safe by assuming our nature, we have the brief answer, that when the Spirit declares that by the eternal decree of God the two things were connected together—viz. that Christ should be our Redeemer, and, at the same time, a partaker of our nature, it is unlawful to inquire further. He who is tickled with a desire of knowing something more, not contented with the immutable ordination of God, shows also that he is not even contented with that Christ who has been given us as the price of redemption. (Inst., II, 12:5)

Isaiah 46:9-10 remember the former things of old; for I am God, and there is no other; I am God, and there is none like me, [10] declaring the end from the beginning and from ancient times things not yet done, saying, `My counsel shall stand, and I will accomplish all my purpose,'

Lamentations 2:17 The LORD has done what he purposed, has carried out his threat; as he ordained long ago,

Lamentations 3:37 Who has commanded and it came to pass, unless the Lord has ordained it?

2) It was God Who died on the cross, since Jesus Christ is true God and true man; therefore, the sacrifice of the cross was undertaken by God (the Son) Himself, and God (the Father) decreed this from eternity:

It deeply concerned us, that he who was to be our Mediator should be very God and very man. If the necessity be inquired into, it was not what is commonly termed simple or absolute, but flowed from the divine decree on which the salvation of man depended. What was best for us, our most merciful Father determined. Our iniquities, like a cloud intervening between Him and us, having utterly alienated us from the kingdom of heaven, none but a person reaching to him could be the medium of restoring peace. But who could thus reach to him? Could any of the sons of Adam? All of them, with their parents, shuddered at the sight of God. Could any of the angels? They had need of a head, by connection with which they might adhere to their God entirely and inseparably. What then? The case was certainly desperate, if the Godhead itself did not descend to us, it being impossible for us to ascend. Thus the Son of God behoved to become our Emmanuel, the God with us; and in such a way, that by mutual union his divinity and our nature might be combined; otherwise, neither was the proximity near enough, nor the affinity strong enough, to give us hope that God would dwell with us; so great was the repugnance between our pollution and the spotless purity of God. (Inst., II, 12:1)

Finally, since as God only he could not suffer, and as man only could not overcome death, he united the human nature with the divine, that he might subject the weakness of the one to death as an expiation of sin, and by the power of the other, maintaining a struggle with death, might gain us the victory. Those, therefore, who rob Christ of divinity or humanity either detract from his majesty and glory, or obscure his goodness. (Inst., II, 12:3)

Ephesians 3:8-11 To me, though I am the very least of all the saints, this grace was given, to preach to the Gentiles the unsearchable riches of Christ, [9] and to make all men see what is the plan of the mystery hidden for ages in God who created all things; [10] that through the church the manifold wisdom of God might now be made known to the principalities and powers in the heavenly places. [11] This was according to the eternal purpose which he has realized in Christ Jesus our Lord,

2 Timothy 1:9 who saved us and called us with a holy calling, not in virtue of our works but in virtue of his own purpose and the grace which he gave us in Christ Jesus ages ago,

3) The sacrifice of Jesus on the cross was decreed from eternity:

We know well why Christ was at first promised—viz. that he might renew a fallen world, and succour lost man. Hence under the Law he was typified by sacrifices, to inspire believers with the hope that God would be propitious to them after he was reconciled by the expiation of their sins. Since from the earliest age, even before the Law was promulgated, there was never any promise of a Mediator without blood, we justly infer that he was destined in the eternal counsel of God to purge the pollution of man, the shedding of blood being the symbol of expiation. Thus, too, the prophets, in discoursing of him, foretold that he would be the Mediator between God and man. It is sufficient to refer to the very remarkable prophecy of Isaiah (Is. 53:4, 5), in which he foretells that he was "smitten for our iniquities;" that "the chastisement of our peace was upon him;" that as a priest "he was made an offering for sin;" "that by his stripes we are healed;" that as all "like lost sheep have gone astray," "it pleased the Lord to bruise him, and put him to grief," that he might "bear our iniquities." After hearing that Christ was divinely appointed to bring relief to miserable sinners, whose overleaps these limits gives too much indulgence to a foolish curiosity. (Inst., II, 12:4)

Acts 4:26-28 The kings of the earth set themselves in array, and the rulers were gathered together, against the Lord and against his Anointed' — [27] for truly in this city there were gathered together against thy holy servant Jesus, whom thou didst anoint, both Herod and Pontius Pilate, with the Gentiles and the peoples of Israel, [28] to do whatever thy hand and thy plan had predestined to take place.

1 Corinthians 2:2, 6-8 For I decided to know nothing among you except Jesus Christ and him crucified. . . . [6] Yet among the mature we do impart wisdom, although it is not a wisdom of this age or of the rulers of this age, who are doomed to pass away. [7] But we impart a secret and hidden wisdom of God, which God decreed before the ages for our glorification. [8] None of the rulers of this age understood this; for if they had, they would not have crucified the Lord of glory.

Ephesians 1:5-12 He destined us in love to be his sons through Jesus Christ, according to the purpose of his will, [6] to the praise of his glorious grace which he freely bestowed on us in the Beloved. [7] In him we have redemption through his blood, the forgiveness of our trespasses, according to the riches of his grace [8] which he lavished upon us. [9] For he has made known to us in all wisdom and insight the mystery of his will, according to his purpose which he set forth in Christ [10] as a plan for the fulness of time, to unite all things in him, things in heaven and things on earth. [11] In him, according to the purpose of him who accomplishes all things according to the counsel of his will, [12] we who first hoped in Christ have been destined and appointed to live for the praise of his glory.

1 Peter 1:18-20 You know that you were ransomed from the futile ways inherited from your fathers, not with perishable things such as silver or gold, [19] but with the precious blood of Christ, like that of a lamb without blemish or spot. [20] He was destined before the foundation of the world but was made manifest at the end of the times for your sake.

4) The future can be made, in a sense, "present" to us in prophecy, and in a broader sense, in written revelation itself, since the God Who communicates it to us through a prophet is outside of time, and the future is already present to Him:

Isaiah 42:9 Behold, the former things have come to pass, and new things I now declare; before they spring forth I tell you of them.

Isaiah 44:7-8 Who is like me? Let him proclaim it, let him declare and set it forth before me. Who has announced from of old the things to come? Let them tell us what is yet to be. [8] Fear not, nor be afraid; have I not told you from of old and declared it? . . .

Isaiah 45:21 . . . Who told this long ago? Who declared it of old? Was it not I, the LORD? . . .

Isaiah 48:3 The former things I declared of old, they went forth from my mouth and I made them known; then suddenly I did them and they came to pass.

Isaiah 48:5 I declared them to you from of old, before they came to pass I announced them to you,

Sirach 42:19 He declares what has been and what is to be, and he reveals the tracks of hidden things.

Sirach 48:25 He revealed what was to occur to the end of time, and the hidden things before they came to pass.

Acts 2:17 And in the last days it shall be, God declares, . . .

Acts 3:21 whom heaven must receive until the time for establishing all that God spoke by the mouth of his holy prophets from of old.

Acts 15:18 says the Lord, who has made these things known from of old.'

5) Moreover, God has the ability to allow human beings to be "present" at events from another time, such as St. John's revelation (the entire Book of Revelation). Therefore, He can just as easily decide to make the cross present to Christians, even though to us it is a past event.

6) Therefore, the sacrifice of the cross can be made present to us in the Sacrifice of the Mass, by God's design and power, and this all follows from explicit arguments from Calvin himself, following his own premises. The timelessness of the Mass is indicated by continued biblical references to the "table of the Lord," altars, and the Lamb (Jesus). Continued sacrifice in the New Covenant can only refer to Jesus' death on the cross (especially in light of the book of Hebrews).

7) Moreover, references to Jesus as a perpetual high priest (not just a temporary one at the time of His crucifixion: see especially Heb 7:23-25 below) suggest that the sacrifice is timeless or ongoing: the same notion entailed in the Sacrifice of the Mass:

Hebrews 2:17-18 Therefore he had to be made like his brethren in every respect, so that he might become a merciful and faithful high priest in the service of God, to make expiation for the sins of the people. [18] For because he himself has suffered and been tempted, he is able to help those who are tempted.

Hebrews 3:1 Therefore, holy brethren, who share in a heavenly call, consider Jesus, the apostle and high priest of our confession.

Hebrews 4:14-15 Since then we have a great high priest who has passed through the heavens, Jesus, the Son of God, let us hold fast our confession. [15] For we have not a high priest who is unable to sympathize with our weaknesses, but one who in every respect has been tempted as we are, yet without sin.

Hebrews 5:5-6 So also Christ did not exalt himself to be made a high priest, but was appointed by him who said to him, "Thou art my Son, today I have begotten thee"; [6] as he says also in another place, "Thou art a priest for ever, after the order of Melchiz'edek."

Hebrews 5:10 being designated by God a high priest after the order of Melchiz'edek.

Hebrews 6:17, 20 So when God desired to show more convincingly to the heirs of the promise the unchangeable character of his purpose, he interposed with an oath, . . . [20] . . . Jesus has gone as a forerunner on our behalf, having become a high priest for ever after the order of Melchiz'edek.

Hebrews 7:14-17 For it is evident that our Lord was descended from Judah, and in connection with that tribe Moses said nothing about priests. [15] This becomes even more evident when another priest arises in the likeness of Melchiz'edek, [16] who has become a priest, not according to a legal requirement concerning bodily descent but by the power of an indestructible life. [17] For it is witnessed of him, "Thou art a priest for ever, after the order of Melchiz'edek."

Hebrews 7:21-28 Those who formerly became priests took their office without an oath, but this one was addressed with an oath, "The Lord has sworn and will not change his mind, `Thou art a priest for ever.'" [22] This makes Jesus the surety of a better covenant. [23] The former priests were many in number, because they were prevented by death from continuing in office; [24] but he holds his priesthood permanently, because he continues for ever. [25] Consequently he is able for all time to save those who draw near to God through him, since he always lives to make intercession for them. [26] For it was fitting that we should have such a high priest, holy, blameless, unstained, separated from sinners, exalted above the heavens. [27] He has no need, like those high priests, to offer sacrifices daily, first for his own sins and then for those of the people; he did this once for all when he offered up himself. [28] Indeed, the law appoints men in their weakness as high priests, but the word of the oath, which came later than the law, appoints a Son who has been made perfect for ever.

Hebrews 8:1-3 Now the point in what we are saying is this: we have such a high priest, one who is seated at the right hand of the throne of the Majesty in heaven, [2] a minister in the sanctuary and the true tent which is set up not by man but by the Lord. [3] For every high priest is appointed to offer gifts and sacrifices; hence it is necessary for this priest also to have something to offer.

Hebrews 9:11 . . . Christ appeared as a high priest. . .

Hebrews 10:21-22 and since we have a great priest over the house of God, [22] let us draw near with a true heart in full assurance of faith, with our hearts sprinkled clean from an evil conscience and our bodies washed with pure water.
The more subtle try to make their escape by a still narrower loophole—viz. that it is not repetition, but application. But there is no more difficulty in confuting this sophism also. For Christ did not offer himself once, in the view that his sacrifice should be daily ratified by new oblations, but that by the preaching of the gospel and the dispensation of the sacred Supper, the benefit of it should be communicated to us. 
But the "oblations" are not new; that is the whole point. Calvin hasn't refuted anything: he has caricatured, and then asserted circular propositions without argument. He hasn't seriously considered all of the relevant Bible data to be brought to bear.
Thus Paul says, that "Christ, our passover, is sacrificed for us," and bids us "keep the feast" (1 Cor. 5:7, 8). The method, I say, in which the cross of Christ is duly applied to us is when the enjoyment is communicated to us, and we receive it with true faith.
Right there is the Sacrifice of the Mass in a nutshell, yet Calvin misses it!:
1 Corinthians 5:7-8 Cleanse out the old leaven that you may be a new lump, as you really are unleavened. For Christ, our paschal lamb, has been sacrificed. [8] Let us, therefore, celebrate the festival, not with the old leaven, the leaven of malice and evil, but with the unleavened bread of sincerity and truth.
John Wesley commented on 5:8 (Wesley's Notes on the Bible): "Here is a plain allusion to the Lord's supper, which was instituted in the room of the passover." That is the essence of the Mass: "Christ, our paschal lamb, has been sacrificed. Let us, therefore, celebrate the [Lord's supper]."
4. Other objections answered.
But it is worth while to hear on what other foundation besides they rear up their sacrifice of the mass. To this end they drag in the prophecy of Malachi, in which the Lord promises that "in every place incense shall be offered unto my name, and a pure offering" (Mal. 1:11). As if it were new or unusual for the prophets, when they speak of the calling of the Gentiles, to designate the spiritual worship of God to which they call them, by the external rites of the law, more familiarly to intimate to the men of their age that they were to be called into the true fellowship of religion, just as in general they are wont to describe the truth which has been exhibited by the gospel by the types of their own age. 
Fair enough, but I would reply by asking, "what are they offering?" It is true that metaphors and symbols are often used in Scripture, but this instance does not appear to be an instance of that. The surrounding context seems quite literal. If so, it doesn't work very well to all of a sudden go to a metaphorical interpretation of verse 11. Malachi 1:7 is about "offering polluted food upon my altar." Verse 8 condemns offering blind, lame, and sick animals. This is real stuff; real corruptions of religious rites, not metaphor. Malachi 1:10 continues in this vein:
Oh, that there were one among you who would shut the doors, that you might not kindle fire upon my altar in vain! I have no pleasure in you, says the LORD of hosts, and I will not accept an offering from your hand.
Malachi 1:12 contrasts a bad offering with a good one:
But you profane it when you say that the LORD's table is polluted, and the food for it may be despised.
Verses 13 and 14 continue on with the theme of the Lord's displeasure over improper offerings. Therefore, I submit that Calvin's lame counter-interpretation falls flat: a victim of the context and type of literature involved.
Thus they use going up to Jerusalem for conversion to the Lord, the bringing of all kinds of gifts for the adoration of God—dreams and visions for the more ample knowledge with which believers were to be endued in the kingdom of Christ. The passage they quote from Malachi resembles one in Isaiah, in which the prophet speaks of three altars to be erected in Assyria, Egypt, and Judea. First, I ask, whether or not they grant that this prophecy is fulfilled in the kingdom of Christ? Secondly, Where are those altars, or when were they ever erected? Thirdly, Do they suppose that a single temple is destined for a single kingdom, as was that of Jerusalem? 
No, we suppose that a single sacrifice on the cross is made present by a Last-Supper-derived observance of the Sacrifice of the Mass, wherever it occurs.
If they ponder these things, they will confess, I think, that the prophet, under types adapted to his age, prophesied concerning the propagation of the spiritual worship of God over the whole world. This is the answer which we give them; but, as obvious examples everywhere occur in the Scripture, I am not anxious to give a longer enumeration; 
Too bad: all of those scriptures (so Calvin claims) but alas, they are so "obvious" that Calvin withdraws from us the unutterable joy of being fed his infallible oracles. What a huge loss . . .
although they are miserably deluded in this also, that they acknowledge no sacrifice but that of the mass, whereas in truth believers now sacrifice to God and offer him a pure offering, of which we shall speak by-and-by.
There are other offerings beside the Mass. We don't have to deny that, but of course Calvin has to play the tiresome "either/or" game and deny the Mass, in the face of much biblical indication.