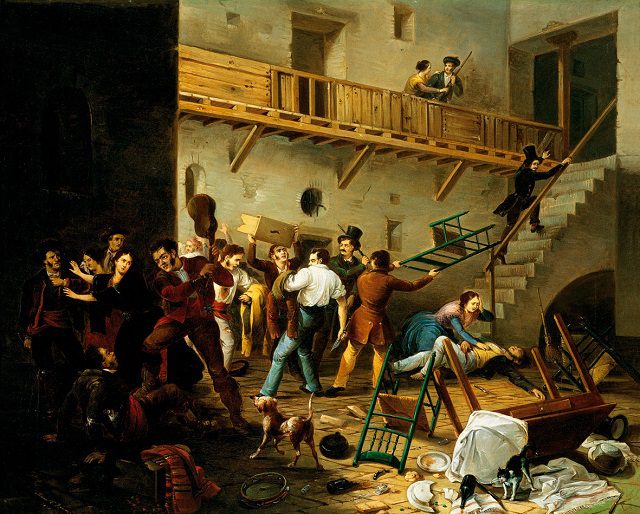 St. Paul tells us not to associate with 'em, not to eat with such people. Block them (if they show that they can't stop doing this, and it's all they do). Spend time with people who can engage in normal, civil conversation. Don't cast your pearls before swine. Coveting and envy are often the root of slanders and calumnies and verbal abuse, so I have included them among the terms highlighted. I didn't even cite the passages on avoiding foolish controversies and stupid conversations, which is a whole 'nother related area highly stressed by St. Paul. If we follow Paul's advice, we'll all be a lot happier in our online experience.
This is not just a minor, passing motif in the New Testament; it's a major, repeated, emphasized theme (often directly tied to damnation or salvation), which indicates its high importance in the mind of the biblical writers, who have passed on to us God's revelation. Yet it's routinely violated, and many times even those who oppose it and speak out are abused and slandered as well (as if this rank sin is "normal" and no one should object to it at all).
— all passages taken from my Victorian King James Version —
*****
Romans 1:28-31 And as they disdained to acknowledge God any longer, God gave them up to a reprobate mind, so that they did all kinds of shameful things, [29] having been filled with every form of unrighteousness, wickedness, covetousness, maliciousness; full of envy, murder, quarreling, treachery, malice, [30] slanderers, haters of God, impious, insolent, boastful, inventive in evil, disobedient to parents, [31] foolish, untrustworthy, without natural affection, without mercy.
1 Corinthians 3:3 for you are still worldly: for whereas there is among you envying and strife, are you not fleshly, and behaving like ordinary men?
1 Corinthians 5:9-11 In my letter I wrote that you were not to associate with immoral people. [10] I did not mean you were literally to avoid contact with the immoral in this world, with the covetous, or extortioners, or idolaters; in that case you would have to leave the world altogether. [11] But what I meant was that you were not to associate with any so-called brother who is immoral or covetous or an idolater or given to abuse or drink or robbery; with such a man you ought not even to eat.
1 Corinthians 6:9-10 Do you not know that the unrighteous shall not inherit the kingdom of God? Be not deceived: neither the immoral, nor idolaters, nor adulterers, nor any who are guilty of unnatural crime, [10] nor thieves, nor covetous, nor drunkards, nor revilers, nor extortioners, shall inherit the kingdom of God.
Galatians 5:19-21 Now the works of the flesh are manifest, which are these; sexual vice, impurity, sensuality, [20] Idolatry, witchcraft, hatred, contentions, jealousy, wrath, strife, dissensions, sects, [21] envies, murders, drunkenness, revelry, and such like. I tell you beforehand as I have told you already, that they who indulge in such practices shall not inherit the kingdom of God.
James 1:26 And if any man think himself to be religious, not bridling his tongue, but deceiving his own heart, this man' s religion is vain.
James 3:14-16 But if you are cherishing bitter envying and strife in your hearts, do not pride yourselves on that, and be false to the truth. [15] For this is not wisdom, descending from above: but earthly, sensual, devilish. [16] For where envying and strife is, there is confusion and every evil work.
See also:
Shunning Unrepentant or Contentious Sinners: Biblical? [4-8-13]
***
(originally 1-30-14 on Facebook)
Photo credit: The Brawl (1850), by Manuel Cabral y Aguado Bejarano (1827-1891) [public domain / Wikimedia Commons]
***