Development: Law & Grace & Faith / Circumcision & Abortion / Eternal Salvation & Damnation in the Old Testament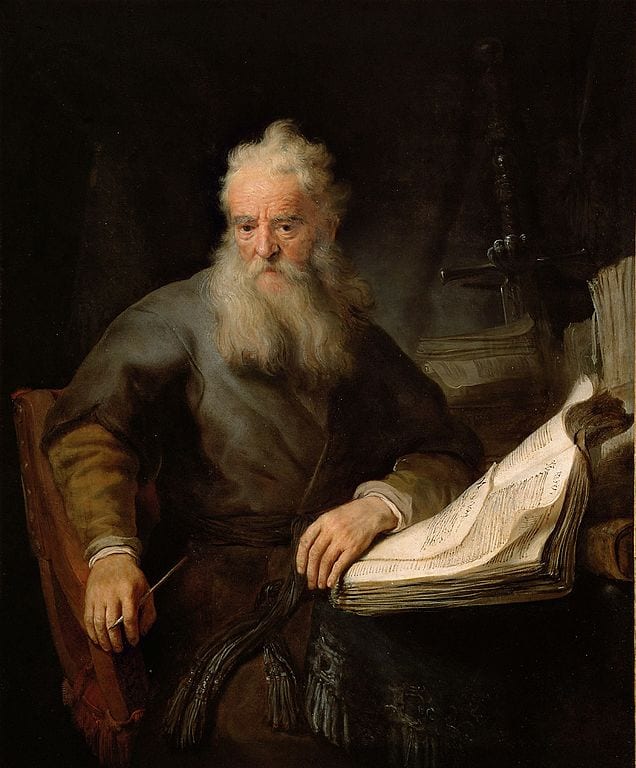 This is an installment of my replies to a series of articles on the epistle to the Romans (written by St. Paul) by Dr. David Madison: an atheist who was a Methodist minister for nine years: with a Ph.D. in Biblical Studies from Boston University. His summary article is called, "Bad Bible Theology: Paul's Letter to the Romans: Let me count the ways…that Paul got it wrong" (2-26-18). He devotes a paper to each chapter. Unless he repeats himself (a bad habit of his) or descends to sheer biblical skepticism (which I have less than no interest in), I will reply to all.
The introduction is basically a catalogue of rank insults, where he calls St. Paul "a crank" and a "delusional cult fanatic" and "the prototype for Christian crazies" and "an obsessive-compulsive mediocre thinker and bad theologian" and "an embarrassment." He adds: "how can anyone take this guy seriously?" That about covers the "content" there. Bears poop in the woods, brats throw fits, squirrels walk telephone lines, and the prevalent anti-theist brand of atheists insult Christians. Ho hum. What else is new?
Thus far, I have counter-replied to / answered 27 of Dr. Madison's critiques, from three different series, without hearing one peep back from him as of yet (25 days' total time). This certainly doesn't suggest to me that he is very confident in his opinions. I know he's still alive and kicking, because I've seen him write other posts during this same period.
Dr. Madison's words will be in blue below.
*****
Dr. Madison calls his critique of Romans chapter 4, "The Delicate, Dicey Task of Revising Revelation: Theologians boldly rise to the occasion" (3-10-17).
What to do when God has favored you with new revelation? I don't mean just a casual vision or two—but with a Cosmos-shattering revelation update: You have been given the word that God has revised a whole salvation scheme. How do you mesh this new scheme with the old system in place for centuries? We see the apostle Paul wrestling with this very task in chapter 4 of his Letter to the Romans.
No biggie; no "wrestling" or cognitive dissonance (except in the mind of confused folks like Dr. Madison). It's simply the development of doctrine that had been going on since the beginning of salvation history and God's dealing with His chosen people, the Jews. There was no essential change, but rather — as even Dr. Madison alludes to — an "update" or "revised" version of what was. Salvation was always by faith, enabled by God's grace, from the beginning. The law was only a tutor or guide, as Paul often discuses in his epistles. The blood of lambs and goats in and of themselves never saved anyone, as Paul also states.
Welcome back to our journey through this book of the Bible. We're treading through it chapter by chapter, one every other week.
Thanks for the welcome! And we've been refuting these critiques; usually at the rate of two per day (just like today). It'e never very difficult to do, because there are so many basic category or factual or logical errors, that are rather easily disposed of by anyone who has studied the Bible very much and knows how to interpret it (the basics of hermeneutics and exegesis).
Please don't change channels just yet!
No worries. I'm having a great time, and am very thankful for the opportunity to refute so many errors about Christianity and the Bible; particularly Paul's epistles. Hopefully, Dr. Madison will show up one of these months.
Isn't it fun (well, so okay, I'm a nerd) to be well equipped to point out the glaring shortcomings of Christianity? Especially some of the sophomoric theology in the Bible? . . . if we can grasp Paul's thought, we can how badly Christian thought went off the rails.
That may be, but I'm having at least as much fun, and I suspect, much more so, in refuting these atrociously argued pieces of propaganda, and showing how truly groundless and silly they are. Thank you, Dr. Madison!
But wait, was this something new that God had come up with? Had God changed his mind about how people can get saved? We read in Isaiah 40:8 that "the grass withers, the flower fades; but the word of our God will stand forever." So why would it need to be changed? How could an amendment be needed? Paul had do deal with this, and he does get points for cleverness in Romans 4. . . .
Paul has been followed by thousands of other theologians who scour through scripture looking for texts to back up their particular theological detours and blind alleys, no matter how far they may stray from the meaning of the original text.
Rather, salvation theology has developed: which is a greater understanding of a thing that has remained essentially the same all along.
So Abraham himself, so many centuries before, had set the example of believing a divine promise, or as Paul states it in Romans 4:11-12: "He received the sign of circumcision as a seal of the righteousness that he had by faith while he was still uncircumcised. The purpose was to make him the ancestor of all who believe without being circumcised and who thus have righteousness reckoned to them, and likewise the ancestor of the circumcised who are not only circumcised but who also follow the example of the faith that our ancestor Abraham had before he was circumcised."
Exactly! As I noted last time, faith was always key, all along, and this demonstrates that principle and that fact. Noah had faith even before Abraham, etc. There was enough evidence of God, for Him to be believed in.
Of course, this was an improvement for theology, since genital mutilation was eliminated as a mark of virtue or belonging to the in-group.
Thanks for the compliment. I wish that secularist ideology had likewise progressed. It has"graduated" to butchering babies limb from limb in their mother's wombs, or burning them with saline solution, or sucking them into a vacuum cleaner.
In partial-birth "abortion" (i.e., infanticide), babies who have developed for the full nine months, or close to it, are delivered backwards up to their necks, then the "doctor" extracts the baby's brain and crushes his or her skull, because he or she doesn't have the "right" to be delivered alive and to live the only life they will ever experience (under atheist assumptions of no afterlife).
So secular society has really improved, hasn't it?: attaining the sublime moral heights of this wonderfully enlightened, tolerant, and loving practice: to the tune of hundreds of millions of murdered babies. And God is watching all of it and will judge the butchers who perform these abortions, if they never repent of their outrages.
The ultimate irony here, of course, is that "being saved" or winning "eternal life" were utterly foreign concepts to Old Testament theologians, including those who wrote the Abraham sagas. They had no belief in heaven or life everlasting. When you died, perhaps your soul lingered a while in the dark underworld of she'ol, then you faded away. Poof….gone.
Eventually a great kaleidoscope of pagan beliefs invaded Jewish thought—including depictions of afterlife, heaven, hell and the apocalypse to bring God's justice to Earth. Sadly, Jesus and Paul were among those who fell hard for so much of the strange new revenge-reward theology.
It's true that these elements did develop quite a bit in the intertestamental period (as Dr. Madison alludes to in his final paragraph, cited above), and then all the more so in the New Testament. But there were also many clear signs or precursors of it (some remarkably explicit) all along. The book of Job seems to allude to an eternal consciousness in a resurrected body in some sort of paradisal state with God:
Job 19:25-27 (RSV) For I know that my Redeemer lives, and at last he will stand upon the earth; [26] and after my skin has been thus destroyed, then from my flesh I shall see God, [27] whom I shall see on my side, and my eyes shall behold, and not another. (cf. 14:12-15)
The prophet Isaiah (8th c. BC) taught similarly:
Isaiah 26:19a Thy dead shall live, their bodies shall rise. O dwellers in the dust, awake and sing for joy! . . .
This is hardly a shadowy temporary existence in Sheol and then annihilation. So Dr. Madison — foolish enough to assert universal negatives again — is already refuted. But I have much more, too:
Genesis 5:24 Enoch walked with God; and he was not, for God took him.

2 Kings 2:11 And as they still went on and talked, behold, a chariot of fire and horses of fire separated the two of them. And Eli'jah went up by a whirlwind into heaven.

Psalms 16:10-11 For thou dost not give me up to Sheol, or let thy godly one see the Pit. [11] Thou dost show me the path of life; in thy presence there is fulness of joy, in thy right hand are pleasures for evermore.

Psalms 21:4, 6 He asked life of thee; thou gavest it to him, length of days for ever and ever. . . . [6] Yea, thou dost make him most blessed for ever; thou dost make him glad with the joy of thy presence.

Psalms 23:6b . . . I shall dwell in the house of the LORD for ever.

Psalms 49:7-9, 15 Truly no man can ransom himself, or give to God the price of his life, [8] for the ransom of his life is costly, and can never suffice, [9] that he should continue to live on for ever, and never see the Pit. . . . [15] But God will ransom my soul from the power of Sheol, for he will receive me. . . .

Psalms 73:23-26 Nevertheless I am continually with thee; thou dost hold my right hand. [24] Thou dost guide me with thy counsel, and afterward thou wilt receive me to glory. [25] Whom have I in heaven but thee? And there is nothing upon earth that I desire besides thee. [26] My flesh and my heart may fail, but God is the strength of my heart and my portion for ever.

Daniel 7:18 But the saints of the Most High shall receive the kingdom, and possess the kingdom for ever, for ever and ever.

Daniel 12:1-3 "At that time shall arise Michael, the great prince who has charge of your people. And there shall be a time of trouble, such as never has been since there was a nation till that time; but at that time your people shall be delivered, every one whose name shall be found written in the book. [2] And many of those who sleep in the dust of the earth shall awake, some to everlasting life, and some to shame and everlasting contempt. [3] And those who are wise shall shine like the brightness of the firmament; and those who turn many to righteousness, like the stars for ever and ever.
The notion of spiritual salvation is present in the Old Testament as well: quite contrary to Dr. Madison's claim that it was not:

Psalms 34:4-8 I sought the LORD, and he answered me, and delivered me from all my fears. [5] Look to him, and be radiant; so your faces shall never be ashamed. [6] This poor man cried, and the LORD heard him, and saved him out of all his troubles. [7] The angel of the LORD encamps around those who fear him, and delivers them. [8] O taste and see that the LORD is good! Happy is the man who takes refuge in him!

Psalms 51:1-14, 17 Have mercy on me, O God, according to thy steadfast love; according to thy abundant mercy blot out my transgressions. [2] Wash me thoroughly from my iniquity, and cleanse me from my sin! [3] For I know my transgressions, and my sin is ever before me. [4] Against thee, thee only, have I sinned, and done that which is evil in thy sight, so that thou art justified in thy sentence and blameless in thy judgment. [5] Behold, I was brought forth in iniquity, and in sin did my mother conceive me. [6] Behold, thou desirest truth in the inward being; therefore teach me wisdom in my secret heart. [7] Purge me with hyssop, and I shall be clean; wash me, and I shall be whiter than snow. [8] Fill me with joy and gladness; let the bones which thou hast broken rejoice. [9] Hide thy face from my sins, and blot out all my iniquities. [10] Create in me a clean heart, O God, and put a new and right spirit within me. [11] Cast me not away from thy presence, and take not thy holy Spirit from me. [12] Restore to me the joy of thy salvation, and uphold me with a willing spirit. [13] Then I will teach transgressors thy ways, and sinners will return to thee. [14] Deliver me from bloodguiltiness, O God, thou God of my salvation, and my tongue will sing aloud of thy deliverance. . . . [17] The sacrifice acceptable to God is a broken spirit; a broken and contrite heart, O God, thou wilt not despise.

Proverbs 15:24 The wise man's path leads upward to life, that he may avoid Sheol beneath.

Isaiah 45:17, 21-22 But Israel is saved by the LORD with everlasting salvation; you shall not be put to shame or confounded to all eternity. . . . [21] . . . And there is no other god besides me, a righteous God and a Savior; there is none besides me. [22] "Turn to me and be saved, all the ends of the earth! For I am God, and there is no other.

Jeremiah 17:14 Heal me, O LORD, and I shall be healed; save me, and I shall be saved; for thou art my praise.

Jeremiah 31:33-34 But this is the covenant which I will make with the house of Israel after those days, says the LORD: I will put my law within them, and I will write it upon their hearts; and I will be their God, and they shall be my people. [34] And no longer shall each man teach his neighbor and each his brother, saying, `Know the LORD,' for they shall all know me, from the least of them to the greatest, says the LORD; for I will forgive their iniquity, and I will remember their sin no more."

[see also the many instances of "salvation" in the Old Testament. Most likely refer to "physical salvation" from enemies and death, but some may have a double application, and some may refer to spiritual salvation only]
The idea of being abandoned to Sheol is similar to eternal hellfire (a developmental precursor or "kernel" of it). Thus, eternal life or eschatological salvation is described as "thou dost not give me up to Sheol" (Ps 16:10). God delivers or rescues the righteous from Sheol ("he brings down to Sheol and raises up": 1 Sam 2:6; cf. Ps 30:3; 49:15; 86:13; 89:48):
Deuteronomy 32:22a For a fire is kindled by my anger, and it burns to the depths of Sheol, . . .

Psalms 6:5 For in death there is no remembrance of thee; in Sheol who can give thee praise?

Psalms 9:17 The wicked shall depart to Sheol, all the nations that forget God.

Psalms 31:17b . . . let the wicked be put to shame, let them go dumbfounded to Sheol.

Isaiah 14:11 Your pomp is brought down to Sheol, the sound of your harps; maggots are the bed beneath you, and worms are your covering. (cf. 14:15 and Jesus' reference to worms in hell: "where their worm does not die, and the fire is not quenched": Mk 9:48)

Isaiah 38:18b . . . those who go down to the pit cannot hope for thy faithfulness.

Isaiah 66:24 "And they shall go forth and look on the dead bodies of the men that have rebelled against me; for their worm shall not die, their fire shall not be quenched, and they shall be an abhorrence to all flesh."

Jeremiah 15:14b . . . in my anger a fire is kindled which shall burn for ever. (cf. 17:4)

Daniel 12:2 And many of those who sleep in the dust of the earth shall awake, some to everlasting life, and some to shame and everlasting contempt.

[see also many references to "the pit": equivalent to Sheol]
***
Photo credit: Apostle Paul (1633?), by Rembrandt (1606-1669) [public domain / Wikimedia Commons]
***