"Scary" & "Vindictive" Yahweh? / Endless Stupefied Insults of God / Judgment Explained Yet Again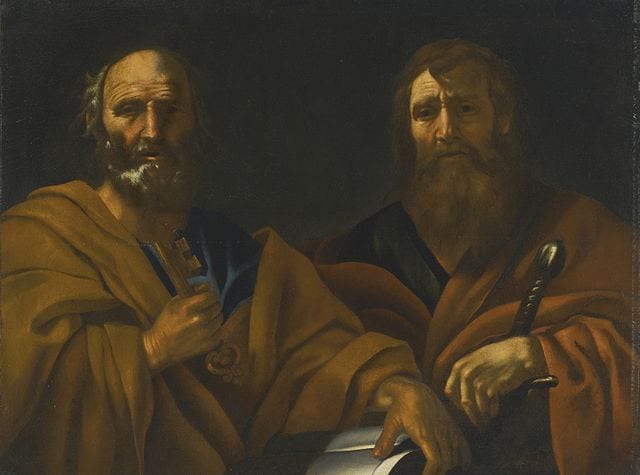 This is an installment of my replies to a series of articles on the epistle to the Romans (written by St. Paul) by Dr. David Madison: an atheist who was a Methodist minister for nine years: with a Ph.D. in Biblical Studies from Boston University. His summary article is called, "Bad Bible Theology: Paul's Letter to the Romans: Let me count the ways…that Paul got it wrong" (2-26-18). He devotes a paper to each chapter. Unless he repeats himself (a bad habit of his) or descends to sheer biblical skepticism (which I have less than no interest in), I will reply to all.
The introduction is basically a catalogue of rank insults, where he calls St. Paul "a crank" and a "delusional cult fanatic" and "the prototype for Christian crazies" and "an obsessive-compulsive mediocre thinker and bad theologian" and "an embarrassment." He adds: "how can anyone take this guy seriously?" That about covers the "content" there. Bears poop in the woods, brats throw fits, squirrels walk telephone lines, and the prevalent anti-theist brand of atheists insult Christians. Ho hum. What else is new?
Thus far, I have counter-replied to 35 of Dr. Madison's critiques, without hearing one peep back from him as of yet (30 days' total time, starting on 8-1-19). This certainly doesn't suggest to me that he is very confident in his opinions. I know he's still alive and kicking, because I've seen him write other posts during this same period (example one / two / three).
Dr. Madison's words will be in blue below.
*****
Dr. Madison calls his critique of Romans chapter 11, "The Nasty, Get-Even God of the New Testament: A few items that the cherry-pickers don't pick" (9-22-17).
On a recent post here I asked how the apostle Paul could possibly have known that there are "spiritual" bodies; this claim, of course, is yet another clue that his grip on reality was shaky at best (and I do exclude his hallucinations of the risen Jesus as a source of data). But a Christian apologist had a simple answer: that God had told him. Silly me, why didn't I think of that?
Yes, if there is a God, then there can clearly be revelation from that God (no problem for an all-powerful Being). As always, Dr. Madison never disproves the possibility of revelation; he simply mocks it as self-evidently ludicrous.
It is a major misfortune when seer and theologian are combined in the same person, especially when that person is unhinged.
I think this is actually a new gratuitous insult of the Apostle Paul. I thought Dr. Madison had made every imaginable one, but alas . . . and I suppose he'll come up with even more, before this sordid series is over.
And a few of Paul's sentences here drive home the point that his theology was pretty grim. This charter document of the faith does not move Christianity beyond the vindictive God of the Old Testament—despite all of the hype to the contrary. Paul was sure that God's default emotion was wrath.
To the contrary, Paul taught that God "desires all men to be saved" (1 Tim 2:4), that — right in this same chapter — He has "mercy upon all" (Rom 11:32), and that "he died for all" (2 Cor 5:15). That is "default" wrath? All we have to do is accept His free offer of grace and salvation. But many persons reject that, and then turn around and absurdly blame God as a Big Meanie. Makes perfect sense, doesn't it (like blaming a Governor when a life sentence prisoner rejects his pardon)?
In other words, he belonged to the ancient Yahweh cult, which was devoted to a scary, vindictive god. Moreover, he saw the cosmos as the plaything of that deity, . . .
Truly, there is a nasty, get-even god prowling the New Testament as well as the Old. And Paul's biggest fans, mean-spirited evangelicals today, who can't wait for God to get even with sinners, . . .
Paul's god fails the decency test.
Right; what a horrific, spooky God, Who said stuff like (or was described as) the following evil, wicked things (as recorded in the Old Testament):
Deuteronomy 23:5 (RSV) the LORD your God turned the curse into a blessing for you, because the LORD your God loved you.

Deuteronomy 32:9-12 For the LORD's portion is his people, Jacob his allotted heritage. [10] "He found him in a desert land, and in the howling waste of the wilderness; he encircled him, he cared for him, he kept him as the apple of his eye. [11] Like an eagle that stirs up its nest, that flutters over its young, spreading out its wings, catching them, bearing them on its pinions, [12] the LORD alone did lead him, and there was no foreign god with him.

Psalm 103:3-5 who forgives all your iniquity, who heals all your diseases, [4] who redeems your life from the Pit, who crowns you with steadfast love and mercy, [5] who satisfies you with good as long as you live so that your youth is renewed like the eagle's.

Isaiah 43:4 . . . you are precious in my eyes, and honored, and I love you, . . .

Isaiah 49:15-16 Can a woman forget her sucking child, that she should have no compassion on the son of her womb? Even these may forget, yet I will not forget you. [16] Behold, I have graven you on the palms of my hands; . . .

Isaiah 51:16 . . . I have put my words in your mouth, and hid you in the shadow of my hand, . . .

Isaiah 54:10 For the mountains may depart and the hills be removed, but my steadfast love shall not depart from you, and my covenant of peace shall not be removed, says the LORD, who has compassion on you.

Isaiah 62:4-5 . . . the LORD delights in you . . . [5] . . . as the bridegroom rejoices over the bride, so shall your God rejoice over you.

Isaiah 63:7, 9 I will recount the steadfast love of the LORD, the praises of the LORD, according to all that the LORD has granted us, and the great goodness to the house of Israel which he has granted them according to his mercy, according to the abundance of his steadfast love. . . . [9] . . . in his love and in his pity he redeemed them;

Isaiah 66:13 As one whom his mother comforts, so I will comfort you; you shall be comforted in Jerusalem.

Jeremiah 31:3 I have loved you with an everlasting love; therefore I have continued my faithfulness to you.

Jeremiah 32:38-41 And they shall be my people, and I will be their God. [39] I will give them one heart and one way, that they may fear me for ever, for their own good and the good of their children after them. [40] I will make with them an everlasting covenant, that I will not turn away from doing good to them; and I will put the fear of me in their hearts, that they may not turn from me. [41] I will rejoice in doing them good, and I will plant them in this land in faithfulness, with all my heart and all my soul.

Hosea 2:19 And I will betroth you to me for ever; I will betroth you to me in righteousness and in justice, in steadfast love, and in mercy.
who had chosen one specific tribe—the descendants of Abraham—as his favorite.
I guess that's why He judged them over and over for disobedience in the Old Testament (one highlight being the destruction of Jerusalem and Solomon's temple in 586 BC and all the Jews being taken captive to Babylon), because He was playing favorites. As Tevye, the Jewish milkman in the wonderful film, Fiddler on the Roof, said, "I know, I know. We are Your chosen people. But, once in a while, can't You choose someone else?"
Dr. Madison goes on to catalogue a dirty laundry list of God's supposed iniquities and sins: "It seems that God plays a role in leading people to sin". I've covered this gross misunderstanding many times now and will not waste time doing it yet again. "this short-tempered god has little patience:". I've dealt with God's fair and just justice already too: most notably in part one and part two of this series, and my arfticle, Madison vs. Jesus #9: Clueless Re Rebellion & Judgment. "God is The Supreme Manipulator." I guess that is how an atheist who thoroughly misunderstands God and distorts His revelation at every turn sees Him. How sad and pathetic.
They want The Man Upstairs to be a benevolent figure, their Cosmic Buddy—a great and wonderful wizard.
God is indeed loving and merciful and forgiving, as I demonstrated above that the Old Testament (believe it or not) teaches.
They don't read the tedious theological tomes that I referenced earlier. Neither do they read Paul's letters—other than to slog through the New Testament on the chapter-a-day plan.
That's right. Christians (especially Catholics) are woefully deficient in Bible-reading, and in fully learning and grasping theology and why Christians believe what they do (which is where I can be of some aid, as an apologist). But we digress . . .
Paul's god will preserve the remnant, those who confess that Christ was raised from the dead, and everyone else in the world be damned—literally. . . . those who don't accept Christ are just outta luck.
I've answered this over and over, but it's really too stupid and empty-headed to deserve the dignity of any reply.
When the Son of Man comes—so says Matthew's Jesus (24:37-38)—the suffering will be worse than at the time of Noah…when everyone on earth—except a very tiny remnant—died.
This is another ridiculous and asinine — and repeated — charge, that I disposed of in my article, Dr. David Madison vs. Jesus #3: Nature & Time of 2nd Coming.
It didn't seem possible that Dr. Madison could get any nastier and vituperative against [a nonexistent] God the Father, Paul, God the Son, Jesus, and the Bible and Christianity than he already has, but he managed to accomplish that infamous feat in this article. God help him.
***
Dr. Madison calls his critique of Romans chapter 12, "A Mash-Up of Cult Babble and Hallmark Moments: Neatly packaged in one Bible chapter" (10-13-17). It's mostly mockery with little or nothing else of any consequence, let alone exegetical substance, and so I will pass over it.
Likewise, Chapter 13, called, "Nope, the Word Of God Doesn't Endure Forever: How to be a patriot when the world is about to end" (11-3-17), is a rant about Paul's statements on obeying governmental leaders and another about Paul not knowing anything at all about Jesus: an argument beloved of the Jesus mythicists that Dr. Madison kowtows to (while — covering all bases — not quite agreeing totally with them). I'm here to debate theology and do comparative exegesis on that, not government. So again, I will pass.

His hit-piece on chapter 14 is entitled, "That Age-Old Story: Trying to Get Christians to Get Along: "Belonging to Jesus" doesn't seem to help" (11-24-17). Sadly, it, too, is a combination of boring, boorish, and enthusiastic devotion to irrelevant minutiae, with a dose of good ol' semi-mythicism again thrown in. No thanks. Almost exactly as in his series on Mark, where I decided not to deal with his last four chapter-installments, he seems to be petering out and descending into mere repetitions (always a weak point in his polemics as it is). Maybe he is as tired of warring against the truth as I am in pointing out how he relentlessly fails in that effort. Who knows? Let's see if there is anything of note or substance to grapple with in his next piece.
Dr. Madison's treatment of chapter 15 of Romans is charmingly called, "A Gift of Crackpottery for the Gentiles: The apostle Paul shoulda stayed at home" (12-8-17). Unfortunately, it is a mere idiotic and ridiculous rant: filled with the repeated errors that I have been detailing all along. It's almost as if a man in a debate has exhausted his brain of all fresh and compelling counter-arguments and has decided to simply toss manure out of a bucket onto his opponent and the audience.
This gives me little hope for chapter 16. Can it possibly be any better? Nope, it's more of the same. Here we are blessed with yet more of the countless epithets and insults directed towards Paul throughout his ludicrous series: "obsessive-compulsive piety," "rabbit hole of Christ fanaticism," "paranoia," "custodian of the cult," "a fraud."
Thus my series of counter-replies has come to an end after eleven installments. As I said in the introduction, which was present from the start: "Unless he repeats himself (a bad habit of his) or descends to sheer biblical skepticism (which I have less than no interest in), I will reply to all." That was my plan and I stuck to it. Well, folks, he repeated and descended, and so I declined to wallow in the mud with him (at least at a certain point after having now replied eleven times).
***
Photo credit: Saints Peter and Paul (c. 1620), anonymous (Roman school) [public domain / Wikimedia Commons]
***