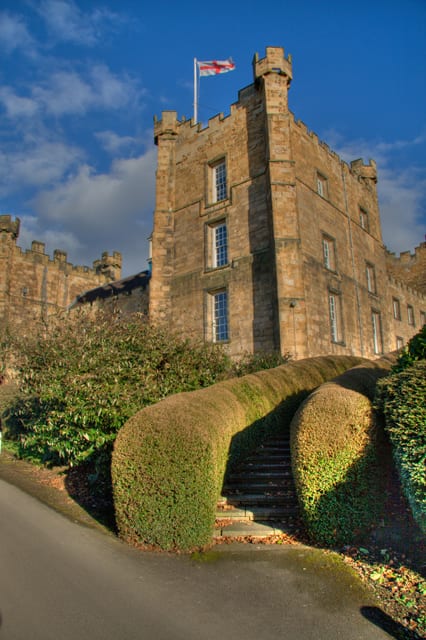 I've had so much fun tracing my ancestry and also doing DNA tests. It's gets really interesting and fruitful when you can manage to tie into some royal lineage. That way, the people are famous, the birth and death records are very good, and the Internet makes it very easy to obtain information even beyond the paid plans of Ancestry.com.
I "got into" the lineage of English royalty by means of King Edward IV (1442-1483; r. 1461-1483), and his mistress (one of "numerous" ones), Elizabeth Lucy Waite (1442-1487 or 1492). Their child, Elizabeth Plantaganet (c. 1464-c. 1545) married Sir Thomas Lumley (c. 1460-1487). They are my 13th great grandparents (figuring "2nd great grandparent" as my great great grandparent).
The Lumley line goes all the way down (i.e., by name, in my lineage) to Ruth Lumley (1836-1895). She lived in southern Ontario, in Elgin County (between London and Lake Erie) and was my father's father's maternal grandmother (my great great grandmother). Except for the founder of New Hampshire and Boston, David Thompson (1593-1628; descended from my paternal grandfather's mother's [#1 below] father), and some notable 13th-14th century Scottish freedom fighters, from my mother's father's mother's line (McKay: married into the Stewarts in the 16th century), this brings about all the famous people in my ancestry (i.e., of whom I am a direct descendant). I will now illustrate and document how all that works: with corroborating links.
English Royalty Back to William the Conqueror and Rollo
*
Dave Armstrong (born in 1958 in Detroit)
Graham Armstrong (father, 1924-2009, born in Ontario, Canada)
William Armstrong (paternal grandfather, 1893-1984, born in Elgin Co., Ontario, Canada)
1) Emiline Keillor (great grandmother, 1869-1899, born in Elgin Co., Ontario, Canada)
2) Ruth Lumley (great great grandmother, 1836-1895, born in Elgin Co., Ontario, Canada)
3) Thomas Lumley (great great great grandfather, 1808-1882, born in Southampton, Nova Scotia)
4) John Lumley (1767-1842, born in Rillington, Yorkshire, UK)
5) Thomas Lumley (1729-1798)
6) Earl Thomas Lumley-Saunderson (1691-1752)
7) Earl Richard Lumley (1650-1721)
8) John Lumley (1612-1658)
9) Viscount Richard Lumley (1589-1663)
10) Roger Lumley (c. 1550-c. 1606)
11) Anthony Lumley (b.c. 1500)
12) Baron Richard Lumley (c. 1478-1510)
13) Sir Thomas Lumley (c. 1460-1487) <—> married Elizabeth Plantagenet (c. 1464-c. 1545, daughter of King Edward IV)
14) King Edward IV (1442-1483; r. 1461-1483) <—> mistress Elizabeth Lucy Waite (1442-1487 or 1492)
15) Richard Plantagenet, Duke of York (1411-1460)
16) Richard of Conisburgh, Earl of Cambridge (c. 1385-1415)
17) Edmund of Langley, Duke of York (1341-1402)
18) King Edward III (1312-1377; r. 1327-1377; Treaty of Edinburgh-Northampton: 1328: Scottish independence)
19) King Edward II (1284-1327; r. 1307-1327; Battle of Bannockburn, 1314)
20) King Edward I "Longshanks" (1239-1307; r. 1272-1307; "Braveheart": William Wallace, Battle of Stirling Bridge, 1297)
21) King Henry III (1207-1272; r. 1216-1272)
22) King John (1166-1216; r. 1199-1216; during the life of Robin Hood)
23) King Henry II (1133-1189; r. 1154-1189; clashed with St. Thomas Becket) <–> married Eleanor of Aquitaine, Queen Consort (1122-1204)
24) Empress Matilda (1102-1167, daughter of King Henry I) <—> married Geoffrey Plantagenet, Count of Anjou (1113-1151)
25) King Henry I (c. 1068-1135; r. 1100-1135; son of William the Conqueror) <—> married Queen Matilda of Scotland (c. 1080-1118)
26) William the Conqueror (c. 1028-1087; r. 1066-1087; conquered England in 1066)
[four generations]
31) Rollo (c. 860-c. 930; Viking who founded Normandy in northern France; either Norwegian or Danish)
*
English Royalty to St. Margaret of Scotland, King Alfred the Great, and King Cerdic
*
25) King Henry I (c. 1068-1135; r. 1100-1135) <—> married Queen Matilda of Scotland (c. 1080-1118; daughter of St. Margaret of Scotland)
26) St. Margaret of Scotland (c. 1045-1093; daughter of Edward the Exile)
27) Edward the Exile (1016-1057)
28) King Edmund II "Ironside" (c. 990-1016; r. 1016)
[four generations; four kings]
33) King Alfred the Great (bet. 847-849-899)
[eleven generations of mostly kings]
45) King Cerdic of Wessex (r. 519-534)
[Cerdic is generally regarded as the earliest verifiably historical figure in the British Royal line. His alleged ancestors are regarded as purely legendary. There are numerous wildly speculative and fanciful attempted genealogies from British, Irish, and Scottish royal lines back to biblical figures. See two examples (one / two). Virtually all scholars regard them as fictional]
*
Lumley Wife to Scottish and Pictish Kings
*
6) Earl Thomas Lumley-Saunderson (1691-1752) <—> married Frances Douglas-Hamilton, Countess (1700-1772; daughter of George Hamilton)
7) Lord George Hamilton (1666-1737)
[seven generations, including two maternal]
15) James IV, King of Scots (1473-1513; r. 1488-1513)
16) James III, King of Scots (1451/52-1488; r. 1460-1488)
17) James II, King of Scots (1430-1460; r. 1437-1460)
18) James I, King of Scots (1394-1437; r. 1406-1437)
19) Robert III, King of Scots (bet. 1337-40-1406; r. 1390-1406)
20) Robert II, King of Scots (1316-1390; r. 1371-1390; daughter of Marjorie Bruce)
21) Marjorie Bruce (1296-1316; eldest daughter of Robert the Bruce)
22) Robert the Bruce, King of Scots (1274-1329; r. 1306-1329; first king after Scottish independence) <—> married Isabella of Mar (fl. 1277-1296; her maternal grandfather was Llywelyn the Great [c. 1173-1240], Prince of Wales, who would be a 24th great grandparent of mine)
[two generations]
25) Sir Robert Bruce IV (c. 1195-1245) <—> married Isobel of Huntingdon (1199-1251; daughter of David, Earl of Huntingdon)
26) David, Earl of Huntingdon (1152-1219)
27) Henry, Earl of Huntingdon (1114-1152)
28) King David I, King of Scots (c. 1084-1153)
29) Malcolm III, King of Scots (c. 1031-1093)
30) Duncan I, King of Scots (c. 1001-1040)
31) Bethóc (10th-11th c.; daughter of Malcolm II, King of Scots) 
32) Malcolm II, King of Scots (c. 954-1034)
33) Kenneth II, King of Scots (r. 971-995; d. 995)
34) Malcolm I, King of Scots (r. 943-54; d. 954)
35) Donald II, King of Scots (r. 889-900; d. 900)
36) Constantine I, King of Picts (r. 862-877; d. 877)
37) Kenneth MacAlpin, King of Picts (810-858; r. 843-858; "according to national myth, [he] was the first king of Scots")
*
English Royalty Back to Charlemagne, Cleopatra, and Ancient Syrian and Greek Kings
*
23) King Henry II (1133-1189; r. 1154-1189) <–> married Eleanor of Aquitaine, Queen Consort (1122-1204; daughter of William X of Aquitaine; parent also of Richard I, the "Lionhearted" [1157-1199], crusader and king of England from 1189-1199, and childless)
24) William X, Duke of Aquitaine (1099-1137)
25) William IX, Duke of Aquitaine (1071-1127) [known as the earliest troubador]
26) William VIII, Duke of Aquitaine (c. 1025-1086)
27) William V, Duke of Aquitaine (969-1030)
28) William IV, Duke of Aquitaine (937-994)
29) William III, Duke of Aquitaine (915-963) Married to Geirlaug (aka Adèle), a daughter of Rollo (c. 860-c. 930), the Viking founder of Normandy]
30)  Ebalus, Duke of Aquitaine (c. 870-935)
31) Ranulf II, Duke of Aquitaine (850-890)
32) Ranulf I, Duke of Aquitaine (820-866)
33) Gerard, Count of Auvergne (c. 800-841) <—> married Mathilde? of Aquitaine (fl. 825, daughter of Pepin I)
34) Pepin I, King of Aquitaine (797-838)
35) Louis I "the Pious", King of the Franks and Holy Roman Emperor (778-840)
36) Charlemagne, King of the Franks and Lombards and Holy Roman Emperor (748-814)
37) Pepin the Short, King of the Franks (c. 714-768)
38) Charles Martel, Duke and Prince of the Franks (c. 688-741)
39) Pepin II of Herstal, Duke and Prince of the Franks (c. 635-714)
40) Ansegisel (c. 602 or 610-d. bef. 679 or 662) <—> married St. Begga of Austrasia (d. 693) 
41) St. Arnulf of Metz, Bishop (c. 582-645)
42) Bodegisel, Governor of Aquitaine (552-588)
43) Mummolin (b. c. 500)
44) Munderic (d. 532/33) <—> married Arthemia, daughter of Florentinus (b. 485)
45)
Florentinus, Roman Senator
(c. 480-aft. 513) <—> married
Artemia
(c. 485-506, daughter of St. Rusticus)
46) St. Rusticus, Archbishop of Lyons (c. 455-501)
47) Aquilinus, Bishop of Lyons (c. 430-c. 470)
48) Unknown name (c. 400-448). Married to Tullia (b. c. 410) — daughter of St. Eucherius, bishop of Lyon (c. 380-c. 449)
49) Artemia of Clermont-Ferrand (b. c. 375)
50) Tetradius of Apamaea, Bishop of Clermont (345-386)
51)  Iamblichus of Apamaea (b. c. 310)
52) Himerius III, of Apamaea (c. 290-c. 345)
53) Sopater of Apamea, Counselor to Constantine and Neoplatonist Philosopher (c. 260-bef. 337) <—> married Urania of Emesa (b. c. 265, daughter of Iamblichus of Emesa [present-day Homs, Syria] ) 
54) Iamblichus of Emesa (c. 245-c. 325); important Neoplatonist philosopher.
55) Priest King Antonious Sampsiceramus of Emesa [Lucius Julius Aurelius Sulpicius Severus Uranius Antoninus] (b. c. 180-200; r. 235-254)
56) Priest-King Uranius Antoninus of Emesa (d. 235; r. 210-235)
57) Priest-King Gaius Julius Sulpicius (d. 210)
58) Iamblichus, Prince of Emesa (b. c. 130)
59) Gaius Julius Longinus Soaemus, Priest-King of Emesa (d. c. 160)
60) Gaius Julius Sampsiceramus III Silas, Priest-King of Emesa (c. 58- c. 120; r. 78-120)
61) Gaius Julius Alexion, Priest-King of Emesa (r. 73-78)
62) Gaius Julius Sohaemus, Priest-King of Emesa (c. 5-c. 73; r. 54-73) <—> married Princess Drusilla of Mauretania (38-79, daughter of Ptolemy of Mauretania)
[Sohaemus' brother, Gaius Julius Azizus, married another Drusilla (38-79), who was the daughter of Herod Agrippa. Later, this Drusilla divorced him and married Antonius Felix: procurator of Roman Judea from 52-60. She is mentioned in the New Testament as having met St. Paul: "After some days Felix came with his wife Drusil'la, who was a Jewess; and he sent for Paul and heard him speak upon faith in Christ Jesus" (Acts 24:24, RSV). This event in Paul's trial occurred in Caesarea Maritima: which I visited in 2014. Paul also appeared before Festus and Agrippa in the same city. It was the Roman administrative capital in Israel after 6 AD and was built by Herod the Great in 21 BC. This is probably the closest that I can approach biblical figures in my ancestry. To confuse matters all the more, Felix' first wife was none other than Drusilla of Mauretania! He divorced her between 54-56, and she married Sohaemus in 56, and bore his son: Alexio II, and the line down to Sopater and other ancestors of mine, including Charlemagne and Eleanor of Aquitaine, goes through him.]
63) Ptolemy of Mauretania (bet. 13 and 9 BC-40 AD)
64) Cleopatra Selene II (40 BC-c. 5 BC)
65) Cleopatra VII, Queen of Egypt (69-30 BC; r. 51-30 BC) <—> married Mark Anthony, Roman politician and general (83-30 BC)
[26 generations; many of them kings of Macedon; they become increasingly difficult to document from history, and blend into Greek mythology. The earliest king listed for the Argead Macedonian Dynasty was Perdiccas I (r. 700-678 BC). He would be my 84th great grandfather and the farthest back I can reasonably go in my ancestry, history-wise. It's eight generations from him to Heracles]
92) Heracles (Hercules) Wikipedia states: "The core of the story of Heracles has been identified by Walter Burkert as originating in Neolithic hunter culture and traditions of shamanistic crossings into the netherworld.[5] It is possible that the myths surrounding Heracles were based on the life of a real person or several people whose accomplishments became exaggerated with time.[6] Based on commonalities in the legends of Heracles and Odysseus, author Steven Sora suggested that they were both based on the same historical person, who made his mark prior to recorded history." See also: "Was Hercules a Real Person?" (Quora forum).
[three generations]
96) Zeus (aka Jupiter, Thor, and Odin or Wotan) Like Hercules, some think that the Zeus legends in Greek mythology may have originally begun with the bare core of a real person, whose biographical stories were later greatly exaggerated into mythology. See, for example, "Did Zeus Exist?", by Gary Gutting (New York Times, 7-31-13). One might also note how the ancient city of Troy (on the west coast of present-day Turkey [Asia Minor] in Anatolia) and the Trojan War described in Homer's Iliad, were believed to be completely mythological. But then in 1868 things radically changed, based on the science of modern archaeology. According to Wikipedia ("Trojan War"):
The ancient Greeks believed that Troy was located near the Dardanelles and that the Trojan War was a historical event of the 13th or 12th century BC, but by the mid-19th century AD, both the war and the city were widely seen as non-historical. In 1868, however, the German archaeologist Heinrich Schliemann met Frank Calvert, who convinced Schliemann that Troy was a real city at what is now Hissarlik in Turkey.[1] On the basis of excavations conducted by Schliemann and others, this claim is now accepted by most scholars.[2][3]

Whether there is any historical reality behind the Trojan War remains an open question. Many scholars believe that there is a historical core to the tale, though this may simply mean that the Homeric stories are a fusion of various tales of sieges and expeditions by Mycenaean Greeks during the Bronze Age. Those who believe that the stories of the Trojan War are derived from a specific historical conflict usually date it to the 12th or 11th century BC, often preferring the dates given by Eratosthenes, 1194–1184 BC, which roughly corresponds with archaeological evidence of a catastrophic burning of Troy VII,[4] and the Late Bronze Age collapse.
So who knows? It may be that I am also (with many millions of others) a direct descendant of possibly historical heroes like Achilles and Odysseus / Ulysses who were the basis and "kernel" of Homeric myths and legends. If Troy and the Trojan War were real, these people may also have been (their stories later fantastically mythologized). It's fascinating to ponder! I have good reason to believe (if the entire genealogical chain above is accurate, as it seems to at least plausibly be) that I am a descendant of Cleopatra (65th great grandmother), who was descended from notable ancient Macedonian (Greek) kings. In any event, my descent from English and Scottish royalty as well as Charlemagne is virtually certain.
***
Related Reading:
More Cool Ancestry Stuff (David Thompson, Founder of New Hampshire in 1623) [Facebook, 12-22-17]
Ancestry Fun (Back to 928, Normandy, and Likely Vikings, Too) / King Edward IV of England (r. 1461-1483) [Facebook, 1-10-18]
Back to 260 A. D. Now in My Ancestry Searching (+ Debate on Ancient Genealogies) [Facebook, 1-17-18]
Cerdic: The Line Between History and Legend / Folklore, and Another Possible Ancestor [Facebook, 1-23-18]
The Armstrong Clan is Pictish in Origin [Facebook, 3-5-18]
My DNA Ancestry Results Are In / Spanish Origin of the Celts? [Facebook, 3-12-18]
My DNA Ancestry: Looking Back 10,000 Years [Facebook, 3-12-18]
Elizabeth Lucy Wayte: mistress of King Edward IV (r. 1461-1470) whose daughter married into the Lumley line that goes all the way down to my paternal grandfather [Facebook, 5-27-18]
Now I'm a Direct Descendant of Cleopatra and Mark Antony, and Still Going Back Further in Time! [Facebook, 5-31-18]
Now I'm related to Hercules (aka Heracles)!? [Facebook, 6-5-18]
My 23rd and 24th Great Grandfathers, Sir Alan Stewart (1272-1333) and Sir John Stewart (1246-1298): Scottish Freedom Fighters [Facebook, 6-6-18]
My DNA Ancestry Update / "Celtic": 40.1% / Tuscany: 10.7% (Ancient Etruscan Civilization) [Facebook, 2-4-20]
Wife Judy's DNA Ancestry Update [Facebook, 2-4-20]
Ethnic Makeup / Ancestry of My Children, Based on Genetics [Facebook, 2-4-20]
***
Unfortunately, Money Trees Do Not Exist: 
If you have been aided in any way by my work, or think it is valuable and worthwhile, please strongly consider financially supporting it (even $10 / month — a mere 33 cents a day — would be very helpful). I have been a full-time Catholic apologist since Dec. 2001, and have been writing Christian apologetics since 1981 (see 
my Resume
). My work has been proven (by God's grace alone) to be fruitful, in terms of changing lives (see the tangible evidences 
from unsolicited "testimonies"
). I have to pay my bills like all of you: and have a (homeschooling) wife and three children still at home to provide for, and a mortgage to pay.
*
My book royalties from
 three bestsellers in the field
 (published in 2003-2007) have been decreasing, as has my overall income, making it increasingly difficult to make ends meet.  I provide over 2600 free articles here, for the purpose of your edification and education, and have 
written 50 books
. It'll literally be a struggle to survive financially until Dec. 2020, when both my wife and I will be receiving Social Security. If you cannot contribute, I ask for your prayers (and "likes" and links and shares). Thanks!
*
See my 
information on how to donate
 (including 100% tax-deductible donations). It's very simple to contribute to my apostolate via PayPal, if a tax deduction is not needed (my "business name" there is called "Catholic Used Book Service," from my old bookselling days 17 or so years ago, but send to my email: apologistdave@gmail.com). Another easy way to send and receive money (with a bank account or a mobile phone) is through 
Zelle
. Again, just send to my e-mail address. May God abundantly bless you.
***
Photo credit: Paul Robson (3-4-09). Lumley Castle near the city of Durham, close to the Scottish border, built in 1389 (and said to be haunted). 8th, 9th, 12th, and 13th grandparents in my ancestry were born there [Wikimedia Commons / Creative Commons Attribution-Share Alike 2.0 Generic license]
***