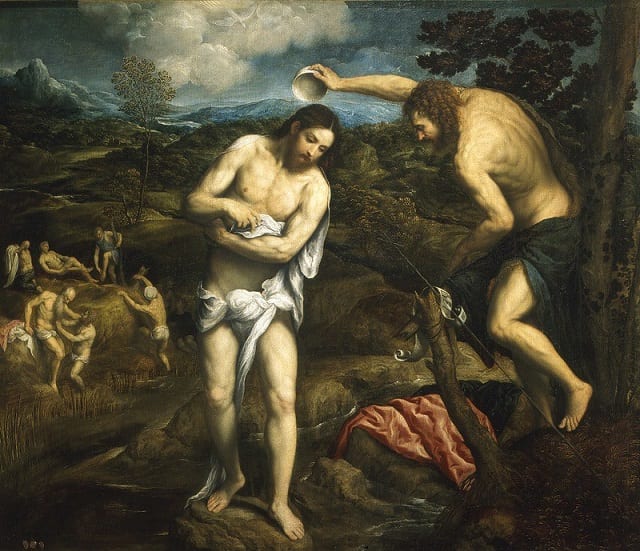 This is a reply to Matt Slick: Presbyterian pastor and head of the large and influential anti-Catholic Protestant CARM discussion forum. I am responding to his article, "If Mary was sinless, why was she unclean and had to offer a sacrifice for sin?" His words will be in blue.
*****
Roman Catholics teach that Mary never sinned. But, if that is the case, why did she need to offer an atonement according to Old Testament Law (Lev. 12:1-8) after giving birth to Jesus? According to the Old Testament, it was only the mother who needed purifying after a birth because of the issue of blood. She was ritually unclean. If she had a male child, the days of her period of uncleanness was seven days, then the child was circumcised, then she remained unclean for 33 days (v. 4) – for a total of 40 days. If she bore a female child, her period of uncleanness would be 14 days plus 66 days for a total of 80 days. Notice in Leviticus 12:2 it says if she bears a male child, she shall be unclean for seven days. If Mary was sinless, how could she also be unclean? . . .
Why would Mary, if she is sinless as the Roman Catholics assert, be unclean and also need a sacrifice?
Pastor Slick stumbles upon the solution in his allusion to "ritually unclean." The question involves the relationship of ritual uncleanliness to sin and morality. They are two different things. Pastor Slick, apparently not realizing this, therefore asks, "If Mary was sinless, how could she also be unclean?"
A Catholic priest who goes by the name of AthanasiusOfAlex further explains:
In summary, in Israel, so-called "sin" offerings were offered for transgressions against the ritual law, not so much for offenses against the moral law.

Moreover, just as Jesus submitted himself to the baptism of John, even though he did not need to repent of any sins, Mary wished to fulfill the requirements of the Jewish law out of loving obedience to God.

There is, therefore, no contradiction between Mary's sinlessness (in the moral sense) and her offering a sacrifice to remove the merely ritual impurity associated with childbirth. . . .

In ancient Israel, women were considered ritually unclean for a few weeks after the birth of her child. (It varied according to the sex of the child; a total of 40 days for a boy, and 80 days for a girl. See vv. 2-6.) That essentially meant that they were unable to partake of the liturgical celebrations until their uncleanliness was over, at which time they were to make a sin offering, or either a lamb or a pair of pigeons or turtledoves (vv. 6-8).

But it is important to note that ritual uncleanliness had nothing to do with moral uncleanliness. Leviticus chapter 4 introduces the concept of sin offerings in this way:

And the Lord spoke to Moses, saying, "Speak to the people of Israel, saying, If anyone sins unintentionally in any of the Lord's commandments about things not to be done, and does any one of them, if it is the anointed priest who sins … [and it goes on to spell out what each group should do] (Lev. 4:1-3).

Sin offering could only be offered for unintentional transgressions and, in general for the removal of ritual uncleanliness. There was, in fact, no provision in the Law for the forgiveness of moral offenses—and this lack was one of the constant sufferings of the People of Israel. . . .

It should be observed that the Law did not make any exceptions. The moral character of the woman was never considered; all women had to make the sin offering after childbirth. . . .

Jesus did something similar when he received the baptism of John. Jesus was also sinless and (unlike Mary) incapable of sinning; and yet he received the baptism of repentance, because it was "fitting … to fulfill all righteousness" (Mt. 3:15). ("How does one reconcile the sinlessness of Mary with her sin offering in Luke 2:24?", Christianity.StackExchange, answer given on 9-15-15)
With regard to the differentiation of moral and ritual impurities or uncleanliness in the Old Testament, in RSV, the word "unwittingly" is applied 13 times to sins where the person was unaware of having committed them.
Peter Turner offered another answer on the same web page, on 5-4-18:
Archbishop Fulton Sheen addresses this in his Life of Christ. He notes that this is akin to the Circumcision of Jesus, he says these are two sides sin, one "the necessity of enduring pain to expiate for it" and the "need for purification". He says that Jesus didn't need to be circumcised because He was God and she didn't need to be purified because she was conceived without sin. But, to show "this Child's dedication to the Father was absolute, and would lead Him to the Cross" all those events took place.
Pastor Ricky Kurth, in his article, "Did Christ Offer Animal Sacrifices?" (Berean Bible Society) offers further analogies of the sinless Christ also participating in such Mosaic rituals:
[T]he Law required men to keep the seven feasts of Leviticus 23, each of which involved an animal sacrifice, and we know the Lord kept Israel's feasts (Luke 22:15; John 7:2,10). These sacrifices were offered for the people of Israel as a whole, and He was one of the people, and so in this way He identified with them with animal sacrifices.
***
Related Material
Protestant Claim: "Mary was a Sinner Because She Offered a Sacrifice" [Kris Smith, Da Pacem Domine, 3-15-20]
"All Have Sinned" vs. a Sinless, Immaculate Mary? [1996; revised and posted at National Catholic Register on 12-11-17]
Luke 1:28 ("Full of Grace") & Immaculate Conception [2004]
Mary's Immaculate Conception: A Biblical Argument [2010]
Amazing Parallels Between Mary and the Ark of the Covenant [National Catholic Register, 2-13-18]
Biblical Support for Mary's Immaculate Conception [National Catholic Register, 10-29-18]
***
Photo credit: Baptism of Christ, by Paris Bordon (1500-1571) [Flickr / CC BY-NC-SA 2.0 license]
***