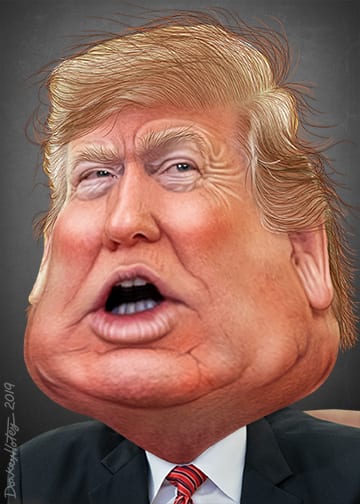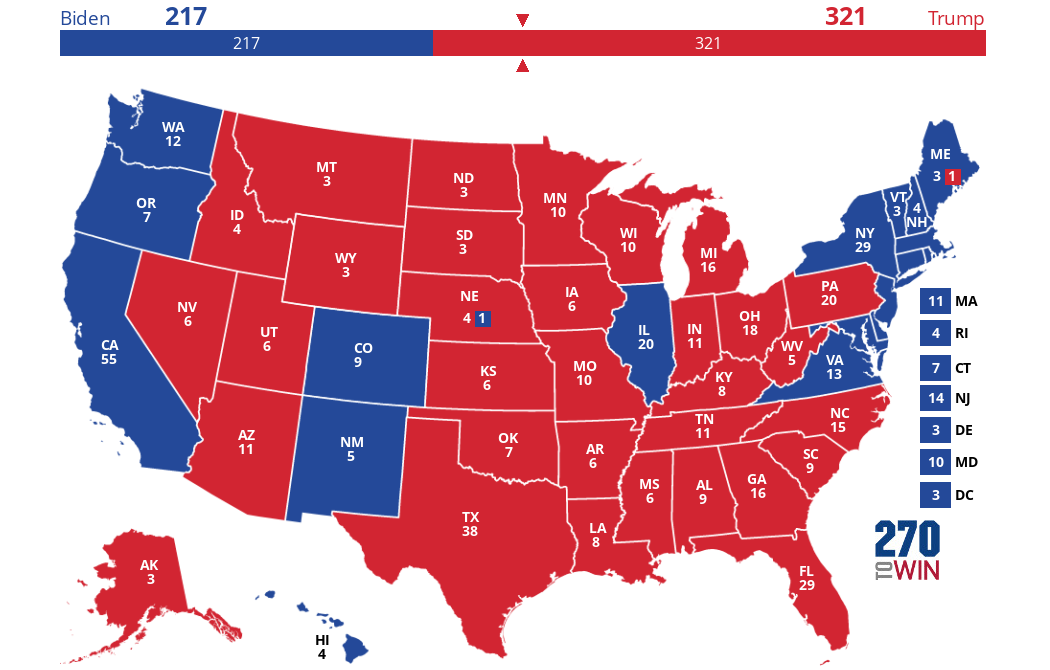 Click the map to create your own at
270toWin.com
*****
In 2016 I got 46 of 50 states right, and was just 7 electoral votes off (I predicted Trump would win in May of that year, and gave 15 reasons, with 13 being correct). Not bad for a merely amateur political junkie, huh? I don't get paid a penny for my speculations and don't advise any politicians, yet I was more accurate than maybe 95% of the big-shot advisors and politicos last time. We'll see how close I get this year.
I'm not saying I am certain (no one is in the prediction business). Trump may still lose, and we can never underestimate the uneducated political cluelessness, secular allegiance, and hostility to traditional morality and religion of vast sectors of the US voting public, groupthinking with the droning, monolithic, censoring state liberal media (Pravda Redux): not to mention the widespread relentless, irrational, sizzling hatred of Trump. But I'm stickin' to my prediction.
Here are related past articles of mine:
15 Reasons Why Trump Wins in November [5-5-16]
My Successful May Predictions About the 2016 Election [11-9-16]
My 2016 Electoral College Predictions [got 46 of 50 states right, and just 7 electoral votes off] [Facebook, 11-8-16]
How Close I Came in My Electoral College Predictions (92 / 93%) [Facebook, 11-11-16]
15 Reasons Why Trump Wins Again in Nov. 2020 [7-16-20]
Follow-Up on My "Trump Wins Again" Post [9-14-20]
See many more on my Political, Ethical, & Moral Issues web page.
And here is a collection of articles by folks (just for reference and — we'll see! — educational purposes), predicting a Trump victory — not just making the obvious point that he might possibly win:
The Pollster Who Nailed 2016 Says the Polls Are Wrong, Trump Will Win (Luckbox, 10-5-20)
How Trump's 'enthusiasm factor' could lead to another surprise win on Election Day (Mary Kay Linge, New York Post, 10-10-20)
Our Early Presidential Election Prediction: Trump 330, Biden 208 (Coal Region Canary, 10-10-20)
Trump to win elections at 93% probability; ICONIC's new Google Trends data model suggests (Cision / PR Newswire, 10-13-20)
Donald Trump is going to win a second term (Harry Phibbs, The Article, 10-19-20)
Will anyone from the left realize why Trump won — again? (Douglas MacKinnon, The Hill, 10-24-20)
Political prophet speaks: Trump will win again (Lee Elci, The Day, 10-28-20)
Trump will win again, then comes the hard part (Glenn K. Beaton, The Aspen Beat, 10-31-20)
Why President Trump will win re-election (Cornel Spiegler, Courier Times, 10-31-20)
Donald Trump will win re-election, and a revolution is coming, billionaire investor predicts (Shawn Langlois, Market Watch, 10-31-20)
Pollster who called 2016 for Trump says he'll win again (CNN, 11-1-20)
Biden is leading Trump in 2020 polls. But expect Election Day to be a repeat of 2016 (Keith Koffler, NBC News, 11-1-20)
12 predictions that say Donald Trump will win 2020 election (Crowd Wisdom 360, 11-2-20)
Five Indicators of the Trump-Biden Outcome (Sharyl Attkisson, Real Clear Politics, 11-2-20)
***
Photo credit: DonkeyHotey (8-24-19); caricature of Donald Trump adapted from a photo in the public domain from the The White House Flickr photostream [Wikimedia Commons / Creative Commons Attribution 2.0 Generic license]
***