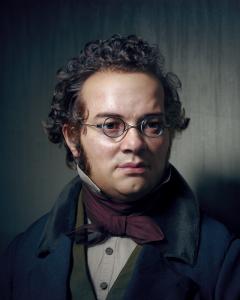 I came up with this idea a while back. Most people have only heard the famous first two movements.
Franz Schubert
(1797-1828) also provided a semi-sufficient and partially orchestrated outline for a third movement: a scherzo. So we know to a great degree what his plan was for that. It was completed and orchestrated by
Brian Newbould
. That leaves the Finale.
Wikipedia
states:
A fourth movement finale in the home key (B minor) would have been the norm for any symphony written at that time, but there is no direct evidence that Schubert ever started work on it. It has, however, been surmised that the most extended entr'acte from Rosamunde (also in B minor, in the same style of the first movement and with the same instrumentation as the symphony) was indeed that fourth movement, which Schubert recycled by inserting it into his Rosamunde incidental music composed in early 1823 just after the Wanderer Fantasy.

*
The Schubert scholar Brian Newbould, who harmonized, orchestrated and conjecturally completed the piano sketch of the scherzo, believed this to be true; but not all scholars agree.
*
That works pretty well. But I got the idea of switching the first movement and fourth conjectural one from Rosamunde. So now the "Armstrong Rearrangement" is as follows:
*
I Entr'acte in B minor from Rosamunde

*

II Original second movement

*

III Scherzo completed and orchestrated by Brian Newbould

*

IV Original first movement
*
Note that above it was stated that it was "in the same style of the first movement." So my reasoning is: the first movement is much more memorable, with one of the most famous and beautiful melody lines in the history of music. Why not make it the finale, with the approach of "save the best for last"? It has a flourish at the end that functions as a typical Romantic symphony ending.
*
Well, we tried it last night to see what we thought, and we both agreed that it worked fine and seemed plausible as a complete symphony. It goes against tradition but as a piece of early Romantic music, it works very well, is satisfying, and the listener is left with the beautiful and much more memorable first movement as the impressive ending.
*
The Entr'acte
and the
completed Newbould scherzo
were recorded by Academy of St Martin in the Fields, led by Neville Marriner. It's a good recording in the early Romantic / semi-classical style of interpretation. It was recorded in 1983 and remastered in 2002.
*
Personally, I like a more robust Romantic / "post-Beethoven" style of conducting for the famous two movements, with strong brass (I played trombone in the symphony band and orchestra of an excellent, nationally renowned high school in Detroit: Cass Technical).
*
*
Of course, you can pick your favorite recordings of each movement and construct your own Schubert "Finished" 8th. Just a suggestion!
*
We also listened to his
Rosamunde Overture
(aka
Die Zauberharfe
/
The Magic Harp
), and it was a stirring, memorable early Romantic overture that is reminiscent of the great
Rossini overtures
of the same period.
*
It's a better piece overall than the Entr'acte, by far (at least in my humble opinion), but apart from its being in a different key (C major), I just couldn't conceive of it as a first movement because it was far too "overture-ish" (if you get my drift). In this case, the classic sonata form of symphonies took precedence over musical memorability. But it was nice to listen to it right after the symphony because of the musical affinities.
*
Schubert's 8th is a great mystery. Why would he cease work on what is a fabulous and long since classic piece of music? We have no hint that he ever began the finale. No one knows for sure why. Some speculate that he associated the scherzo with his outbreak of the syphilis that killed him six years later, in Autumn 1822, or that he was distracted by his Wanderer Fantasy for piano.
*
Even odder was the subsequent fate of the symphony.
Wikipedia
states:
*
In 1823, the Graz Music Society gave Schubert an honorary diploma. He felt obliged to dedicate a symphony to them in return, and sent his friend Anselm Hüttenbrenner, a leading member of the Society, an orchestral score he had written in 1822 consisting of the two completed movements of the Unfinished plus at least the first two pages of the start of a scherzo. This much is known. . . .

*
That Hüttenbrenner neither had the work performed, nor even let the society know he had the manuscript, is curious and has spawned various theories.

*

Old age and approaching death seem to have influenced Hüttenbrenner to reveal the work [stuck in a trunk for over forty years] to an important and gracious visitor at long last (in 1865, when he was 71 and had only three more years to live). This was the conductor Johann von Herbeck, who premiered the extant two movements on 17 December 1865 in Vienna . . .
*

The performance was . . . received with great enthusiasm by the audience. The score of those two movements was not published before 1867.
*
I was telling my wife last night that if Schubert had lived all those years, he would have certainly been the greatest composer in the world (after Beethoven's death in 1827), surpassing Mendelssohn, Schumann, and Berlioz, until the mid-1840s and the advent of Richard Wagner (my favorite).
*
But even if Wagner surpassed him, he would nevertheless have been revered as the "grand old man of music" even after that, and would have been virtually worshiped by Schumann and the younger Brahms. As it was, he tragically died at age 31 in 1828, and so was the greatest composer in the world for about a year and eight months.
*
Oh the music lost to posterity by his early death!: comparable to the loss of Mozart at age 35 or a rapidly developing Mahler (at a very musically interesting time: 1911) at 50, or Tchaikovsky at 53, right after his delightful Nutcracker Ballet and melancholic / melodramatic Pathetique Symphony. But we must cherish what we have.
*
One last bit of Schubert trivia. He is usually known as an Austrian composer, but his father was from Moravia (currently in the Czech Republic) and his immediate ancestors came from the province of Zuckmantel in Austrian / Czech Silesia, which was right on the border of Poland to the north. So he really should be considered Czech, or more specifically Silesian by nationality. But he was born in Vienna.
*
***
*
Other Writings of Mine on Classical Music
*
*
*
***
*
*
***
*
Summary: I propose a new "completion" of Schubert's Unfinished (8th) Symphony, by using his Entr'acte in B minor from Rosamunde as the first, rather than last movement.