Original Facebook title: "Do People Choose Communion in the Hand Because They Think They Are Receiving a 'Snack'?"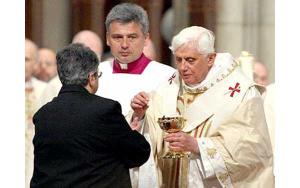 See also the very lively original Facebook thread (presently at 235 comments, 161 likes, and 40 shares), with lots of input from many people: pro and con. Here I present mostly my own remarks and a few interactions where I was asked direct questions. See also a second Facebook discussion.
*****
Jessica West wrote in a public Facebook post:
"Please stop receiving our Lord in the hand. He's not a snack."
*
*
[her further Facebook comment]
"Since Pope Sixtus in the first century there has been an idea that consecrated things touch consecrated things."
*
How is a tongue more "consecrated" than a hand? I would say, if anything — if we must choose — (though I don't assert it myself), the opposite is true, seeing how so many of us use our tongues:
*
James 3:6-10 (RSV) And the tongue is a fire. The tongue is an unrighteous world among our members, staining the whole body, setting on fire the cycle of nature, and set on fire by hell. [7] For every kind of beast and bird, of reptile and sea creature, can be tamed and has been tamed by humankind, [8] but no human being can tame the tongue — a restless evil, full of deadly poison. [9] With it we bless the Lord and Father, and with it we curse men, who are made in the likeness of God. [10] From the same mouth come blessing and cursing. My brethren, this ought not to be so.
*
So where do you get this notion that it is more "holy" or reverent to receive Our Lord on the tongue, as if everyone's tongue is "consecrated" in a way that our hands are not, and as if everyone who receives on the hand looks at that sacred moment as receiving a "snack"? The assertion is as absurd as it is outrageous.
*
Reverence and piety are interior things (read the Sermon on the Mount), and you can't read hearts: certainly not enough to determine that everyone who receives Jesus in the hand is committing some sort of evil or at best impious, irreverent act. You simply can't know that. And you don't know more than the Church, which permits communion in the hand, and you have no authority. Since you contradict and judge what Holy Mother Church has permitted, it's you who are in sin.
*
275 people "liked" this slop on Jessica's original post, plus 91 shares and 355 comments (in 26 hours). Yet we're repeatedly told that there are no attitudinal problems in traditionalist and reactionary ranks. I see it all the time. This is but one of a thousand examples. Jessica is a typical example of this outrageous attitude. As Christians we can and must discern such things (per Paul's many related admonitions to avoid factious people).
*
*****
*
the church has also permitted priests who sexually abuse children to remain as priests and bishops. So let's just carry on then.
Oh, but let's not talk about the church permitting the promotion of sodomy either by some "faithful" priests.
*
That's not "the Church" but bishops who are acting in an evil fashion. When the actual Church has dealt with that, it has utterly condemned it. Why don't you address what I said instead of switching the topic to the sex scandals, like every atheist does? I have condemned that in no uncertain terms over and over on my blog.
*
None of us have been absolutely pure in the use of our tongues, and they don't remain at all times more holy than our hands. Baptismal graces are obviously not eternal, because we still sin and have to confess. The consecration [in the older rite of baptism] may not go away, but sinful use of a tongue or a hand is always possible in fallen creatures. It seems obvious to me that we sin more with our tongues than our hands, if one must choose between the two.
*
The priest breaks the Host. We do not. It's in the breaking that some particles may be "stray." The nature of the unleavened Host makes it highly unlikely that there will be crumbs, as long as it remains whole. We don't break it up before it (He) enters our mouths.
*
Eric Wright Hey Dave! This person is not an intellectual and her non sequitur response is laughable. However, as a fellow Protestant convert who is a non-reactionary with no dog in the fight, I would love your perspective: Why is it that in a lot of peoples' experience (mine included), receiving on the tongue feels subjectively more reverent?
I've argued that in our culture, receiving on the tongue does arguably seem more reverent: particularly because it is usually done kneeling. So in this place and time, that seems more reverent. I did it myself for 25 years, so I have nothing whatever against it. The Church allows anyone to choose how they want to receive, in canon law. If anyone is refused, they can appeal to their bishop.
As usual, I am opposing the legalistic, pharisaical attitude that it must be done one way and that this is intrinsically more reverent. It's not. Piety and reverence are interior and different places and times express it differently. It's this same mentality that claims the TLM is "objectively superior" and looks down on all who have my view: "worship and let worship, and don't judge." My own family have different preferences: my wife and oldest son receive on the tongue, kneeling. My daughter, her boyfriend, and I receive in the hand. I make a very deep bow before receiving. No one judges anyone else.
Why is it that among people who are deeply devout, receiving on the tongue seems to be more frequent, and among people who are casual cafeteria Catholics, receiving in the hand is more popular?
*
Is the argument "the Church allows it" a good argument in adjudicating between spiritual practices? After all, the Church "allowed" people to miss mass for months during the height of COVID hysteria, something that annoyed me to no end because it gave the unmistakable impression that the Eucharist is unimportant and optional.
*
If the Church "allowing" something is not a reliable indicator of the superiority of any particular spiritual practice, is it intrinsically wrong for someone to advocate for a practice they feel to be superior? Has the church ever clearly defined if receiving on the hand or tongue is more reverent? Is it the place of the Church to define something like that, and if not, does the laity have any role in debating such things?
*
As to the cafeteria Catholics, they are simply following the more prevalent practice. It probably goes no deeper than that. They simply don't think about it.
*
The Church isn't always right or prudent in her [sub-infallible] decisions; that's true, but it still has authority, and we ought to follow it instead of starting to think like Protestants: that our own view can trump that of the Church.
*
The superior argument is wrong because it's impossible to consistently argue. One simply doesn't know what is in another's heart, as to their reverence. Only God knows that.
*
I don't think the Church has defined what you ask about, and I think she hasn't because of what I have argued: outward posture is no final proof of one's interior disposition.
*
Thanks for responding. So if a certain body position isn't intrinsically more reverent, why do we kneel at mass? Why not just sit? Why do you kneel before receiving? I might quibble with you that certain bodily positions aren't more "reverent " than another – after all, God did tell Moses to take his sandals off because he was on holy land, etc. Perhaps certain exterior positions are more reverent, but the interior disposition overrides such things, properly disposed? But if that's the case, could one not make the argument that assuming a certain posture during religious observances would help to improve the interior disposition?
*
We have traditionally knelt in America because that was our custom. Other countries don't. Orthodox and Eastern Catholics don't kneel. They stand for almost the entire Divine Liturgy. I've been to those services, so I know. I bow to show reverence. But it's because I have that in my heart. If I don't bow, I still have the reverence. I've written several posts on
reverence and/or posture
, so I appeal back to those.
*
My personal perspective is that I think there are definitely better spiritual disciplines, including certain body postures during the sacraments etc. I think the Church "allows" certain methods for the sake of convenience. Since the Church doesn't define this at all, it's entirely subjective and debatable.
*
Exactly. That's why adherents of one or the other should cease the judgmental pharisaism and get on with improving their own spiritual lives and letting others do the same.
*
[I'm] very close to agreeing with you. However, if you agree with the above, it would logically follow that advocating for receiving the Eucharist in a certain way would be an act of love and reverence for the Sacrament, not necessarily judgmental or pharisaical. While the person you engaged with might be one or the other, that's not necessarily so. Just bc the Church allows either way, as we established, in no way defines one way superior or inferior, and the act of arguing either way does not render one reactionary nor heretical. It may be that in 1000 years the Church decides that receiving on the tongue is preferential, and the people arguing such right now are prescient. Or not.
*
I completely agree, so it looks like we are in near total agreement, or total. The whole point of what I am arguing in this thread is "worship and let worship. Stop judging others. If the Church allows diversity, then practice it without the arrogant judgmentalism."
*
It occurs in both parties. And it does because (in my opinion) there is something in human nature whereby many people simply can't tolerate anyone who believes differently than they do (and is allowed to do so by the Church). They have to be right. "My way or the highway." They know better than Holy Mother Church. That is the fundamental problem. And Jesus addressed it:
*
Luke 18:9-14 (RSV) He also told this parable to some who trusted in themselves that they were righteous and despised others: [10] "Two men went up into the temple to pray, one a Pharisee and the other a tax collector. [11] The Pharisee stood and prayed thus with himself, `God, I thank thee that I am not like other men, extortioners, unjust, adulterers, or even like this tax collector. [12] I fast twice a week, I give tithes of all that I get.' [13] But the tax collector, standing far off, would not even lift up his eyes to heaven, but beat his breast, saying, `God, be merciful to me a sinner!' [14] I tell you, this man went down to his house justified rather than the other; for every one who exalts himself will be humbled, but he who humbles himself will be exalted."
*
Matthew 7:3-5 Why do you see the speck that is in your brother's eye, but do not notice the log that is in your own eye? [4] Or how can you say to your brother, `Let me take the speck out of your eye,' when there is the log in your own eye? [5] You hypocrite, first take the log out of your own eye, and then you will see clearly to take the speck out of your brother's eye.
*
1 Samuel 16:7 But the LORD said to Samuel, ". . . the LORD sees not as man sees; man looks on the outward appearance, but the LORD looks on the heart."
*
Most [who receive on the tongue] are orthodox. But most of those who are schismatic or quasi-schismatic receive on the tongue, because that was how the Old Mass did it. So there is a significant correlation, but not a necessary one. Sometimes the holier-than-thou bit works the other way, too [folks looking down on those who receive on the tongue]. It's equal parts sad and maddening. It seems simple enough, but no, we have to have the "judges" (in all camps) looking down their arrogant noses at others. We all need to get past all that stupidity and concentrate on our own sins and spiritual life.
*
As I understand it, at the Last Supper, Jesus would have passed around bread something like pita bread, and so they all touched it before eating.
*
Like Jesus and St. Paul, I'm sick to death of pharisaism, legalism, and judgmentalism in the Church. Jesus spoke His harshest words to hypocritical and judgmental Pharisees. I say: "why can't Catholics worship and receive as they prefer — as the Church recognizes and allows — and just shut up about others who have a different view than they do?"
*
If I weren't an apologist, I wouldn't have put up this thread (I'd go on my merry way), but since I am, I feel that these attitudes have to be confronted, for the good of those who exhibit them, and the goal of Church unity. St. Paul did the same:
*
1 Corinthians 5:9-11 But rather I wrote to you not to associate with any one who bears the name of brother if he is guilty of immorality or greed, or is an idolater, reviler, drunkard, or robber — not even to eat with such a one.
*
[Jessica and those who think as she does — from either "side" of the debate — are being revilers]
*
Romans 16:17 I appeal to you, brethren, to take note of those who create dissensions and difficulties, in opposition to the doctrine which you have been taught; avoid them.
*
2 Timothy 3:2-5 For men will be lovers of self, lovers of money, proud, arrogant, abusive, disobedient to their parents, ungrateful, unholy, [3] inhuman, implacable, slanderers, profligates, fierce, haters of good, [4] treacherous, reckless, swollen with conceit, lovers of pleasure rather than lovers of God, [5] holding the form of religion but denying the power of it. Avoid such people.
*
Titus 3:9-10 But avoid stupid controversies, genealogies, dissensions, and quarrels over the law, for they are unprofitable and futile. [10] As for a man who is factious, after admonishing him once or twice, have nothing more to do with him
*
This is precisely why I defriend (not block, except in extreme cases) those who express these outrageous attitudes, and why I have deleted several comments in this thread. I'm doing exactly as St. Paul recommends that Christians do. And he did because he knew it was spiritual poison and that one bad apple would quickly infect the entire batch.
*
Those who have this pharisaical attitude must be opposed, for their sake and that of the unity of Catholics, and it's my duty as an apologist who defends the faith. Jesus said His harshest words against this sort of thing, and prayed that His followers would be one, as He was one with His Father. I'm sick to death of all sin, including my own. The devil has a field day over these needless divisions.
*
[Jessica and one other woman in the thread whom I eventually blocked] are living, walking quintessential examples of why the bishops and eventually Pope Francis, felt it was necessary to issue some regulations about the TLM, since attitudes like this (along with anti-Vatican II and anti-Pauline Mass and anti-pope) are so prevalent, at least in some communities: to be determined by the local bishop.
*
It's self-evident that these attitudes are poisonous and have a devastating effect on Christian charity and Catholic unity. If anyone denies that these pathetic, ultra-uncharitable attitudes exist in TLM communities, I'll send them right here, to Jessica West's comments: that kicked off this whole discussion, and those of X, in this [Facebook] thread.
*
[Receiving Holy Communion in the hand] is precisely what the early Christians did, as I have documented many times. This attitude condemns early Christians en masse, too. This is one of many reasons why it's so wicked and must be opposed.
*
Pope Benedict XVI [then Cardinal Ratzinger] expressed it perfectly in his book, God Is Near Us: The Eucharist, the Heart of Life [2003]:
*
Well, here again we know that until the ninth century Communion was received in the hand, standing. That does not of course mean that it should always be so. For what is fine, sublime, about the Church is that she is growing, maturing, understanding the mystery more profoundly. In that sense the new development that began after the ninth century is quite justified, as an expression of reverence, and is well-founded. But, on the other hand, we have to say that the Church could not possibly have been celebrating the Eucharist unworthily for nine hundred years.
*
What "crumbs"? I've never seen any. If the paten was deemed necessary in the old usual way of receiving, then receiving on the tongue must not be without possible danger, either. However we receive our Lord, we must be vigilant and ultra-reverent and careful. It's Catholicism 0101.
*
If this is not taught and emphasized strongly enough, then the fault lies with the priests and teachers and parents who are lax in their duty to explain these possible abuses and concerns, then secondarily with those who are ignorant because they have been improperly or inadequately catechized.  In the end, however, we are all responsible for learning on our own (1 Cor 14:20: "Brethren, do not be children in your thinking; be babes in evil, but in thinking be mature"), and there are more free and easily accessible resources now than ever to do so.
*
***
*
*
Or you may believe my work is worthy to support for the purpose of apologetics and evangelism in general. If so, please seriously consider a much-needed financial contribution. I'm always in need of more funds: especially 
monthly
 support. "The laborer is worthy of his wages" (1 Tim 5:18, NKJV). 1 December 2021 was my 20th anniversary as a 
full-time Catholic apologist
, and February 2022 marked the 25th anniversary of my blog.
*
*
***
*
Photo credit:
Pope Benedict XVI administering Holy Communion in the hand at a Mass in St. Patrick's Cathedral, New York, 19 April 2008
[Getty Photo /
posted at traditioninaction.org
on 13 July 2008]
*
***
*
Summary: A person who receives on the tongue gets pharisaical and legalistic about communion in the hand. I provide several rebuttals from Scripture, history, and reason.