The Nature & Force of Arguments from Silence, Plausibility, Probability, & Cumulative Effect Explained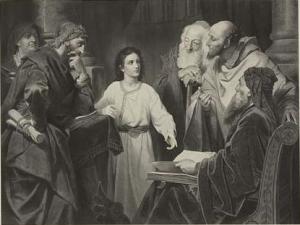 [words of questioners in
blue
. The first may have been an atheist; the second a Protestant evangelical]
*
"We don't see a word about any other children, who certainly would have gone with Joseph and Mary to observe the Passover in Jerusalem." So the argument from silence is okay when you use it?
The argument from silence has limitations, but it's not all bad. We just have to understand how far it goes, logically (how much it proves). It's being used legitimately in this instance. Let me explain how the reasoning works:
*
1. If Jesus had brothers and/or sisters and He was the oldest, then He certainly would have had siblings at twelve years old: particularly since Mary was estimated to be sixteen at His birth, which would then make her still only around 28 at this time. We're to believe that it makes sense that she bore her first child at sixteen and then had no more from 16-28, and then had four or more after that? That's not very plausible.
*
2. But none are in sight, when He journeyed with Joseph and Mary to Jerusalem for the Passover (which the whole family would have been bound to do). Luke states (2:46) that the search for Jesus took three days before He was found in the temple. Mary said, "your father and I have been looking for you anxiously" (2:48, RSV). If other children had been with them, they certainly would have been looking, too; in which case, Mary would have said, "your father and I and your brothers and sisters have been looking for you anxiously." But she didn't say that.
*
3. Therefore, this strongly suggests that He had no siblings: at least not when He was twelve.
*
4. Such a suggested or relatively more likely or more plausible scenario is consistent with Mary's perpetual virginity, but not with the historically late-arriving view (denied by Luther, Calvin, and all the first Protestant leaders) that Mary had other children.
*
5. When things like this (arguments from plausibility or probability) happen again and again, they achieve a cumulative effect, that make them stronger, taken together, just as a rope becomes stronger, the more strands it has. So for example, here are two more of these sorts of "arguments from silence":
*
A) Nowhere does the NT identify any of Jesus' "brothers" ("adelphoi") as Mary's children, even when they are referenced together (cf. Mk 3:31 ff.; 6:3 ff.; Jn 2:12; Acts 1:14).
*

B) In the NT, they are never called Joseph's children, either.
*
6) If Jesus had brothers and sisters (full siblings), we wouldn't expect that any of these things would be the case, or predict them (is another way of putting it).
*
Leaving one child behind would have been much more likely while traveling with a number of children. Leaving your only child behind [would be] very unlikely.
*
Ellicott's Commentary for English Readers:
*
Supposing him to have been in the company.—The company was probably a large one, consisting of those who had come up to keep the Passover from Nazareth and the neighbouring villages. It is not certain, but in the nature of things it is sufficiently probable, that the boys of such a company congregated together, and travelled apart from the others.
*
Barnes' Notes on the Bible:
*
Supposing him to have been in the company – It may seem very remarkable that parents should not have been more attentive to their only son, and that they should not have been assured of his presence with them when they left Jerusalem; but the difficulty may be explained by the following considerations:
*

1. In going to these great feasts, families and neighbors would join together, and form a large collection.
*

2. It is not improbable that Jesus was "with" them when they were about to start from Jerusalem and were making preparations. Seeing him then, they might have been certain as to his presence.
*

3. A part of the company might have left before the others, and Joseph and Mary may have supposed that he was with them, until they overtook them at night and ascertained their mistake.
*
Expositor's Greek Testament:
*
A company would be made up of people from the same neighbourhood, well acquainted with one another. . . . It is quite conceivable how they should have gone on so long without missing the boy, . . .
*
Cambridge Bible for Schools and Colleges:
*
In the numerous and rejoicing caravans of kinsmen and fellow-countrymen relations are often separated without feeling any anxiety.
Neither questioner counter-replied (what else is new?).
***
Practical Matters: Perhaps some of my 4,000+ free online articles (the most comprehensive "one-stop" Catholic apologetics site) or fifty books have helped you (by God's grace) to decide to become Catholic or to return to the Church, or better understand some doctrines and why we believe them.
Or you may believe my work is worthy to support for the purpose of apologetics and evangelism in general. If so, please seriously consider a much-needed financial contribution. I'm always in need of more funds: especially monthly support. "The laborer is worthy of his wages" (1 Tim 5:18, NKJV). 1 December 2021 was my 20th anniversary as a full-time Catholic apologist, and February 2022 marked the 25th anniversary of my blog.
PayPal donations are the easiest: just send to my email address: apologistdave@gmail.com. You'll see the term "Catholic Used Book Service", which is my old side-business. To learn about the different methods of contributing, including 100% tax deduction, etc., see my page: About Catholic Apologist Dave Armstrong / Donation Information. Thanks a million from the bottom of my heart!
***
Photo credit: painting by J.M.H. Hofmann; engraved by Illman Brothers (Germantown, Philadelphia, 1880) [public domain / picryl]
***
Summary: I explain how the argument from silence related to Jesus in the temple at twelve is one of many significant cumulative evidences for Mary's perpetual virginity.