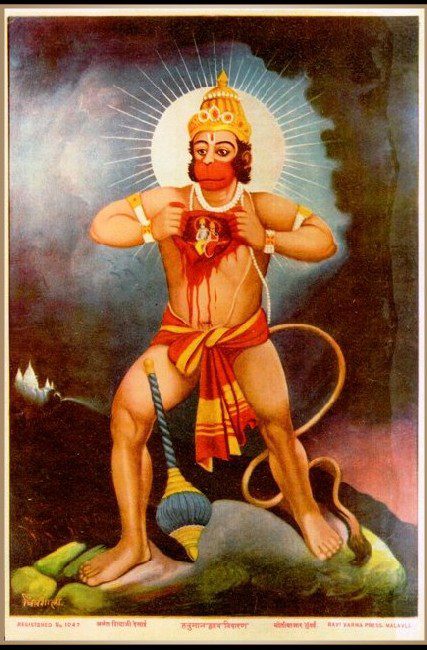 Hindu Worship for Tuesday July 4, 2017
Tuesdays are dedicated to Sri Hanuman and Muruga/Kartikeya, the brother of Sri Ganesha. Hanuman is a very special deity. He is most known for his incredible selfless devotion to Lord Rama. It is said that at one point he tears open his chest to reveal that Rama and Sita actually reside literally in his heart. At one point Sri Hanuman says that in the world of maya Lord Rama is his master, but in reality Lord Rama and he are one.
How to Worship Sri Hanuman:
Offer  oil, sindur and rui leaves to a picture or murti of Hanuman. For the oil, add 14 grains of black gram (udid) gram to it and look at your reflection in the oil before offering it to Hanuman.
Make sure to eat vegetarian on this day.
Chant Hanuman's name in the morning and the evening.
Play this  Hanuman Chalisa:
To ward off mischief, people fast for 21 straight Tuesdays at a time. One meal is taken, comprised of something with wheat and/or jaggery.
Mangal, Mars, is the celestial body that rules Tuesdays. The color of the day is red and you can wear red and also offer red flowers to Lord Hanuman. The gemstone is moonga (red coral stone) (according to this site)
Events
Gauri Vrat begins today. It is a five day fast, particularly observed iN Gujarat by unmarried girls to pray to Parvati and Shiva for a great husband.
Devshayani Ekadashi begins today. This is the period when Lord Vishnu rests for the next four months, which is a holy period called Chaturmas (also apparently the monsoon months).
Vasudeva Dwadashi is a fast dedicated to Sri Krishna/Vishnu today. It is auspicious to donate to charity today. Give goods and food. Do Panchamrit worship of Lord Vishnu (offering a mixture of five ingredients: milk, yogurt, honey, jaggery, and ghee).
Auspicious Activities:
Visit drikpanchang.com to look up auspicious dates for your area and activities.
Coming Up in Hindu Worship:
Wednesday July 5th:
Jayaparvati Vrat Begins
Pradosh Vrat
More details on those tomorrow!
(I will try to start getting these posts up ahead of time so you can prepare for things, but for now I'm just going to let you know as soon as I can!)
Everyday Aspects of Hindu Worship
(daily prayers of Hinduism from this article)
When you wake:
"O! Mother Earth, who has the ocean as clothes and mountains and forests on her body, who is the wife of Lord Vishnu, I bow to you.  Please forgive me for touching you with my feet."
Take a bath or shower:
"In this water, I invoke the presence of holy waters from the rivers Ganga, Yamuna, Godavari, Saraswati, Narmada, Sindhu and Kaveri."
Before eating:
"Brahman is the oblation; Brahman is the clarified butter etc. constituting the offerings, by Brahman is the oblation poured into the fire of Brahman; Brahman verily shall be reached by him who always sees Brahman in all actions."
(In my house we said "Om, Param-atmane-namah" which means "I bow to the Supreme Self")
Before sleep:
"Oh Lord kindly forgive my wrong actions done knowingly or unknowingly, either through my organs of action (hand, feet, speech) or through my organs of perception (eyes, ears) or by my mind. Glory unto Thee O Lord, who is the ocean of kindness."
New to this blog? Check out these posts:
Why Am I Called "The White Hindu"?
New to Hinduism? Learn more here:
Hinduism 101: What Do Hindus Believe?
Your First Visit To A Hindu Temple
—-
Thank you to my wonderful Patreon supporters…
Brian Hanechak
Amit Agarwal
Don Moir
(views expressed here are mine alone and do not reflect opinions of my supporters. Links within the text may be affiliate links, meaning that if you purchase something I get a small commission for recommending it. I only recommend things I truly believe in)