[I will be doing more Hindu Worship posts soon. I'm working on tweaking the format!]
One of the benefits of being in my 30s is coming to a pretty good knowledge of myself and an acceptance of my quirks. I have a thing where I get extremely intense and obsessive about something and then it kind of burns out and another thing becomes all I'm interested in. And these go in cycles. So, like, I'll be super into knitting and doing it constantly and thinking of nothing else for six months. And then all of a sudden I'm only into writing and I do nothing else. Boardgames, hairstyles, clothes, gardening, religion. All of these topics are things that I have become obsessive over. And they return. It might be six years later, but I'll get it again.
For example, I cut my hair three years ago. I had it down past my butt and I had been working on growing it for several years with the goal of knee-length (I love, love, love long hair!).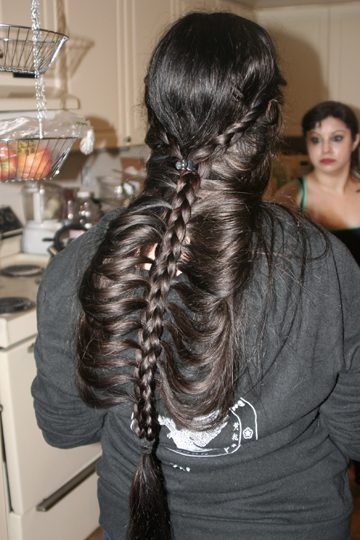 Then the fixation stopped and I felt like it was over and I had accomplished what I wanted to with the long hair. I could let it go. Foolishly I believed that I would never have the obsessive urge about my hair again.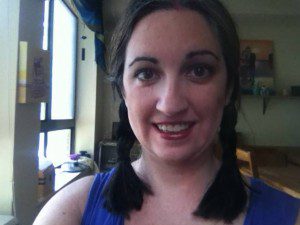 Then it came back. Hair is my current fixation. Luckily I had not bothered to cut it again since that time three years ago and it has already grown to just about waist length. Now I'm oiling it, wearing a sleep cap, learning new styles, spending time on a long hair forum, watching long hair videos, dreaming of knee-length again, doing creative projects connected to hair. When I fall into an obsession, I fall hard!
My husband just smiles. Sometimes he teases but we both know that this is just how things are. And he says he likes seeing me excited for a new project.
I used to fight this. It felt unhealthy to be so fixated on things. But now I've learned that it's best to let it run its course. Trying to stop these cycles only makes me miserable and doesn't work. It's less unhealthy to just let the obsessions be. I have to ride it out. Sometimes it feels like it is burning its way through my brain. It's a very odd sensation.
Back in graduate school I became obsessed with a particular game. It involved collecting and playing with tiny cardboard sailing ships. It was really neat, but I couldn't stop thinking about it all the time. I was learning about the stats of every single ship in the collection (hundreds of them) and planning out fleets with particular balances of stats. I played it, when I wasn't playing it I was thinking about it. I fell asleep planning ship strategies.
And I could tell that this couldn't last. It was the most intense these things have ever gotten. It was burning through my brain at an incredibly rapid rate. I couldn't stop. I had to think about it all of the time. Nothing else mattered. Finally one day it was just gone. Completely run its course. I have never played the game again and never wanted to! I've tried a couple of times because it's a cool game and I wanted to show new friends but I just could not get into it. So far that has been the only example of an obsession that has not returned (not yet, anyway. It's been eleven years).
Sometimes I still think that I should be learning to somehow control this. To control my mind and be more even keeled. Being in control of one's mind is a high priority in Hinduism.
Am I giving up too easily by just accepting that this is an aspect of who I am and letting it happen?
Where is the line between accepting yourself as perfect as you are and self improvement and growth towards moksha?
I have wondered this for a long time. That is the biggest question of my life. Sometimes I see people giving up on growth, saying they are too old to learn new things. I don't want to get that way. I want to always be striving and growing and learning. My obsessions do usually come with learning cool new skills, but am I being set in my ways in a different way? Am I missing an opportunity for growth in my soul?
I don't know.
Having had these cyclical fixations all my life I have come to accept them and just ride the wave, let them be, follow it until it runs its course. I don't know if that's the right way to handle it but it has made me a happier and more content person to handle it that way! It feels a little less like my brain is on fire if I just follow my interest and not fight it.
What do you think? Do other people get these intense interests that come and go?
New to this blog? Check out these posts:
Why Am I Called "The White Hindu"?
New to Hinduism? Learn more here:
Hinduism 101: What Do Hindus Believe?
Your First Visit To A Hindu Temple
—-
Thank you to my wonderful Patreon supporters…
Brian Hanechak
Amit Agarwal
Don Moir
(views expressed here are mine alone and do not reflect opinions of my supporters. Links within the text may be affiliate links, meaning that if you purchase something I get a small commission for recommending it. I only recommend things I truly believe in)