" . . . The Very Best Quotes, Quips, & Cracks from the Pen of G. K. Chesterton"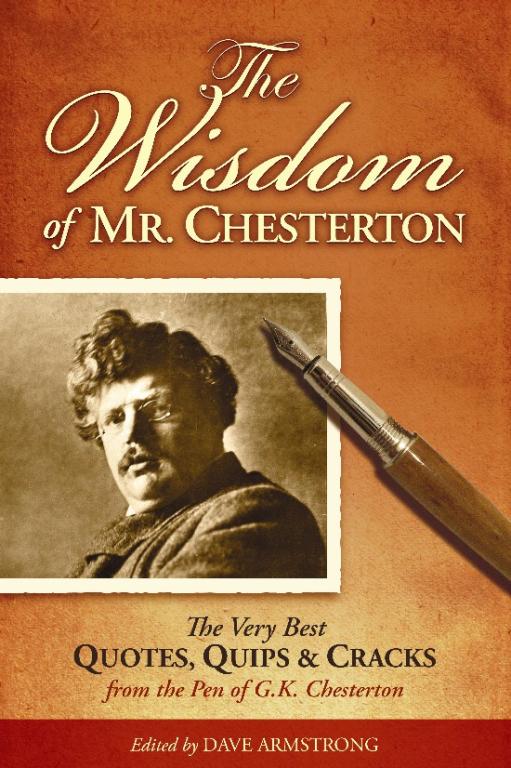 (completed on 10 October 2008; published in December 2009 by Saint Benedict Press)
***

[cover art by Christopher J. Pelicano]
***
— To purchase, go to the bottom of the page —
***
TABLE OF CONTENTS
Introduction [p. ix]
Chesterton Aphorisms (By Alphabetical Topic) [p. 1]
Bibliography of Sources By Abbreviations [p. 361]
Bibliography of Sources in Chronological Order [p. 363]
Index of Quotations Categorized by Sources [p. 367]
Index of Topics [p. 375]
***
An aphorism is a terse, pithy, astute, proverb-like saying that comments on some general truth; a maxim; an adage. G. K. Chesterton was an absolute master of the form: one of the very best in the English language. His common sense, whimsy and wit, essential optimism, characteristic joviality, and deep Catholic faith further enrich his already wise aphorisms.
Bessie Graham, in Bookman's Manual: A Guide to Literature (New York: R. R. Bowker Co., 1921, 220), cogently described Chesterton in this regard:
Chesterton is a master of paradox. His style is brilliantly clever and full of aphorisms, which are usually platitudes said backwards, or stood on their heads, as he himself expresses it, to attract attention.
Biographer Maisie Ward, in Gilbert Keith Chesterton (New York: Sheed & Ward, 1943, Chapter XI), delightfully caught the essence of Chesterton's peculiar gift:
I think nearly all his paradoxes were either the startling expression of an entirely neglected truth, or the startling re-emphasis of the neglected side of a truth. Once, he said: "It is a paradox, but it is God, and not I, who should have the credit of it." . . . paradox must be of the nature of things because of God's infinity and the limitations of the world and of man's mind. To us limited beings God can express His idea only in fragments. We can bring together apparent contradictions in those fragments whereby a greater truth is suggested. If we do this in a sudden or incongruous manner we startle the unprepared and arouse the cry of paradox. But if we will not do it we shall miss a great deal of truth.
Chesterton also saw many proverbs and old sayings as containing a truth which the people who constantly repeated them had forgotten. The world was asleep and must be awakened. The world had gone placidly mad and must be violently restored to sanity. That the methods he used annoyed some is undeniable, but he did force people to think, even if they raged at him as the unaccustomed muscles came into play.
In this semi-comprehensive collection, the following self-imposed requirements determined inclusion:
1) Selections must be single, complete sentences (not just portions of sentences: that is, a clause).
2) The aphorisms (alas, almost by definition) must have a general application, even if specifics are mentioned.
3) Selected aphorisms must stand on their own as more or less complete thoughts or ideas.
I've cited book titles with chapters only, not page numbers, since I obtained most of the material from available online versions, that often do not have page numbers. The citations are presented in the order they appear in Chesterton's works, and chronologically from one work to the next, so that development in Chesterton's thought over time can be observed.
Anyone can conveniently access these primary writings via my own Chesterton web page, cited on page two, and track down more details, such as a fuller context or (if provided) a page number, by following the book links there.
I hope you enjoy reading these quotations as much as I enjoyed compiling them. It's a rich feast for intellect and spirit.

BACK COVER TEXT
[my original Lulu version]
"No Catholic thinks he is a good Catholic; or he would by that thought become a bad Catholic."
"The very notion of always talking in terms of tomorrow is a passing taste that will soon be a thing of yesterday."
"Perspective is really the comic element in everything."
G. K. Chesterton (1874-1936), widely considered the greatest Christian apologist of the first third of the twentieth century and champion of the "common man," was a master of the aphorism: pithy, astute, proverb-like sayings or maxims that comment on general truths of life.
*
This 300-page collection consists of more than 2100 Chesterton quotations: all single sentences, drawn from 34 of his non-fiction books and 229 articles written for The Illustrated London News.
They have been painstakingly selected and organized under 281 topics, with extensive cross-referencing underneath, directing readers to many related topics. The aphorisms under each category are presented in the order they appear in Chesterton's works, and chronologically from one work to the next. Access is made easier by handy indices of topics and citations categorized by primary sources.
The citations presented herein cover the whole gamut of human experience and thought: from religion and morality (as we would expect of an unapologetic apologist), to the romance and wonder of childhood, the arts, literature, science, philosophy, economic and social observations, agnosticism, education, history, the follies and foibles of the intelligentsia, the wealthy, and politicians, incessant media bias, everyday life, the family, and gender differences: all offered with astounding insight, playful wit, and a sort of childlike innocence that Chesterton seemed to have never lost.
If one wishes to discover and explore the deep wellsprings of the distinctive Christian worldview, there are few better places to start than the voluminous writings of G. K. Chesterton.
DAVE ARMSTRONG (b. 1958) is a full-time lay Catholic apologist, author of 17 books, and webmaster.
***
Bob Cook, The Blog of the Chillicothe Chesterton Society: 23 January 2010 (also, 5 November 2009)
RADIO INTERVIEWS
***
14-Minute Interview on The Catholics Next Door, with Greg and Jennifer Willits (3-3-10) (listen to the audio file: see #11)
40-minute interview (starts 20 minutes into the file) on Blessed John Paul the Great Leafeater's Club, with hosts Terry Moran and John Lillis (6-1-12) (listen to the audio file: see #13)

WRITTEN INTERVIEWS
***
Interview with Dale Ahlquist for Gilbert Magazine, Regarding The Wisdom of Mr. Chesterton
*
 ***
Purchase Options
***
[PAPERBACK: $17.95] [KINDLE: 9.98] [NOOK: 8.49]  [ePUB: 9.95]
***
Last revised on 18 March 2023



 ***