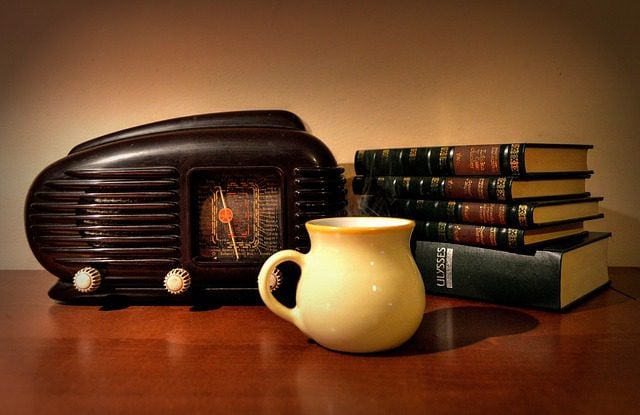 I've been on the radio 27 times since my first full interview, concerning Jehovah's Witnesses, when I was still a Protestant, back in 1989, on the largest Protestant station in metro Detroit: WMUZ. That may surprise some of you, but it's true! A complete listing of all my interviews can be found in one section of my Literary Resume. Some of them are no longer available and likely never will be. But now 17 of them are able to be heard, and they add up to a total of over ten hours of audio files of my interviews.
I'm not as polished or "smooth" as the "professionals" who do radio a lot (some of them on a daily basis), but I think I get my point across, have something of value to share, offer substance, and food for thought. In speaking style or demeanor (low-key, laid-back), I am a bit like Jimmy Akin and Patrick Madrid (though they are much better at it and infinitely more experienced than I am). If you'd like to get to know me better as a person, give a listen. Many people have said they received a very different impression of me by listening to me on the radio, or meeting me in person. The nature of apologetic writing seems to lend itself to folks assuming that we apologists are hard-nosed, ultra-serious, stern taskmasters. My own personality is about as far from that as imaginable!
I'd like to think of myself as a "man of ideas," but I try my utmost not to force those ideas on anyone in an offensive way. I seek to persuade in as friendly a manner as I can. And that goal or approach is more apparent, I think, in my relatively few interviews (I rarely ever do talks in person), than in my writing, which can't convey "the whole person" as well as a person talking can. My being on the radio is, therefore, a bit of an anomaly in my overall work. The very few non-interview talks I've done were mostly with youth groups, and even those were more conversational in nature. Only two or three times, as I recall, have I ever given a straight lecture or formal talk.
So it's really different for me to do "talking" teaching, rather than writing, which is my overwhelmingly prevalent method of teaching. But interviews are sort of a middle ground or bridge between writing and talking. They are informal and spontaneous, and, for the listener, sound like I am just sitting in my living room by the fire, chatting with a friend. Dialoguing (whether in writing or talking) is my natural preference in terms of format. My wife tells me that my laid-back / easy-go-lucky personality comes through in these interviews.
Ultimately, I have decided basically to do no more interviews, and the reason for it is often misunderstood. It's neither fear nor inability. I think I did fine in my past interviews. I never made any major mistake or was flustered during live interviews (and that's no small task, working live; almost always with no notes or any immediate preparation). But I greatly prefer writing, which is a vastly different medium compared to speaking / lecturing or interviews. I know I'm a much better writer than speaker, so my perfectionism in apologetics matters causes me to be very wary of interviews, because I feel that I am not doing the best that I can do. The second reason is my hating to be the center of attention, which certainly precludes video or TV interviews, and makes me feel a bit uneasy (though much less) about radio and podcast interviews.
Some might think: "you did great! You should do them anyway!" Maybe so. But that's how I feel about it, and we must follow our gut instincts in such matters. Mine have never let me down. But in the meantime, if someone wants interviews from me, you have them below. And I'm happy to present them, with the above disclaimer.
I hope you enjoy the interviews, listed below in chronological order. And if you do, please consider purchasing some of my 51 books, which provide the bulk of my full-time apologist income.
For the shows below without an interview "bar", right-click on the link and select "Open link in new tab" and hit the little arrow to play.
1) Pro-Life Rescue Call-In (11-14-88) [Link]
13 minutes; I'm on the first seven minutes. I was an evangelical Protestant at this time (still two years away from Catholicism), and a campus missionary. In 1988 Operation Rescue became known nationally, and was spreading.  The idea was to block the doors of abortion mills, in order to rescue babies about to be murdered. It was civil disobedience, akin to the civil rights movement, on behalf of the smallest and most defenseless among us. We called it "biblical obedience." I had just participated in my first rescue in Livonia, Michigan: a suburb of Detroit, on 11-12-88, and was arrested. Over the next two years I participated in about 25 rescues, was arrested five times and went through three trials: in one the charge was dismissed, in the second we were acquitted, and the third (where I gave a little speech, saying that even the pagan Greek Hippocrates, the father of medicine, was pro-life) ended with a conviction and sentence of one week. It turned out to be one night of revival with some great Christian friends, and out in the morning. The first rescue in particular was perhaps the most profound spiritual experience I had ever had (maybe still to this day), and I wanted to share it with the radio audience of a local evangelical radio show. It was called Love Talks, hosted by Foster Braun, broadcast by WCM 990 AM in Ann Arbor, Michigan.
2) Radio Teaching on Jehovah's Witnesses, from my Protestant Evangelical Days (11-3-89)
48 minutes, in two parts. I was on the great evangelical station in metro Detroit, WMUZ-FM (103.5), this night, to teach about the errors of Jehovah's Witnesses, with Pastor Emery Moss, who was then assisting Pastor George Bogle (who also has done a lot of Christian radio through the years). The show was called Evangel Echoes. Studying this cult / sect was one of my very first major apologetics research projects, undertaken from 1981-1983. I put together a lengthy paper based on that research, which remains on my blog to this day. I drew from that in this interview, which was my first full-length one, as a featured "guest." It may be of particular interest now, in order to show how I functioned and thought as a Protestant apologist. With regard to this topic, virtually none of my opinions would have changed as a result of becoming Catholic; thus, I could pretty much do the same talk today as I did over 33 years ago now. We had some fun, rather colorful callers near the end (Pastor Moss and I were chuckling about it, silently).
3) Al Kresta Show Live (My Conversion), WDEO, 990 AM, Ann Arbor, Michigan (9-8-97)
28 minutes. I was interviewed (a very rare in-studio appearance) concerning my conversion story. See also the transcript. I've known Al since 1982. He was actually my pastor for a while; likes apologetics as I do (has written several books on the topic), was involved in the Pro-Life rescues when I was; we've done street witnessing in Ann Arbor together, and his and mine were the last two conversion stories in the bestseller, Surprised by Truth (edited by Patrick Madrid, 1994). He returned to the Catholic Church a year or two after I was received, and I transcribed a marvelous talk he gave in my home (4-26-92), about his odyssey. I regard him as the best interviewer on the planet, so that ability, plus the fact that we are longtime friends, makes for fun and "meaty" interviews. This was my first of four appearances on his talk radio show (now called Kresta in the Afternoon). Also available on YouTube.
4) Pillar of Truth: Development of Doctrine (5-8-99) [Link]. Unfortunately, the audio quality is not the best.
28 minutes. This is from a Connecticut Catholic apologetics television program called Pillar of Truth (with host Dick Kelley). I was interviewed on the telephone, and was immediately asked to do a second interview, that aired the following week. I joke about this being my only "TV appearance." I've also made a written transcript of it. This issue was central in my own conversion, and doctrinal development is my favorite topic in theology.
5) Pillar of Truth: Questions and Answers on Protestantism and Catholicism (5-15-99) [Link] Again, less than stellar audio quality.
26 minutes. Same show as the previous. I also made a transcript of it on my blog.
6) Kresta in the Afternoon: A Biblical Defense of Catholicism / My Conversion (4-30-02)
40 minutes. Near the end, we took some calls, and Al got into a very spirited, passionate, rambunctious exchange with one man who appeared to possibly be a Protestant pastor. It was a classic Al Kresta foray into Catholic-Protestant apologetics. I just sat back and enjoyed it, interjecting my $00.02 here and there. It's really fun to have it preserved as part of this audio file, to make for an entertaining and (I think, if I do say so) educational listen.
7) Faith & Family Live: A Biblical Defense of Catholicism / My Conversion (7-10-03) [Link]
55 minutes. Steve Wood is a Catholic family advocate: sort of like James Dobson is in the Protestant world. But he was also a Protestant pastor, good friend of Scott Hahn's, and had his conversion story in Surprised by Truth, with mine and those of nine others. The show was syndicated nationwide by EWTN radio.
8) Catholic Answers Live: "Why we Need More than the Bible" (10-10-03)
55 minutes. This was back when Jerry Usher was the host. The topic is the Protestant rule of faith, or sola Scriptura: i.e., is the Bible the only infallible authority in Christianity? I consider this show the pinnacle of radio Catholic apologetics, so it was a great honor to be on it. Jerry wrote me a very kind letter afterwards: "You did a terrific job. I could tell by the response from our listeners that they benefited from the program. May the Lord continue to bless you and the fine work you're doing." About 21 minutes in, we took calls. That's a national audience, with no preparation or knowledge of questions to be received, and no "veto power" to turn down calls, so it was quite a challenge. I loved every minute of it!
9) Kresta in the Afternoon: General Apologetics and My Authorship of the "Insert" Notes for The Catholic Answer Bible (4-2-04)
22 minutes. I wrote the "inserts" for this 2002 work (my name was never mentioned in it! – but was in the expanded later 2005 version), published by Our Sunday Visitor. I now offer the notes alone for sale (PDF: $3.99). Each is a one-page treatment of an apologetics issue that often comes up when folks question Catholics. I provide reasoned analysis, Scripture support, and Catechism references. It was my third appearance on Al's show. We hit several of the subjects in a fun, wide-ranging interview. I believe I was in the Ave Maria Radio studio in Ann Arbor this time, too, rather than on the phone.
10) Catholic Answers Live: "Communion of Saints: A Cloud of Witnesses" (6-26-06)
55 minutes, in two parts (host Jerry Usher). It was a vigorous and challenging hour with lots of calls. As I mentioned in discussing my other appearance on this show, I had no idea what questions would come in, and so had no particular preparation. You gotta know your stuff and "be on your toes"; at the top of your game, to be on live international radio and take open-ended questions with no ability to monitor them (or, to do it and not sound silly or unprepared). I find it to be fun, but by no means easy.
11) The Catholics Next Door: My Chesterton Quotes Book (3-3-10)
14 minutes. This show is hosted by Greg and Jennifer Willits (Sirius Satellite Channel: The Catholic Channel, 159 and XM Satellite Channel 117). My book, The Wisdom of Mr. Chesterton: The Very Best Quotes, Quips, and Cracks from the Pen of G. K. Chesterton, had come out in December 2009 (Saint Benedict Press). The interview was lighthearted and fun.
12) Phone Interview with Jimmy Akin About Sola Scriptura (April 2012) [Link]
43 minutes. This was done in conjunction with the publication by Catholic Answers Press of my book, 100 Biblical Arguments Against Sola Scriptura: and was offered exclusively for supporters of Catholic Answers. It was the only time I was stumped by a question (twice) in an interview. Blessedly, since it was taped, those two "moments of silence" were simply edited out. What's really fun here is that it's two full-time, published Catholic apologists talking. I have immense admiration for Jimmy's work. It was a long and very "meaty" discussion. I've met Jimmy twice: in 2004 in Michigan (including his brief visit of my home) and at the CA offices in 2011.
13) My Conversion and Chesterton Quotes Book (6-1-12)
40 minutes (starts 20 minutes into the file). This was on 
Blessed John Paul the Great Leafeater's Club
, with ho
sts Terry Moran and John Lillis (88.1 FM in Sioux City, Iowa).
 As so often, I gave a "nutshell" version of my conversion story. Every time one hits it from a little different angle, I guess. The definitive version is the 75-page account in my book, 
Catholic Converts and Conversion
. This interview was very informal and free-wheeling, which in turn relaxed me all the more, and my humor and "personality" were brought out fairly well.
*
14) Meet the Author: Quotable Newman & The Catholic Verses (1-17-13)
45 minutes. Host Ken Huck interviewed me about my books, The Quotable Newman: A Definitive Guide to His Central Thoughts and Ideas and The Catholic Verses: 95 Bible Passages That Confound Protestants (both published by Sophia Institute Press: in 2012 and 2004). The show is produced by Radio Maria. I've also posted my written interview notes, which contain a lot of material that we didn't get to, due to the constraints of time.
15) Kresta in the Afternoon: My Conversion, Website, and Books (4-14-14)
39 minutes (starts about 20 minutes into the audio file). This is my fourth appearance on Kresta in the Afternoon. With this one I deliberately tried very hard to be my "normal self"; which means lighthearted, humorous, informal, unassuming, sometimes witty, and easy-going. I think I succeeded. It's always easy to do interviews with Al, because he's so good at what he does, and also an old friend. I was very pleased with the interview (whereas usually I think I did merely "okay"), and my wife Judy said "it just sounded like old friends sitting around a fire talking about theology." And so it did. If you want to see "what I am like" in person, this interview is the place to start. What you hear is what you get. I'm just a big harmless teddy bear. :-) But I do have ideas and beliefs that I strongly hold to, and defend, and try to persuade folks to accept (hopefully in a non-threatening, friendly, gentle manner).
16) Meet the Author: Proving the Catholic Faith is Biblical (9-3-15)
23 minutes. Host Ken Huck; show produced by Radio Maria. Interview about my book, Proving the Catholic Faith is Biblical: 80 Short Essays Explaining the Biblical Basis of Catholicism. [listen to the audio file on-site: start at 28:00]
17) Pathways of Learning: Proving the Catholic Faith is Biblical (10-15-15)
60 minutes, in two parts. Interview with Sister Marie Pappas, on The Catholic Channel: ch. 129 on SiriusXM Satellite Radio. It was primarily about my book, Proving the Catholic Faith is Biblical: 80 Short Essays Explaining the Biblical Basis of Catholicism, but was a wide-ranging, easy-going interview (perhaps my favorite ever). For Sr. Marie, it is all about educating the masses about the faith, and she is an extraordinarily talented teacher. The questioning was so unfailingly relevant and interesting that I relaxed more than I usually do in live radio interviews, and I think that showed in the final result, which provides the listener with an experience of what it would be like to talk to me in person.
EXTRA FUN STUFF: Anti-Catholic Reformed Baptist Bishop "Dr." [???] James White Rants About Yours Truly
4-20-04 on His Webcast, Dividing Line [Link]
9 1/2 minutes. See the transcript (go to #8). Here are some particularly funny and entertaining excerpts:
[Y]ou know, in your heart of hearts, that this fella, uh, bless his soul, has no idea what he's talking about. He's read some books, but the important foundational stuff that allows you to actually make sense out of all that stuff, he's clueless; he has no idea what he is talking about, but he writes constantly! . . . This guy [sigh], sadly, there are people who write recommendations of his stuff! I mean, you got Scott Hahn, all these folks, which amazes me. Uh, because you [laughter] look at some of his books, and it's just like "wow! there's just no substance here." It's just rattle rattle rattle rattle, and quote John Henry Cardinal Newman and that's the end of the subject. And there's no meaningful argumentation going on at all.
2-19-08 on His Webcast, Dividing Line: Mocking of One of My Interviews
60 minutes. This is absolutely
classic
James White. He ran across my interview on the
Spirit Morning Show
(with hosts Bruce and Kris McGregor); on Spirit Catholic Radio: 88.9 FM, Omaha (2-15-08). It was about my book,
The One-Minute Apologist
and brief conversion testimony. He did his usual condescending mocking and massive misrepresentation / straw man routine, complete with frequent derisive laughter and clips of
Liar
from Three Dog Night and Billy Joel's
Honesty
. It does make for entertaining listening, if nothing else, if you can handle a mocking fool for 60 minutes. He plays clips of my interview and then "analyzes" them. It's atrocious sophistry, as always with White, when he is examining Catholicism. As part of this rant, White referred to a chapter on the book of James in one of his books and claimed that I would never be able to refute it. Later, I did just that, and guess what? White completely ignored it, as has been his policy now since 2009-2010. Here is that paper:
Reply to James White's Exegesis of James 2 in Chapter 20 of His Book, The God Who Justifies
[10-9-13]
*
***
Practical Matters: Perhaps some of my 4,200+ free online articles (the most comprehensive "one-stop" Catholic apologetics site) or fifty-one books have helped you (by God's grace) to decide to become Catholic or to return to the Church, or better understand some doctrines and why we believe them.
Or you may believe my work is worthy to support for the purpose of apologetics and evangelism in general. If so, please seriously consider a much-needed financial contribution. I'm always in need of more funds: especially monthly support. "The laborer is worthy of his wages" (1 Tim 5:18, NKJV). 1 December 2021 was my 20th anniversary as a full-time Catholic apologist, and February 2022 marked the 25th anniversary of my blog.
PayPal donations are the easiest: just send to my email address: apologistdave@gmail.com. You'll see the term "Catholic Used Book Service", which is my old side-business. To learn about the different methods of contributing, including 100% tax deduction, etc., see my page: About Catholic Apologist Dave Armstrong / Donation Information. Thanks a million from the bottom of my heart!
***
Photo credit: [public domain / Pixabay]
***
Summary: I've done 27 radio interviews, since my first one concerning Jehovah's Witnesses, when I was still a Protestant, back in 1989. Here are 17 of them. Happy listening!
Last updated on 3-30-23