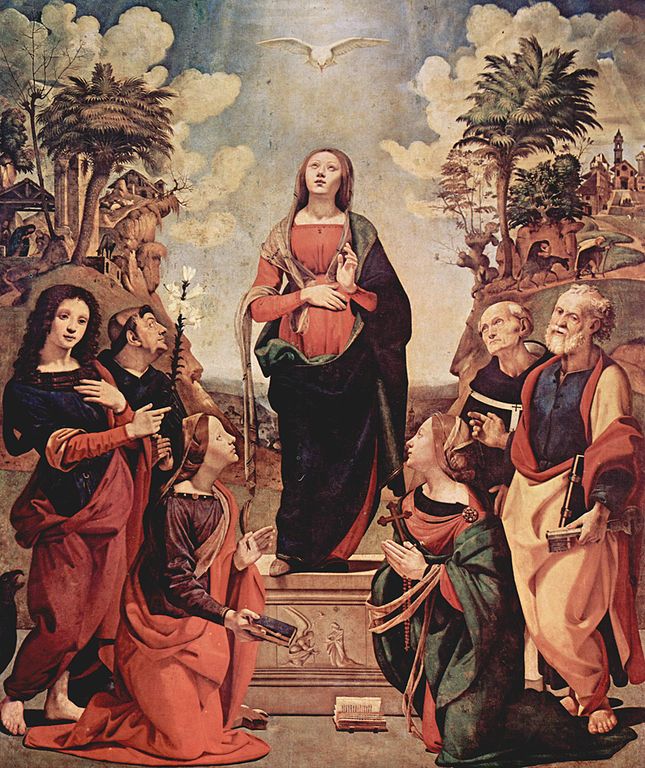 Immaculate Conception (c. 1505), by Piero di Cosimo (1462-1521)
[public domain /
Wikimedia Commons
]
***
***
St. Athanasius

. . . pure and unstained Virgin . . . (On the Incarnation of the Word, 8; Gambero, 102)
O noble Virgin, truly you are greater than any other greatness. For who is your equal in greatness, O dwelling place of God the Word? To whom among all creatures shall I compare you, O Virgin? You are greater than them all O Covenant, clothed with purity instead of gold! You are the Ark in which is found the golden vessel containing the true manna, that is, the flesh in which divinity resides. (Homily of the Papyrus of Turin, 71, 216; Gambero, 106)
St. Ephraem

Mary and Eve, two people without guilt, two simple people, were identical. Later, however, one became the cause of our death, the other the cause of our life (Op. syr. II, 327; Ott, 201)
The Virgin Mary is a symbol of the Church, when she receives the first announcement of the gospel . . . We call the Church by the name of Mary, for she deserves a double name. (Sermo ad noct. Resurr.; Gambero, 115)
Thou and thy mother are the only ones who are totally beautiful in every respect; for in thee, O Lord, there is no spot, and in thy Mother no stain. (Nisibene Hymns, 27, v. 8; Ott, 201)
Citing this source, J.N.D. Kelly asserts:
[W]e find Ephraem delineating her as free from every stain, like her son. (Kelly, 495)
St. Cyril of Jerusalem

Pure and spotless is this birth. For where the Holy Spirit breathes, all pollution is taken away, so that the human birth of the Only-begotten from the Virgin is undefiled. (Catechetical Lectures, XII, 31-32; Gambero, 140)

St. Gregory Nazianzen

He was conceived by the Virgin, who had first been purified by the Spirit in soul and body; for, as it was fitting that childbearing should receive its share of honor, so it was necessary that virginity should receive even greater honor. (Sermon 38, 13; Gambero, 162-163)

St. Gregory of Nyssa

It was, to divulge by the manner of His Incarnation this great secret; that purity is the only complete indication of the presence of God and of His coming, and that no one can in reality secure this for himself, unless he has altogether estranged himself from the passions of the flesh. What happened in the stainless Mary when the fulness of the Godhead which was in Christ shone out through her, that happens in every soul that leads by rule the virgin life. (On Virginity, 2; NPNF 2, Vol. V, 344)
[T]he power of the Most High, through the Holy Spirit, overshadowed the human nature and was formed therein; that is to say, the portion of flesh was formed in the immaculate Virgin. (Against Apollinaris, 6; Gambero, 153)
St. Ambrose

. . . Mary, a Virgin not only undefiled but a Virgin whom grace has made inviolate, free of every stain of sin. (Commentary on Psalm 118, 22, 30; Jurgens, II, 166)
What is greater than the Mother of God? What more glorious than she whom Glory Itself chose? What more chaste than she who bore a body without contact with another body? (Virginity, II, 6; NPNF 2, Vol. X, 374)
St. Epiphanius

Mary, the holy Virgin, is truly great before God and men. For how shall we not proclaim her great, who held within her the uncontainable One, whom neither heaven nor earth can contain? (Panarion, 30, 31; Gambero, 127)

St. Jerome

'There shall come forth a rod out of the stem of Jesse, and a flower shall grow out of his roots.' The rod is the mother of the Lord–simple, pure, unsullied; drawing no germ of life from without but fruitful in singleness like God Himself… Set before you the blessed Mary, whose surpassing purity made her meet to be the mother of the Lord. (Letter XXII. To Eustochium, 19, 38; NPNF 2, Vol. VI, 29, 39; cf. Gambero, p. 213: "whose purity was so great that she merited to be the Mother of the Lord")
Indeed how inferior they are, in terms of holiness, to blessed Mary, Mother of the Lord! (Contra Pelagianos, 1, 16; Gambero, 212)

We must except the holy Virgin Mary, concerning whom I wish to raise no question when it touches the subject of sins, out of honour to the Lord; for from Him we know what abundance of grace for overcoming sin in every particular was conferred upon her who had the merit to conceive and bear Him who undoubtedly had no sin. Well, then, if, with this exception of the Virgin, we could only assemble together all the forementioned holy men and women, and ask them whether they lived without sin whilst they were in this life, what can we suppose would be their answer? (A Treatise on Nature and Grace, chapter 42 [XXXVI]; NPNF 1, Vol. V)
Augustine went a step farther. In an incidental remark against Pelagius, he agreed with him in excepting Mary, "propter honorem Domini," from actual (but not from original) sin. This exception he is willing to make from the sinfulness of the race, but no other. He taught the sinless birth and life of Mary, but not her immaculate conception. . . . The reasoning of Augustine backward from the holiness of Christ to the holiness of His mother was an important turn, which was afterward pursued to further results. The same reasoning leads as easily to the doctrine of the immaculate conception of Mary, though also, just as well, to a sinless mother of Mary herself, and thus upward to the beginning, of the race, to another Eve who never fell.

(Schaff, HCC 3, 418-419)
We do not deliver Mary to the devil by the condition of her birth; but for this reason, because this very condition is resolved by the grace of rebirth. (Opus Imperf. Contra Julianum, 4, 122; Graef, 99)
And so he created a Virgin, whom he had chosen to be his Mother . . . she, with pious faith, merited to receive the holy seed within her. He chose her, to be created from her. (De peccatorum meritis et remissione, 2, 24, 38; Gambero, 219)
St. Cyril of Alexandria

Hail, Mary Theotokos, Virgin-Mother, lightbearer, uncorrupt vessel . . . Hail Mary, you are the most precious creature in the whole world; hail, Mary, uncorrupt dove; hail, Mary, inextinguishable lamp; for from you was born the Sun of justice . . . Through you, every faithful soul achieves salvation. (Homily 11 at the Ecumenical Council of Ephesus; Gambero, 243, 245)
I see the assembly of the saints, all zealously gathered together, invited by the holy Mother of God, Mary, ever-virgin . . . We hail you, O Mary Mother of God, venerable treasure of the entire world, inextinguishable lamp, crown of virginity, scepter of orthodoxy, imperishable temple, container of him who cannot be contained . . . Through you, the Holy Trinity is glorified; the precious Cross is celebrated and adored throughout the world; heaven exults, the angels and archangels rejoice, the demons are put to flight, the devil, the tempter, falls from heaven, the fallen creation is brought back to paradise, all creatures trapped in idolatry come to know of the truth. (Homily IV Preached at Ephesus Against Nestorius; Gambero, 247-248)
Theodotus

"Hail, O full of grace, the Lord is with you, you are blessed" (Lk 1:28), O most beautiful and most noble among women. The Lord is with you, O all-holy one, glorious and good. The Lord is with you, O worthy of praise, O incomparable, O more than glorious, all splendor, worthy of God, worthy of all blessedness . . . spouse of God, divinely nourished treasure. To you I announce neither a conception in wickedness nor a birth in sin; instead, I bring the joy that puts an end to Eve's sorrow. To you I proclaim neither a trying pregnancy nor a painful delivery . . . Through you, Eve's odious condition is ended; through you, abjection has been destroyed; through you, error is dissolved; through you, sorrow is abolished; through you, condemnation has been erased. Through you, Eve has been redeemed. (On the Mother of God and the Nativity; Gambero, 271)
A virgin, innocent, spotless, free of all defect, untouched, unsullied, holy in soul and body, like a lily sprouting among thorns. (Homily VI, 11; O'Carroll, 339)
If iron, once joined to fire, immediately expels the impurities extraneous to its nature and swiftly acquires a likeness to the powerful flame that heats it, . . . how much more, in a superior way, did the Virgin burn when the divine fire (the Holy Spirit) rushed in? She was purified from earthly impurities, and from whatever might be against her nature, and was restored to her original beauty, so as to become inaccessible, untouchable, and irreconcilable to carnal things. (Homily 4, 6; Gambero, 264)
Innocent virgin, spotless, without defect, untouched, unstained, holy in body and in soul, like a lily-flower sprung among thorns, unschooled in the wickedness of Eve . . . clothed with divine grace as with a cloak . . . (Homily 6, 11; Gambero, 268)
Pope St. Leo the Great

For the uncorrupt nature of Him that was born had to guard the primal virginity of the Mother, and the infused power of the Divine Spirit had to preserve in spotlessness and holiness that sanctuary which He had chosen for Himself . . . (Sermon XXII: On the Feast of the Nativity, Part II; NPNF 2, Vol. XII)

St. Sophronius

Others before you have flourished with outstanding holiness. But to none as to you has the fullness of grace been given. None has been endowed with happiness as you, none adorned with holiness like yours, none brought to such great magnificence as yours; no one was ever possessed beforehand by purifying grace as were you . . . And this deservedly, for no one came as close to God as you did; no one was enriched with God's gifts as you were; no one shared God's grace as you did. (In SS Deip. Annunt. 22; O'Carroll, 329)

St. Andrew of Crete

Today humanity, in all the radiance of her immaculate nobility, receives its ancient beauty. The shame of sin had darkened the splendour and attraction of human nature; but when the Mother of the Fair One par excellence is born, this nature regains in her person its ancient privileges and is fashioned according to a perfect model truly worthy of God. . . . The reform of our nature begins today and the aged world, subjected to a wholly divine transformation, receives the first fruits of the second creation. (Homily 1 on Mary's Nativity; O'Carroll, 180)
. . . alone wholly without stain . . . (Canon for the Conception of Anne; Graef, 152)
St. John Damascene

O most blessed loins of Joachim from which came forth a spotless seed! O glorious womb of Anne in which a most holy offspring grew. (Homily I on the Nativity of Mary; O'Carroll, 200; cf. Graef, 154; Gambero, 402)
So according to John of Damascus, even the "active" conception of Mary was completely without stain, panamomos – a view which goes far beyond the terms of the later definition of the doctrine and was open to the objections raised against it by the schoolmen.

(Graef, 154)
She is all beautiful, all near to God. For she, surpassing the cherubim, exalted beyond the seraphim, is placed near to God. (Homily on the Nativity, 9; Gambero, 403)

SOURCES
Gambero, Luigi, Mary and the Fathers of the Church: The Blessed Virgin Mary in Patristic Thought, Thomas Buffer, translator, San Francisco: Ignatius Press, revised edition of 1999.
Graef, Hilda, Mary: A History of Doctrine and Devotion, vol. 1 [to the Reformation], New York: Sheed and Ward, 1963.
Jurgens, William A., editor and translator, The Faith of the Early Fathers, three volumes, Collegeville, Minnesota: Liturgical Press, 1970 and 1979 (2nd and 3rd volumes).
Kelly, J.N.D., Early Christian Doctrines, San Francisco: Harper & Row, fifth revised edition, 1978.
O'Carroll, Michael, Theotokos: A Theological Encyclopedia of the Blessed Virgin Mary, Wilmington, Delaware: M. Glazier, 1982.
Ott, Ludwig, Fundamentals of Catholic Dogma, translated by Patrick Lynch, edited in English by James Canon Bastible, Rockford, Illinois: TAN Books, 1974, from the fourth edition of 1960 (originally 1952 in German).
Schaff, Philip, History of the Christian Church, Vol. III: Nicene and Post-Nicene Christianity: A.D. 311-600 ("HCC 3"), Grand Rapids, Michigan: Eerdmans Publishing Company, 1974, from the revised fifth edition of 1910.
Schaff, Philip, editor, Early Church Fathers: Nicene & Post-Nicene Fathers Series 1 ("NPNF 1"), 14 volumes, originally published in Edinburgh, 1889,
available online.
Schaff, Philip & Henry Wace, editors, Early Church Fathers: Nicene & Post-Nicene Fathers Series 2 ("NPNF 2"), 14 volumes, originally published in Edinburgh, 1900, available online.
As to the "these were late fathers" Protestant polemical canard, this proves too much, since one has to realize that many doctrines that Protestants accept (even very key ones to them) often took many hundreds of years to fully develop, as well:
1) The canon of Scripture: not finalized till 397, and it included the Deuterocanon, which Protestants (inconsistently) reject.

2) The Two Natures of Christ: dogmatized in 451 at the Council of Chalcedon. Further controversies over whether Christ had one of two wills (Monothelitism; the orthodox doctrine holds that He had two wills) went on for a few centuries more.

3) Original sin: this was finalized in dogma so late that it wasn't part of the Nicene Creed, and Cardinal Newman noted that the fathers wrote much more about purgatory than about original sin.

4) Sola Scriptura: one of the two pillars of the "Reformation" is virtually absent from the fathers. I have over 100 pages on this issue in my book on the fathers. This doesn't seem to give Protestants any pause, yet the Marian doctrines with regard to the fathers does. Why?

5) Sola fide (faith alone): also virtually nonexistent in the fathers, as Protestant scholars such as Geisler and McGrath have admitted.
Furthermore, many doctrines that many Protestants reject are almost unanimously or largely held by the fathers, such as baptismal regeneration, episcopal Church government (bishops), the papacy, real presence in the Eucharist, perpetual virginity of Mary, the sacrifice of the Mass, penance, purgatory, prayers for the dead, the communion of saints, veneration of the saints, theosis, etc.

It's a tough road to be a Protestant who values Church history (as, particularly, traditional Anglicans and Lutherans do), and thinks that the Church fathers were more Protestant than they were Catholic. That's a miserably losing battle every time. But I give anyone who attempts it a lot of points for chutzpah and admirable zeal. 
*
Or you may believe my work is worthy to support for the purpose of apologetics and evangelism in general. If so, please seriously consider a much-needed financial contribution. I'm always in need of more funds: especially monthly support. "The laborer is worthy of his wages" (1 Tim 5:18, NKJV). 1 December 2021 was my 20th anniversary as a
full-time Catholic apologist
, and February 2022 marked the 25th anniversary of my blog.