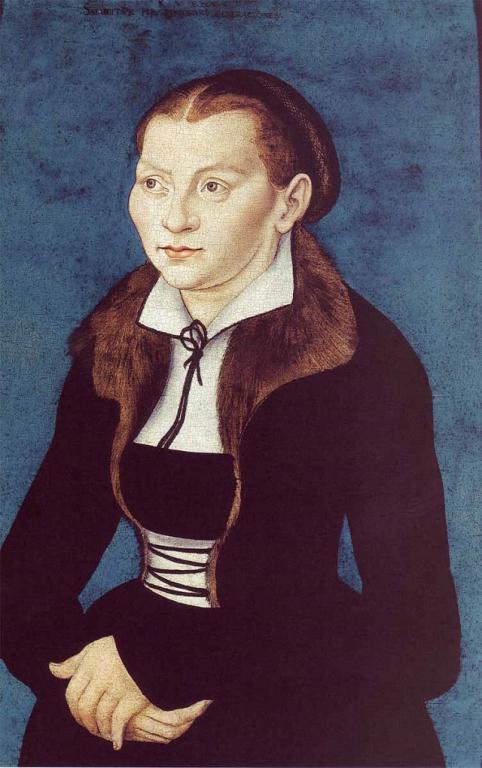 Katharina von Bora (1499-1552), former Catholic nun and Luther's wife. Portrait (1529) by Lucas Cranach the Elder (1472-1553) [public domain / Wikimedia Commons]
***
(11-3-16; revised on 8-26-17)
*****
The Toronto Catholic Witness blog put up an article on 10-31-16, entitled, "Martin Luther advocated the raping of Nuns ~ how can any Catholic praise him, or this hideous, evil "Reformation"?" It cited Jacques Maritain's book, The Three Reformers, which referred to "a rape of nuns which took place on the night of Holy Saturday, 1523" (p. 40).
Maritain appears to have been drawn this from the virulently anti-Luther Catholic biographer, Heinrich Denifle, who (at least in the English translation) added the description of "rape" to his description of an incident ("rape and abduction") which was simply nuns voluntarily fleeing their convent. But there are many factors of translation and definition involved (much more on that below).
Jesuit and Luther biographer Hartmann Grisar (who also wrote a six-volume biography of Luther) recounts the story in his Martin Luther: His Life and Work (1925; reprinted in 1930 and 1950: Newman Press; see pp. 233-234) — I have a hard copy in my own library –, with not the slightest hint of rape. This was twelve Cistercian nuns who voluntary left a convent at Nimbschen. Grisar commented:
They were mostly daughters of the nobility, who had been committed to the convent according to custom and hence failed to honor the state of life which they had embraced voluntarily. (p. 234)
Grisar is the far more reputable and objective biographer. And he is scathingly critical of Luther where it is called for, so we can trust his account of this incident.
It looks like Toronto Catholic Witness blew the documentation of the primary German source, too. I didn't look closely enough at Grisar. He gives Weimar, Vol. XI, 394 sqq.; Erlangen ed., Vol. XXIX, 33 sqq. Maritain and Toronto Catholic Witness stated that it was Weimar edition, Vol. IX.
Biographer Martin Brecht relates the incident, with not a word about rape, as does Catholic historian Carlos M. N. Eire, in Reformations: a book published in 2016 by Yale University Press.
The breaking of religious vows is, of course, a serious sin, too, in Catholic thought, but that's a separate discussion. Here I am only addressing whether these nuns were raped, and with Luther's approval. One of these nuns was Luther's future wife, Katharina von Bora. Are we to believe that Luther rejoiced in the rape of his wife?
Spreading myths and lies about Luther does nothing to advance Catholicism or ecumenical relations. There are plenty of real issues where Luther was wrong in his theology that can be discussed. I've dealt with them at length, on my Luther web page, which is the most extensive Catholic critique of Luther online. I also have an extensive page about Lutheranism as well.
Thus no one can claim that I don't take on Protestant errors or Luther himself when he is wrong (from the Catholic standpoint). But I won't countenance lies for a second, because it brings into question our credibility and Christian witness to historical truth and fairness. It's wrong, and we sin if we spread them, having been informed of their inaccurate and defamatory nature.
Commenter Steve Perisho added some crucial linguistic information on my Facebook page:
Maritain (I'm looking at p. 263 of the nouvelle edition revue et augmentée in 1925) said, in his original French, "rapt", which is hardly unambiguous. The 1981 Larousse French dictionary I have here at home allows for "rape", but says first "kidnapping" and third "abduction". It gives "rapt" for "rape" in the English-French section, but also enlèvement and (juridically) viol. By contrast the larger 1991 Harrap's Shorter I have here at home gives for "rapt" only "abduction", "kidnapping", and gives for "rape" in its English-French section only viol.

So it might be interesting to look at a standard French dictionary published around or before 1925, or consult a native speaker of French. And also, of course, the context. The "abduction" or "kidnapping" reading would make better sense of what Maritain says Luther called Koppe, namely un 'bienheureux voleur' (thief, robber), and especially if voleur is related to violer etymologically (which, without checking, I do not know to be the case).

This is by itself enough for me to give also Maritain (if not his translator, Algar Thorold) some at least preliminary benefit of the doubt. I am simply interested in whether there is any chance that Maritain can be detached from the scurrilous use they make of him (unfortunate as he may have been in his translator). And that I see as a slightly different question from the one about Denifle, or the 16th-century matter of fact.

You provided an English translation of Denifle. But the word behind "rape" in Denifle's footnote is actually Raub, fundamentally "robbery" (Der Raub und die Entführung der gottgeweihten Nonnen). And though the English-German section of my 1995 Langescheidt adds both 2. Entführung and Raub to its entry on "rape", only 1. Vergewaltung and Notzucht get defined as "rape" in the German-English section.

I checked to see whether Maritain was citing Denifle's original German or a French translation. And of course he was citing the French translation by J. Paquier. So more relevant than the original German is the fact that Pacquier reduced the two terms Der Raub und die Entführung to the single term Le rapt, the same word used by Maritain himself. That doesn't answer the question of what the context in which Maritain placed it dictates about how Thorold should have translated it into English, but it does seem to me to be something to be taken into consideration in determining whether Maritain himself can be charged with having (at this one crucial point in particular) really meant "rape" in the unambiguously sexual sense or not.
Thus, it looks to be a matter of questionable English translations (and perhaps anti-Luther bias or even bigotry) in both cases: for Denifle and also Maritain, and also perhaps an unfortunate translation of German into French. We readily observe the supreme importance of using the right word to convey the original language.
*****