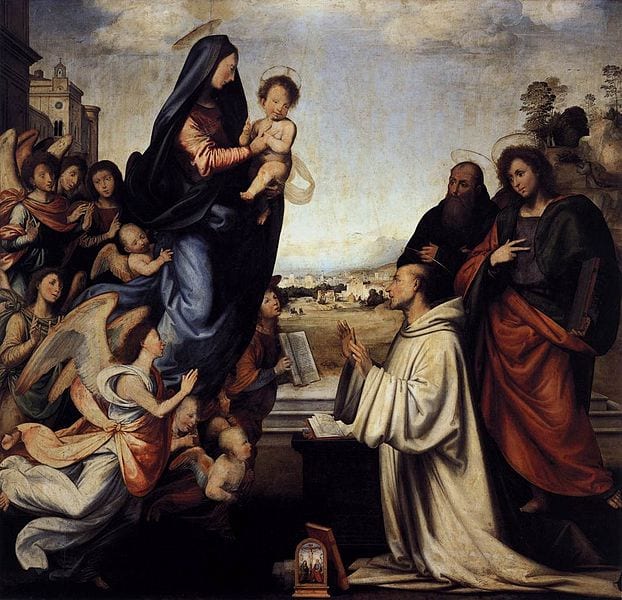 [this occurred on Protestant Jerry Walls' Facebook page (public post). His words will be in blue; those of other Protestants in various colors]
OFF CENTER
"Let us entrust the new year to Mary, Mother of God, so that peace and mercy may grow throughout the world."
–Tweet from Pope Francis
It is further telling how many Roman Catholics cannot see, or will not acknowledge, that this sort of statement is off center.
It's easily understood in theological context: Why pray to a saint rather than to God?
Doug Gibson: what do you mean 'trust her'? We are told about her in the Bible, but we are not told to place our trust in her, but in Christ alone for salvation. The Bible is a revelation of the way of salvation and reveals Christ.
Why ask others to pray, for salvation or anything else, if we can always go to Jesus? Or do you not pray for others, or ask for their prayers?
[no reply]
Julia Sheets: Isn't it enough to trust Jesus?
Yes it is. Why do you ask anyone to pray for you when you can always go to Jesus? You tell me.
[no reply]
Doug Gibson: From a Fransiscan site promoting Gaitley's theology: " Father Roberson led one of the workshops, "Mary, Spouse of the Spirit: Blessing for Our Time." "I have seen it," he said, sharing several stories of Mary's influence. "Her purity defeats the darkness of sin. Her purity defeats the darkness of hell.""
Exactly. The Bible says that all Christians can potentially do that, so no biggie at all:
Ephesians 6:10-17 (RSV) Finally, be strong in the Lord and in the strength of his might. [11] Put on the whole armor of God, that you may be able to stand against the wiles of the devil. [12] For we are not contending against flesh and blood, but against the principalities, against the powers, against the world rulers of this present darkness, against the spiritual hosts of wickedness in the heavenly places. [13] Therefore take the whole armor of God, that you may be able to withstand in the evil day, and having done all, to stand. [14] Stand therefore, having girded your loins with truth, and having put on the breastplate of righteousness, [15] and having shod your feet with the equipment of the gospel of peace; [16] besides all these, taking the shield of faith, with which you can quench all the flaming darts of the evil one. [17] And take the helmet of salvation, and the sword of the Spirit, which is the word of God.
[no reply: non-answers seem to be a pattern here . . . ]
Jaime Licon: as a former RC I trusted so much to Mary and for me got nothing back, when I made my center Jesus Christ my life changed at that point, that is my story about what happened to me and one reason I left Rome.
As a former evangelical Protestant I trusted sola Scriptura and my own private judgment. When I accepted all of Scripture: which includes apostolic tradition and the One True Church (Jesus Christ already was in the center), my life changed at that point. That is my story about what happened to me and a major reason why I left evangelical Protestantism.
To understand Catholic Marian devotion one must study its rationale: including its biblical rationale. I make it easy to do that, since I lay it all out for the open-minded inquirer:
*
St. Alphonsus de Liguori: Mary-Worshiper & Idolater?
[8-9-02]
Jesus' Interactions with Mary in Relation to Marian Veneration [10-29-08]
Immaculate Heart of Mary & Mary Mediatrix (Excessive Devotions?): Explanations Especially for New Converts to the Catholic Faith [11-25-08]
Was St. Louis de Montfort a Blasphemous Mariolater? (cf. abridged National Catholic Register version) [2009]
*
*
*
*
***
Jerry Walls: The Marian dogmas could be true but are probably false. They are not taught in scripture and should not be insisted on as infallible dogmas.
Sola Scriptura is certainly false. It is not taught in scripture and should not be insisted on as the Protestant presupposition for authority and all theology.
As you can see, not a single discussion was generated in any of these instances. And this is so often the case. How can a critic of something [that is true] learn anything if they won't interact at any length or depth with a person who is defending it? But at least silence is better than continued opposition against true positions.
***
(originally 1-4-17 on Facebook; several new links added on 3-15-19)
Photo credit: Vision of St Bernard with Sts Benedict and John the Evangelist (1504), by Fra Bartolomeo (1472-1517) [public domain / Wikimedia Commons]
***