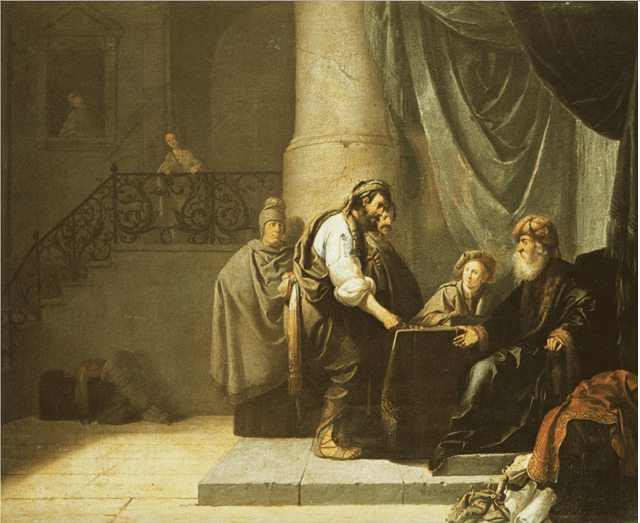 Dr. David Madison is an atheist who was a Methodist minister for nine years: with a Ph.D. in Biblical Studies from Boston University. You can see (by the number in the title) how many times I have replied to his videos or articles. Thus far, I haven't heard one peep back from him (from 8-1-19 to this date). This certainly doesn't suggest to me that he is very confident in his opinions. All I've seen is expressions of contempt from Dr. Madison and from his buddy, the atheist author, polemicist, and extraordinarily volatile John Loftus, who runs the ultra-insulting Debunking Christianity blog. Dr. Madison made his cramped, insulated mentality clear in a comment from 9-6-19:
[T]he burden of the apologist has become heavy indeed, and some don't handle the anguish well. They vent and rage at critics, like toddlers throwing tantrums when a threadbare security blanket gets tossed out. We can smell their panic. Engaging with the ranters serves no purpose—any more than it does to engage with Flat-Earthers, Chemtrail conspiracy theorists, and those who argue that the moon landings were faked. . . . I prefer to engage with NON-obsessive-compulsive-hysterical Christians, those who have spotted rubbish in the Bible, and might already have one foot out the door.
John "you are an idiot!" Loftus even went to the length of changing his blog's rules of engagement, so that he and Dr. Madison could avoid replying to yours truly, or even see notices of my replies (er, sorry, rants, rather).
This is one of the replies to Dr. Madison's series, "Things we Wish Jesus Hadn't Said" (podcast episodes 13-25). I have already replied to every previous episode. He states in his introduction to this second series:
[A]pologists (preachers and priests) who explain away—well, they try—the nasty and often grim message in many of the sayings attributed to Jesus. Indeed, the gospels are a minefield; many negatives about Jesus are in full view.
Dr. Madison's episode 16 is entitled, "Jesus tells those present at his trial that they will see him coming on the clouds of heaven" (8-16-19). I've already refuted this reasoning earlier in this series: "Dr. David Madison vs. Jesus #3: Nature & Time of 2nd Coming" (8-3-19). His episode 17 (to which I presently respond) is called, "Bad advice that Jesus gave in the Sermon on the Mount, Matthew 6:19-20 and 5:40 & 42" (8-19-19). Episode 18 (8-24-19) continues essentially the same flawed analysis, and so is also refuted below. Episode 19 ("Mark 2:1-12, Jesus heals a paralyzed man by forgiving his sins"), has already been rebutted by my paper, David Madison vs. the Gospel of Mark #3: Chapter 2 (Archaeological Support / Sin, Illness, Healing, & Faith / "Word" & "Gospel"). Since Dr. Madison has deliberately decided to ignore all my critiques, he taped his episode 19 exactly 17 days after I refuted all of its main contentions.
My patience is now exhausted with this series, and Dr. Madison is often merely spinning his wheels and regurgitating stale material that he has already presented, so I will end my critiques of this series with this post.
Dr. Madison's words will be in blue.
*****
Matthew 5:40-42 (RSV) "and if any one would sue you and take your coat, let him have your cloak as well; [41] and if any one forces you to go one mile, go with him two miles. [42] Give to him who begs from you, and do not refuse him who would borrow from you."

Matthew 6:19-21 Do not lay up for yourselves treasures on earth, where moth and rust consume and where thieves break in and steal, [20] but lay up for yourselves treasures in heaven, where neither moth nor rust consumes and where thieves do not break in and steal. [21] For where your treasure is, there will your heart be also." [Dr. Madison ignores verse 21, which is the conclusion of the thought]
Is this advice you would give to young people starting out in life? Of course not. But in the mind of Jesus, or more correctly, in the mind of the cult propagandist who wrote the Gospels, there wasn't going to be any such thing as starting out in life or saving for the future. The kingdom of God, with Jesus ruling and all governmental authorities removed, made no allowance for careers or saving for the future, or for the unfolding of 2000 more years of history, for that matter. It didn't matter if you loaned money. It didn't matter if you gave it all away to beggars.
The business about the supposed assumption that the world was gonna end soon was already dealt with in my past paper, mentioned above. Here I will address the subject matter of generosity, charity, benevolence, and opposition to materialism and excessive riches. The advice given is, of course, proverbial; hence it was not intended absolutely literally, as if it applied to every conceivable situation; any and all situations.
Jesus is cultivating a general unselfish way of life, a way of love and concern for other human beings. Then He makes the point that the eternal, spiritual things are more important than temporary earthly possessions. He does it by the typical Hebraic extreme contrast of one thing over against another.
To use an entirely "earthy" comparison, it would be like saying, "would you choose a very happy marriage that lasted five years, or an even happier marriage that lasted for a lifetime?" Anyone would choose the latter. Thus, Jesus draws a contrast between temporary material goods on earth, and "treasures" in heaven, that last forever, and are beyond the reach of either decay or theft. The preference is a no-brainer.
If there is a heaven, this makes eminent sense. The problem, of course, is that atheists like Dr. Madison don't believe in heaven or any kind of afterlife. Obviously, then, such a concept is meaningless to him (and them). They just view it as what they deride as "pie in the sky." But it's perfectly reasonable if one accepts the premise (on many other reasonable grounds) that God exists and an eternal afterlife of bliss in heaven also awaits those who follow Him and accept His free offer of grace and salvation that is available to all human beings.
In any event, what is described in Matthew 5:40-42 is proverbial advice. Bob Deffinbaugh wrote an excellent article on the nature of biblical proverbial literature. Here are a few snippets:
Proverbs are highly compressed, carefully chosen words of wisdom. In the Bible, proverbs are found elsewhere than just in the Book of Proverbs. I cannot help but smile when I read the proverb Israel's King Ahab cites to Ben Hadad, king of Syria. Ben Hadad had assembled his army and besieged the city of Samaria. He sent word to Ahab, conveying his demands, threatening to destroy Samaria if Ahab did not comply. Ahab sent Ben Hadad this response:

"Tell him the one who puts on his battle gear should not boast like one who is taking it off" (1 Kings 20:11).

We would have said, "Don't count your chickens before they're hatched."

Proverbs may very well exist in every culture. We have many proverbs in our culture. Here are just a few:

"First things first."
"A stitch in time saves nine."
"Don't cry over spilled milk."
"Don't throw the baby out with the bathwater."
"Hind sight is better than foresight."
"People who live in glass houses shouldn't throw stones."
"Don't put all your eggs in one basket."

Proverbs are words that are skillfully crafted to stick in our minds and to engage us in thought: . . .

Proverbs are not necessarily promises, but rather generalizations of what is commonly true. Generally speaking, those who work hard and are self-disciplined prosper, while those who are lazy and gluttonous become poor . . .

[W]e must be careful not to read any particular proverb as though it comes with an unconditional guarantee of being fulfilled.
See also, International Standard Bible Encyclopedia ("Proverb"). The key to understanding a proverb is to know that it is intended to be general advice, which admits of exceptions, according to situation. It's not absolute in nature. It is not like asserting "2 + 2 = 4" or "the moon goes around the earth" or "The Empire State Building is in New York City." It's situational and prudential. A famous couplet from the book of Proverbs perfectly illustrates this:
Proverbs 26:4-5 Answer not a fool according to his folly, lest you be like him yourself. [5] Answer a fool according to his folly, lest he be wise in his own eyes.
I've often employed both pieces of advice in my own apologetics work. There is a time to answer a fool (as in fact I am doing right now), and a time not to, which brings to mind another famous Proverb from Ecclesiastes, which was the basis of a song by Pete Seeger, and a #1 hit song for the Byrds in 1965:
Ecclesiastes 3:1-8 For everything there is a season, and a time for every matter under heaven: [2] a time to be born, and a time to die; a time to plant, and a time to pluck up what is planted; [3] a time to kill, and a time to heal; a time to break down, and a time to build up; [4] a time to weep, and a time to laugh; a time to mourn, and a time to dance; [5] a time to cast away stones, and a time to gather stones together; a time to embrace, and a time to refrain from embracing; [6] a time to seek, and a time to lose; a time to keep, and a time to cast away; [7] a time to rend, and a time to sew; a time to keep silence, and a time to speak; [8] a time to love, and a time to hate; a time for war, and a time for peace.
Jesus Himself proves that His advice in Matthew 5 is not absolute and to be applied in any and every situation, in His parable of the talents (Matthew 25:14-30; cf. Luke 19:11-26). It has been called a primitive description of capitalistic industriousness, in which He expressly sanctions investment with bankers, and the making of interest (Mt 25:27; Lk 19:23). In the parable the master is God, who agrees with the investment.
For Dr. Madison, who apparently cannot comprehend the nature of proverbial biblical literature, "in the mind of the cult propagandist who wrote the Gospels, there wasn't going to be any such thing as starting out in life or saving for the future." Wrong! Matthew 25 and Luke 19 show this to be a falsehood.
Moreover, Dr. Madison claims that Christians were not supposed to have the slightest concern about money or the practical necessities of responsible everyday life because they were allegedly taught that the world was gonna end very soon. Why is it, then, that in the introduction of the parable of the talents in Luke's version, the narrator (Luke) expressly denies an imminent end of the world?:
Luke 19:11 . . . he proceeded to tell a parable, because he was near to Jerusalem, and because they supposed that the kingdom of God was to appear immediately.
Dr. Madison thinks the Gospel writer "cult propagandists" were seeking to indoctrinate the gullible, stupid Christian cult members to think that the end of the world could and would occur in the next five minutes. Why, then, is the parable of the talents in two of these Gospels, and why is Luke 19:11 there: dead-set against the supposed nefarious goal and agenda? It makes no sense. Jesus Himself makes the same point: that the time of the end is not known, immediately preceding the Matthew version of the parable of the talents:
Matthew 25:13 Watch therefore, for you know neither the day nor the hour.
The parable of the ten virgins and their oil lamps, right before this portion of Matthew (Matthew 25:1-13) is making the same point: industrious preparedness and wise stewardship of the material possessions one has: the very opposite of "simply give to every beggar and take no thought of how to wisely provide for yourselves." What one does depends on prudence and a given situation. That is biblical "wisdom": expressed in a very specific literary idiom, with its own particular characteristics: the proverb or the parable.
So much for Dr. Madison's imaginary nonsense and slop (for now the 42nd time!). He doesn't have the slightest clue concerning what he is pontificating about. His atheism has made him thoroughly illogical and oblivious to facts and reason alike, when it comes to Anything Biblical. This is what extreme, fanatical bias and hostility do to an otherwise fairly rational and sensible mind.
***
Unfortunately, Money Trees Do Not Exist:
If you have been aided in any way by my work, or think it is valuable and worthwhile, please strongly consider financially supporting it (even $10 / month — a mere 33 cents a day — would be very helpful). I have been a full-time Catholic apologist since Dec. 2001, and have been writing Christian apologetics since 1981 (see
my Resume
). My work has been proven (by God's grace alone) to be fruitful, in terms of changing lives (see the tangible evidences
from unsolicited "testimonies"
). I have to pay my bills like all of you: and have a (homeschooling) wife and three children still at home to provide for, and a mortgage to pay.
*
My book royalties from
three bestsellers in the field
(published in 2003-2007) have been decreasing, as has my overall income, making it increasingly difficult to make ends meet. I provide over 2600 free articles here, for the purpose of your edification and education, and have
written 50 books
. It'll literally be a struggle to survive financially until Dec. 2020, when both my wife and I will be receiving Social Security. If you cannot contribute, I ask for your prayers (and "likes" and links and shares). Thanks!
*
See my
information on how to donate
(including 100% tax-deductible donations). It's very simple to contribute to my apostolate via PayPal, if a tax deduction is not needed (my "business name" there is called "Catholic Used Book Service," from my old bookselling days 17 or so years ago, but send to my email: apologistdave@gmail.com). Another easy way to send and receive money (with a bank account or a mobile phone) is through
Zelle
. Again, just send to my e-mail address. May God abundantly bless you.
*
***
Photo credit: The Parable of The Talents, by Willem de Poorter (1608-1668) [public domain / Wikimedia Commons]
***