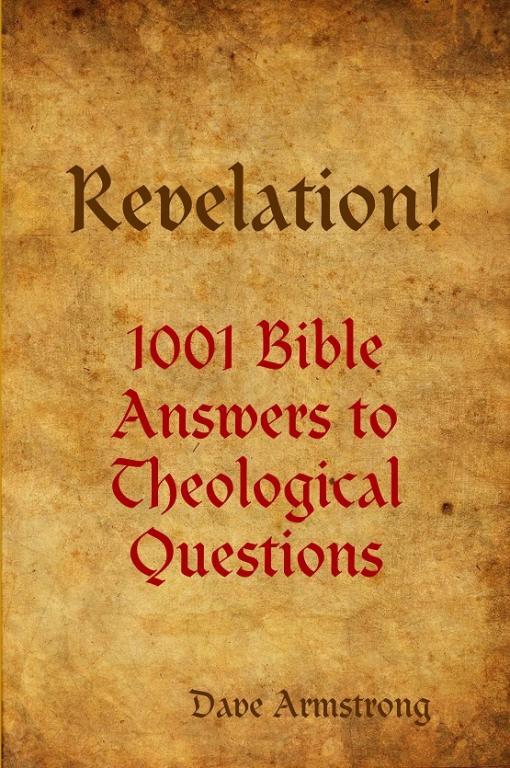 [from my 2013 book, pictured above (see purchase & general information); available in Spanish and French as well); passages are KJV unless otherwise indicated (RSV)]
The purpose of this book was described in the Introduction:
The notion that arose in my mind was to simply provide  Bible passages (usually one verse; sometimes a few together) that would be (in my humble opinion, anyway) the very best "answers" to a large number of one-sentence questions.

The format might remind one of the popular TV game show Jeopardy, where the contestants are given a piece of information and have to come up with a question that it is the "answer" to. While compiling it, I looked at Bible passages and devised questions that the passages "answered". . . .

I think somewhere in the back of my mind, I was also perhaps vaguely recalling, particularly, The Question and Answer Catholic Catechism (New York: Doubleday Image, 1981), by my mentor, the late great Fr. John A. Hardon, S. J. He divided his book into major categories, then subcategories, and finally into 1,701 individual questions. His answers were relatively simple "catechetical" replies that present the basic Catholic teachings or "answers."

Likewise, my book consists of 18 broad categories (Roman numerals), and 200 numbered subcategories, under which the 1,001 particular questions are found, with each answer being a Bible passage.
***
The Central Place of Works in the Final Judgment
36-1. Are works (performed by justified persons) made a central criterion in the final judgment?
Romans 2:6-8 Who will render to every man according to his deeds: [7] To them who by patient continuance in well doing seek for glory and honour and immortality, eternal life:
[8] But unto them that are contentious, and do not obey the truth, but obey unrighteousness, indignation and wrath,
36-2. Are good fruits required for final salvation?
Matthew 7:18-20 A good tree cannot bring forth evil fruit, neither can a corrupt tree bring forth good fruit. [19] Every tree that bringeth not forth good fruit is hewn down, and cast into the fire. [20] Wherefore by their fruits ye shall know them.
36-3. Are the saved and damned chosen based on those who do good vs. those who do evil?
John 5:28-29 Marvel not at this: for the hour is coming, in the which all that are in the graves shall hear his voice, [29] And shall come forth; they that have done good, unto the resurrection of life; and they that have done evil, unto the resurrection of damnation.
36-4. Are people damned for not obeying the gospel?
2 Thessalonians 1:7-8 And to you who are troubled rest with us, when the Lord Jesus shall be revealed from heaven with his mighty angels, [8] In flaming fire taking vengeance on them that know not God, and that obey not the gospel of our Lord Jesus Christ:
36-5. Is judgment according to deeds?
1 Peter 1:17 (RSV) And if you invoke as Father him who judges each one impartially according to his deeds, conduct yourselves with fear throughout the time of your exile.
36-6. Are we judged primarily by how much faith we have or by what we have done?
Revelation 20:12-13 And I saw the dead, small and great, stand before God; and the books were opened: and another book was opened, which is the book of life: and the dead were judged out of those things which were written in the books, according to their works. [13] And the sea gave up the dead which were in it; and death and hell delivered up the dead which were in them: and they were judged every man according to their works.
***
Meritorious Action Enabled by God's Grace
39-1. Are we "repaid" for good works after death?
Luke 14:13-14 But when thou makest a feast, call the poor, the maimed, the lame, the blind: [14] And thou shalt be blessed; for they cannot recompense thee: for thou shalt be recompensed at the resurrection of the just.
39-2. Do we receive differential rewards at the judgment seat of Christ?
2 Corinthians 5:10 For we must all appear before the judgment seat of Christ; that every one may receive the things done in his body, according to that he hath done, whether it be good or bad.
39-3. Can we purify ourselves in order to be more approved by God?
2 Timothy 2:15, 21 (RSV) Do your best to present yourself to God as one approved, a workman who has no need to be ashamed, rightly handling the word of truth. . . . [21] If any one purifies himself from what is ignoble, then he will be a vessel for noble use, consecrated and useful to the master of the house, ready for any good work.
39-4. Can we "build ourselves up" in the faith?
Jude 20-21 But ye, beloved, building up yourselves on your most holy faith, praying in the Holy Ghost, [21] Keep yourselves in the love of God, looking for the mercy of our Lord Jesus Christ unto eternal life.
39-5. Are we rewarded for righteousness?
2 Samuel 22:21 The LORD rewarded me according to my righteousness: according to the cleanness of my hands hath he recompensed me.
39-6. Are we rewarded for good fruits of our works?
Jeremiah 32:19 Great in counsel, and mighty in work: for thine eyes are open upon all the ways of the sons of men: to give every one according to his ways, and according to the fruit of his doings:
39-7. Are secret alms meritorious?
Matthew 6:4 That thine alms may be in secret: and thy Father which seeth in secret himself shall reward thee openly.
39-8. Are those who leave their families to serve Jesus especially rewarded?
Matthew 19:29 And every one that hath forsaken houses, or brethren, or sisters, or father, or mother, or wife, or children, or lands, for my name's sake, shall receive an hundredfold, and shall inherit everlasting life.
39-9. Are good works meritorious?
Ephesians 6:8 Knowing that whatsoever good thing any man doeth, the same shall he receive of the Lord, . . .
Co-Workers with God / Synergy
40-1. Where is it taught that we are God's "co-laborers"?
1 Corinthians 3:6-9 I have planted, Apollos watered; but God gave the increase. [7] So then neither is he that planteth any thing, neither he that watereth; but God that giveth the increase.[8] Now he that planteth and he that watereth are one: and every man shall receive his own reward according to his own labour. [9] For we are labourers together with God: ye are God's husbandry, ye are God's building.
40-2. Is there a sense in which God works in us, and we work, too?
1 Corinthians 15:10 But by the grace of God I am what I am: and his grace which was bestowed upon me was not in vain; but I laboured more abundantly than they all: yet not I, but the grace of God which was with me.
40-3. Do we work together with God?
2 Corinthians 6:1 We then, as workers together with him, beseech you also that ye receive not the grace of God in vain.
40-4. Does God work in and with us when we do His will?
Philippians 2:13 For it is God which worketh in you both to will and to do of his good pleasure.
40-5. Do we participate in the "work of the Lord"?
1 Corinthians 15:58 Therefore, my beloved brethren, be ye stedfast, unmoveable, always abounding in the work of the Lord, forasmuch as ye know that your labour is not in vain in the Lord.
Participation in Distribution of Grace and Salvation
41-1. Can one Christian help "save" another?
1 Corinthians 9:22 To the weak became I as weak, that I might gain the weak: I am made all things to all men, that I might by all means save some.
41-2. Can preaching help save souls?
1 Corinthians 1:21 For after that in the wisdom of God the world by wisdom knew not God, it pleased God by the foolishness of preaching to save them that believe.
41-3. Can wives help save their husbands, and vice versa?
1 Corinthians 7:16 (RSV) Wife, how do you know whether you will save your husband? Husband, how do you know whether you will save your wife?
41-4. Can we "save ourselves" in any secondary sense?
1 Timothy 4:16 (RSV) Take heed to yourself and to your teaching; hold to that, for by so doing you will save both yourself and your hearers.
41-5. Can we help convert sinners and prevent them from being lost?
James 5:19-20 Brethren, if any of you do err from the truth, and one convert him; [20] Let him know, that he which converteth the sinner from the error of his way shall save a soul from death, and shall hide a multitude of sins.
41-6. Can we help save people by being a good example to them?
1 Peter 3:1 . . . some, though they do not obey the word, may be won without a word by the behavior of their wives,
41-7. Can prayer help save souls and extend God's forgiveness?
James 5:15 And the prayer of faith shall save the sick, and the Lord shall raise him up; and if he have committed sins, they shall be forgiven him.
God Enables True Human Righteousness
42-1. Does God help make men righteous?
Psalm 23:3 He restoreth my soul: he leadeth me in the paths of righteousness for his name's sake.
42-2. Does God purge and wash us?
Psalm 51:7 Purge me with hyssop, and I shall be clean: wash me, and I shall be whiter than snow.
42-3. Does God give us a clean heart?
Psalm 51:10 Create in me a clean heart, O God; and renew a right spirit within me.
42-4. Does God give us grace and all good things?
Psalm 84:11 For the LORD God is a sun and shield: the LORD will give grace and glory: no good thing will he withhold from them that walk uprightly.
Human Beings Are Portrayed as "Righteous"
43-1. Do human beings have righteousness "in" them?
Psalm 7:8 The LORD shall judge the people: judge me, O LORD, according to my righteousness, and according to mine integrity that is in me.
43-2. Does God reward according to human righteousness?
Psalm 18:20-23 The LORD rewarded me according to my righteousness; according to the cleanness of my hands hath he recompensed me. [21] For I have kept the ways of the LORD, and have not wickedly departed from my God. [22] For all his judgments were before me, and I did not put away his statutes from me. [23] I was also upright before him, and I kept myself from mine iniquity.
43-3. Is there such a thing as an "upright" person?
Psalm 32:11 Be glad in the LORD, and rejoice, ye righteous: and shout for joy, all ye that are upright in heart.
43-4. Is there such a thing as a "righteous person"?
Psalm 118:20 This gate of the LORD, into which the righteous shall enter.
43-5. Are there "undefiled" persons?
Psalm 119:1 Blessed are the undefiled in the way, who walk in the law of the LORD.
43-6. Are there people who keep God's precepts?
Psalm 119:166-168 LORD, I have hoped for thy salvation, and done thy commandments. [167] My soul hath kept thy testimonies; and I love them exceedingly. [168] I have kept thy precepts and thy testimonies: for all my ways are before thee.
***
Infused Justification / Sanctification
45-1. Is faith ever associated directly with increased righteousness, in conjunction with salvation?
Romans 1:17 (RSV) For in it the righteousness of God is revealed through faith for faith; as it is written, "He who through faith is righteous shall live."
45-2. Is the absence of sin tied to salvation?
Romans 8:13 For if ye live after the flesh, ye shall die: but if ye through the Spirit do mortify the deeds of the body, ye shall live.
45-3. Is total sanctification possible to attain?
1 Thessalonians 5:23 And the very God of peace sanctify you wholly; and I pray God your whole spirit and soul and body be preserved blameless unto the coming of our Lord Jesus Christ.
45-4. Are we sanctified by faith?
Acts 26:18 To open their eyes, and to turn them from darkness to light, and from the power of Satan unto God, that they may receive forgiveness of sins, and inheritance among them which are sanctified by faith that is in me.
45-5. Are we cleansed or purified by faith?
Acts 15:9 And put no difference between us and them, purifying their hearts by faith.
45-6. Are we purified and sanctified by the blood of Christ?
Hebrews 9:13-14 For if the blood of bulls and of goats, and the ashes of an heifer sprinkling the unclean, sanctifieth to the purifying of the flesh: [14] How much more shall the blood of Christ, who through the eternal Spirit offered himself without spot to God, purge your conscience from dead works to serve the living God?
45-7. Is sanctification directly tied to salvation?
2 Thessalonians 2:13 . . . God hath from the beginning chosen you to salvation through sanctification of the Spirit and belief of the truth:
45-8. Is sanctification a process leading ultimately to salvation?
Romans 6:22 (RSV) But now that you have been set free from sin and have become slaves of God, the return you get is sanctification and its end, eternal life.
45-9. Are we sanctified by Jesus' death on the cross on our behalf?
Hebrews 10:10 By the which will we are sanctified through the offering of the body of Jesus Christ once for all.
45-10. Does God give believers a new nature, leading to righteousness?
Ephesians 4:24 (RSV) . . . put on the new nature, created after the likeness of God in true righteousness and holiness.
45-11. Does Jesus' redemption bring about our purification?
Titus 2:14 Who gave himself for us, that he might redeem us from all iniquity, and purify unto himself a peculiar people, zealous of good works.
45-12. Does God cleanse us from our "old sins"?
2 Peter 1:9 But he that lacketh these things is blind, and cannot see afar off, and hath forgotten that he was purged from his old sins.
45-13. Are we able to be cleansed from all sin?
1 John 1:7 But if we walk in the light, as he is in the light, we have fellowship one with another, and the blood of Jesus Christ his Son cleanseth us from all sin.
45-14. Are we able to be cleansed from all unrighteousness?
1 John 1:9 If we confess our sins, he is faithful and just to forgive us our sins, and to cleanse us from all unrighteousness.
45-15. Are we able by God's grace to purify ourselves?
1 John 3:3 And every man that hath this hope in him purifieth himself, even as he is pure.
45-16. Is attainment of a degree of righteousness required for heaven?
Matthew 5:20 For I say unto you, That except your righteousness shall exceed the righteousness of the scribes and Pharisees, ye shall in no case enter into the kingdom of heaven.
45-17. Are we literally "made righteous" (not just imputed righteousness)?
Romans 5:19 For as by one man's disobedience many were made sinners, so by the obedience of one shall many be made righteous.
45-18. Are we merely declared "holy" or are we to be holy?
1 Thessalonians 4:7 For God hath not called us unto uncleanness, but unto holiness.
Faith and Works: Two Sides of One Coin
46-1. How do we know that faith and works are intertwined and inseparable?
James 2:17-20, 26 Even so faith, if it hath not works, is dead, being alone. [18] Yea, a man may say, Thou hast faith, and I have works: shew me thy faith without thy works, and I will shew thee my faith by my works. [19] Thou believest that there is one God; thou doest well: the devils also believe, and tremble. [20] But wilt thou know, O vain man, that faith without works is dead? . . . [26] For as the body without the spirit is dead, so faith without works is dead also.
46-2. Is faith itself described as "working"?
Galatians 5:6-7 For in Jesus Christ neither circumcision availeth anything, nor uncircumcision; but faith which worketh by love. [7] Ye did run well; who did hinder you that ye should not obey the truth?
46-3. Is the indwelling of the Holy Spirit tied to our obedience; not just belief?
Acts 5:32 And we are his witnesses of these things; and so is also the Holy Ghost, whom God hath given to them that obey him.
46-4. Do we have to obey the gospel in order to be saved?
1 Peter 4:17-18 For the time is come that judgment must begin at the house of God: and if it first begin at us, what shall the end be of them that obey not the gospel of God? [18] And if the righteous scarcely be saved, where shall the ungodly and the sinner appear?
46-5. Do we prove that we are Christian believers by keeping the commandments?
1 John 5:2 By this we know that we love the children of God, when we love God, and keep his commandments.
Salvation as a Process
47-1. Does one have to "endure" to be saved?
Matthew 10:22 . . . he that endureth to the end shall be saved.
47-2. Does St. Paul strive after salvation?
Philippians 3:11-14 If by any means I might attain unto the resurrection of the dead. [12] Not as though I had already attained, either were already perfect: but I follow after, if that I may apprehend that for which also I am apprehended of Christ Jesus. [13] Brethren, I count not myself to have apprehended: but this one thing I do, forgetting those things which are behind, and reaching forth unto those things which are before, [14] I press toward the mark for the prize of the high calling of God in Christ Jesus.
47-3. Can salvation be nearer or further away from us?
Romans 13:11 And that, knowing the time, that now it is high time to awake out of sleep: for now is our salvation nearer than when we believed.
47-4. Can we "grow up" to salvation?
1 Peter 2:2 (RSV) Like newborn babes, long for the pure spiritual milk, that by it you may grow up to salvation;
47-5. Must we "continue in the faith" in order to be saved?
Colossians 1:21-23 And you, that were sometime alienated and enemies in your mind by wicked works, yet now hath he reconciled [22] In the body of his flesh through death, to present you holy and unblameable and unreproveable in his sight: [23] If ye continue in the faith grounded and settled, and be not moved away from the hope of the gospel, which ye have heard . . .
47-6. Must we remain "steadfast until the end" in order to be saved?
Hebrews 3:14 For we are made partakers of Christ, if we hold the beginning of our confidence stedfast unto the end;
47-7. Do we need to "hold fast" to salvation?
Hebrews 4:14 Seeing then that we have a great high priest, that is passed into the heavens, Jesus the Son of God, let us hold fast our profession.
47-8. Do we need to "continue" in the faith?
James 1:25 But whoso looketh into the perfect law of liberty, and continueth therein, he being not a forgetful hearer, but a doer of the work, this man shall be blessed in his deed.
47-9. Do we have to be faithful till death in order to be saved?
Revelation 2:10 Fear none of those things which thou shalt suffer: behold, the devil shall cast some of you into prison, that ye may be tried; and ye shall have tribulation ten days: be thou faithful unto death, and I will give thee a crown of life.
47-10. Can our "crown" be taken away if we're not vigilant?
Revelation 3:10-12 Because thou hast kept the word of my patience, I also will keep thee from the hour of temptation, which shall come upon all the world, to try them that dwell upon the earth. [11] Behold, I come quickly: hold that fast which thou hast, that no man take thy crown. [12] Him that overcometh will I make a pillar in the temple of my God,  . . .
Moral Assurance of Salvation
48-1. Does the Holy Spirit give us a moral assurance of salvation?
Romans 8:16-17 The Spirit itself beareth witness with our spirit, that we are the children of God: [17] And if children, then heirs; heirs of God, and joint-heirs with Christ; if so be that we suffer with him, that we may be also glorified together.
48-2. Do we have assurance if we hope "unto the end"?
Hebrews 3:6 But Christ as a son over his own house; whose house are we, if we hold fast the confidence and the rejoicing of the hope firm unto the end.
***