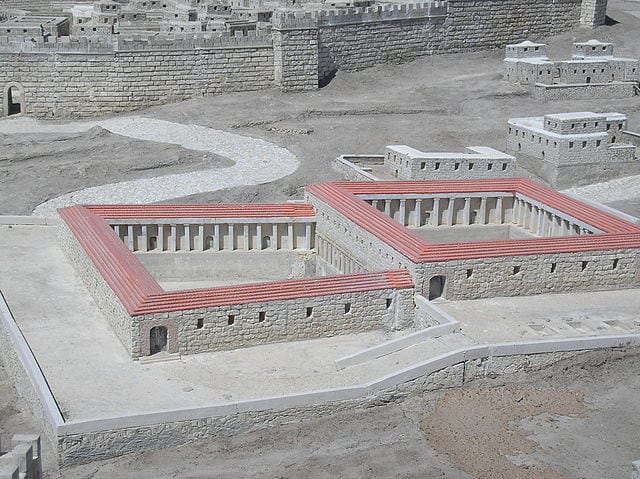 [extracted from Vs. Atheist David Madison #37: Bible, Science, & Germs]
*****
Hippocrates, the pagan Greek "father of medicine" didn't understand the causes of contagious disease. Nor did medical science until the 19th century. But the hygienic principles that would have prevented the spread of such diseases were in the Bible: in the Laws of Moses.
St. Augustine in the 5th century and St. Thomas Aquinas in the 13th, both rejected astrology long before modern science, while even the most prominent modern scientists in the 16th-17th centuries, such as Galileo, Tycho Brahe, and Kepler firmly believed in it.
I could go on and on, but just a few examples suffice . . .
And of course, modern science (virtually the atheist's religion: "scientism"), for all its admirable qualities and glories (I love science!) is not without much embarrassing error and foolishness, and skeletons in its own closet: like belief in the 41-year successful hoax of "Piltdown Man". This is true even up to very recent times, as I have detailed for atheists' convenience.
Here, then, is my reply to charges of alleged ignorance of God and the Bible regarding germs and their devastating effects:
The Bible Ask site has an article, "Did the Bible teach the germs theory?" (5-30-16):
The Bible writers did not write a medical textbook. However, there are numerous rules for sanitation, quarantine, and other medical procedures (found in the first 5 book of the OT) . . . Ignaz Philipp Semmelweis (1818 –1865), who was a Hungarian physician, . . . proposed the practice of washing hands with chlorinated lime solutions in 1847 . . . He published a book of his findings in Etiology, Concept and Prophylaxis of Childbed Fever. Despite various publications of his successful results, Semmelweis's suggestions were not accepted by the medical community of his time.

Why was Semmelweis research rejected? Because germs were virtually a foreign concept for the Europeans in the middle-19th-century. . . .

Had the medical community paid attention to God's instructions that were given 3000 years before, many lives would have been saved. The Lord gave the Israelites hygienic principles against the contamination of germs and taught the necessity to quarantine the sick (Numbers 19:11-12). And the book of Leviticus lists a host of diseases and ways where a person would come in contact with germs (Leviticus 13:46).

Germs were no new discovery in 1847. And for this fact, Roderick McGrew testified in the Encyclopedia of Medical History: "The idea of contagion was foreign to the classic medical tradition and found no place in the voluminous Hippocratic writings. The Old Testament, however, is a rich source for contagionist sentiment, especially in regard to leprosy and venereal disease" (1985, pp. 77-78).
Some other interesting facts regarding the Bible and germ theory:
1. The Bible contained instructions for the Israelites to wash their bodies and clothes in running water if they had a discharge, came in contact with someone else's discharge, or had touched a dead body. They were also instructed about objects that had come into contact with dead things, and about purifying items with an unknown history with either fire or running water. They were also taught to bury human waste outside the camp, and to burn animal waste (Num 19:3-22; Lev. 11:1-47; 15:1-33; Deut 23:12).

2. Leviticus 13 and 14 mention leprosy on walls and on garments. Leprosy is a bacterial disease, and can survive for three weeks or longer apart from the human body. Thus, God commanded that the garments of leprosy victims should be burned (Lev 13:52).

3. It was not until 1873 that leprosy was shown to be an infectious disease rather than hereditary. Of course, the laws of Moses already were aware of that (Lev 13, 14, 22; Num 19:20). It contains instructions about quarantine and about quarantined persons needing to thoroughly shave and wash. Priests who cared for them also were instructed to change their clothes and wash thoroughly. The Israelites were the only culture to practice quarantine until the 19th century, when medical advances discovered the biblical medical principles and practices.

4. Hippocrates, the "father of medicine" (born 460 BC), thought "bad air" from swampy areas was the cause of disease.
See also: "Old Testament Laws About Infectious Diseases."
The entry on "Health" in Baker's Evangelical Dictionary of Biblical Theology reveals that ordinary medicinal remedies were widely practiced in Bible times. There wasn't solely a belief that sin or demons caused all disease. There was also a natural cause-and-effect understanding:
Ordinary means of healing were of most diverse kinds. Balm ( Gen 37:25 ) is thought to have been an aromatic resin (or juice) with healing properties; oil was the universal emollient ( Isa 1:6 ), and was sometimes used for wounds with cleansing wine ( Luke 10:34 ). Isaiah recommended a fig poultice for a boil ( 38:21 ); healing springs and saliva were thought effectual ( Mark 8:23 ; John 5 ; 9:6-7 ). Medicine is mentioned ( Prov 17:22 ) and defended as "sensible" ( Sirach 38:4). Wine mixed with myrrh was considered sedative ( Mark 15:23 ); mint, dill, and cummin assisted digestion ( Matt 23:23 ); other herbs were recommended for particular disorders. Most food rules had both ritual and dietary purposes, while raisins, pomegranates, milk, and honey were believed to assist restoration. . . .

Luke's constant care of Paul reminds us that nonmiraculous means of healing were not neglected in that apostolic circle. Wine is recommended for Timothy's weak stomach, eye-salve for the Thyatiran church's blindness (metaphorical, but significant).
Doctors today often note how the patient's disposition and attitude has a strong effect on his health or recovery. The mind definitely influences the body. Solomon understood this in several of his Proverbs: written around 950 BC (Prov 14:30; 15:30; 16:24; 17:22).
Also, since Jesus observed Mosaic Law, including ritual washings, etc., He tacitly accepted (by His example of following it) the aspects of it that anticipated and "understood" germ theory. The knowledge was already in existence.
***
Related Reading
Is It Always God's Will to Heal?: Biblical Refutation of "Hyperfaith" / "Name-It-Claim-It" Teaching [1982; slightly rev. 7-5-02]
Dialogue w Atheist on Christianity & the Scientific Method [7-19-01]
Dialogue on "Natural Evil" (Diseases, Hurricanes, Drought, etc.) [2-15-04]
Old Earth, Flood Geology, Local Flood, & Uniformitarianism (vs. Kevin Rice) [5-25-04; many defunct links removed and new ones added: 5-10-17]
Flat Earth: Biblical Teaching? (vs. Ed Babinski) [9-17-06]
Atheist Myths: "Christianity vs. Science & Reason" (vs. "drunkentune") [1-3-07]
Thoughts on Divine Healing [8-3-12]
Simultaneously Dumb & Smart Christians, Atheists, & Scientists [10-9-15]
Does God Ever Judge People by Sending Disease? [10-30-17]
Dialogue w Agnostic on Proof for Miracles (Lourdes) [9-9-18]
Seidensticker Folly #8: Physics Has Disproven Souls? [8-16-18]
Seidensticker Folly #14: Something Rather Than Nothing [9-3-18]
Seidensticker Folly #21: Atheist "Bible Science" Absurdities [9-25-18]
Seidensticker Folly #23: Atheist "Bible Science" Inanities, Pt. 2 [10-2-18]
Miracles, Materialism, & Premises: Dialogue w Atheist [2-20-19]
Madison vs. Jesus #10: Universal Answered Prayer & Healing? [8-7-19]
Loftus Atheist Error #7: Christian Influence on Science [9-9-19]
Loftus Atheist Error #9: Bible Espouses Mythical Animals? [9-10-19]
Seidensticker Folly #36: Disease, Jesus, Paul, Miracles, & Demons [1-13-20]
***
Unfortunately, Money Trees Do Not Exist:
If you have been aided in any way by my work, or think it is valuable and worthwhile, please strongly consider financially supporting it (even $10 / month — a mere 33 cents a day — would be very helpful). I have been a full-time Catholic apologist since Dec. 2001, and have been writing Christian apologetics since 1981 (see
my Resume
). My work has been proven (by God's grace alone) to be fruitful, in terms of changing lives (see the tangible evidences
from unsolicited "testimonies"
). I have to pay my bills like all of you: and have a (homeschooling) wife and two children still at home to provide for, and a mortgage to pay.
*
My book royalties from
three bestsellers in the field
(published in 2003-2007) have been decreasing, as has my overall income, making it increasingly difficult to make ends meet. I provide over 2700 free articles here, for the purpose of your edification and education, and have
written 50 books
. It'll literally be a struggle to survive financially until Dec. 2020, when both my wife and I will be receiving Social Security. If you cannot contribute, I ask for your prayers (and "likes" and links and shares). Thanks!
*
See my
information on how to donate
(including 100% tax-deductible donations). It's very simple to contribute to my apostolate via PayPal, if a tax deduction is not needed (my "business name" there is called "Catholic Used Book Service," from my old bookselling days 17 or so years ago, but send to my email: apologistdave@gmail.com). Another easy way to send and receive money (with a bank account or a mobile phone) is through
Zelle
. Again, just send to my e-mail address. May God abundantly bless you.
*
***
*
Photo credit:
Pool of Bethesda – model in the Israel Museum; taken by
deror avi
(8-18-06)
[
Wikimedia Commons
/ The copyright holder of this file allows anyone to use it for any purpose, provided that the copyright holder is properly attributed. Redistribution, derivative work, commercial use, and all other use is permitted]
*
***