Was it Based on His Claim to be the Messiah, or Because He Also Claimed to be God? Also, Further Discussion on Mary's Knowledge (or Lack Thereof) of His Divinity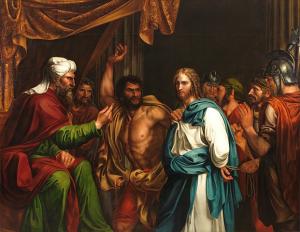 Dr. Lydia McGrew is a philosopher and Anglican author of the wonderful books Hidden in Plain View: Undesigned Coincidences in the Gospels and Acts (2017), The Mirror or the Mask: Liberating the Gospels from Literary Devices (2019), and The Eye of the Beholder: The Gospel of John as Historical Reportage (2021). We were discussing my related article, "Mary Did You Know" Jesus Was God? (She Knew it Based on the Annunciation, and Various Events Concerning His Birth and Infancy) (11-22-21), in a combox on my Facebook page. Her words will be in blue.
*****
(I saw a comment of yours about this song). [explaining why I tagged her]
I kinda don't mind the song. I don't think Catholics should get quite so offended by it, truth to tell. After all, even on Catholic doctrine she wasn't omniscient, so she could have grown in her knowledge over time.
And it's also a beautiful song, by the way. I remember when one of my girls was little, reading her the lyric, "When you kissed your little baby, you kissed the face of God," and she went, "Wow," or something like that. I think it really brought the deity of Jesus and the wonder if the incarnation home to her, at least for that moment.
I don't mind the song whatsoever. But it seems to me that the lyricist could do what I just did and do a little biblical research; look over Matthew 1-2 and Luke 1-2 (even if just out of curiosity), where it appears (to me anyway) that Mary — via several special revelations — knew He was God at His birth and before.
*
Plenty of Catholics are also ignorant of the fact that Jesus knew Who He was as a child as well. The movie Young Messiah contained this Nestorian-like christological error.
*
I have my own views that are probably different from yours about whether Jews at the time expected the Messiah to be God. I think they didn't. I think that's why they tried to stone Jesus when he claimed to be God, even though they were fine with his saying he was the Messiah. So Mary herself might not have known that he was God until later, despite the angel's announcement, which would have led her to believe he was the Messiah. That doesn't seem to me improbable at all, based on biblical knowledge.
*
Many Jews in Jesus' time certainly didn't think Messiah would be God (let alone be crucified). I did a huge study about all that almost 40 years ago. I don't think your scenario is biblically impossible. But I think very soon, if not from the Annunciation, God revealed to her that her Son was God incarnate, and things like the magi worshiping Him were explicit indications of it.
*
Where do you see that they didn't care about His claiming to be the Messiah? I don't recall seeing that. I provided three passages where Jesus was asked whether He was the Messiah (Christ) and when He affirmed it, that's when He was accused of blasphemy and they sought to kill Him.
*
I would argue it by contrasting John 10:24 with John 10:30-31. I don't think John 10:24 was intended as a sneaky gotcha. They seem to want a messianic declaration. But when he claims to be one with the father, they try to stone him. I would also argue it from the attempt to make him king in John 6–though that is a Galilean crowd (and the crowd in John 10 is in Jerusalem), that indicates a messianic desire, not an opposition to anyone's statement that he was the Messiah. I would also argue it from the rulers' sending messengers to John the Baptist in John 1:19-20, which seems to imply that they asked if he was the Messiah. Again, this seems like a request for information, not like anyone claiming to be the Messiah would be thought to be a blasphemer. And finally, I argue it from common sense: If the Jews desired the Messiah and his coming (and they certainly did) it would be extremely strange for them to consider any messianic claimant to be a blasphemer merely in virtue of his claiming to be the Messiah!
*
These are very interesting arguments. I don't think I've ever thought about it this way (minus the common people, who seemed far more open to it). Granting this opinion, the question then becomes: "why did they immediately want to kill Him and think He was a blasphemer at His trial when He plainly said He was the Messiah?"
*
Well, as you have alluded to, it was likely because He was also claiming to be God as well as Messiah, and plausibly because (additionally) He roundly rebuked the Jewish leaders (Pharisees, scribes, etc.), argued with them about theology and the application of the Law, and was doing all His miracles and things like forgiving sins and accepting worship. Maybe they suspected a political / power motive as well, given what happened on Palm Sunday and maybe had suspicions that He was collaborating with the Zealots (from whom two of His disciples came, as I recall).
*
That would make the opposition at the trial based on the fact that He (the supposed pretender and madman claiming to be God) claimed to be the Messiah, as opposed to opposition to anyone making the claim.
*
Yes, remember that by then they had against him his statements in John 8, John 10, and elsewhere indicating that he was claiming deity. So whatever he said at his Sanhedrin trial would have been understood against that background. Also, though I don't know how it would have gone in Aramaic (if that's what they were speaking) in Mark's wording of the trial, when they ask him if he is the son of God, he replies with "Ego eimi"

[i.e., "I am": hearkening back to God's language at the burning bush with Moses]

which may be another indication of claiming deity right there in the trial.
*
I think you may have persuaded me of this outlook. I still think, though, that God made a special revelation to Mary, so that she knew and accepted the whole truth of the incarnation, perhaps at the Annunciation and no later than Simeon's pronouncements. That seems more plausible to me, just as your scenario of views concerning the Messiah and Jesus among the Jewish leaders now does.
*
After all, of the seven things I listed suggesting that Mary knew all this early on, one communication was from the angel Gabriel, then two from "an angel of the Lord (to Joseph in a dream and to the shepherds at the first Christmas). Joseph presumably shared this with her, and Scripture says that the shepherds did. Then we have the prophetess Anna (so now four instances of special revelation), and in addition, Elizabeth, Simeon, and the magi (to whom God seemed to be strongly speaking as well).
*
Gabriel called Him "the Son of the Most High." Elizabeth addressed Mary as "the mother of my Lord" [probably Kurios without looking]. An angel told Joseph in a dream that Jesus "will save his people from their sins" (which only God can do; the OT clearly teaches that God alone is the "savior"). An angel told the shepherds that He was both the "Savior" and "Christ the Lord": thus combining Savior, Messiah, and Lord (Kurios) all in one. Simeon focuses on Jesus as Messiah but does say "mine eyes have seen thy salvation" too.
*
I think this is more than enough (combined with almost certainly more information not recorded in Scripture, such as, e.g., whatever the prophetess Anna and the magi said to Mary and Joseph) to communicate to Mary that He was God in the flesh. Whether that was a radically new idea at the time I don't know. If it was known before, the notion had largely been lost, as I understand it. But it looks like to me that what she learned was far more than merely Jesus being the Messiah (especially His being called "savior" and "Lord").
*
I haven't persuaded you about Mary's "fuller" knowledge, huh?
*
[if Lydia makes further response, I will add it]
***
*
*
Or you may believe my work is worthy to support for the purpose of apologetics and evangelism in general. If so, please seriously consider a much-needed financial contribution. I'm always in need of more funds: especially
monthly
support. "The laborer is worthy of his wages" (1 Tim 5:18, NKJV). 1 December 2021 was my 20th anniversary as a
full-time Catholic apologist
, and February 2022 marked the 25th anniversary of my blog.
Photo credit: Jesus in the House of Annas (1803), byJosé de Madrazo y Agudo (1781-1859) [public domain / Wikimedia Commons]
***
Summary: Stimulating dialogue with Anglican philosopher & author Lydia McGrew, about Jewish opposition to Jesus, and whether Mary knew He was God very early on.