She Knew it Based on the Annunciation, and Various Events Concerning His Birth and Infancy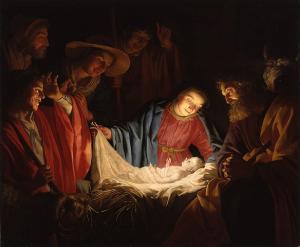 The modern [Protestant evangelical] hymn or Christmas carol Mary Did You Know? contains the following lyrics:
Mary did you know
That your baby boy will save our sons and daughters? . . .

Did you know
That your baby boy has walked where angels trod?
And when you kiss your little baby
You've kissed the face of God . . .

Mary did you know
That your baby boy is Lord of all creation?
Mary did you know
That your baby boy will one day rule the nations?
Did you know
That your baby boy is heaven's perfect Lamb?
This sleeping child you're holding
Is the Great I Am
The lyricist, Mark Lowry (in 1984) seemed to not know the answers to the questions he posed in the song. But they are abundantly clear in the Bible, as I will now proceed to demonstrate. The answers to all the above questions in the Bible is a rather plain and clear "yes."
1) The Annunciation (Words of the Angel Gabriel)
Luke 1:31-33 (RSV) "And behold, you will conceive in your womb and bear a son, and you shall call his name Jesus. [32] He will be great, and will be called the Son of the Most High; and the Lord God will give to him the throne of his father David, [33] and he will reign over the house of Jacob for ever; and of his kingdom there will be no end."
This is unmistakable and well-known messianic language from the Old Testament (especially Isaiah). To be called the Son of God ("Most High") in this way was the same as being called God, as we know from all four Gospels:
Matthew 26:63-65 . . . And the high priest said to him, "I adjure you by the living God, tell us if you are the Christ, the Son of God." [64] Jesus said to him, "You have said so. But I tell you, hereafter you will see the Son of man seated at the right hand of Power, and coming on the clouds of heaven." [65] Then the high priest tore his robes, and said, "He has uttered blasphemy. Why do we still need witnesses? You have now heard his blasphemy.

Mark 14:61-64 . . . Again the high priest asked him, "Are you the Christ, the Son of the Blessed?" [62] And Jesus said, "I am; and you will see the Son of man seated at the right hand of Power, and coming with the clouds of heaven." [63] And the high priest tore his garments, and said, "Why do we still need witnesses? [64] You have heard his blasphemy. What is your decision?" And they all condemned him as deserving death.

Luke 22:67-71 "If you are the Christ, tell us." But he said to them, "If I tell you, you will not believe; [68] and if I ask you, you will not answer. [69] But from now on the Son of man shall be seated at the right hand of the power of God." [70] And they all said, "Are you the Son of God, then?" And he said to them, "You say that I am." [71] And they said, "What further testimony do we need? We have heard it ourselves from his own lips."

John 5:17-18 But Jesus answered them, "My Father is working still, and I am working." [18] This was why the Jews sought all the more to kill him, because he not only broke the sabbath but also called God his Father, making himself equal with God.
Therefore, from the language of Gabriel at the Annunciation alone, Mary would have already known (as an observant Jew, who knew the Hebrew Bible well, as the Magnificat — soon after the Annunciation in Luke 1 — shows) that her Son was not only the Messiah, but also God incarnate.
2) Elizabeth's Proclamation
Luke 1:41-45 And when Elizabeth heard the greeting of Mary, the babe leaped in her womb; and Elizabeth was filled with the Holy Spirit [42] and she exclaimed with a loud cry, "Blessed are you among women, and blessed is the fruit of your womb! [43] And why is this granted me, that the mother of my Lord should come to me? [44] For behold, when the voice of your greeting came to my ears, the babe in my womb leaped for joy. [45] And blessed is she who believed that there would be a fulfilment of what was spoken to her from the Lord."
3) Joseph's Dream Revealed That Jesus Was the Savior
Matthew 1:20-21 . . . behold, an angel of the Lord appeared to him in a dream, saying, "Joseph, son of David, do not fear to take Mary your wife, for that which is conceived in her is of the Holy Spirit; [21] she will bear a son, and you shall call his name Jesus, for he will save his people from their sins."
4) Shepherds Share the Angelic Message with Mary and Joseph
Luke 2:8-11, 16-19 And in that region there were shepherds out in the field, keeping watch over their flock by night. [9] And an angel of the Lord appeared to them, and the glory of the Lord shone around them, and they were filled with fear. [10] And the angel said to them, "Be not afraid; for behold, I bring you good news of a great joy which will come to all the people; [11] for to you is born this day in the city of David a Savior, who is Christ the Lord. . . . [16] And they went with haste, and found Mary and Joseph, and the babe lying in a manger. [17] And when they saw it they made known the saying which had been told them concerning this child; [18] and all who heard it wondered at what the shepherds told them. [19] But Mary kept all these things, pondering them in her heart.
5) Simeon's Message to Mary
Luke 2:25-33 Now there was a man in Jerusalem, whose name was Simeon, and this man was righteous and devout, looking for the consolation of Israel, and the Holy Spirit was upon him. [26] And it had been revealed to him by the Holy Spirit that he should not see death before he had seen the Lord's Christ. [27] And inspired by the Spirit he came into the temple; and when the parents brought in the child Jesus, to do for him according to the custom of the law, [28] he took him up in his arms and blessed God and said, [29] "Lord, now lettest thou thy servant depart in peace, according to thy word; [30] for mine eyes have seen thy salvation [31] which thou hast prepared in the presence of all peoples, [32] a light for revelation to the Gentiles, and for glory to thy people Israel." [33] And his father and his mother marveled at what was said about him;
This is, again, undeniably messianic language. The text (2:33) says that Mary and Joseph "marveled" at these words, but that plausibly refers to their amazement that Simeon had this knowledge and word from the Lord, as opposed to the content of his message. We must always keep in mind, too, that Simeon may have talked with Mary and Joseph for a long time: far beyond what was recorded in the text. The Bible is not exhaustive in recording every discussion that is referred to.
6) Prophetess Anna Speaks of the Messiah, Jesus
Luke 2:36-39 And there was a prophetess, Anna, the daughter of Phan'u-el, of the tribe of Asher; she was of a great age, having lived with her husband seven years from her virginity, [37] and as a widow till she was eighty-four. She did not depart from the temple, worshiping with fasting and prayer night and day. [38] And coming up at that very hour she gave thanks to God, and spoke of him to all who were looking for the redemption of Jerusalem. [39] And when they had performed everything according to the law of the Lord, they returned into Galilee, to their own city, Nazareth.
The same point made about Simeon holds here as well. She could have talked to Mary and Joseph for two hours, for all we know. The text doesn't preclude that as a possibility.
7) The Three Wise Men Worship Jesus
Matthew 2:11 and going into the house they saw the child with Mary his mother, and they fell down and worshiped him. Then, opening their treasures, they offered him gifts, gold and frankincense and myrrh.
Most Bible scholars agree that this occurred when Jesus was about two years old: not at His birth. Such visibly obvious worship of course, could only be directed towards God. If Mary and Joseph didn't know He was God, they would have rebuked the wise men and asked them to stop worshiping Jesus. And the wise men likely talked to Mary and Joseph, too, about what they had learned, such as the Messiah being born in Bethlehem and Jesus being the king of the Jews (Mt 2:1-6). But they already knew about all that long before then, per the above biblical data.
***
*
*
Or you may believe my work is worthy to support for the purpose of apologetics and evangelism in general. If so, please seriously consider a much-needed financial contribution. I'm always in need of more funds: especially
monthly
support. "The laborer is worthy of his wages" (1 Tim 5:18, NKJV). 1 December 2021 was my 20th anniversary as a
full-time Catholic apologist
, and February 2022 marked the 25th anniversary of my blog.
Photo credit: Adoration of the Shepherds (1622), by Gerard van Honthorst (1590-1656) [public domain / Wikimedia Commons]
***
Summary: Did Mary know Jesus was God, and when, if so? The carol "Mary Did You Know?" seems to think not. The Bible gives seven indications of such knowledge early on.