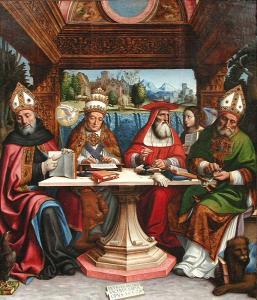 Protestant apologists, in tackling this topic, very often argue as follows:
Church Father X believes in sola Scriptura, because, look, see!: he praises Scripture in this place and that, and another over there, and says that Christians ought to read the Bible to learn theology! Obviously, then, he agrees with the formal Protestant principle of sola Scriptura! Who could possibly doubt it?
But this is fallacious and illogical through and through. The proper approach to this topic and what a given Church father believed is as follows:
Sola Scriptura (as classically defined by Protestants) means that Scripture is the only final infallible norm and source and standard (rule of faith) for Christian doctrine and faith. It follows from this, that neither the Church, nor ecumenical councils, nor popes, nor sacred, apostolic tradition, nor apostolic succession are infallible sources of authority. They are usually respected by the thinking Protestant, and regarded as authoritative to a degree, but not infallibly so.

We must, therefore, look to see if Church father X thinks Scripture is formally sufficient for authority (not just materially sufficient, which we agree with) without the necessary aid of tradition and the Church, or if he does not, as indicated in other statements. A thinker's statements regarding Christian authority must be evaluated in context of all of his thought in this area, rather than having pieces taken out and then claiming that they "prove" something that they do not, in fact, prove at all.

In other words, even if we find a quote where a father seems (at first glance) to be stating something akin to sola Scriptura (since he is writing about the Bible without immediate reference to Church or tradition), we must examine what he believes about the (binding?, infallible?) authority of tradition, Church (including ecumenical councils), and apostolic succession, because the very question at hand (what is the rule of faith?) has to do with the relation of all those things (all but Scripture being non-infallible, according to sola Scriptura).

For that reason, their beliefs concerning all these other elements have to be examined, in order to understand properly how they views their relationship vis-a-vis each other, and whether or not they adhere to sola Scriptura. as the rule of faith. If they hold to the infallible authority of anything besides Scripture, they do not believe in sola Scriptura.

The Protestant always puts the Bible above Church and tradition, and denies that the latter two can be infallible. Catholics and Orthodox believe in a three-legged stool, where, practically-speaking, Church and tradition have equal authority with Scripture, because they are the necessary framework and interpretive grid through which Scripture can be properly interpreted in an orthodox sense.
With this in mind, we proceed to determine whether Papias believed in sola Scriptura, or the Catholic rule of faith. Wikipedia states about him:
Papias. . . was a Greek Apostolic Father, Bishop of Hierapolis (modern Pamukkale, Turkey) . . . He wrote the Exposition of the Sayings of the Lord in five books. This work, which is lost apart from brief excerpts in the works of Irenaeus of Lyons (c. 180) and Eusebius of Caesarea (c. 320), is an important early source on Christian oral tradition and especially on the origins of the canonical Gospels. . . .

He is described [by St. Irenaeus] as "an ancient man who was a hearer of John and a companion of Polycarp [himself a disciple of St. John]" by Polycarp's disciple Irenaeus . . .

The work of Papias is dated by most modern scholars to about 95–110.
In the small amount of writing we have from him we already see a strong existence of authoritative sacred apostolic tradition and apostolic succession, during and right after the time of the apostles. For the excerpts below I have color-coded "tradition" in green and "apostolic succession" in red. There is also overlap between those two categories of received "truth."
But I shall not be unwilling to put down, along with my interpretations, whatsoever instructions I received with care at any time from the elders, and stored up with care in my memory, assuring you at the same time of their truth. For I did not, like the multitude, take pleasure in those who spoke much, but in those who taught the truth; nor in those who related strange commandments, but in those who rehearsed the commandments given by the Lord to faith, and proceeding from truth itself. If, then, any one who had attended on the elders came, I asked minutely after their sayings — what Andrew or Peter said, or what was said by Philip, or by Thomas, or by James, or by John, or by Matthew, or by any other of the Lord's disciples: which things Aristion and the presbyter John, the disciples of the Lord, say. For I imagined that what was to be got from books was not so profitable to me as what came from the living and abiding voice. (Preface of Exposition of the Sayings of the Lord / "Fragment I": from Schaff 38-volume collection of the Church fathers; from Eusebius, History of the Church, III, 39:3-4)

I shall not hesitate also to put into ordered form for you, along with the interpretations, everything I learned carefully in the past from the elders and noted down carefully, for the truth of which I vouch. For unlike most people I took no pleasure in those who told many different stories, but only in those who taught the truth. Nor did I take pleasure in those who reported their memory of someone else's commandments, but only in those who reported their memory of the commandments given by the Lord to the faith and proceeding from the Truth itself. And if by chance anyone who had been in attendance on the elders arrived, I made enquiries about the words of the elders—what Andrew or Peter had said, or Philip or Thomas or James or John or Matthew or any other of the Lord's disciples, and whatever Aristion and John the Elder, the Lord's disciples, were saying. For I did not think that information from the books would profit me as much as information from a living and surviving voice. (Preface of Exposition of the Sayings of the Lord / "Fragment I": translation from Richard Bauckham [2012]; from Eusebius, History of the Church, III, 39:3-4)
Judas walked about in this world a sad example of impiety; for his body having swollen to such an extent that he could not pass where a chariot could pass easily, he was crushed by the chariot, so that his bowels gushed out. (Exposition of the Sayings of the Lord / "Fragment III": from Schaff 38-volume collection of the Church fathers)
Here Papias provides an extrabiblical tradition about the death of Judas Iscariot.
As the elders who saw John the disciple of the Lord remembered that they had heard from him how the Lord taught in regard to those times, and said: The days will come in which vines shall grow, having each ten thousand branches, and in each branch ten thousand twigs, and in each true twig ten thousand shoots, and in every one of the shoots ten thousand clusters, and on every one of the clusters ten thousand grapes, and every grape when pressed will give five-and-twenty metretes of wine. And when any one of the saints shall lay hold of a cluster, another shall cry out, 'I am a better cluster, take me; bless the Lord through me.' In like manner, [He said] that a grain of wheat would produce ten thousand ears, and that every ear would have ten thousand grains, and every grain would yield ten pounds of clear, pure, fine flour; and that apples, and seeds, and grass would produce in similar proportions; and that all animals, feeding then only on the productions of the earth, would become peaceable and harmonious, and be in perfect subjection to man. (Exposition of the Sayings of the Lord / "Fragment IV": from Schaff 38-volume collection of the Church fathers)
In this excerpt, Papias provides a purported extrabiblical remembrance of a few sayings of Jesus, derived from "elders who saw John the disciple of the Lord": which in turn is apostolic succession: from Jesus through John remembering the Lord's sayings, passed on to "elders."
[Papias, who is now mentioned by us, affirms that he received the sayings of the apostles from those who accompanied them, and he moreover asserts that he heard in person Aristion and the presbyter John. Accordingly he mentions them frequently by name, and in his writings gives their traditions. Our notice of these circumstances may not be without its use. It may also be worth while to add to the statements of Papias already given, other passages of his in which he relates some miraculous deeds, stating that he acquired the knowledge of them from tradition. The residence of the Apostle Philip with his daughters in Hierapolis has been mentioned above. We must now point out how Papias, who lived at the same time, relates that he had received a wonderful narrative from the daughters of Philip. For he relates that a dead man was raised to life in his day. He also mentions another miracle relating to Justus, surnamed Barsabas, how he swallowed a deadly poison, and received no harm, on account of the grace of the Lord. The same person, moreover, has set down other things as coming to him from unwritten tradition, among these some strange parables and instructions of the Saviour, and some other things of a more fabulous nature. Amongst these he says that there will be a millennium after the resurrection from the dead, when the personal reign of Christ will be established on this earth. He moreover hands down, in his own writing, other narratives given by the previously mentioned Aristion of the Lord's sayings, and the traditions of the presbyter John. For information on these points, we can merely refer our readers to the books themselves; but now, to the extracts already made, we shall add, as being a matter of primary importance, a tradition regarding Mark who wrote the Gospel, which he [Papias] has given in the following words]: And the presbyter said this. Mark having become the interpreter of Peter, wrote down accurately whatsoever he remembered. It was not, however, in exact order that he related the sayings or deeds of Christ. For he neither heard the Lord nor accompanied Him. But afterwards, as I said, he accompanied Peter, who accommodated his instructions to the necessities [of his hearers], but with no intention of giving a regular narrative of the Lord's sayings. Wherefore Mark made no mistake in thus writing some things as he remembered them. For of one thing he took special care, not to omit anything he had heard, and not to put anything fictitious into the statements. [This is what is related by Papias regarding Mark; but with regard to Matthew he has made the following statements]: Matthew put together the oracles [of the Lord] in the Hebrew language, and each one interpreted them as best he could. [The same person uses proofs from the First Epistle of John, and from the Epistle of Peter in like manner. And he also gives another story of a woman who was accused of many sins before the Lord, which is to be found in the Gospel according to the Hebrews.] (Exposition of the Sayings of the Lord / "Fragment VI": from Schaff 38-volume collection of the Church fathers; from Eusebius, History of the Church 3:39; my bolding added)
This is a goldmine account of extrabiblical living apostolic tradition and apostolic succession in practice, received from the daughters of the apostle Phillip, from Aristion, who knew apostles, and St. John himself. Here we learn of the widely-held tradition that Mark wrote his Gospel based on the remembrances of St. Peter, and that Matthew first wrote his Gospel in Hebrew.
(1.) Mary the mother of the Lord; (2.) Mary the wife of Cleophas or Alphæus, who was the mother of James the bishop and apostle, and of Simon and Thaddeus, and of one Joseph; (3.) Mary Salome, wife of Zebedee, mother of John the evangelist and James; (4.) Mary Magdalene. These four are found in the Gospel. James and Judas and Joseph were sons of an aunt (2) of the Lord's. James also and John were sons of another aunt (3) of the Lord's. Mary (2), mother of James the Less and Joseph, wife of Alphæus was the sister of Mary the mother of the Lord, whom John names of Cleophas, either from her father or from the family of the clan, or for some other reason. Mary Salome (3) is called Salome either from her husband or her village. Some affirm that she is the same as Mary of Cleophas, because she had two husbands. (Exposition of the Sayings of the Lord / "Fragment X": from Schaff 38-volume collection of the Church fathers)
Papias provides more crucial information from tradition (also mixed with scriptural knowledge) about the "brothers" of the Lord, who are in fact His first cousins (I recently wrote about this general issue, utilizing this very passage), as the above data proves.
See further fragments from Papias (also more from a second source-page) and further information about him.
***
Related Reading
See many more Church fathers and their views on the rule of faith, listed in the "Bible" section of my Fathers of the Church web page.
See much more about sola Scriptura in that section of my Bible & Tradition web page.
***
Practical Matters: Perhaps some of my 3,900+ free online articles (the most comprehensive "one-stop" Catholic apologetics site) or fifty books have helped you (by God's grace) to decide to become Catholic or to return to the Church, or better understand some doctrines and why we believe them.
Or you may believe my work is worthy to support for the purpose of apologetics and evangelism in general. If so, please seriously consider a much-needed financial contribution. I'm always in need of more funds: especially monthly support. "The laborer is worthy of his wages" (1 Tim 5:18, NKJV). 1 December 2021 was my 20th anniversary as a full-time Catholic apologist, and February 2022 marked the 25th anniversary of my blog.
PayPal donations are the easiest: just send to my email address: apologistdave@gmail.com. You'll see the term "Catholic Used Book Service", which is my old side-business. To learn about the different methods of contributing, including 100% tax deduction, etc., see my page: About Catholic Apologist Dave Armstrong / Donation Information. Thanks a million from the bottom of my heart!
***
Photo credit: Four doctors of the Church: left to right: St. Augustine, Pope St. Gregory the Great, St. Jerome, and St. Ambrose (1516), by Pier Francesco Sacchi (c. 1485–1528) [pubic domain / Wikimedia Commons]
***
Summary: I prove that Papias (d.c. 130) did not believe in the Protestant rule of faith: sola Scriptura, and that he accepted the infallible authority of apostolic succession & tradition.