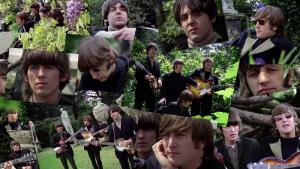 The Beatles' album Revolver (which not a few fans consider their best) was released in 1966, and a new modern remix, done by George Martin's son Giles Martin, was released on 28 October 2022.  Here is my track-by-track analysis: focusing on audio sound quality and placement of singers and instruments in the new remix, and on how it compares to the previous "best" versions:
*
1. Taxman: the 2009 stereo remaster was absurd: most guitar, most drums, and bass on one side, and vocals, some percussion, guitar solo (which many don't realize was performed by Paul), and some rhythm guitar on the other. The drums were particularly buried and unforgivably muffled. For these reasons, I think the best existing version before the '22 remix was the 2009 mono mix: which puts it all in the "middle", but has its own deficiencies and is not by any means great audio quality. The '22 remix was released prior to the rest of the album on YouTube on 9-7-22. It's vastly better, with drums, bass, and vocals in the middle, and rhythm guitar on the right (all sounding great).
*
My only criticism is that the left channel seems to oddly be almost unused, except for cowbells (!). Why couldn't (for example) the guitar solo be placed in the left channel: just as in the 2009 stereo remaster it was separated? It makes perfect sense to me. But at least its placed in the center and can be distinguished from the rhythm guitar, so this now becomes the best mix. That's the very sort of "jammed together" aspect that made the original stereo updated in the 2009 version less than ideal. I don't understand the reasoning there. If it could be separated in the original mix, it certainly could have been again in this remix, to make it even more appealing and listenable.
*
2. Eleanor Rigby: this track had already been well-served by two "modern"-sounding and ear-pleasing stereo remixes: in 1999 on the Yellow Submarine "songtrack" and in 2015 for the remixed "1": with the latter getting the nod because of the strings being out-of-sync in the 1999 remix (though it's so slight that one hardly notices it). The new mix didn't improve it all that much, since it was so good already, but it does seem to have a bit more vitality and energy and spaciousness, and the strings seem slightly more "biting" and Psycho-like menacing (which was intentional, I only recently learned) and clear.
*
3.
I'm Only Sleeping
: this wonderful, "could only have been from 1966" song from John wasn't too bad in 2009 stereo, but it had an obnoxious right channel-only lead vocal. Therefore, I have preferred the mono mix from 2014, which is more satisfying and gives the drums the punch they deserve. Martin gives it much more "spaciousness" and warmth and "presence" with his studio magic, and the drums are just as punchy: whereas the mono sounds rather annoyingly tinny and "transistor radio-like" in comparison. So this is a most welcome and great improvement.
*
4. Love You Too: George's "Indian" song had also been provided with a perfectly satisfying remix on the 1999 Yellow Submarine songtrack, and didn't need much work. The '22 mix sounds very similar, but I suspect that with repeated close listening, more details may "emerge" in the new version. I did notice that the bass string sitar sound at the end is more vivid, and an improvement.
*
5. Here, There, and Everywhere: Paul's Beach Boys' Pet Sounds-inspired song had been best in the 2009 stereo, which had nicely separated harmonies. But the new mix has the drums and guitar (as I fully expected) more discernible, accentuated, and incorporated into a better, fuller soundscape.
*
6. Yellow Submarine: it was very pleasantly remixed in 1999 on the Yellow Submarine songtrack and almost as well in 2015 for the remixed "1": with the former being slightly superior, due to more spaciousness and "audio fun" during the "sea sound effects" interlude. For some odd and inexplicable reason the '22 mix has significantly subdued (almost muffled) and less centered drums than the '99 remix, which is a real "dealbreaker", so that the latter remains (by a big margin) my favored version.
*
7. She Said She Said: this song had a typical "early rock stereo" annoying mix of guitars all on the right and a frustratingly muffled and wimpy drums on the left in the 2009 stereo remaster, so that the 2009 mono has been my preferred mix (mainly because I always want to hear drums as they ought to be heard in a rock song). Giles Martin has satisfyingly fixed these basic errors, with marvelous centered drums (it's a great Ringo performance, similar to Rain: his own favorite drumming). and it's now a wonderful complex, nuanced, "modern" soundscape that can  appeal to and please our ears in 2022 in a purely auditory sense.
*
8.
Good Day Sunshine
: the 2009 stereo was highly separated and a bit "wimpy": though not particularly annoying, as some other 2009 stereo
Revolver
cuts were. Nevertheless, it has now been improved a lot by being given the same sort of treatment heard in several songs above: a fuller and more nuanced and warm overall soundscape.
*
9. And Your Bird Can Sing: the 2009 stereo had a right-only vocal (that very few desire anymore) and anemic, "why bother even having them?" drums. Thus, I preferred the 2014 mono mix. Both deficiencies have been wonderfully rectified for a much better listening and marvelously "twangy" experience. The drums (though rather basic in this song), are as powerful as they should be. This delightful, "quintessentially Lennon" song richly deserved and will benefit from such an overhaul.
*
10. For No One: the previous best 2009 stereo suffered from no left channel at all in the beginning for about 20 seconds, and a tinny, very inadequate-sounding clavichord and piano on the right channel only (played by Paul), which has been vastly and thankfully improved. The French horn (now more centered) is from the renowned English classical musician Alan Civil.
*
11.
Doctor Robert
: the 2009 stereo was decent, but still objectionably had the dreaded right-only lead vocal. My previously preferred mono mix from 2014 has slightly punchier drums than the new mix and a very satisfying mono soundscape, but the big improvement in the '22 mix is in the vocals, which are considerably better-sounding and more in balance. The separation of the guitars is also superior to the mono listening experience and more true-to-life.
*
12. I Want to Tell You: George's song is similar in "format" to #11, and able to be improved in the same manner. I've preferred the 2009 mono. It's never been one of my favorites. McCartney's repetitious and "mindless" piano annoys me to no end. It's a little softer in the '22 mix. The vocals are much better and the drums are crisp and sharp (the way they always ideally should have been).
*
13. Got to Get You Into My Life: the 2009 stereo was fair enough, but the drums were again too soft (though not as badly as in some of these songs), and the right channel-only trumpets sounded like they were coming out of a toy record player or lousy transistor radio from 1966. The 2009 mono only slightly improved both problems, so there was no good or sufficient choice, until now. Now the whole thing (especially the horns) sounds much better and catchier, like the "white soul" that it is, by modifying the overall balance in the usual "modern" fashion.
*
14. Tomorrow Never Knows: this wonderful Lennon song that virtually began the psychedelic craze, was one of the better-sounding stereo cuts in its 2009 remastering, but the sound effects in particular needed to be made more clear and distinct. Martin has made it more "fun" and interesting to listen to, with the current state-of-the-art studio "trickery" and pure sound capabilities. The sound effects are better, and some of the drums can be heard separately, with a better echo. This trend-setting and influential song now sounds full and glorious and more clear: like today's superior sound.
*
15.
Paperback Writer
: this is from the same period, and included in the new set. It was given a satisfying, much-improved and "rocking" remix in 2015 on the revised "
1
." But in the new mix, both the bass and vocals seem a bit more clear and distinct, which makes it more satisfying overall.
*
16.
Rain
: I love this "trippy" and unique song in the Beatles' catalogue (B-side to
Paperback Writer
). The formerly best 2009 stereo suffered from an obnoxious left-only lead vocal and not-very-clear harmony vocals on the right. Both are thankfully corrected, as fully expected, and the marvelous drum performance sounds better and no longer muffled. The wonderfully jangly, Byrds-like sound of the guitars and the bass are also improved and more distinct.  Ringo's masterpiece now has an audio quality to match the excellent-as-always musicianship.
*
Conclusion: the entire album has been significantly improved and is a joy to hear for any Beatles fan. The only dud is Yellow Submarine. But we have the existing 1999 remix to make up for that deficiency.
*
***
*
*
*
*
*
*
*
*
Photo credit
:
The Beatles in 1966
[
Flickr
/ public domain]
*
***
*
Summary
: My review of the new remix (by Giles Martin) of the Beatles 1966 album
Revolver
: which is considered by many people to be their best album. Just one "dud"!