Historic Exodus; NT & Jesus' Blood; Hays vs. Omnipresence; God & Matter; Hays' Anti-Biblical Hyper-Rationalism; Holy Eucharist & Other Miracles; Luther & the Real Presence; Manna & the Eucharist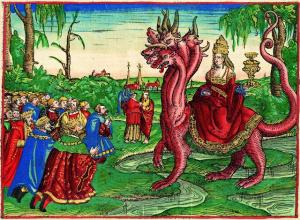 The late Steve Hays (1959-2020) was a Calvinist (and anti-Catholic) apologist, who was very active on his blog, called Triablogue (now continued by Jason Engwer). His 695-page self-published book, Catholicism — a collection of articles from his site — has graciously been made available for free. On 9 September 2006, Hays was quite — almost extraordinarily — charitable towards me. He wrote then:
I don't think I've ever accused him of being a traitor or apostate or infidel. . . . I have nothing to say, one way or the other, regarding his state of grace. But his sincerity is unquestionable. I also don't dislike him. . . . I don't think there's anything malicious about Armstrong—unlike some people who come to mind. In addition, I don't think I've ever said he was unintelligent. For the record, it's obvious that Armstrong has a quick, nimble mind. 

Two-and-a-half years later, starting in April 2009 and up through December 2011 (in the following quotations) his opinion radically changed, and he claimed that I have "an evil character," am "actually evil," "ego-maniac, narcissist," "idolater," "self-idolater," "hack who pretends to be a professional apologist," given to "chicanery," one who doesn't "do any real research," "a stalwart enemy of the faith . . .  no better than [the atheists] Richard Dawkins or Christopher Hitchens," with an intent to "destroy faith in God's word," "schizophrenic," "emotionally unhinged," one who "doesn't trust in the merit of Christ alone for salvation," "has no peace of mind," "a bipolar solipsist," "split-personality," and a "bad" man. He wasn't one to mince words! See more gory details.

I feel no need whatsoever to reciprocate these silly and sinful insults. I just wanted the record to be known. I've always maintained that Hays was a very intelligent man, but habitually a sophist in methodology; sincere and well-meaning, but tragically and systematically wrong and misguided regarding Catholicism. That's what I'm addressing, not the state of his heart and soul (let alone his eternal destiny). It's a theological discussion. This is one of many planned critiques of his book (see my reasons why I decided to do this). Rather than list them all here, interested readers are directed to the "Steve Hays" section of my Anti-Catholicism web page, where they will all be listed. My Bible citations are from the RSV. Steve's words will be in blue.
*****
[Chapter 11: Sacramentalism]
Eating God
[W]ere we meant take it literally? The Eucharist has its background in the Passover. The Passover is a memorial, commemorating the Exodus. The Exodus is an unrepeatable event, but memorials are indefinitely repeatable. A reenactment is a representation of the original event. Participants are recapitulating the actions of the original participants. The language of identity is substitutionary, where participants assume the same roles, by acting in the place of the original participants. Like different actors who all play the part of Hamlet. [p. 551]
The Jews believe that in their yearly Passover celebrations, the past actually becomes literally present again. This is the backdrop to the Holy Eucharist. See:
Passover in Judaism & a Mass that Transcends Time ("Past Events Become Present Today"/ Survey of "Remember" in Scripture) [7-7-09]
The Timeless Crucifixion & the Sacrifice of the Mass [9-25-09]
The historicity of the Exodus is no longer a given in Catholic theology. [p. 552]
Nonsense. Liberal scholars who don't accept all of the Church's teachings may think this (and those are the only folks Hays ever seems to cite, because they serve his purpose), but that is "magisterially irrelevant." All that matters is what the Church actually teaches. Here is the Catechism of the Catholic Church expressing that:
204 God revealed himself progressively and under different names to his people, but the revelation that proved to be the fundamental one for both the Old and the New Covenants was the revelation of the divine name to Moses in the theophany of the burning bush, on the threshold of the Exodus and of the covenant on Sinai.

205 God calls Moses from the midst of a bush that burns without being consumed: "I am the God of your father, the God of Abraham, the God of Isaac, and the God of Jacob." God is the God of the fathers, the One who had called and guided the patriarchs in their wanderings. He is the faithful and compassionate God who remembers them and his promises; he comes to free their descendants from slavery. He is the God who, from beyond space and time, can do this and wills to do it, the God who will put his almighty power to work for this plan.
Jesus doesn't give us his body and blood on the cross, . . . Rather, the sacrificial death of Christ is a propitiatory offering to God to atone for sin. It involves a body because death requires a body. It involves blood because it stands for violent death or bloodshed. The point, however, is not the body or blood in itself, but the sacrificial death. [p. 554]
How odd, then, that the Bible in several passages strongly teaches that Jesus' blood itself had supernatural saving power:
Acts 20:28 Take heed to yourselves and to all the flock, in which the Holy Spirit has made you overseers, to care for the church of God which he obtained with the blood of his own Son.

Romans 3:25 whom God put forward as an expiation by his blood, . . .

Romans 5:9 . . . we are now justified by his blood . . .

Ephesians 1:7 In him we have redemption through his blood, the forgiveness of our trespasses, according to the riches of his grace

Ephesians 2:13 But now in Christ Jesus you who once were far off have been brought near in the blood of Christ.

Colossians 1:20 and through him to reconcile to himself all things, whether on earth or in heaven, making peace by the blood of his cross.

Hebrews 9:12, 14 he entered once for all into the Holy Place, taking not the blood of goats and calves but his own blood, thus securing an eternal redemption. . . . [14] how much more shall the blood of Christ, who through the eternal Spirit offered himself without blemish to God, purify your conscience from dead works to serve the living God.

Hebrews 10:19 Therefore, brethren, since we have confidence to enter the sanctuary by the blood of Jesus,

Hebrews 13:12, 20 So Jesus also suffered outside the gate in order to sanctify the people through his own blood. . . . [20] Now may the God of peace who brought again from the dead our Lord Jesus, the great shepherd of the sheep, by the blood of the eternal covenant,

1 Peter 1:18-19 You know that you were ransomed from the futile ways inherited from your fathers, not with perishable things such as silver or gold, [19] but with the precious blood of Christ, like that of a lamb without blemish or spot.

1 John 1:7 . . . the blood of Jesus his Son cleanses us from all sin.

Revelation 1:5 and from Jesus Christ the faithful witness, the first-born of the dead, and the ruler of kings on earth. To him who loves us and has freed us from our sins by his blood

Revelation 5:9 . . . thou wast slain and by thy blood didst ransom men for God . . .

Revelation 7:14 . . . they have washed their robes and made them white in the blood of the Lamb.
If the Bible says that God "obtained" the Church "with the blood," that "expiation" and justification and being freed from sins came "by his blood," that "redemption" and "forgiveness" and sanctification came "through his [own] blood," that we have "been brought near" to Christ "in the blood," that we're reconciled to Jesus and can "enter the sanctuary" "by the blood," that "his own blood" secured "an eternal redemption," that we were "were ransomed . . . with the precious blood of Christ," that "the blood of Jesus his Son cleanses us from all sin," and that we were made "white in the blood of the Lamb," how can Hays then summarize all this by saying that Jesus' blood shed on the cross merely "stands for" His death and that this isn't the "blood in itself" being referred to.
How much more explicit and clear can Holy Scripture be? Do these sorts of things need to be expressed 101 times before Hays will grasp that it is literal and "sacramental"? Fifteen times and every which way isn't enough? He seems to think that any slightest hint of sacramentalism is wicked "magic" and so must explain the blood shed by Jesus on the cross away as a mere symbol of His death. But that's not at all how the Bible expresses it, as just proven.
I don't think God is actually present everywhere–or anywhere. God doesn't occupy the universe. God is "present" in the world in the pervasive but mediate sense that a novelist is present in his novel or a video game designer is present in the game. [p. 557]
Hays denies God's omnipresence: a thing believed in by virtually all Christians for 2,000 years, and based on Bible passages such as the following:
1 Kings 8:27 . . . Behold, heaven and the highest heaven cannot contain thee . . . (cf. 2 Chr. 2:6)

Psalm 139:7-8 Whither shall I go from thy Spirit? Or whither shall I flee from thy presence? [8] If I ascend to heaven, thou art there! If I make my bed in Sheol, thou art there!

Jeremiah 23:24 Can a man hide himself in secret places so that I cannot see him? says the LORD. Do I not fill heaven and earth? says the LORD.

Matthew 28:20 . . . I am with you always . . .

Ephesians 1:22-23 …the church, [23] which is his body, the fulness of him who fills all in all. (cf. Mt 18:20)

Ephesians 4:6 one God and Father of us all, who is above all and through all and in all.

Colossians 3:11 …Christ is all, and in all.
How is location real but not physical? [p. 557]
By being "in" all that is physical (Eph 1:23; 4:6; Col 3:11).
There's a sense in which some things are too difficult even for an all-powerful being. [p. 558]
Yes: logical impossibilities. He can't make 2 + 2 = 5, or somehow exist and not exist simultaneously.
If God is operating by the laws of physics, then that limits his field of action to what's consistent with the laws of physics. [p. 558]
This isn't logical impossibility (which does in fact limit God). God created matter and the scientific laws that govern them, and can supersede them at any time with a miracle (their very creation was not in accord with scientific laws). He almost always allows the laws of physics to operate on their own, but He can "interrupt" the natural course with a supernatural act whenever He so wills. So  miracles were suspect, too, in Hays' eyes? When does the hyper-rationalistic skepticism end? Hays was willing here to place his philosophy above the revealed truths of God's inspired and inerrant Word.
When the two clash, so much the worse for the Bible, thought Hays. This is the hyper-rationalism that is rampant in this book, but it's worse than I thought. This mentality is usually characteristic of a Protestant or Catholic theological liberal, not a professed Calvinist. It looks like Hays rejected classical theism. First, omnipresence went, then in this instance he pretended and was self-deluded that God is somehow confined by the very laws of nature that He created in the first place. It's ludicrous, and blasphemous to boot.
So does he [Catholic philosopher Alexander Pruss] think Jesus makes an intergalactic trip every time a Mass is celebrated? If so, doesn't that require superluminal speed? Doesn't superluminal speed involve backwards time-travel? How is any of this really consistent with the laws of physics? [p. 559]
Why does Hays think it has to be "consistent with the laws of physics" in the first place? It's supernatural! It's a miracle! If Jesus wills to be present in a profound, miraculous, special way at every Mass then He is able to do that. It's nothing that is intrinsically impossible. It's not one of the things that is logically impossible even for an omnipotent Being to do. Hays is again thinking like a carnal man: almost like an atheist. These are "gotcha!"-type questions that atheists ask, trying to make Christians look silly and stupid.
Catholic vampires
We can see where this is going already. It's a very sad thing to see a Christian argue in this mocking, sneering way about fellow Christians: just as the ancient pagan Romans classified Christians as "cannibals." The devil is laughing and dancing a jig; he absolutely loves it! Lies are the "environment" that he thrives in. And no doubt he hates my refutations of this blasphemous nonsense.
Suppose the eucharist is a miracle (i.e. transubstantiation). Yet it symbolizes the crucifixion. [p. 560]
It actually doesn't. Jesus' historical crucifixion and redemptive death for us on the cross is made present in a supernatural way
But the crucifixion is not a miracle. [p. 560]
The execution method itself isn't (once again Hays is obnoxiously thinking like a mere carnal man), but the redemptive, sacrificial, atoning death of Jesus in its spiritual totality was certainly supernatural. Grace and all means of salvation and salvation itself are all supernatural.
But unfortunately for the Catholic, the real presence is nonsensical on a common sense definition. [p. 561]
It's not unfortunate at all, since every Christian doctrine (being supernatural) is "nonsensical on a common sense definition." When one is initially justified (or many Protestants would say, "saved"), that's a supernatural thing that can't be examined under a microscope or have any empirical test applied to it. When Paul was knocked off of his horse and converted, and talked to God, that was a supernatural thing that couldn't be examined under a microscope or have any empirical test applied to it. We don't have an audio tape or video footage of Jesus talking to Paul.
When God talked to Moses in the burning bush that was a supernatural thing that couldn't be examined under a microscope or have any empirical test applied to it. No one could "absolutely prove" that God was in the bush, that this was the God Who revealed Himself throughout the Bible, His voice, the same being Who wrote the Ten Commandments on the two tablets, etc. It's the same with virtually every Christian doctrine. The real presence or transubstantiation are no more impossible or implausible qua miracles as any other one. Hays and Protestants simply disagree with it, so they run it down. But this particular argument doesn't fly. It never gets off the ground. Hays tries to defeat it by philosophy, rather than through biblical exegesis (at least so far).
Jesus had a body after His resurrection (and He encouraged His disciples to touch Him, including His wounds, to establish this fact), but it was a glorified body. He could, for example, pass through walls in a way that we normally deem to be physically impossible (yet which modern quantum physics actually claims is entirely possible). See John 20:19 . . .
Now, one could say that the "physical evidence" (I suppose) was His passing through the wall of the house, but how is that "physical" in an empirical sense? As far as the disciples were concerned, Jesus still had a normal physical body. He even ate with them. For that matter, how would someone "physically" prove that Jesus was God, even before He was resurrected? By looking at His cells in a microscope? There was no way to do that. The incarnation has to be received with faith as a supernatural miracle. So why does Hays demand so much more of the Eucharist? Moreover, this is not the only biblical example:
Exodus 13:21 And the LORD went before them by day in a pillar of cloud to lead them along the way, and by night in a pillar of fire to give them light, that they might travel by day and by night; (cf. 14:24; Num 14:14; Neh 9:12, 19)
Note what is happening here. We're talking about actual clouds (a form of water) and fire, which "consist[s] primarily of carbon dioxide, water vapor, oxygen and nitrogen" (Wikipedia, "Fire"). Yet God is somehow "in" both of them (so much so that the ancient Hebrews would worship God facing this cloud: Ex 33:10). How? How could one tell the difference between a regular old cloud or a fire and the ones that God was "in"?
They couldn't. And no one could today, either, if God did that again. The only difference is that God said He was in both, in particular circumstances when both formed a "pillar." But that's not physical proof. It's revelation. And it is exactly the same, analogously, as what we have in the Eucharist (substance changing without the accidents or appearances changing).
With regard to fire with God specially "in" it, we also have the burning bush (Ex 3:2-6), which is not only fire, but also called an "angel of the Lord" (Ex 3:2), yet also "God" (3:4, 6, 11, 13-16, 18; 4:5, 7-8) and "the LORD" (3:7, 16, 18; 4:2, 4-6, 10-11, 14) interchangeably. Also, the Bible states: "Mount Sinai was wrapped in smoke, because the LORD descended upon it in fire" (Ex 19:18).
"The Jewish roots of Catholicism"
Jn 6 says nothing about the presence of Christ under the form of food and drink. [p. 570]
This is massively untrue: especially in light of John 6:51 (bolded below). Jesus states (making the analogy to manna, which was baked into cakes or bread):
John 6:31-35 Our fathers ate the manna in the wilderness; as it is written, `He gave them bread from heaven to eat.'" [32] Jesus then said to them, "Truly, truly, I say to you, it was not Moses who gave you the bread from heaven; my Father gives you the true bread from heaven. [33] For the bread of God is that which comes down from heaven, and gives life to the world." [34] They said to him, "Lord, give us this bread always." [35] Jesus said to them, "I am the bread of life; he who comes to me shall not hunger, and he who believes in me shall never thirst.

John 6:48-53  I am the bread of life. [49] Your fathers ate the manna in the wilderness, and they died. [50] This is the bread which comes down from heaven, that a man may eat of it and not die. [51] I am the living bread which came down from heaven; if any one eats of this bread, he will live for ever; and the bread which I shall give for the life of the world is my flesh." [52] The Jews then disputed among themselves, saying, "How can this man give us his flesh to eat?" [53] So Jesus said to them, "Truly, truly, I say to you, unless you eat the flesh of the Son of man and drink his blood, you have no life in you;

John 6:58 This is the bread which came down from heaven, not such as the fathers ate and died; he who eats this bread will live for ever.
It is true that John 6 never mentions "wine" or "the cup" along with the many mentions of "bread." But the Last Supper accounts do both. For example, Matthew's account states:
Matthew 26:26-29 Now as they were eating, Jesus took bread, and blessed, and broke it, and gave it to the disciples and said, "Take, eat; this is my body." [27] And he took a cup, and when he had given thanks he gave it to them, saying, "Drink of it, all of you; [28] for this is my blood of the covenant, which is poured out for many for the forgiveness of sins. [29] I tell you I shall not drink again of this fruit of the vine until that day when I drink it new with you in my Father's kingdom."
Martin Luther wrote eloquently about the Last Supper:
[S]ince we are confronted by God's words, "This is my body" – distinct, clear, common, definite words, which certainly are no trope, either in Scripture or in any language – we must embrace them with faith . . . not as hairsplitting sophistry dictates but as God says them for us, we must repeat these words after him and hold to them. (Confession Concerning Christ's Supper, 1528)
And on John 6:
All right! There we have it! This is clear, plain, and unconcealed: "I am speaking of My flesh and blood." . . . There we have the flat statement which cannot be interpreted in any other way than that there is no life, but death alone, apart from His flesh and blood if these are neglected or despised. How is it possible to distort this text? . . . You must note these words and this text with the utmost diligence . . . It can neither speciously be interpreted nor avoided and evaded. (Sermons on the Gospel of St. John: Chapters 6-8, 1532; Luther's Works, Vol. 23, 133-135)
And on 1 Corinthians 10:16:
Even if we had no other passage than this we could sufficiently strengthen all consciences and sufficiently overcome all adversaries . . . He could not have spoken more clearly and strongly . . . (Against the Heavenly Prophets in the Matter of Images and Sacraments, 1525; Luther's Works, Vol. 40, 177, 181)

The bread which is broken or distributed piece by piece is the participation in the body of Christ. It is, it is, it is, he says, the participation in the body of Christ. Wherein does the participation in the body of Christ consist? It cannot be anything else than that as each takes a part of the broken bread he takes therewith the body of Christ . . . (Against the Heavenly Prophets in the Matter of Images and Sacraments, 1525; Luther's Works, Vol. 40, 178)
The point of the manna isn't to prefigure the eucharist but to prefigure Jesus. It's Jesus, not the Eucharist, that's greater than the OT manna. This is a classic example of how the tinted glasses of Catholicism obscures the true significance of the comparison. [pp. 570-571]
This is a classic example of how the tinted glasses of the tiny fringe sub-group of anti-sacramental Protestants obscures the true significance of the plain-as-day biblical comparison. Jesus Himself is very explicit in comparing God feeding the OT Jews in the wilderness with manna and now feeding Christians with the "bread of God" (6:33), "bread of life" (6:35, 48), "true bread" (6:32), and "living bread" (6:51), that "comes down from heaven" (6:33, 50-51, 58), that "gives life to the world" (6:33) and  enables men to "not die" (6:50) and "live for ever" (6:51, 58): which in fact is His "flesh" (6:51-53) .
It couldn't be any more clear than it is, and is a very typical analogy between OT physical, earthly life (eating manna — or quail —  for sustenance and nutrition) and the New Testament's emphasis on spiritual and eternal life. Manna brought the first; Jesus' Body and Blood in the Holy Eucharist brought the second. See for example a similar "sacramental parallelism":
1 Peter 3:20-21 God's patience waited in the days of Noah, during the building of the ark, in which a few, that is, eight persons, were saved through water. [21] Baptism, which corresponds to this, now saves you, not as a removal of dirt from the body but as an appeal to God for a clear conscience, through the resurrection of Jesus Christ, (cf. Paul's analogy of circumcision and justification in Col 2:11-13)
Communion and cannibalism
I would counter with "lack of belief in the Real Presence in Holy Communion and the forsaking of Christ" (see Jn 6:60, 66: "Many of his disciples, when they heard it, said, 'This is a hard saying; who can listen to it?' . . . After this many of his disciples drew back and no longer went about with him.").
***
Practical Matters: Perhaps some of my 4,300+ free online articles (the most comprehensive "one-stop" Catholic apologetics site) or fifty-one books have helped you (by God's grace) to decide to become Catholic or to return to the Church, or better understand some doctrines and why we believe them.
Or you may believe my work is worthy to support for the purpose of apologetics and evangelism in general. If so, please seriously consider a much-needed financial contribution. I'm always in need of more funds: especially monthly support. "The laborer is worthy of his wages" (1 Tim 5:18, NKJV). 1 December 2021 was my 20th anniversary as a full-time Catholic apologist, and February 2022 marked the 25th anniversary of my blog.
PayPal donations are the easiest: just send to my email address: apologistdave@gmail.com. You'll see the term "Catholic Used Book Service", which is my old side-business. To learn about the different methods of contributing, including 100% tax deduction, etc., see my page: About Catholic Apologist Dave Armstrong / Donation Information. Thanks a million from the bottom of my heart!
***
Photo credit: The Whore of Babylon (workshop of Lucas Cranach): colorized illustration from Martin Luther's 1534 translation of the Bible [public domain / Wikimedia Commons]
***
Summary: The late Steve Hays was a Calvinist and anti-Catholic writer and apologist. This is one of my many critiques of Hays' "Catholicism": a 695-page self-published volume.