Does Isaiah 64:6 ("even our best actions are filthy through and through": GNB) Prove That All Works Whatsoever, Done by Regenerated Persons in Faith and By Grace, Are Absolutely Worthless?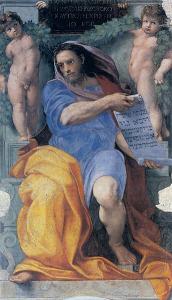 [originally posted on Facebook on 6-30-23]
****
Isaiah 64:6 is about one particular instance in time where the Israelites had become profoundly, societally corrupt. It's not saying that all works whatsoever are worthless. That's eisegesis. God explained how all this works in Isaiah 1:
*
Isaiah 1:4, 13-19 (RSV) Ah, sinful nation, a people laden with iniquity, offspring of evildoers, sons who deal corruptly! They have forsaken the LORD, they have despised the Holy One of Israel, they are utterly estranged. . . . [13] Bring no more vain offerings; incense is an abomination to me. New moon and sabbath and the calling of assemblies — I cannot endure iniquity and solemn assembly. [14] Your new moons and your appointed feasts my soul hates; they have become a burden to me, I am weary of bearing them. [15] When you spread forth your hands, I will hide my eyes from you; even though you make many prayers, I will not listen; your hands are full of blood. [16] Wash yourselves; make yourselves clean; remove the evil of your doings from before my eyes; cease to do evil, [17] learn to do good; seek justice, correct oppression; defend the fatherless, plead for the widow. [18] "Come now, let us reason together, says the LORD: though your sins are like scarlet, they shall be as white as snow; though they are red like crimson, they shall become like wool. [19] If you are willing and obedient, you shall eat the good of the land;
*
Once again, the solution includes meritorious works ("learn to do good; seek justice, correct oppression; defend the fatherless, plead for the widow."). But it's certainly not asserting that all works whatsoever are worthless and like menstrual rags (the literal meaning of the Hebrew). God was saying through Isaiah that when His people forsake Him and do evil, that even their ostensibly good works and acts of worship are unacceptable to Him. They must change their heart and do good works to get right with Him again. Later in the book, the example of Hezekiah again illustrates the biblical, Catholic principle of faith and works operating together:
*
Isaiah 38:1-6 In those days Hezeki'ah became sick and was at the point of death. And Isaiah the prophet the son of Amoz came to him, and said to him, "Thus says the LORD: Set your house in order; for you shall die, you shall not recover." [2] Then Hezeki'ah turned his face to the wall, and prayed to the LORD, [3] and said, "Remember now, O LORD, I beseech thee, how I have walked before thee in faithfulness and with a whole heart, and have done what is good in thy sight." And Hezeki'ah wept bitterly. [4] Then the word of the LORD came to Isaiah: [5] "Go and say to Hezeki'ah, Thus says the LORD, the God of David your father: I have heard your prayer, I have seen your tears; behold, I will add fifteen years to your life. [6] I will deliver you and this city out of the hand of the king of Assyria, and defend this city.
*
"Done what is good" is part of Hezekiah's repentance. Meritorious works can't be separated. God didn't tell him that his "righteous deeds are like a polluted garment" (Is 64:6). This is my point. One passage about one particular situation can't be universally applied, because such a reading would contradict hundreds of other Bible passages. Isaiah 64:6 must be understood in light of contextual passages like "We have become like those over whom thou hast never ruled, . . ." (63:19) and "in our sins we have been a long time" (64:5) and "There is no one that calls upon thy name" (64:7).
*
***
*
Or you may believe my work is worthy to support for the purpose of apologetics and evangelism in general. If so, please seriously consider a much-needed financial contribution. I'm always in need of more funds: especially 
monthly
 support. "The laborer is worthy of his wages" (1 Tim 5:18, NKJV). 1 December 2021 was my 20th anniversary as a 
full-time Catholic apologist
, and February 2022 marked the 25th anniversary of my blog.
*
Photo credit: The Prophet Isaiah (1511-1512), by Raphael (1483-1520) [public domain / Wikimedia Commons]
***
Summary: Protestants habitually use Isaiah 64:6 to try to prove that all works are absolutely non-meritorious; like "filthy rags"; but they completely ignore the context.