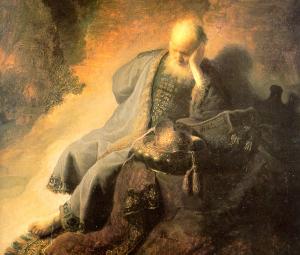 Protestants have a very prominent and quite annoying tendency to select "pet verses" and to ignore many other relevant passages along the same lines (I think — speculating — because they realize down deep that the other passages contradict their view). I wrote a whole book about this; one of my own favorites, called The Catholic Verses: 95 Bible Passages That Confound Protestants (Aug. 2004). One of these Bible verses is from the book of the prophet Jeremiah:
Jeremiah 17:9 (RSV, as throughout) The heart is deceitful above all things, and desperately corrupt; who can understand it?
This passage is utilized — and distorted — in a way similar to how they frequently cite like a mantra, Isaiah 64:6 (which I  recently posted about): "all our righteousnesses are as filthy rags" (KJV). They think this proves that (supposedly) no good works are meritorious, that "faith alone" is the way to salvation (which works have nothing to do with), and that sanctification is a separate "optional" category that has nothing to do with salvation, either (which ties in with extrinsic, external, imputed justification). Jeremiah 17:9, like Isaiah 64:6, is interpreted with little or no consideration for context, or of Jeremiah's overall soteriological thought. I shall be examining the latter in this article, and my research in preparation (searching the book for many related terms) has been most enlightening indeed.
The Protestant idea is that people can do absolutely nothing to be saved and this is because (using these two passages) the heart is utterly "deceitful" and wicked and every righteous act we do is like a filthy rag (literally, a "menstrual rag" in the Hebrew). Accordingly, the Good News Bible paraphrased Isaiah 64:6 in a spectacularly biased and incorrect way: "even our best actions are filthy through and through". That's pure Protestantism: particularly the extreme Calvinist view of total depravity.
The first thing we need to do is look at the immediate context of Jeremiah 17:9, which would be the very next verse:
Jeremiah 17:10 "I the LORD search the mind and try the heart, to give to every man according to his ways, according to the fruit of his doings." (cf. 32:19)
Three things are apparent from this verse. First, God is trying the heart of man, looking to see if any given individual has obeyed Him or not. If the heart was always desperately wicked, in all people at all times (i.e., if 17:9 is absolutely literal, with no exceptions whatsoever), God's statement here would make no sense. He wouldn't have to "try" hearts at all, since all would be equally wicked, just as (not considering His omniscience for a moment) He wouldn't have to examine all elephants to see whether they had a long trunk or not.
Secondly, man is not a pawn of his supposedly always evil nature, and so, can decide in his free will whether he will follow God or not, and whether he will allow God to give him the grace to do meritorious good works, in faith — working together with God, as Paul teaches –, leading ultimately to salvation.
Thirdly, it's clear in this passage that salvation doesn't come merely from "faith alone" but rather, from the "fruit" of good works ("ways" and "doings") done in faith, by God's grace (the latter is taught in Jeremiah 17:5, 7, 14, as we shall see). It seems to me that if Protestantism were true, Jeremiah 17:10 would or should read something like this:
"I the LORD overlook your deceitful and desperately corrupt hearts, to give to every man according to his faith alone."
But in fact, it doesn't read that way. It reads "Catholic." And it provides contextual information that allows readers to correctly interpret Jeremiah 17:9. Jeremiah makes a clear-cut statement that goes against any notion of no hearts whatsoever being capable of good:
Jeremiah 13:23 . . . you can do good who are accustomed to do evil.
Above, I stated that it was important to take into consideration "Jeremiah's overall soteriological thought." Let's do that now by specifically looking at what he says about "hearts" throughout his book, and whether it is more in line with a Protestant or Catholic understanding.
Can human beings control their hearts and (by extension) their wills, or are they just pawns of the devil? Jeremiah —  contra to the standard Protestant take on Jeremiah 17:9 — teaches that they can choose what their hearts will be like:
Jeremiah 4:3-4 For thus says the LORD to the men of Judah and to the inhabitants of Jerusalem: "Break up your fallow ground, and sow not among thorns. [4] Circumcise yourselves to the LORD, remove the foreskin of your hearts, O men of Judah and inhabitants of Jerusalem; lest my wrath go forth like fire, and burn with none to quench it, because of the evil of your doings." (cf. 9:25-26)
Doing so, and getting rid of "evil thoughts" can even "save" them:
Jeremiah 4:14 O Jerusalem, wash your heart from wickedness, that you may be saved. How long shall your evil thoughts lodge within you?
Jeremiah also teaches that we can seek God with all our hearts:
Jeremiah 29:11-13 For I know the plans I have for you, says the LORD, plans for welfare and not for evil, to give you a future and a hope. [12] Then you will call upon me and come and pray to me, and I will hear you. [13] You will seek me and find me; when you seek me with all your heart,
Now, a Protestant would say about this passage, that God gave the sinner grace, which in turn caused him to call upon God. That's true; we agree with that (Pelagianism or works-salvation being a heresy). What we disagree with is the notion that no good works that come from this grace are meritorious, as the proof of genuine faith, or that none of them can play a role in our ultimate salvation, as the "fruit" of faith or "work of faith" (1 Thess 1:3; 2 Thess 1:11) or "faith working through love" (Gal 5:6) or "good works, which God prepared beforehand, that we should walk in them" (Eph 2:10), as "God's fellow workers" (1 Cor 3:9), "working together with" God (2 Cor 6:1), and working "harder" as a result of "the grace of God which is with" us (1 Cor 15:10), "abounding in the work of the Lord" (1 Cor 15:58), since "God is at work in" us, "both to will and to work for his good pleasure" (Phil 2:13), etc., etc.
Secondly, note that in 4:14, we are saved not because God merely declared it to be so, but because we "wash[ed]" our "heart[s] from wickedness". None of these things are consistent with Protestant soteriology, which consigns good works after justification and regeneration to the optional, "recommended but not required for salvation" separate category of sanctification.
Now, it's true that Jeremiah teaches that God draws all sinners by His grace, without which no one is, or can be saved, and there are passages hinting at the NT doctrines of justification, faith, and the indwelling of the Holy Spirit (indeed, 31:31-34 literally and magnificently foretells of the new covenant in Christ), as well as about God's mercy and forgiveness:
Jeremiah 3:12 . . . "Return, faithless Israel, says the LORD. I will not look on you in anger, for I am merciful, says the LORD; I will not be angry for ever."

Jeremiah 15:20-21 . . . I am with you to save you and deliver you, says the LORD. [21] I will deliver you out of the hand of the wicked, and redeem you from the grasp of the ruthless."

Jeremiah 17:5, 7-8, 14 Thus says the LORD: "Cursed is the man who trusts in man and makes flesh his arm, whose heart turns away from the LORD. . . . [7] "Blessed is the man who trusts in the LORD, whose trust is the LORD. [8] He is like a tree planted by water, that sends out its roots by the stream, and does not fear when heat comes, for its leaves remain green, and is not anxious in the year of drought, for it does not cease to bear fruit." . . . [14] Heal me, O LORD, and I shall be healed; save me, and I shall be saved; for thou art my praise.
Note how in 17:8 (right before the Protestant pet text of 17:9: more context), the one who trusts in the Lord is like a tree that never ceases "to bear fruit" (i.e., good works, by analogy).
Jeremiah 23:6 . . . And this is the name by which he will be called: `The LORD is our righteousness.' (cf. 33:16)

Jeremiah 24:7 I will give them a heart to know that I am the LORD; and they shall be my people and I will be their God, for they shall return to me with their whole heart.

Jeremiah 31:11 For the LORD has ransomed Jacob, and has redeemed him from hands too strong for him.

Jeremiah 31:31-34 "Behold, the days are coming, says the LORD, when I will make a new covenant with the house of Israel and the house of Judah, [32] not like the covenant which I made with their fathers when I took them by the hand to bring them out of the land of Egypt, my covenant which they broke, though I was their husband, says the LORD. [33] But this is the covenant which I will make with the house of Israel after those days, says the LORD: I will put my law within them, and I will write it upon their hearts; and I will be their God, and they shall be my people. [34] And no longer shall each man teach his neighbor and each his brother, saying, `Know the LORD,' for they shall all know me, from the least of them to the greatest, says the LORD; for I will forgive their iniquity, and I will remember their sin no more."

Jeremiah 32:38-40 And they shall be my people, and I will be their God. [39] I will give them one heart and one way, that they may fear me for ever, for their own good and the good of their children after them. [40] I will make with them an everlasting covenant, that I will not turn away from doing good to them; and I will put the fear of me in their hearts, that they may not turn from me.

Jeremiah 33:8 I will cleanse them from all the guilt of their sin against me, and I will forgive all the guilt of their sin and rebellion against me.

Jeremiah 36:3 "It may be that the house of Judah will hear all the evil which I intend to do to them, so that every one may turn from his evil way, and that I may forgive their iniquity and their sin."

Jeremiah 39:18 "For I will surely save you, and you shall not fall by the sword; but you shall have your life as a prize of war, because you have put your trust in me, says the LORD."

Jeremiah 42:12 I will grant you mercy . . .
On all of these matters, we are in essential agreement with our Protestant brothers and sisters. But this is not the end of the matter or the "be all and end all" in the book of Jeremiah. It must be harmonized with the dreaded "Catholic stuff" too (i.e., for those who believe in biblical inspiration, infallibility, and inerrancy). Jeremiah condemns the extreme antinomian version of "faith alone" (often present in practice, if not in official Protestant doctrine):
Jeremiah 7:9-11 Will you steal, murder, commit adultery, swear falsely, burn incense to Ba'al, and go after other gods that you have not known, [10] and then come and stand before me in this house, which is called by my name, and say, `We are delivered!' — only to go on doing all these abominations? [11] Has this house, which is called by my name, become a den of robbers in your eyes? Behold, I myself have seen it, says the LORD.
Jeremiah also expresses the Catholic view (most explicitly set out in the book of James) that faith is completed by works, which cannot be separated from them (two sides of the same coin):
Jeremiah 5:7-11 "How can I pardon you? Your children have forsaken me, and have sworn by those who are no gods. When I fed them to the full, they committed adultery and trooped to the houses of harlots. [8] They were well-fed lusty stallions, each neighing for his neighbor's wife. [9] Shall I not punish them for these things? says the LORD; and shall I not avenge myself on a nation such as this? [10] "Go up through her vine-rows and destroy, but make not a full end; strip away her branches, for they are not the LORD's. [11] For the house of Israel and the house of Judah have been utterly faithless to me, says the LORD.
Jeremiah expresses the basic idea behind the Catholic doctrine of merit:
Jeremiah 31:16 . . . your work shall be rewarded . . .
So we see that Jeremiah teaches the NT and Catholic doctrine of grace, works, and faith all being involved in the process of salvation (see fifty passages from Paul about this). But he also — repeatedly and with the strongest emphasis, as I will now document — teaches the biblical and Catholic doctrine of good, meritorious works and obedience to God's law and moral commands playing a central role in God's determination of every person's ultimate salvation or damnation (see fifty passages about that, too):
Jeremiah 5:23 But this people has a stubborn and rebellious heart; they have turned aside and gone away.

Jeremiah 5:28-29 they have grown fat and sleek. They know no bounds in deeds of wickedness; they judge not with justice the cause of the fatherless, to make it prosper, and they do not defend the rights of the needy. [29] Shall I not punish them for these things? says the LORD, and shall I not avenge myself on a nation such as this?"

Jeremiah 6:16 Thus says the LORD: "Stand by the roads, and look, and ask for the ancient paths, where the good way is; and walk in it, and find rest for your souls. But they said, 'We will not walk in it.'"

Jeremiah 6:19 Hear, O earth; behold, I am bringing evil upon this people, the fruit of their devices, because they have not given heed to my words; and as for my law, they have rejected it.

Jeremiah 7:23 But this command I gave them, "Obey my voice, and I will be your God, and you shall be my people; and walk in all the way that I command you, that it may be well with you."

Jeremiah 8:9-10, 12 . . . they have rejected the word of the LORD, . . . [10] Therefore I will give their wives to others and their fields to conquerors, because from the least to the greatest every one is greedy for unjust gain; from prophet to priest  every one deals falsely. . . . [12] Were they ashamed when they committed abomination? No, they were not at all ashamed; they did not know how to blush. Therefore they shall fall among the fallen; when I punish them, they shall be overthrown, says the LORD.

Jeremiah 9:13-16 And the LORD says: "Because they have forsaken my law which I set before them, and have not obeyed my voice, or walked in accord with it, [14] but have stubbornly followed their own hearts and have gone after the Ba'als, as their fathers taught them. [15] Therefore thus says the LORD of hosts, the God of Israel: Behold, I will feed this people with wormwood, and give them poisonous water to drink. [16] I will scatter them among the nations whom neither they nor their fathers have known; and I will send the sword after them, until I have consumed them."

Jeremiah 11:6-8 And the LORD said to me, "Proclaim all these words in the cities of Judah, and in the streets of Jerusalem: Hear the words of this covenant and do them. [7] For I solemnly warned your fathers when I brought them up out of the land of Egypt, warning them persistently, even to this day, saying, Obey my voice. [8] Yet they did not obey or incline their ear, but every one walked in the stubbornness of his evil heart. Therefore I brought upon them all the words of this covenant, which I commanded them to do, but they did not."

Jeremiah 11:16 The LORD once called you, 'A green olive tree, fair with goodly fruit'; but with the roar of a great tempest he will set fire to it, and its branches will be consumed.

Jeremiah 13:10 This evil people, who refuse to hear my words, who stubbornly follow their own heart and have gone after other gods to serve them and worship them, shall be like this waistcloth, which is good for nothing.

Jeremiah 15:6 You have rejected me, says the LORD, you keep going backward; so I have stretched out my hand against you and destroyed you; — I am weary of relenting.

Jeremiah 18:11 Now, therefore, say to the men of Judah and the inhabitants of Jerusalem: "Thus says the LORD, Behold, I am shaping evil against you and devising a plan against you. Return, every one from his evil way, and amend your ways and your doings."

Jeremiah 21:14 I will punish you according to the fruit of your doings, says the LORD; . . .

Jeremiah 22:3-5, 15-16 Thus says the LORD: Do justice and righteousness, and deliver from the hand of the oppressor him who has been robbed. And do no wrong or violence to the alien, the fatherless, and the widow, nor shed innocent blood in this place. [4] For if you will indeed obey this word, then there shall enter the gates of this house kings who sit on the throne of David, riding in chariots and on horses, they, and their servants, and their people. [5] But if you will not heed these words, I swear by myself, says the LORD, that this house shall become a desolation. . . . [15] . . . Did not your father eat and drink and do justice and righteousness? Then it was well with him. [16] He judged the cause of the poor and needy; then it was well. . . .

Jeremiah 23:16-17 Thus says the LORD of hosts: "Do not listen to the words of the prophets who prophesy to you, filling you with vain hopes; they speak visions of their own minds, not from the mouth of the LORD. [17] They say continually to those who despise the word of the LORD, `It shall be well with you'; and to every one who stubbornly follows his own heart, they say, `No evil shall come upon you.'"

Jeremiah 25:8-9 "Therefore thus says the LORD of hosts: Because you have not obeyed my words, [9] behold, I will send for all the tribes of the north, says the LORD, and for Nebuchadrez'zar the king of Babylon, my servant, and I will bring them against this land and its inhabitants, and against all these nations round about; I will utterly destroy them, and make them a horror, a hissing, and an everlasting reproach."

Jeremiah 26:13 Now therefore amend your ways and your doings, and obey the voice of the LORD your God, and the LORD will repent of the evil which he has pronounced against you.

Jeremiah 32:23 . . . But they did not obey thy voice or walk in thy law; they did nothing of all thou didst command them to do. Therefore thou hast made all this evil come upon them.

Jeremiah 34:17 Therefore, thus says the LORD: You have not obeyed me by proclaiming liberty, every one to his brother and to his neighbor; behold, I proclaim to you liberty to the sword, to pestilence, and to famine, says the LORD. I will make you a horror to all the kingdoms of the earth.

Jeremiah 38:20 Jeremiah said, ". . . Obey now the voice of the LORD in what I say to you, and it shall be well with you, and your life shall be spared."

Jeremiah 40:3 . . . Because you sinned against the LORD, and did not obey his voice, this thing has come upon you.

Jeremiah 42:11-16, 21-22 Do not fear the king of Babylon, of whom you are afraid; do not fear him, says the LORD, for I am with you, to save you and to deliver you from his hand. [12] I will grant you mercy, that he may have mercy on you and let you remain in your own land. [13] But if you say, `We will not remain in this land,' disobeying the voice of the LORD your God [14] and saying, `No, we will go to the land of Egypt, where we shall not see war, or hear the sound of the trumpet, or be hungry for bread, and we will dwell there,' [15] then hear the word of the LORD, O remnant of Judah. Thus says the LORD of hosts, the God of Israel: If you set your faces to enter Egypt and go to live there, [16] then the sword which you fear shall overtake you there in the land of Egypt; and the famine of which you are afraid shall follow hard after you to Egypt; and there you shall die. . . . [21]  "And I have this day declared it to you, but you have not obeyed the voice of the LORD your God in anything that he sent me to tell you. [22] Now therefore know for a certainty that you shall die by the sword, by famine, and by pestilence in the place where you desire to go to live."

Jeremiah 44:23 "It is because you burned incense, and because you sinned against the LORD and did not obey the voice of the LORD or walk in his law and in his statutes and in his testimonies, that this evil has befallen you, as at this day."
***
*
Or you may believe my work is worthy to support for the purpose of apologetics and evangelism in general. If so, please seriously consider a much-needed financial contribution. I'm always in need of more funds: especially 
monthly
 support. "The laborer is worthy of his wages" (1 Tim 5:18, NKJV). 1 December 2021 was my 20th anniversary as a 
full-time Catholic apologist
, and February 2022 marked the 25th anniversary of my blog.
*
Photo credit: Jeremiah Lamenting the Destruction of Jerusalem (1630), by Rembrandt (1606-1669) [public domain / Wikimedia Commons]
***
Summary: I carefully examined the book of Jeremiah, in order to determine Jeremiah's soteriology (theology of salvation). It's very Catholic, it turns out, and quite unProtestant.