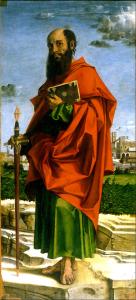 Jason Engwer is a prolific Protestant anti-Catholic apologist and webmaster of the site, Triablogue. He used to interact with me from 2000 to 2010 or so and then promptly stopped. I continue to critique his material, if I think there is educational value in doing so. Maybe one day he'll decide to start dialoguing again. In any event, I'll continue to do what I've done these past [nearly] 33 years as a Catholic apologist, and if I see that he makes some dubious claim against a Catholic position, I'll respond, provided it is substantive enough to be worth addressing.
*****
This is a response to portions of Jason's article, "A Challenge to Those Who Deny Eternal Security," which was posted sometime before August 2004. His words will be in blue. I will be using RSV for Bible citations.
Why were the apostles sure that they would go to Heaven, even though they still had time to sin (2 Timothy 4:18, 1 Peter 5:1, 2 John 2-3)?
2 Timothy 4:18 The Lord will rescue me from every evil and save me for his heavenly kingdom. . . .
This is in the sense that God is perfectly capable and willing to do so, but it presupposes that we, too, are willing and don't fall from grace. The Bible doesn't teach irresistible grace.  Many other passages (including four from the same book) also need to be considered in the overall mix. They show that there are conditions (i.e., it's not a sure thing, set for all time), and that one can lose salvation and being in a state of grace with God if they don't persevere to the end. The passages that Jason brings up all have to be interpreted in light of this other motif that is also plainly taught in the Bible, in the following seventeen passages, among others:
Romans 8:15-17 For you did not receive the spirit of slavery to fall back into fear, but you have received the spirit of sonship. When we cry, "Abba! Father!" [16] it is the Spirit himself bearing witness with our spirit that we are children of God, [17] and if children, then heirs, heirs of God and fellow heirs with Christ, provided we suffer with him in order that we may also be glorified with him.

Matthew 10:22 . . . he who endures to the end will be saved. (cf. 24:13; Mk 13:13)

John 16:1 I have said all this to you to keep you from falling away.

Philippians 3:11-12 that if possible I may attain the resurrection from the dead. [12] Not that I have already obtained this or am already perfect; but I press on to make it my own,  . . .

1 Corinthians 9:27  but I pommel my body and subdue it, lest after preaching to others I myself should be disqualified.

1 Corinthians 10:12 Therefore let any one who thinks that he stands take heed lest he fall.

Galatians 5:4 You are severed from Christ, you who would be justified by the law; you have fallen away from grace.

Colossians 1:22-23 he has now reconciled in his body of flesh by his death, in order to present you holy and blameless and irreproachable before him, [23] provided that you continue in the faith, stable and steadfast, not shifting from the hope of the gospel which you heard, which has been preached to every creature under heaven, . . .

1 Timothy 1:19-20 . . . By rejecting conscience, certain persons have made shipwreck of their faith, [20] among them Hymenaeus and Alexander, whom I have delivered to Satan that they may learn not to blaspheme.

1 Timothy 4:1 Now the Spirit expressly says that in later times some will depart from the faith by giving heed to deceitful spirits and doctrines of demons.

1 Timothy 5:15 For some have already strayed after Satan.

2 Timothy 2:17-18 . . . Among them are Hymenaeus and Philetus, [18] who have swerved from the truth . . .

Hebrews 3:12-14 Take care, brethren, lest there be in any of you an evil, unbelieving heart, leading you to fall away from the living God. But exhort one another every day . . . that none of you may be hardened by the deceitfulness of sin. For we share in Christ, if only we hold our first confidence firm to the end.

Hebrews 6:4-6 For it is impossible to restore again to repentance those who have once been enlightened, who have tasted the heavenly gift, and have become partakers of the Holy Spirit, and have tasted the goodness of the word of God, and the powers of the age to come, if they then commit apostasy . . .

Hebrews 10:26-29, 36, 39 For if we sin deliberately after receiving the knowledge of the truth, there no longer remains a sacrifice for sins, [27] but a fearful prospect of judgment, and a fury of fire which will consume the adversaries. [28] A man who has violated the law of Moses dies without mercy at the testimony of two or three witnesses. [29] How much worse punishment do you think will be deserved by the man who has spurned the Son of God, and profaned the blood of the covenant by which he was sanctified, and outraged the Spirit of grace? . . . [36] For you have need of endurance, so that you may do the will of God and receive what is promised. . . . [39] But we are not of those who shrink back and are destroyed, but of those who have faith and keep their souls.

2 Peter 2:15, 20-21 Forsaking the right way they have gone astray; they have followed the way of Balaam, . . . For if, after they have escaped the defilements of the world through the knowledge of our Lord and Saviour Jesus Christ, they are again entangled in them and overpowered, the last state has become worse for them than the first. For it would have been better for them never to have known the way of righteousness than after knowing it to turn back from the holy commandment delivered to them.

Revelation 2:4-5 But I have this against you, that you have abandoned the love you had at first. [5] Remember then from what you have fallen, repent and do the works you did at first. If not, I will come to you and remove your lampstand from its place, unless you repent.
Paul in his 2nd epistle to Timothy strongly implies that his salvation was conditional upon his perseverance and observance of God's laws and a steadfast faith. This in turn is a different thing from the notion of achieving salvation and eternal security in one instant:
2 Timothy 4:7-8 I have fought the good fight, I have finished the race, I have kept the faith. [8] Henceforth there is laid up for me the crown of righteousness, . . .
Paul didn't say, "I knew I was saved on such-and-such a date, because it is by faith alone and has nothing to do with works or sanctification." No! He didn't explain this as a typical evangelical Protestant like Jason would. He worked! He "fought" and "finished the race" and "kept [not just believed] the faith". These all involve time and perseverance. And as a result, he states, "Henceforth there is laid up for me the crown of righteousness."
For Paul, salvation is a "both/and" synergistic proposition, not "either/or" (God does all, man can and does do nothing to attain it). So he writes that "he is able to guard until that Day what has been entrusted to me" (2 Tim 1:12), but also writes "guard the truth that has been entrusted to you by the Holy Spirit who dwells within us" (2 Tim 1:14). God works, and so do we, enabled by His grace.
If indeed we have free will, we can choose to stop cooperating with God's grace, too. Thus, in his first epistle to Timothy, Paul referred to "some" who "will depart from the faith" (1 Tim 4:1) and "some" who "have already strayed after Satan" (1 Tim 5:15), and he names two of these: "Hymenaeus and Alexander" ("the coppersmith": 2 Tim 4:14) who "have made shipwreck of their faith" (1 Tim 1:19-20). And "Hymenaeus. . . swerved from the truth" (2 Tim 2:17-18). Two other statements of Paul in 2 Timothy imply good works as part of the conditional salvific process:
2 Timothy 2:5-6 An athlete is not crowned unless he competes according to the rules. [6] It is the hard-working farmer who ought to have the first share of the crops.

2 Timothy 2:11-12 The saying is sure: If we have died with him, we shall also live with him; [12] if we endure, we shall also reign with him;
There is no such thing as "eternal security" in either of Paul's letters to Timothy. Quite the opposite . . .
1 Peter 5:1 So I exhort the elders among you, as a fellow elder and a witness of the sufferings of Christ as well as a partaker in the glory that is to be revealed.
He writes similarly in 1:3-5 and 5:4, 10. At the moment he was that, if he was free of mortal sin. This is the Catholic understanding of moral assurance of salvation. It doesn't follow that this grace and salvation can't be lost. St. Peter clearly taught the possibility of apostasy and forsaking the faith in 2 Peter 2:15, 20-21, already cited above. Just seven verses earlier in the same book, Peter wrote:
1 Peter 4:13-14 But rejoice in so far as you share Christ's sufferings, that you may also rejoice and be glad when his glory is revealed. [14] If you are reproached for the name of Christ, you are blessed, because the spirit of glory and of God rests upon you. (cf. 5:9-10)
This echoes very similar Pauline teaching (cited above) from Romans 8:15-17 and Philippians 1:29 ("you should not only believe in him but also suffer for his sake") and 3:10 ("that I may know him . . . and may share his sufferings, becoming like him in his death"). Some amount of suffering appears to be required for ultimate salvation, and this simply isn't "faith alone." 1 Peter 4:13-14 and Romans 8:15-17 mention God's "glory" or our receiving His "spirit of glory" or being "glorified with him". Here's another similar passage (note the conditional "if"):
Romans 6:3-5 Do you not know that all of us who have been baptized into Christ Jesus were baptized into his death? [4] We were buried therefore with him by baptism into death, so that as Christ was raised from the dead by the glory of the Father, we too might walk in newness of life. [5] For if we have been united with him in a death like his, we shall certainly be united with him in a resurrection like his.
This passage specifically has to do with baptism, but it has motifs similar to Romans 8:15-17 and 1 Peter 4:13.
*
Peter refers to "newborn babes" in Christ, who "may grow up to salvation" (1 Pet 2:2). That hardly sounds like an instant salvation that can never be lost. He also teaches that humility has something to do with salvation:
1 Peter 5:6 Humble yourselves therefore under the mighty hand of God, that in due time he may exalt you.
It would seem to follow that if we don't humble ourselves, then we won't be exalted at the last judgment.
2 John 1:2-3 . . . the truth which abides in us and will be with us for ever: [3] Grace, mercy, and peace will be with us, . . .
I've already addressed St. John's theology regarding "eternal security" or the lack thereof (and Jason brings up the old chestnut 1 John 5:13 in his next comment):
"Certainty" of Eternal Life? (1 Jn 5:13 & Jn 5:24) [5-8-02]
Why did the apostles want the believers to whom they wrote to be sure of their future in Heaven (Romans 5:9, 1 Corinthians 1:8, Philippians 3:20-21, 1 Peter 1:3-5, 5:4, 1 John 5:13, 2 John 2-3)?
Romans 5:9 Since, therefore, we are now justified by his blood, much more shall we be saved by him from the wrath of God.
In Romans 8:15-17 (cited above), Paul makes salvation and glorification conditional upon our suffering with Christ (cf. Rom 5:3-5). This is reflected in the seeming conditional of Romans 5:2, in context, where Paul states that "we rejoice in our hope of sharing the glory of God." If it were already certain and irrevocable, why wouldn't Paul have, rather, written something like, "we rejoice in the fact that we have already received a certain assurance of sharing the glory of God"? In any event, a hope of something is not, strictly or logically speaking, a certainty of receiving it. Paul makes this clear elsewhere in the epistle, in conjunction with salvation:
Romans 8:24-25 For in this hope we were saved. Now hope that is seen is not hope. For who hopes for what he sees? [25] But if we hope for what we do not see, we wait for it with patience.
Thayer's Greek Lexicon defines hope (Gk., elpis, Strong's Greek word #1680) as "expectation of good, hope; and in the Christian sense, joyful and confident expectation of eternal salvation". Granted, this is not far from "certain" or "absolute" (and Catholics believe in this, in the sense of a reflective, self-examining moral assurance) but it's not quite there, so that there is still a chance of losing such salvation or the divine grace that brings it about. That salvation is a process for Paul, also, is indicated when he writes that "salvation is nearer to us now than when we first believed" (Rom 13:11). If we already possess it in absolute certainty, then it would be absurd and nonsensical to refer to it being "nearer": and nearer at a subsequent point of time after "we first believed."
Moreover, in Romans 2:6-7, Paul teaches that God "will give eternal life" based on ("according to") the "works" of "every man" and to those who earn it through "patience in well-doing." What's with all these works?! Is Paul a lousy Pelagian or something? No! He teaches grace alone for salvation, through faith, which includes within it (inseparably) good works.
1 Corinthians 1:8 who will sustain you to the end, guiltless in the day of our Lord Jesus Christ.
Yes He will. This is the only way we can be saved. But we must also cooperate. Hence, Paul writes in the same letter that even he could possibly be "disqualified" (1 Cor 9:27) and urges that "any one who thinks that he stands" should "take heed lest he fall" (1 Cor 10:12). 1 Corinthians 1:8 must be interpreted in light of that data (and much more from Paul, generally). We can decide that Paul is hopelessly self-contradictory (which runs counter to biblical inspiration and infallibility), or we can try to harmonize the two motifs in a way that is logically consistent.
*
Catholics offer a plausible Bible-soaked way to do that. Protestants offer, well (usually) a highly selective presentation of Bible passages without taking into considerations those of the other motif, like I am presently doing. But they are responsible, too, for taking all of the relevant biblical data into account, just as Catholics are. We don't ignore their verses (I am going through them systematically in this article); they mostly ignore ours that indicate a conditional and not eternally secure salvation that is gained through a grace-enabled, but difficult and lengthy cooperative process on our end.
Philippians 3:20-21 But our commonwealth is in heaven, and from it we await a Savior, the Lord Jesus Christ, [21] who will change our lowly body to be like his glorious body, . . .
8-9 verses earlier (making it in context), Paul proved that he regards this salvation as conditional: "if possible I may attain the resurrection from the dead. Not that I have already obtained this . . . I press on to make it my own" (3:11-12). Here, as always, the two strains of thought, which I would say are paradoxical — very typical of Hebraic thought — but not contradictory, must be harmonized somehow. I think we do this by asserting that a very strong, confident moral assurance is possible if we are not in mortal sin, but that absolute assurance is not (since we don't infallibly know he future), and that both are repeatedly taught in Holy Scripture.
*
Paul also writes: "Only let us hold true to what we have attained" (Phil 3:16). To me — at least prima facie — this implies either that we have to continue to perseveringly hold what we have attained, lest we possibly lose it (cf. 3:11-12) or maybe that there is more to attain than we have already attained (or both). Of course, "work out your own salvation with fear and trembling" (2:12) goes against the notion of instant salvation without process. Christians are those who are hopefully "holding fast the word of life" (2:16) and who must "stand firm . . . in the Lord" (4:1).
*
1 Peter 1:3-5 refers to "hope": which I have written about above. It and 1 Peter 5:4 must be understood in synthesis with the data from both epistles of Peter, as analyzed above.
*
Critics of eternal security argue that salvation depends on our present faith and our present behavior. Why, then, do the scriptures refer to people having salvation, or something associated with salvation, in the present because of a past faith or a past justification (Luke 7:50, Acts 19:2, Romans 5:1)? How is this possible if there isn't a moment of faith in the past that results in our future salvation?
Luke 7:50 And he said to the woman, "Your faith has saved you; go in peace."
Again, this has to be interpreted in light of other related passages. So, for example, Jesus tells the woman caught in adultery, "go, and do not sin again" (Jn 8:11), and said, "he who endures to the end will be saved" (Mt 10:22), and "If you would enter life, keep the commandments" (Mt 19:17; cf. Jn 14:15, 21; 15:14). I have
compiled fifty Bible passages
showing that works were crucially involved in the question of whether one is saved or not. Faith isn't even
mentioned
in any of them, save one.
Acts 19:2 And he said to them, "Did you receive the Holy Spirit when you believed?" . . .
These people embraced Christ and Christianity. It simply doesn't say that they were saved at one moment once and for all, and for all time. Protestant soteriology is smuggled into it, but of course that is eisegesis. Hebrews 6:4, 6 states that those who had "become partakers of the Holy Spirit" can nevertheless possibly still "commit apostasy".
Romans 5:1 Therefore, since we are justified by faith, we have peace with God through our Lord Jesus Christ.
This is what we consider to be initial justification. The text doesn't say that this means attainment of a salvation in one instant, that can never be lost. It can be lost (see all the seventeen Scriptures listed near the top).
*
Why do the scriptures say that salvation is a free gift of God's grace (Romans 3:24, 5:17, 6:23, Revelation 22:17)? If attaining salvation through works would contradict grace (Romans 4:4, 11:6), then how can maintaining salvation through works be consistent with grace?
*
In these passages the Bible is opposing the notion that we can save ourselves by our self-generated works, apart from God's grace (which is the heresy of works-salvation or Pelagianism). It's not saying that works are not part and parcel of faith and hence also salvation,
after
the initial justification. They certainly are; so says the Bible
at least fifty times.
Romans 6:22, right before on of Jason's prooftexts, refers to "sanctification and its
en
d, eternal life." That is the distinction:
1) initial justification  = monergistic with no works on our part;

2) maintenance of justification = synergistic and cooperative, and involves good works.
But in Protestant theology (very unlike Rom 6:22), sanctification has nothing directly to do with salvation. It's the category they reserve for doing good things in gratefulness to God for a supposed salvation already achieved in an instant. When men's theological systems and Holy Scripture clash, we must always choose God's revelation over man-made tradition, that is shown to be false by contradicting the Bible. Revelation 22:17 has to be harmonized with Revelation 2:4-5, which says that it's possible to fall away from the faith.
*
If some "really bad" sins cause the loss of salvation, while other sins don't, as critics of eternal security tend to believe, then why do Paul and James say that a person would have to maintain a law of works perfectly in order to be saved by it, and that any violation of any aspect of that law makes a person guilty of violating the entire law (Galatians 3:10, James 2:8-10)?
*
The Bible does
not
teach that
all sins are 
absolutely equal.
James 2:10 deals with man's inability to keep the entire Law of God: a common theme in Scripture. James accepts differences in degrees of sin and righteousness elsewhere in the same letter: "we who teach shall be judged with a greater strictness" (3:1). In 1:12, the man who endures trial will receive a "crown of life." In James 1:15 he states that "sin when it is full-grown brings forth death".
*
Therefore, there must be sins that are not full-grown and do not bring about spiritual death. James also teaches that the "prayer of a righteous man has great power in its effects" (5:16), which implies that there are relatively more righteous people, whom God honors more, by making their prayers more effective (he used the prophet Elijah as an example). If there is a lesser and greater righteousness, then there are lesser and greater sins also, because to be less righteous is to be more sinful, and vice versa.
*
Righteousness doesn't derive from the law. It comes from God and His enabling grace, not written words on a page, however good and true they are. Galatians 3:21 states "if a law had been given which could make alive, then righteousness would indeed be by the law" (cf. 2:16-17,21; 5:4-6,14,18; Rom 3:21-22; 4:13; 9:30-32). Paul writes in Romans 10:3: "For, being ignorant of the righteousness that comes from God, and seeking to establish their own, they did not submit to God's righteousness."
*
John Calvin teaches something quite different from the Bible, when he addresses James 2:10:
Even were it possible for us to perform works absolutely pure, yet one sin is sufficient to efface and extinguish all remembrance of former righteousness, as the prophet says (Ezek. 18:24). With this James agrees, . . . [cites Jas 2:10] (Institutes III, 14:10)

[cites Jas 2:10-11] Therefore, it should not seem absurd when we say that death is the just recompense of every sin, because each sin merits the just indignation and vengeance of God. (Institutes III, 18:10)
It's quite easy in context to see the error Calvin commits with regard to Ezekiel 18. The prophet is speaking generally and broadly of the sinners' life vs. the life of the redeemed, righteous man. The verse (first part) states: "But when a righteous man turns away from his righteousness and commits iniquity and does the same abominable things that the wicked man does, shall he live?"
*
Notice that the sins are plural: not one little sin that supposedly undoes everything, as in Calvin's schema. Ezekiel is teaching, in effect: "if you live in sin as the wicked and evil people do, you will [spiritually] die." This is referring to people who give themselves totally over to sin (including mortal sins). These are what separate a person from God, not one white lie or lustful thought or stealing a cookie from the cookie jar. Context makes this interpretation rather clear and obvious:
Ezekiel 18:5-13 If a man is righteous and does what is lawful and right — [6] if he does not eat upon the mountains or lift up his eyes to the idols of the house of Israel, does not defile his neighbor's wife or approach a woman in her time of impurity, [7] does not oppress any one, but restores to the debtor his pledge, commits no robbery, gives his bread to the hungry and covers the naked with a garment, [8] does not lend at interest or take any increase, withholds his hand from iniquity, executes true justice between man and man, [9] walks in my statutes, and is careful to observe my ordinances — he is righteous, he shall surely live, says the Lord GOD. [10] If he begets a son who is a robber, a shedder of blood, [11] who does none of these duties, but eats upon the mountains, defiles his neighbor's wife, [12] oppresses the poor and needy, commits robbery, does not restore the pledge, lifts up his eyes to the idols, commits abomination, [13] lends at interest, and takes increase; shall he then live? He shall not live. He has done all these abominable things; he shall surely die; his blood shall be upon himself.
The prophet continues in the same vein in 18:14-23. This is not Calvin's "one sin"; it's a host of sins, a lifestyle: a life given over to wanton wickedness and unrighteousness. Then in 18:26 he reiterates: "When a righteous man turns away from his righteousness and commits iniquity, he shall die for it; for the iniquity which he has committed he shall die." If that weren't clear enough, he refers again to "all the transgressions" (18:28, 31) and "all your transgressions" (18:30).
*
If passages like 1 Corinthians 6:9-10 and Galatians 5:19-21 are lists of sins that cause the loss of salvation, as many critics of eternal security claim, then why do we see examples in scripture of people committing those sins, yet remaining saved (1 Corinthians 3:1-3, 11:17-32)?
*
It's a matter of degree. Once again, Paul writes in the same letter that even he could possibly be "disqualified" (1 Cor 9:27) and urges that "any one who thinks that he stands" should "take heed lest he fall" (1 Cor 10:12). So Paul is not teaching in the letter that no one can ever lose salvation. These passages (and I would add three others of like nature: Eph 5:5; Rev 21:8; 22:14-15) certainly refer to a loss of salvation due to committing serious sins. By immediate and undeniable implication, there are other lesser sins that do not bring about a loss of salvation and/or grace and a right relationship with God.
*
Paul may not refer to a person who was saved and lost his salvation in this letter, but he certainly does in his epistle to the Galatians ("You are severed from Christ, you who would be justified by the law; you have fallen away from grace": 5:4), and three times in 1 Timothy and once in 2 Timothy (see citations above). He's not required to repeat every teaching of his in every letter. They are to be interpreted as a whole.
*
If salvation could be lost, it couldn't be regained (Hebrews 6:4-6).
*
That's specifically referring to the sin of apostasy.
*
How, then, were people like David and Peter saved after committing sins such as adultery and denying Christ? If such sins aren't bad enough to cause the loss of salvation, what would be?
*
1) They didn't commit apostasy, and 2) they both profoundly repented; 3) both were also chosen by God for very special tasks, and so presumably had an extra "protection." But the main difference is an absence of apostasy and deliberate rejection of God. As I have written about, Peter simply had a very short lapse of fear, during the terrible time of Jesus' passion and trial. His whole sin may have lasted all of ten minutes. Then as soon as he heard the cock crow, he wept bitterly and repented. If God can't forgive that, He wouldn't be God.
*
Why does the book of the Bible that most often refers to salvation as a gift (Romans 3:24, 5:15, 5:16, 6:23, etc.) also tell us that the gifts of God are irrevocable (Romans 11:29)?
*
They are irrevocable on God's end, but man has a free will that makes it possible for him to reject them:
1 Corinthians 2:14 The unspiritual man does not receive the gifts of the Spirit of God, for they are folly to him, and he is not able to understand them because they are spiritually discerned.

*

Matthew 23:37 "O Jerusalem, Jerusalem, killing the prophets and stoning those who are sent to you! How often would I have gathered your children together as a hen gathers her brood under her wings, and you would not!"
*
*
Or you may believe my work is worthy to support for the purpose of apologetics and evangelism in general. If so, please seriously consider a much-needed financial contribution. I'm always in need of more funds: especially 
monthly
 support. "The laborer is worthy of his wages" (1 Tim 5:18, NKJV). 1 December 2021 was my 20th anniversary as a 
full-time Catholic apologist
, and February 2022 marked the 25th anniversary of my blog.
*
*
***
*
Photo Credit: St. Paul (1482), by Bartolomeo Montegna (1450-1523) [public domain / Wikimedia Commons]
Summary: I tackle several rapid-fire supposed prooftexts for eternal security, presented by anti-Catholic evangelical apologist Jason Engwer, & show that apostasy is possible.