Finally what feels like a dry spell on festivals is coming to an end and the major Hindu festivals season will soon begin! August sees the first few well-known and widely-celebrated Hindu festivals…
Raksha Bandhan
Raksha Bandhan is on August 7th this year.
This is a day when sisters and brothers acknowledge the special relationship they share.
I made some nail wraps for this holiday: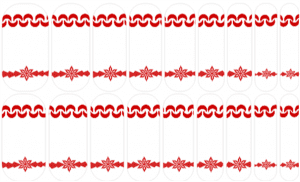 See more here: http://www.patheos.com/blogs/whitehindu/2014/08/raksha-bandhan-2014-hindu-holiday/
Krishna Janmashtami
Krishna Janmashtami is on August 14 this year.
This is the celebration of Lord Krishna's birthday. (ISKCON put on grand events for this in the U.S. I recommend seeking them out).
See more here: How to celebrate Krishna Janmashtami
Independence Day
Indian Independence Day is August 15th.
Just like our independence day, it celebrates the end of British rule in India. (Although, unlike American independence, India was already an established nation when the British came in and took over. In America we were mostly British people originally).
I made some special nail art to celebrate Indian independence day too. I hope they are not offensive. They are meant just to show off pride!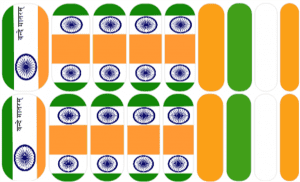 See more here: http://www.patheos.com/blogs/whitehindu/2013/08/happy-independence-day/
Ganesh Chaturthi
Ganesh Chaturthi is on August 25th – September 5th
This Hindu festival celebrates Lord Ganesha's birthday. This is a favorite of mine. I love the symbolism in creating a Ganesh statue to tell all your sorrows to and then sending him home to a river so he can carry them away.

Here is my attempt to do a Ganesh Chaturthi puja. This is from 2015
See more here: How to celebrate Ganesh Chaturthi
***
There are many more festivals and holidays and holy days in the Hindu calendar in August but these are the highlights for me and the ones I celebrate.
Find more here:
New to this blog? Check out these posts:
Why Am I Called "The White Hindu"?
New to Hinduism? Learn more here:
Hinduism 101: What Do Hindus Believe?
Your First Visit To A Hindu Temple
—-
Thank you to my wonderful Patreon supporters…
Brian Hanechak
Amit Agarwal
Don Moir
(views expressed here are mine alone and do not reflect opinions of my supporters. Links within the text may be affiliate links, meaning that if you purchase something I get a small commission for recommending it. I only recommend things I truly believe in)