Check out my latest craft project!
For a few years now I have been occasionally making ultra realistic baby dolls known as reborn dolls. A lot of people find them creepy because they are so life like. I find them delightful. I love snuggling babies and real babies are not always on hand.
Anyway, it occured to me that I could use these doll making skills to create a baby Krishna to use during Janmashtami.
I'm very pleased with how it came out! As much as I like my crocheted baby Krishna dolls, this one is something really special. These dolls require a lot in terms of both money and time to create. I'm very excited to snuggle this realistic baby Krishna!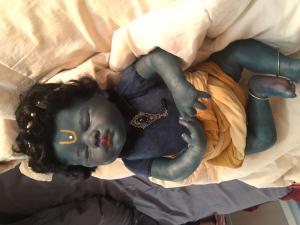 And because it was impossible for me to find any tutorials on creating blue fantasy skin on a reborn doll, I will present my own how to. This is what I did:
How To Make Blue Skin on a Fantasy Reborn Doll
I only had the basic set of colors so I mixed vein blue with "skin" color and thinner until I had a few different shades to try out. I kept putting on layers and pouncing and sometimes wiping off. It often got too gray.
So I did not bake at all until I had the full skin at the shade I wanted. Since with the blue skin I wasn't doing veins, creases, or mottling it was easy to hold off baking. One struggle was that I would do a layer and let it dry a little and as it dried it would become splotchy. This happened a lot on the limbs. But I kept putting more layers on.
Once I had the shade of blue I wanted I baked. Then I did creases of the eyes, the lips, and blushing on the cheeks, nose, palms, and bottoms of the feet (I only did a very thin layer or two of blue on the palms and bottoms of feet so they would be much paler).
After that I added the tilak mark with a different kind of paint, an acrylic paint.
The body was dyed with a RIT dye formulated for synthetic fiber. These bodies are some kind of suede. The dye made it not quite as soft, but it's not too bad.
New to this blog? Check out these posts:
Why Am I Called "The White Hindu"?
New to Hinduism? Learn more here:
Hinduism 101: What Do Hindus Believe?
Your First Visit To A Hindu Temple
—-
Thank you to my wonderful Patreon supporters…
Brian Hanechak
Amit Agarwal
Don Moir
(views expressed here are mine alone and do not reflect opinions of my supporters. Links within the text may be affiliate links, meaning that if you purchase something I get a small commission for recommending it. I only recommend things I truly believe in)