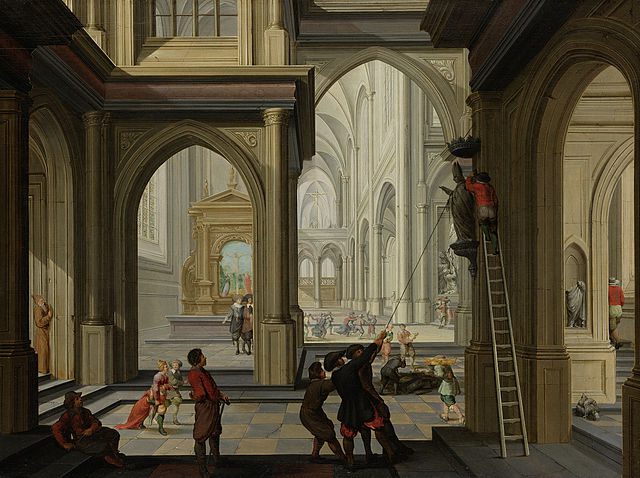 Iconoclasts in a church (1630), by Dirck van Delen (c. 1604-1671)
[public domain /
Wikimedia Commons
]
***
John 1:18 (KJV). . . the only begotten Son, which is in the bosom of the Father, he hath declared him. (RSV, NIV: "made him known")

John 12:45 And he that seeth me seeth him that sent me.

John 14:7-9 If ye had known me, ye should have known my Father also: and from henceforth ye know him, and have seen him. (8) Philip saith unto him, Lord, shew us the Father, and it sufficeth us. (9) Jesus saith unto him, have I been so long time with you, and yet hast thou not known me, Philip? he that hath seen me hath seen the Father; and how sayest thou then, Shew us the Father?

2 Corinthians 4:4 . . . Christ, who is the image of God, . . .

Colossians 1:15 . . . the image of the invisible God, the firstborn of every creature:

Hebrews 1:3 Who being the brightness of his glory, and the express image of his person, . . .

Revelation 5:6 (RSV) And between the throne and the four living creatures and among the elders, I saw a Lamb standing, as though it had been slain, . . .
John Calvin rejected all images of our Lord Jesus Christ, and especially crucifixes:
Calvin speaks the whole time about the affront to God, while very rarely mentioning images of Christ. He firmly rejects representations of Christ and the crucifix ('the devilish form of Christ'); however, he puts less emphasis on the fact that the divinity of Christ is impossible to represent and treats such images more as an assault on his 'divine majesty.' The question of incarnation as an argument does not appear in Calvin's frame of reference. For him the 'whole Christ' was contained in the Resurrection and the return to the Father, since we no longer know the corporeal Jesus and can only grasp him 'spiritually'; Calvin completely rejected the Lutheran Christ pro me, understood as an attempt to visualize the earthly Christ.

Calvin, somewhat contradictorily, allowed the keeping of holy images in private homes . . .

(Sergiusz Michalski, Reformation and the Visual Arts: The Protestant Image Question in Western and Eastern Europe, New York: Routledge, 1993 , p. 66 and p. 70)
He gave his (fallacious) reasoning in his Institutes of the Christian Religion, even going after bare crosses:
Meanwhile, seeing that this brutish stupidity has overspread the globe, men longing after visible forms of God, and so forming deities of wood and stone, silver and gold, or of any other dead and corruptible matter, we must hold it as a first principle, that as often as any form is assigned to God, his glory is corrupted by an impious lie. In the Law, accordingly, after God had claimed the glory of divinity for himself alone, when he comes to show what kind of worship he approves and rejects, he immediately adds, "Thou shalt not make unto thee any graven image, or any likeness of any thing that is in heaven above, or in the earth beneath, or in the water under the earth," (Exod. 20:4). By these words he curbs any licentious attempt we might make to represent him by a visible shape, . . . God makes no comparison between images, as if one were more, and another less befitting; he rejects, without exception, all shapes and pictures, and other symbols by which the superstitious imagine they can bring him near to them. (I, 11:1)

The Lord, however, not only forbids any image of himself to be erected by a statuary, but to be formed by any artist whatever, because every such image is sinful and insulting to his majesty. (I, 11:4)

But, I ask, whence this stupidity, but just because they are defrauded of the only doctrine which was fit to instruct them? The simple reason why those who had the charge of churches resigned the office of teaching to idols was, because they themselves were dumb. Paul declares, that by the true preaching of the gospel Christ is portrayed and in a manner crucified before our eyes (Gal. 3:1). Of what use, then, were the erection in churches of so many crosses of wood and stone, silver and gold, if this doctrine were faithfully and honestly preached—viz. Christ died that he might bear our curse upon the tree, that he might expiate our sins by the sacrifice of his body, wash them in his blood, and, in short, reconcile us to God the Father? From this one doctrine the people would learn more than from a thousand crosses of wood and stone. As for crosses of gold and silver, it may be true that the avaricious give their eyes and minds to them more eagerly than to any heavenly instructor. (I, 11:7)

We think it unlawful to give a visible shape to God, because God himself has forbidden it, and because it cannot be done without, in some degree, tarnishing his glory. (I, 11:12)
In his sermon on Deuteronomy 4:15-20, Calvin specifically rejects all images of Christ, including crucifixes:
The setting up of images in churches, is a defiling . . . By and by, folk go and kneel down to it. . . . The Papists . . . paint and portray 'Jesus Christ' – Who (as we know) is not only man but also God manifested in the flesh. He is God's eternal Son, in Whom the fullness of the Godhead dwells – yes, even substantially . . . Should we have portraitures and images, whereby only the flesh may be represented? Is it not a wiping away of that which is chiefest in our Lord Jesus Christ – that is, to wit, of His Divine Majesty? Yes!

And therefore, whensoever a crucifix stands moping and mowing in the church – it is all one as if the Devil had defaced the Son of God. You see, then, that the Papists are destitute of all excuse . . . They abuse their puppets and pictures, after that fashion.

(John Calvin, Sermons on Deuteronomy, Edinburgh: Banner of Truth, reprinted in 1987, 138a51-55 & 138b3-48; from online paper, "John Calvin — True Presbyterian, "by Francis Nigel Lee [pdf / html]; footnote 69)
Likewise, Ulrich Zwingli (1484-1531), who was a leading Protestant "reformer" in Switzerland: particularly in Zurich, held the same view.
Zwingli categorically stated that neither crucifixes nor other images of Christ should be placed in churches. . . . Christ ought not to be represented, since divinity cannot be shown. . . . He felt the weakness of this line of argument and therefore partially loosened his prohibition by allowing in private homes images depicting the humanity of Christ. . . . He was wholly unwilling to tolerate crucifixes. . . . Bullinger reiterated Zwingli's view that after the Resurrection Christ could not be corporeally depicted. . . .

Zwingli introduced a fundamental distinction between images in the home and those in churches. In homes one can keep images 'of a historical nature', and this applies also to the category of 'biblical histories.' In churches every work of art . . . becomes an idol.

(Sergiusz Michalski, Reformation and the Visual Arts: The Protestant Image Question in Western and Eastern Europe, New York: Routledge, 1993 , p. 56)
Michalski's book contains many shocking descriptions of the thousands of pathetic acts of Protestant iconoclasm, such as paintings of Mary thrown into a latrine, statues of Mary hacked to pieces, along with vulgarities I won't even mention in mixed company; crucifixes stabbed, decapitated, hanged, eyes gouged out (all in the name of the shunning of idolatry); images of St. Francis being mocked with donkey's ears or ram's horns attached to them, or hanged on a gallows; statues having animal manure or urine thrown onto them in mockery. One clueless idiot in Basle, in 1529, threw a crucifix into a fire, shouting, "If you are God, defend yourself, if you are human, bleed" (p. 78).
Heinrich Bullinger (1504-1575) was Zwingli's successor in Zurich. He fell prey to the same error:
Bullinger . . . denies that crucifixes can represent Christ's divine nature . . . He argues against the iconodulic Second Council of Nicaea (787); says that pagan and Christian idolatry are not really different . . .

(Carlos M. N. Eire, War Against the Idols: The Reformation of Worship from Erasmus to Calvin, Cambridge University Press, 1989, p. 88)
Martin Luther, at least, was blessedly free of this sort of biblically illiterate, anti-incarnational nonsense, as I have noted. Thank God that Bach was born Lutheran. In Puritan England, he would have been employed in smashing organs, rather than playing them.