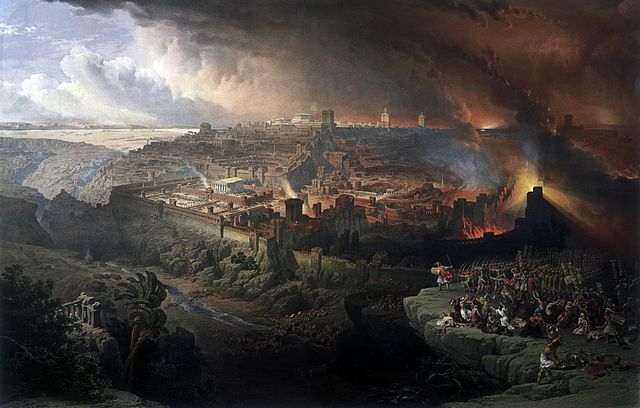 The Siege and Destruction of Jerusalem by the Romans Under the Command of Titus, A.D. 70 (1850), by David Roberts (1796-1864) [public domain / Wikimedia Commons]
***
(9-21-01)
* * * * *
See also the highly related paper, "Judgment of Nations: Biblical Commentary & Reflections"
* * *
Biblical passages (Revised Standard Version) teaching divine judgment or chastisement of nations (as opposed to individuals):
* * * * *
Leviticus 26:14-33
14 "But if you will not hearken to me, and will not do all these commandments, 15 if you spurn my statutes, and if your soul abhors my ordinances, so that you will not do all my commandments, but break my covenant, 16 I will do this to you: I will appoint over you sudden terror, consumption, and fever that waste the eyes and cause life to pine away. And you shall sow your seed in vain, for your enemies shall eat it; 17 I will set my face against you, and you shall be smitten before your enemies; those who hate you shall rule over you, and you shall flee when none pursues you. 18 And if in spite of this you will not hearken to me, then I will chastise you again sevenfold for your sins, 19 and I will break the pride of your power, and I will make your heavens like iron and your earth like brass; 20 and your strength shall be spent in vain, for your land shall not yield its increase, and the trees of the land shall not yield their fruit. 21 "Then if you walk contrary to me, and will not hearken to me, I will bring more plagues upon you, sevenfold as many as your sins. 22 And I will let loose the wild beasts among you, which shall rob you of your children, and destroy your cattle, and make you few in number, so that your ways shall become desolate. 23 "And if by this discipline you are not turned to me, but walk contrary to me, 24 then I also will walk contrary to you, and I myself will smite you sevenfold for your sins. 25 And I will bring a sword upon you, that shall execute vengeance for the covenant; and if you gather within your cities I will send pestilence among you, and you shall be delivered into the hand of the enemy. 26 When I break your staff of bread, ten women shall bake your bread in one oven, and shall deliver your bread again by weight; and you shall eat, and not be satisfied. 27 "And if in spite of this you will not hearken to me, but walk contrary to me, 28 then I will walk contrary to you in fury, and chastise you myself sevenfold for your sins. 29 You shall eat the flesh of your sons, and you shall eat the flesh of your daughters. 30 And I will destroy your high places, and cut down your incense altars, and cast your dead bodies upon the dead bodies of your idols; and my soul will abhor you. 31 And I will lay your cities waste, and will make your sanctuaries desolate, and I will not smell your pleasing odors. 32 And I will devastate the land, so that your enemies who settle in it shall be astonished at it. 33 And I will scatter you among the nations, and I will unsheathe the sword after you; and your land shall be a desolation, and your cities shall be a waste.
Deuteronomy 32:15-43
15 "But Jesh'urun waxed fat, and kicked; you waxed fat, you grew thick, you became sleek; then he forsook God who made him, and scoffed at the Rock of his salvation. 16 They stirred him to jealousy with strange gods; with abominable practices they provoked him to anger. 17 They sacrificed to demons which were no gods, to gods they had never known, to new gods that had come in of late, whom your fathers had never dreaded. 18 You were unmindful of the Rock that begot you, and you forgot the God who gave you birth. 19 "The LORD saw it, and spurned them, because of the provocation of his sons and his daughters. 20 And he said, 'I will hide my face from them, I will see what their end will be, for they are a perverse generation, children in whom is no faithfulness. 21 They have stirred me to jealousy with what is no god; they have provoked me with their idols. So I will stir them to jealousy with those who are no people; I will provoke them with a foolish nation. 22 For a fire is kindled by my anger, and it burns to the depths of Sheol, devours the earth and its increase, and sets on fire the foundations of the mountains. 23 "'And I will heap evils upon them; I will spend my arrows upon them; 24 they shall be wasted with hunger, and devoured with burning heat and poisonous pestilence; and I will send the teeth of beasts against them, with venom of crawling things of the dust. 25 In the open the sword shall bereave, and in the chambers shall be terror, destroying both young man and virgin, the sucking child with the man of gray hairs. 26 I would have said, "I will scatter them afar, I will make the remembrance of them cease from among men," 27 had I not feared provocation by the enemy, lest their adversaries should judge amiss, lest they should say, "Our hand is triumphant, the LORD has not wrought all this."' 28 "For they are a nation void of counsel, and there is no understanding in them. 29 If they were wise, they would understand this, they would discern their latter end! 30 How should one chase a thousand, and two put ten thousand to flight, unless their Rock had sold them, and the LORD had given them up? 31 For their rock is not as our Rock, even our enemies themselves being judges. 32 For their vine comes from the vine of Sodom, and from the fields of Gomor'rah; their grapes are grapes of poison, their clusters are bitter; 33 their wine is the poison of serpents, and the cruel venom of asps. 34 "Is not this laid up in store with me, sealed up in my treasuries? 35 Vengeance is mine, and recompense, for the time when their foot shall slip; for the day of their calamity is at hand, and their doom comes swiftly. 36 For the LORD will vindicate his people and have compassion on his servants, when he sees that their power is gone, and there is none remaining, bond or free. 37 Then he will say, 'Where are their gods, the rock in which they took refuge, 38 who ate the fat of their sacrifices, and drank the wine of their drink offering? Let them rise up and help you, let them be your protection! 39 "'See now that I, even I, am he, and there is no god beside me; I kill and I make alive; I wound and I heal; and there is none that can deliver out of my hand. 40 For I lift up my hand to heaven, and swear, As I live for ever, 41 if I whet my glittering sword, and my hand takes hold on judgment, I will take vengeance on my adversaries, and will requite those who hate me. 42 I will make my arrows drunk with blood, and my sword shall devour flesh–with the blood of the slain and the captives, from the long-haired heads of the enemy.' 43 "Praise his people, O you nations; for he avenges the blood of his servants, and takes vengeance on his adversaries, and makes expiation for the land of his people."
2 Kings 17:22-23 The people of Israel walked in all the sins which Jerobo'am did; they did not depart from them, 23 until the LORD removed Israel out of his sight, as he had spoken by all his servants the prophets. So Israel was exiled from their own land to Assyria until this day.
Nehemiah 9:26-36
26 "Nevertheless they were disobedient and rebelled against thee and cast thy law behind their back and killed thy prophets, who had warned them in order to turn them back to thee, and they committed great blasphemies. 27 Therefore thou didst give them into the hand of their enemies, who made them suffer; and in the time of their suffering they cried to thee and thou didst hear them from heaven; and according to thy great mercies thou didst give them saviors who saved them from the hand of their enemies. 28 But after they had rest they did evil again before thee, and thou didst abandon them to the hand of their enemies, so that they had dominion over them; yet when they turned and cried to thee thou didst hear from heaven, and many times thou didst deliver them according to thy mercies. 29 And thou didst warn them in order to turn them back to thy law. Yet they acted presumptuously and did not obey thy commandments, but sinned against thy ordinances, by the observance of which a man shall live, and turned a stubborn shoulder and stiffened their neck and would not obey. 30 Many years thou didst bear with them, and didst warn them by thy Spirit through thy prophets; yet they would not give ear. Therefore thou didst give them into the hand of the peoples of the lands. 31 Nevertheless in thy great mercies thou didst not make an end of them or forsake them; for thou art a gracious and merciful God. 32 "Now therefore, our God, the great and mighty and terrible God, who keepest covenant and steadfast love, let not all the hardship seem little to thee that has come upon us, upon our kings, our princes, our priests, our prophets, our fathers, and all thy people, since the time of the kings of Assyria until this day. 33 Yet thou hast been just in all that has come upon us, for thou hast dealt faithfully and we have acted wickedly; 34 our kings, our princes, our priests, and our fathers have not kept thy law or heeded thy commandments and thy warnings which thou didst give them. 35 They did not serve thee in their kingdom, and in thy great goodness which thou gavest them, and in the large and rich land which thou didst set before them; and they did not turn from their wicked works. 36 Behold, we are slaves this day; in the land that thou gavest to our fathers to enjoy its fruit and its good gifts, behold, we are slaves.
Isaiah 19:4 and I will give over the Egyptians into the hand of a hard master; and a fierce king will rule over them, says the Lord, the LORD of hosts.
Isaiah 59:3-18
3 For your hands are defiled with blood and your fingers with iniquity; your lips have spoken lies, your tongue mutters wickedness. 4 No one enters suit justly, no one goes to law honestly; they rely on empty pleas, they speak lies, they conceive mischief and bring forth iniquity. 5 They hatch adders' eggs, they weave the spider's web; he who eats their eggs dies, and from one which is crushed a viper is hatched. 6 Their webs will not serve as clothing; men will not cover themselves with what they make. Their works are works of iniquity, and deeds of violence are in their hands. 7 Their feet run to evil, and they make haste to shed innocent blood; their thoughts are thoughts of iniquity, desolation and destruction are in their highways. 8 The way of peace they know not, and there is no justice in their paths; they have made their roads crooked, no one who goes in them knows peace. 9 Therefore justice is far from us, and righteousness does not overtake us; we look for light, and behold, darkness, and for brightness, but we walk in gloom. 10 We grope for the wall like the blind, we grope like those who have no eyes; we stumble at noon as in the twilight, among those in full vigor we are like dead men. 11 We all growl like bears, we moan and moan like doves; we look for justice, but there is none; for salvation, but it is far from us. 12 For our transgressions are multiplied before thee, and our sins testify against us; for our transgressions are with us, and we know our iniquities: 13 transgressing, and denying the LORD, and turning away from following our God, speaking oppression and revolt, conceiving and uttering from the heart lying words. 14 Justice is turned back, and righteousness stands afar off; for truth has fallen in the public squares, and uprightness cannot enter. 15 Truth is lacking, and he who departs from evil makes himself a prey. The LORD saw it, and it displeased him that there was no justice. 16 He saw that there was no man, and wondered that there was no one to intervene; then his own arm brought him victory, and his righteousness upheld him. 17 He put on righteousness as a breastplate, and a helmet of salvation upon his head; he put on garments of vengeance for clothing, and wrapped himself in fury as a mantle. 18 According to their deeds, so will he repay, wrath to his adversaries, requital to his enemies; to the coastlands he will render requital.
Jeremiah 5:1-31 (all)
1 Run to and fro through the streets of Jerusalem, look and take note! Search her squares to see if you can find a man, one who does justice and seeks truth; that I may pardon her. 2 Though they say, "As the LORD lives," yet they swear falsely. 3 O LORD, do not thy eyes look for truth? Thou hast smitten them, but they felt no anguish; thou hast consumed them, but they refused to take correction. They have made their faces harder than rock; they have refused to repent. 4 Then I said, "These are only the poor, they have no sense; for they do not know the way of the LORD, the law of their God. 5 I will go to the great, and will speak to them; for they know the way of the LORD, the law of their God." But they all alike had broken the yoke, they had burst the bonds. 6 Therefore a lion from the forest shall slay them, a wolf from the desert shall destroy them. A leopard is watching against their cities, every one who goes out of them shall be torn in pieces; because their transgressions are many, their apostasies are great. 7 "How can I pardon you? Your children have forsaken me, and have sworn by those who are no gods. When I fed them to the full, they committed adultery and trooped to the houses of harlots. 8 They were well-fed lusty stallions, each neighing for his neighbor's wife. 9 Shall I not punish them for these things? says the LORD; and shall I not avenge myself on a nation such as this? 10 "Go up through her vine-rows and destroy, but make not a full end; strip away her branches, for they are not the LORD's. 11 For the house of Israel and the house of Judah have been utterly faithless to me, says the LORD. 12 They have spoken falsely of the LORD, and have said, 'He will do nothing; no evil will come upon us, nor shall we see sword or famine. 13 The prophets will become wind; the word is not in them. Thus shall it be done to them!'" 14 Therefore thus says the LORD, the God of hosts: "Because they have spoken this word, behold, I am making my words in your mouth a fire, and this people wood, and the fire shall devour them. 15 Behold, I am bringing upon you a nation from afar, O house of Israel, says the LORD. It is an enduring nation, it is an ancient nation, a nation whose language you do not know, nor can you understand what they say. 16 Their quiver is like an open tomb, they are all mighty men. 17 They shall eat up your harvest and your food; they shall eat up your sons and your daughters; they shall eat up your flocks and your herds; they shall eat up your vines and your fig trees; your fortified cities in which you trust they shall destroy with the sword." 18 "But even in those days, says the LORD, I will not make a full end of you. 19 And when your people say, 'Why has the LORD our God done all these things to us?' you shall say to them, 'As you have forsaken me and served foreign gods in your land, so you shall serve strangers in a land that is not yours.'" 20 Declare this in the house of Jacob, proclaim it in Judah: 21 "Hear this, O foolish and senseless people, who have eyes, but see not, who have ears, but hear not. 22 Do you not fear me? says the LORD; Do you not tremble before me? I placed the sand as the bound for the sea, a perpetual barrier which it cannot pass; though the waves toss, they cannot prevail, though they roar, they cannot pass over it. 23 But this people has a stubborn and rebellious heart; they have turned aside and gone away. 24 They do not say in their hearts, 'Let us fear the LORD our God, who gives the rain in its season, the autumn rain and the spring rain, and keeps for us the weeks appointed for the harvest.' 25 Your iniquities have turned these away, and your sins have kept good from you. 26 For wicked men are found among my people; they lurk like fowlers lying in wait. They set a trap; they catch men. 27 Like a basket full of birds, their houses are full of treachery; therefore they have become great and rich, 28 they have grown fat and sleek. They know no bounds in deeds of wickedness; they judge not with justice the cause of the fatherless, to make it prosper, and they do not defend the rights of the needy. 29 Shall I not punish them for these things? says the LORD, and shall I not avenge myself on a nation such as this?" 30 An appalling and horrible thing has happened in the land: 31 the prophets prophesy falsely, and the priests rule at their direction; my people love to have it so, but what will you do when the end comes?
Jeremiah 12:17 But if any nation will not listen, then I will utterly pluck it up and destroy it, says the LORD."
Jeremiah 18:5-11
5 Then the word of the LORD came to me: 6 "O house of Israel, can I not do with you as this potter has done? says the LORD. Behold, like the clay in the potter's hand, so are you in my hand, O house of Israel. 7 If at any time I declare concerning a nation or a kingdom, that I will pluck up and break down and destroy it, 8 and if that nation, concerning which I have spoken, turns from its evil, I will repent of the evil that I intended to do to it. 9 And if at any time I declare concerning a nation or a kingdom that I will build and plant it, 10 and if it does evil in my sight, not listening to my voice, then I will repent of the good which I had intended to do to it. 11 Now, therefore, say to the men of Judah and the inhabitants of Jerusalem: 'Thus says the LORD, Behold, I am shaping evil against you and devising a plan against you. Return, every one from his evil way, and amend your ways and your doings.'
Jeremiah 25:8-16
8 "Therefore thus says the LORD of hosts: Because you have not obeyed my words, 9 behold, I will send for all the tribes of the north, says the LORD, and for Nebuchadrez'zar the king of Babylon, my servant, and I will bring them against this land and its inhabitants, and against all these nations round about; I will utterly destroy them, and make them a horror, a hissing, and an everlasting reproach. 10 Moreover, I will banish from them the voice of mirth and the voice of gladness, the voice of the bridegroom and the voice of the bride, the grinding of the millstones and the light of the lamp. 11 This whole land shall become a ruin and a waste, and these nations shall serve the king of Babylon seventy years. 12 Then after seventy years are completed, I will punish the king of Babylon and that nation, the land of the Chalde'ans, for their iniquity, says the LORD, making the land an everlasting waste. 13 I will bring upon that land all the words which I have uttered against it, everything written in this book, which Jeremiah prophesied against all the nations. 14 For many nations and great kings shall make slaves even of them; and I will recompense them according to their deeds and the work of their hands." 15 Thus the LORD, the God of Israel, said to me: "Take from my hand this cup of the wine of wrath, and make all the nations to whom I send you drink it. 16 They shall drink and stagger and be crazed because of the sword which I am sending among them."
Jeremiah 50:25-46
25 The LORD has opened his armory, and brought out the weapons of his wrath, for the Lord GOD of hosts has a work to do in the land of the Chalde'ans. 26 Come against her from every quarter; open her granaries; pile her up like heaps of grain, and destroy her utterly; let nothing be left of her. 27 Slay all her bulls, let them go down to the slaughter. Woe to them, for their day has come, the time of their punishment. 28 "Hark! they flee and escape from the land of Babylon, to declare in Zion the vengeance of the LORD our God, vengeance for his temple. 29 "Summon archers against Babylon, all those who bend the bow. Encamp round about her; let no one escape. Requite her according to her deeds, do to her according to all that she has done; for she has proudly defied the LORD, the Holy One of Israel. 30 Therefore her young men shall fall in her squares, and all her soldiers shall be destroyed on that day, says the LORD. 31 "Behold, I am against you, O proud one, says the Lord GOD of hosts; for your day has come, the time when I will punish you. 32 The proud one shall stumble and fall, with none to raise him up, and I will kindle a fire in his cities, and it will devour all that is round about him. 33 "Thus says the LORD of hosts: The people of Israel are oppressed, and the people of Judah with them; all who took them captive have held them fast, they refuse to let them go. 34 Their Redeemer is strong; the LORD of hosts is his name. He will surely plead their cause,
that he may give rest to the earth, but unrest to the inhabitants of Babylon. 35 "A sword upon the Chalde'ans, says the LORD, and upon the inhabitants of Babylon, and upon her princes and her wise men! 36 A sword upon the diviners, that they may become fools! A sword upon her warriors, that they may be destroyed! 37 A sword upon her horses and upon her chariots, and upon all the foreign troops in her midst, that they may become women! A sword upon all her treasures, that they may be plundered! 38 A drought upon her waters, that they may be dried up! For it is a land of images, and they are mad over idols. 39 "Therefore wild beasts shall dwell with hyenas in Babylon, and ostriches shall dwell in her; she shall be peopled no more for ever, nor inhabited for all generations. 40 As when God overthrew Sodom and Gomor'rah and their neighbor cities, says the LORD, so no man shall dwell there, and no son of man shall sojourn in her. 41 "Behold, a people comes from the north; a mighty nation and many kings are stirring from the farthest parts of the earth. 42 They lay hold of bow and spear; they are cruel, and have no mercy. The sound of them is like the roaring of the sea; they ride upon horses, arrayed as a man for battle against you, O daughter of Babylon! 43 "The king of Babylon heard the report of them, and his hands fell helpless; anguish seized him,pain as of a woman in travail. 44 "Behold, like a lion coming up from the jungle of the Jordan against a strong sheepfold, I will suddenly make them run away from her; and I will appoint over her whomever I choose. For who is like me? Who will summon me? What shepherd can stand before me? 45 Therefore hear the plan which the LORD has made against Babylon, and the purposes which he has formed against the land of the Chalde'ans: Surely the little ones of their flock shall be dragged away; surely their fold shall be appalled at their fate. 46 At the sound of the capture of Babylon the earth shall tremble, and her cry shall be heard among the nations."
Lamentations 1:14-18
14 "My transgressions were bound into a yoke; by his hand they were fastened together; they were set upon my neck; he caused my strength to fail; the Lord gave me into the hands of those whom I cannot withstand. 15 "The LORD flouted all my mighty men in the midst of me; he summoned an assembly against me to crush my young men; the Lord has trodden as in a wine press the virgin daughter of Judah. 16 "For these things I weep; my eyes flow with tears; for a comforter is far from me, one to revive my courage; my children are desolate, for the enemy has prevailed." 17 Zion stretches out her hands, but there is none to comfort her; the LORD has commanded against Jacob that his neighbors should be his foes; Jerusalem has become a filthy thing among them. 18 "The LORD is in the right, for I have rebelled against his word; but hear, all you peoples, and behold my suffering; my maidens and my young men have gone into captivity.
Ezekiel 7:1-16, 22-27
1 The word of the LORD came to me: 2 "And you, O son of man, thus says the Lord GOD to the land of Israel: An end! The end has come upon the four corners of the land. 3 Now the end is upon you, and I will let loose my anger upon you, and will judge you according to your ways; and I will punish you for all your abominations. 4 And my eye will not spare you, nor will I have pity; but I will punish you for your ways, while your abominations are in your midst. Then you will know that I am the LORD. 5 "Thus says the Lord GOD: Disaster after disaster! Behold, it comes. 6 An end has come, the end has come; it has awakened against you. Behold, it comes. 7 Your doom has come to you, O inhabitant of the land; the time has come, the day is near, a day of tumult, and not of joyful shouting upon the mountains. 8 Now I will soon pour out my wrath upon you, and spend my anger against you, and judge you according to your ways; and I will punish you for all your abominations. 9 And my eye will not spare, nor will I have pity; I will punish you according to your ways, while your abominations are in your midst. Then you will know that I am the LORD, who smite. 10 "Behold, the day! Behold, it comes! Your doom has come, injustice has blossomed, pride has budded. 11 Violence has grown up into a rod of wickedness; none of them shall remain, nor their abundance, nor their wealth; neither shall there be preeminence among them. 12 The time has come, the day draws near. Let not the buyer rejoice, nor the seller mourn, for wrath is upon all their multitude. 13 For the seller shall not return to what he has sold, while they live. For wrath is upon all their multitude; it shall not turn back; and because of his iniquity, none can maintain his life. 14 "They have blown the trumpet and made all ready; but none goes to battle, for my wrath is upon all their multitude. 15 The sword is without, pestilence and famine are within; he that is in the field dies by the sword; and him that is in the city famine and pestilence devour. 16 And if any survivors escape, they will be on the mountains, like doves of the valleys, all of them moaning, every one over his iniquity . . . 22 I will turn my face from them, that they may profane my precious place; robbers shall enter and profane it, 23 and make a desolation. "Because the land is full of bloody crimes and the city is full of violence, 24 I will bring the worst of the nations to take possession of their houses; I will put an end to their proud might, and their holy places shall be profaned. 25 When anguish comes, they will seek peace, but there shall be none. 26 Disaster comes upon disaster, rumor follows rumor; they seek a vision from the prophet, but the law perishes from the priest, and counsel from the elders. 27 The king mourns, the prince is wrapped in despair, and the hands of the people of the land are palsied by terror. According to their way I will do to them, and according to their own judgments I will judge them; and they shall know that I am the LORD."
Ezekiel 14:19 Or if I send a pestilence into that land, and pour out my wrath upon it with blood, to cut off from it man and beast;
Ezekiel 18:29-32
29 Yet the house of Israel says, 'The way of the Lord is not just.' O house of Israel, are my ways not just? Is it not your ways that are not just? 30 "Therefore I will judge you, O house of Israel, every one according to his ways, says the Lord GOD. Repent and turn from all your transgressions, lest iniquity be your ruin. 31 Cast away from you all the transgressions which you have committed against me, and get yourselves a new heart and a new spirit! Why will you die, O house of Israel? 32 For I have no pleasure in the death of any one, says the Lord GOD; so turn, and live."
Ezekiel 23:22-31
22 Therefore, O Ohol'ibah, thus says the Lord GOD: "Behold, I will rouse against you your lovers from whom you turned in disgust, and I will bring them against you from every side: 23 the Babylonians and all the Chalde'ans, Pekod and Sho'a and Ko'a, and all the Assyrians with them, desirable young men, governors and commanders all of them, officers and warriors, all of them riding on horses. 24 And they shall come against you from the north with chariots and wagons and a host of peoples; they shall set themselves against you on every side with buckler, shield, and helmet, and I will commit the judgment to them, and they shall judge you according to their judgments. 25 And I will direct my indignation against you, that they may deal with you in fury. They shall cutoff your nose and your ears, and your survivors shall fall by the sword. They shall seize your sons and your daughters, and your survivors shall be devoured by fire. 26 They shall also strip you of your clothes and take away your fine jewels. 27 Thus I will put an end to your lewdness and your harlotry brought from the land of Egypt; so that you shall not lift up your eyes to the Egyptians or remember them any more. 28 For thus says the Lord GOD: Behold, I will deliver you into the hands of those whom you hate, into the hands of those from whom you turned in disgust; 29 and they shall deal with you in hatred, and take away all the fruit of your labor, and leave you naked and bare, and the nakedness of your harlotry shall be uncovered. Your lewdness and your harlotry 30 have brought this upon you, because you played the harlot with the nations, and polluted yourself with their idols. 31 You have gone the way of your sister; therefore I will give her cup into your hand.
Ezekiel 24:13-14, 20-21
13 . . . Because I would have cleansed you and you were not cleansed from your filthiness, you shall not be cleansed any more till I have satisfied my fury upon you. 14 I the LORD have spoken; it shall come to pass, I will do it; I will not go back, I will not spare, I will not repent; according to your ways and your doings I will judge you, says the Lord GOD." 20 Then I said to them, "The word of the LORD came to me: 21 'Say to the house of Israel, Thus says the Lord GOD: Behold, I will profane my sanctuary, the pride of your power, the delight of your eyes, and the desire of your soul; and your sons and your daughters whom you left behind shall fall by the sword.
Ezekiel 28:15-23
15 You were blameless in your ways from the day you were created, till iniquity was found in you. 16 In the abundance of your trade you were filled with violence, and you sinned; so I cast you as a profane thing from the mountain of God, and the guardian cherub drove you out from the midst of the stones of fire. 17 Your heart was proud because of your beauty; you corrupted your wisdom for the sake of your splendor. I cast you to the ground; I exposed you before kings, to feast their eyes on you. 18 By the multitude of your iniquities, in the unrighteousness of your trade you profaned your sanctuaries; so I brought forth fire from the midst of you; it consumed you, and I turned you to ashes upon the earth in the sight of all who saw you. 19 All who know you among the peoples are appalled at you; you have come to a dreadful end and shall be no more for ever." 20 The word of the LORD came to me: 21 "Son of man, set your face toward Sidon, and prophesy against her 22 and say, Thus says the Lord GOD: "Behold, I am against you, O Sidon, and I will manifest my glory in the midst of you. And they shall know that I am the LORD when I execute judgments in her, and manifest my holiness in her; 23 for I will send pestilence into her, and blood into her streets; and the slain shall fall in the midst of her, by the sword that is against her on every side. Then they will know that I am the LORD.
Ezekiel 33:29 Then they will know that I am the LORD, when I have made the land a desolation and a waste because of all their abominations which they have committed.
Ezekiel 36:17-18 "Son of man, when the house of Israel dwelt in their own land, they defiled it by their ways and their doings; their conduct before me was like the uncleanness of a woman in her impurity. 18 So I poured out my wrath upon them for the blood which they had shed in the land, for the idols with which they had defiled it.
Ezekiel 39:21-24
21 "And I will set my glory among the nations; and all the nations shall see my judgment which I have executed, and my hand which I have laid on them. 22 The house of Israel shall know that I am the LORD their God, from that day forward. 23 And the nations shall know that the house of Israel went into captivity for their iniquity, because they dealt so treacherously with me that I hid my face from them and gave them into the hand of their adversaries, and they all fell by the sword. 24 I dealt with them according to their uncleanness and their transgressions, and hid my face from them.
Daniel 9:9-14
9 To the Lord our God belong mercy and forgiveness; because we have rebelled against him, 10 and have not obeyed the voice of the LORD our God by following his laws, which he set before us by his servants the prophets. 11 All Israel has transgressed thy law and turned aside, refusing to obey thy voice. And the curse and oath which are written in the law of Moses the servant of God have been poured out upon us, because we have sinned against him. 12 He has confirmed his words, which he spoke against us and against our rulers who ruled us, by bringing upon us a great calamity; for under the whole heaven there has not been done the like of what has been done against Jerusalem. 13 As it is written in the law of Moses, all this calamity has come upon us, yet we have not entreated the favor of the LORD our God, turning from our iniquities and giving heed to thy truth. 14 Therefore the LORD has kept ready the calamity and has brought it upon us; for the LORD our God is righteous in all the works which he has done, and we have not obeyed his voice.
Hosea 4:1-2, 6-10
1 Hear the word of the LORD, O people of Israel; for the LORD has a controversy with the inhabitants of the land. There is no faithfulness or kindness, and no knowledge of God in the land; 2 there is swearing, lying, killing, stealing, and committing adultery; they break all bounds and murder follows murder . . . 6 My people are destroyed for lack of knowledge; because you have rejected knowledge, I reject you from being a priest to me. And since you have forgotten the law of your God, I also will forget your children. 7 The more they increased, the more they sinned against me; I will change their glory into shame. 8 They feed on the sin of my people; they are greedy for their iniquity. 9 And it shall be like people, like priest; I will punish them for their ways, and requite them for their deeds. 10 They shall eat, but not be satisfied; they shall play the harlot, but not multiply; because they have forsaken the LORD to cherish harlotry.
Amos 2:4-5 Thus says the LORD: "For three transgressions of Judah, and for four, I will not revoke the punishment; because they have rejected the law of the LORD, and have not kept his statutes, but their lies have led them astray, after which their fathers walked. 5 So I will send a fire upon Judah, and it shall devour the strongholds of Jerusalem."
Micah 6:13 Therefore I have begun to smite you, making you desolate because of your sins.
Matthew 23:29-38
29 "Woe to you, scribes and Pharisees, hypocrites! for you build the tombs of the prophets and adorn the monuments of the righteous, 30 saying, 'If we had lived in the days of our fathers, we would not have taken part with them in shedding the blood of the prophets.' 31 Thus you witness against yourselves, that you are sons of those who murdered the prophets. 32 Fill up, then, the measure of your fathers. 33 You serpents, you brood of vipers, how are you to escape being sentenced to hell? 34 Therefore I send you prophets and wise men and scribes, some of whom you will kill and crucify, and some you will scourge in your synagogues and persecute from town to town, 35 that upon you may come all the righteous blood shed on earth, from the blood of innocent Abel to the blood of Zechari'ah the son of Barachi'ah, whom you murdered between the sanctuary and the altar. 36 Truly, I say to you, all this will come upon this generation. 37 "O Jerusalem, Jerusalem, killing the prophets and stoning those who are sent to you! How often would I have gathered your children together as a hen gathers her brood under her wings, and you would not! 38 Behold, your house is forsaken and desolate.
Luke 10:13-15
13 "Woe to you, Chora'zin! woe to you, Beth-sa'ida! for if the mighty works done in you had been done in Tyre and Sidon, they would have repented long ago, sitting in sackcloth and ashes. 14 But it shall be more tolerable in the judgment for Tyre and Sidon than for you. 15 And you, Caper'na-um, will you be exalted to heaven? You shall be brought down to Hades.
Luke 19:41-46
41 And when he drew near and saw the city he wept over it, 42 saying, "Would that even today you knew the things that make for peace! But now they are hid from your eyes. 43 For the days shall come upon you, when your enemies will cast up a bank about you and surround you, and hem you in on every side, 44 and dash you to the ground, you and your children within you, and they will not leave one stone upon another in you; because you did not know the time of your visitation." 45 And he entered the temple and began to drive out those who sold, 46 saying to them, "It is written, 'My house shall be a house of prayer'; but you have made it a den of robbers."
Acts 7:6-7 And God spoke to this effect, that his posterity would be aliens in a land belonging to others, who would enslave them and ill-treat them four hundred years. 7 'But I will judge the nation which they serve,' said God, 'and after that they shall come out and worship me in this place.'
Revelation 18:4-10
4 Then I heard another voice from heaven saying, "Come out of her, my people, lest you take part in her sins, lest you share in her plagues; 5 for her sins are heaped high as heaven, and God has remembered her iniquities. 6 Render to her as she herself has rendered, and repay her double for her deeds; mix a double draught for her in the cup she mixed. 7 As she glorified herself and played the wanton, so give her a like measure of torment and mourning. Since in her heart she says, 'A queen I sit, I am no widow, mourning I shall never see,' 8 so shall her plagues come in a single day, pestilence and mourning and famine, and she shall be burned with fire; for mighty is the Lord God who judges her." 9 And the kings of the earth, who committed fornication and were wanton with her, will weep and wail over her when they see the smoke of her burning; 10 they will stand far off, in fear of her torment, and say, "Alas! alas! thou great city, thou mighty city, Babylon! In one hour has thy judgment come."
Related reading:
Is America Arguably the Wickedest Nation of All Time? [9-21-01]
Judgment of Nations: Biblical Commentary & Reflections [9-21-01]
Reflections on the Catholic Viewpoint on Original Sin and God's Prerogative to Judge and Take Human Life as He Wills (Even, Sometimes, Entire Nations) [Facebook, 2-16-07]
"How Can God Order the Massacre of Innocents?" (Amalekites, etc.) [11-10-07]
Did Moses (& God) Sin by Judging the Midianites? [5-21-08]
Could Actual Persecution (to the Death) Against Christians Break Out (in 30, 40 Years) in the US? [Facebook, 8-29-13]
Israel as God's Chosen Agent of Wrath and Judgment [9-28-14]
Are Coercion & Persecution Coming Soon for Catholics? [9-2-15]
Christian Civilization Self-Demolition [8-5-16]
The Singular Wickedness of America & Possible Coming Judgment [9-4-17]
* * *