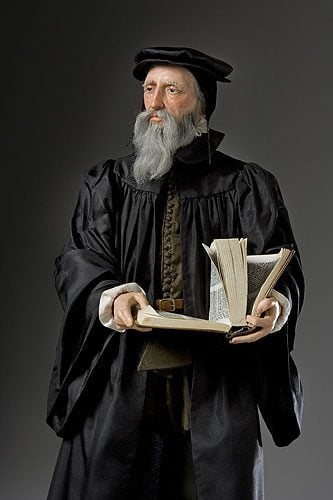 This is an installment of a series of replies (see the Introduction and Master List) to much of Book IV (Of the Holy Catholic Church) of Institutes of the Christian Religion, by early Protestant leader John Calvin (1509-1564). I utilize the public domain translation of Henry Beveridge, dated 1845, from the 1559 edition in Latin; available online. Calvin's words will be in blue. All biblical citations (in my portions) will be from RSV unless otherwise noted.
Related reading from yours truly:
Biblical Catholic Answers for John Calvin (2010 book: 388 pages)
A Biblical Critique of Calvinism (2012 book: 178 pages)
Biblical Catholic Salvation: "Faith Working Through Love" (2010 book: 187 pages; includes biblical critiques of all five points of "TULIP")
*****
IV, 14:10-11
***
Book IV
*
10. Objections answered. Illustrated by a simile.
In this way, also, we dispose of certain objections by which some anxious minds are annoyed. If we ascribe either an increase or confirmation of faith to creatures, injustice is done to the Spirit of God, who alone ought to be regarded as its author. But we do not rob him of the merit of confirming and increasing faith; nay, rather, we maintain that that which confirms and increases faith, is nothing else than the preparing of our minds by his internal illumination to receive that confirmation which is set forth by the sacraments. But if the subject is still obscure, it will be made plain by the following similitude: Were you to begin to persuade a person by word to do something, you would think of all the arguments by which he may be brought over to your view, and in a manner compelled to serve your purpose. But nothing is gained if the individual himself possess not a clear and acute judgment, by which he may be able to weigh the value of your arguments; if, moreover, he is not of a docile disposition, and ready to listen to doctrine; if, in fine, he has no such idea of your faith and prudence as in a manner to prejudice him in your favour, and secure his assent. For there are many obstinate spirits who are not to be bent by any arguments; and where faith is suspected, or authority contemned, little progress is made even with the docile. On the other hand, when opposite feelings exist, the result will be, that the person whose interests you are consulting will acquiesce in the very counsels which he would otherwise have derided. The same work is performed in us by the Spirit. That the word may not fall upon our ear, or the sacraments be presented to our eye in vain, he shows that it is God who there speaks to us, softens our obdurate hearts, and frames them to the obedience which is due to his word; in short, transmits those external words and sacraments from the ear to the soul. Both word and sacraments, therefore, confirm our faith, bringing under view the kind intentions of our heavenly Father, in the knowledge of which the whole assurance of our faith depends, and by which its strength is increased; and the Spirit also confirms our faith when, by engraving that assurance on our minds, he renders it effectual. Meanwhile, it is easy for the Father of lights, in like manner as he illumines the bodily eye by the rays of the sun, to illumine our minds by the sacraments, as by a kind of intermediate brightness.
An increase of faith can be ascribed to creatures as long as we don't deny that God is the ultimate cause of this. Calvin's "either/or" mentality doesn't allow him to be able to ascribe anything to human beings: not even, apparently, a cooperative effort initiated (yes indeed), by God, but still given assent to by the creature. Scripture is clear in many ways about our participation in the entire process.
This is evident, for example, in the supreme emphasis on works and what we do, in biblical passages having to do with Judgment Day. It's apparent again in many passages asserting the existence of our own work even with regard to salvation:
Acts 2:40-41 And he testified with many other words and exhorted them, saying, "Save yourselves from this crooked generation."
[41] So those who received his word were baptized, and there were added that day about three thousand souls. 

Philippians 2:12-13 Therefore, my beloved, as you have always obeyed, so now, not only as in my presence but much more in my absence, work out your own salvation with fear and trembling; [13] for God is at work in you, both to will and to work for his good pleasure. 

1 Timothy 4:16 Take heed to yourself and to your teaching: hold to that, for by so doing you will save both yourself and your hearers.
Also, we can note many passages that assert meritoriousness of human acts and differential rewards (something that Calvin vehemently denies):
Matthew 5:11-12 Blessed are you when men revile you and persecute you and utter all kinds of evil against you falsely on my account. Rejoice and be glad, for your reward is great in heaven, for so men persecuted the prophets who were before you. (cf. Mk. 9:41; Jas. 1:12; Rev. 2:10, 3:11-12)

Matthew 19:29 And every one who has left houses or brothers or sisters or father or mother or children or lands, for my name's sake, will receive a hundredfold, and inherit eternal life. (cf. 19:21)

Luke 6:38 give, and it will be given to you; good measure, pressed down, shaken together, running over, will be put into your lap. For the measure you give will be the measure you get back. (cf. 6:35; Col. 3:23-24)

1 Corinthians 3:6-9 I planted, Apol'los watered, but God gave the growth. So neither he who plants nor he who waters is anything, but only God who gives the growth. He who plants and he who waters are equal, and each shall receive his wages according to his labor. For we are God's fellow workers; you are God's field, God's building. (cf. 3:14; 2 Cor. 9:6; 2 Tim. 4:8)

2 Corinthians 6:1 Working together with him, then, we entreat you not to accept the grace of God in vain.

Ephesians 6:8 knowing that whatever good any one does, he will receive the same again from the Lord, whether he is a slave or free. (cf. Matt. 16:27)

Hebrews 10:35 Therefore do not throw away your confidence, which has a great reward. (cf. 6:10; Matt. 20:4; 2 John 8)
11. Of the increase of faith by the preaching of the word.
*
This property our Lord showed to belong to the external word, when, in the parable, he compared it to seed (Mt. 13:4; Luke 8:15). For as the seed, when it falls on a deserted and neglected part of the field, can do nothing but die, but when thrown into ground properly laboured and cultivated, will yield a hundred-fold; so the word of God, when addressed to any stubborn spirit, will remain without fruit, as if thrown upon the barren waste, but when it meets with a soul which the hand of the heavenly Spirit has subdued, will be most fruitful. 
God's grace causes all hearts to respond, but it is not without human cooperation. We have the free will to resist God's grace. It is not irresistible, as Calvin and Calvinists teach.
But if the case of the seed and of the word is the same, and from the seed corn can grow and increase, and attain to maturity, why may not faith also take its beginning, increase, and completion from the word? Both things are admirably explained by Paul in different passages. For when he would remind the Corinthians how God had given effect to his labours, he boasts that he possessed the ministry of the Spirit (1 Cor. 2:4); just as if his preaching were inseparably connected with the power of the Holy Spirit, in inwardly enlightening the mind, and stimulating it. 
Exactly. There is the human-divine cooperation, or "working together" (as St. Paul expresses in 2 Cor 6:1):
1 Corinthians 2:4-5 and my speech and my message were not in plausible words of wisdom, but in demonstration of the Spirit and of power, [5] that your faith might not rest in the wisdom of men but in the power of God.
But in another passage, when he would remind them what the power of the word is in itself, when preached by man, he compares ministers to husbandmen, who, after they have expended labour and industry in cultivating the ground, have nothing more that they can do. For what would ploughing, and sowing, and watering avail, unless that which was sown should, by the kindness of Heaven, vegetate? Wherefore he concludes, that he that planteth, and he that watereth is nothing, but that the whole is to be ascribed to God, who alone gives the increase. 
Of course. No one (including Catholics) who understands biblical soteriology in a non-Pelagian way disagrees with this.
The apostles, therefore, exert the power of the Spirit in their preaching, inasmuch as God uses them as instruments which he has ordained for the unfolding of his spiritual grace. Still, however, we must not lose sight of the distinction, but remember what man is able of himself to do, and what is peculiar to God.
Indeed. Now, if Calvin could only figure out that Catholics agree with him insofar as Pelagianism (man saving himself apart from God's grace) is false . . . .