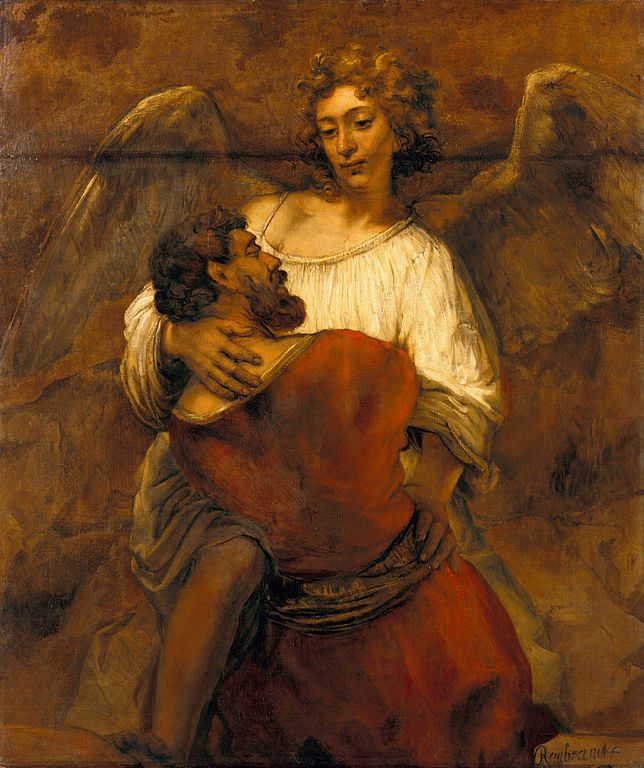 Men
Leviticus 4:35 (RSV) . . . and the priest shall burn it on the altar, upon the offerings by fire to the LORD; and the priest shall make atonement for him for the sin which he has committed, and he shall be forgiven. (cf. 4:20, 26, 31)

Leviticus 5:5-6 When a man is guilty in any of these, he shall confess the sin he has committed, [6] and he shall bring his guilt offering to the LORD for the sin which he has committed, a female from the flock, a lamb or a goat, for a sin offering; and the priest shall make atonement for him for his sin. (cf. 5:10, 13, 16, 18; 6:7)

Leviticus 19:22 And the priest shall make atonement for him with the ram of the guilt offering before the LORD for his sin which he has committed; and the sin which he has committed shall be forgiven him.

Numbers 14:19-20 [Moses] Pardon the iniquity of this people, I pray thee, according to the greatness of thy steadfast love, and according as thou hast forgiven this people, from Egypt even until now." [20] Then the LORD said, "I have pardoned, according to your word; (cf. Num 15:25, 28)

Deuteronomy 21:8 Forgive, O LORD, thy people Israel, whom thou hast redeemed, and set not the guilt of innocent blood in the midst of thy people Israel; but let the guilt of blood be forgiven them.'

Matthew 18:18 Truly, I say to you, whatever you bind on earth shall be bound in heaven, and whatever you loose on earth shall be loosed in heaven. (cf. 16:19)

John 20:23 If you forgive the sins of any, they are forgiven; if you retain the sins of any, they are retained.

James 5:15 and the prayer of faith [by "elders": 5:14] will save the sick man, and the Lord will raise him up; and if he has committed sins, he will be forgiven.
Men Representing Other Men, Who Represent Christ
2 Corinthians 2:10 Any one whom you forgive, I also forgive. What I have forgiven, if I have forgiven anything, has been for your sake in the presence of Christ,
Angels
Exodus 23:20-21 Behold, I send an angel before you, to guard you on the way and to bring you to the place which I have prepared. [21] Give heed to him and hearken to his voice, do not rebel against him, for he will not pardon your transgression; for my name is in him.

Isaiah 6:5-7 And I said: "Woe is me! For I am lost; for I am a man of unclean lips, and I dwell in the midst of a people of unclean lips; for my eyes have seen the King, the LORD of hosts!" [6] Then flew one of the seraphim to me, having in his hand a burning coal which he had taken with tongs from the altar. [7] And he touched my mouth, and said: "Behold, this has touched your lips; your guilt is taken away, and your sin forgiven."
***
[Facebook Discussion]
Does this stuff harmonize with Lutheran theology, [Lutheran Pastor] Ken [Howes]? Especially the angel passage? I just discovered that one last night, to my delight, in writing one of my magazine articles. The "angel of the Lord" is one of the most fascinating things in Scripture. I wrote a lot about that in my next article. It's always intrigued me, going back more than 30 years.
Ken Howes: It certainly does. We have retained auricular confession (it is specifically mentioned in the Augsburg Confession). I'm not sure that our exegesis of these would be identical to yours, but it wouldn't be too terribly different. Yes, the "angel of the Lord" can be different things in different passages. Sometimes it's exactly what an angel means in the New Testament; sometimes it's the Lord Himself; sometimes it's a prophet.
To a considerable extent, Catholics and Protestants talk past each other because the same words can have different meanings. Even between Catholics and Lutherans, who are the Protestants closest to the Catholic tradition doctrinally, these stumbles exist, so it would be a greater problem between Catholics and those Protestants who are farther removed from Catholicism.
Absolutely (Reformed being the most difficult to dialogue with, and anti-Catholic Reformed the absolute worst).
Many Protestants do not grasp the nature of several common Catholic modes of argumentation (because they don't use them much; aren't taught them); particularly analogical arguments and arguments from plausibility or "fittingness" rather than absolute, "direct" biblical proof. It's a constant frustration of mine.
Analogical arguments can be very helpful. Jesus used them Himself constantly. Arguments from plausibility are a matter of reading Scripture intelligently rather than in a vacuum, and are, as long as the reasoning is sound, legitimate. "Fittingness" is a less certain basis for doctrine, because not everyone, not all Christians, not always all Catholics, agree what is fitting except as it can show reasonable Biblical support.
The specific authority of the Church to forgive sins was given the evening after the Resurrection, John 20:21-23. The Church has conferred that authority on those in the office of ministry, together with the authority to preach and teach in the Church's name and to administer the Sacraments. Some of those duties can be delegated further, as in the case of emergency baptism and emergency absolution (Augustine: "two men in a boat adrift at sea are each other's confessors"). Others have been held to be reserved to those in the ministry–the celebration of the Communion, the ordination of new pastors, etc.
***
Related Reading:
*
***
(originally 7-18-14 on Facebook)
Photo credit: Jacob Wrestling with the Angel, c. 1659, by Rembrandt (1606-1669) [public domain / Wikimedia Commons]
***