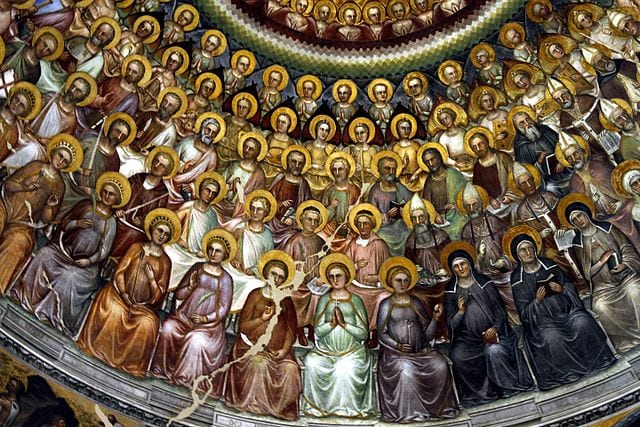 [H]is [Charles Williams'] death has made my faith ten times stronger than it was a week ago. And I find all that talk about 'feeling he is closer to us than before' isn't just talk. It's just what it does feel like — I can't put it into words. (To Mary Neylan, 20 May 1945, p. 652)

*

My friendship is not ended. . . . I believe in the next life ten times more strongly than I did. At moments it seems almost tangible. . . . A month ago I would have called this silly sentiment. Now I know better. He [Charles Williams] seems, in some indefinable way, to be all around us now. I do not doubt he is doing and will do for us all sorts of things he could not have done while in the body. (To Florence [Michal] Williams, 22 May 1945, pp. 653-654)

*

It has made the next world much more real and palpable. We all feel the same. . . . I have often heard of widows and bereaved mothers who 'felt that "he" was now nearer to them than while in the body' and always thought it a sentimental hyperbole. I know better now. (To Sister Penelope, 28 May 1945, p. 656)

*

It has increased enormously one's faith in the next life and I can't help feeling him [Charles Williams] all over the place. (To Anne Ridler, 3 June 1945, p. 659)
Mr Every (quite legitimately) gives the word invocation a wider sense than I. The question then becomes how far we can infer propriety of devotion from propriety of invocation? I accept the authority of the Benedicite for the propriety of invoking (in Mr Every's sense) saints. . . .

*

If there is one kind of devotion to created beings which is pleasing and another which is displeasing to God, when is the Church, as a Church, going to instruct us in the distinction? . . .

*

Most of us laymen, I think, have no parti pris ['preconception'] in the matter. We desire to believe as the Church believes. (To the Editor of the Church Times, 15 July 1949)

*

I hope Mr Every has not misunderstood me. There is, I believe, a prima facie case for regarding the devotions to saints in the Church of England as a controversial question [cites Anglicans Jewel, Laud, and Taylor] . . . I merely claim that the controversy exists. I share Mr Every's wish that it should cease. But there are two ways in which a controversy can cease: by being settled, or by gradual and imperceptible change of custom. I do not want any controversy to cease in the second sense. (To the Editor of the Church Times, 5 August 1949)
But Hail Marys raise a doctrinal question: whether it is lawful to address devotions to any creature, however holy. My own view would be that a salute to any saint (or angel) cannot in itself be wrong any more than taking off one's hat to a friend: but that there is always some danger lest such practices start one on the road to a state (sometimes fond in R.C.'s) where the B.V.M. is treated really as a deity and even becomes the centre of the religion. I therefore think that such salutes are better avoided. (To Mary Van Deusen, 26 June 1952, p. 209)
Additionally, Lewis reported "an instantaneous, unanswerable impression" of his deceased wife Joy's presence. Some years earlier, he had felt "the ubiquitous presence" of his dead friend and fellow Christian writer, Charles Williams. Here is how Lewis described his experience. It makes for extremely fascinating reading:
It's the quality of last night's experience – not what it proves but what it was – that makes it worth putting down. It was quite incredibly unemotional. Just the impression of her mind momentarily facing my own. Mind, not "soul" as we tend to think of soul. Certainly the reverse of what is called "soulful." Not at all like a rapturous reunion of lovers. Much more like getting a telephone call or a wire from her about some practical arrangement. Not that there was any "message" – just intelligence and attention. No sense of joy or sorrow. No love even, in our ordinary sense. No un-love. I had never in any mood imagined the dead as being so – well, so business-like. Yet there was an extreme and cheerful intimacy. An intimacy that had not passed through the senses or the emotions at all.

. . . A Greek philosopher wouldn't have been surprised at an experience like mine. He would have expected that if anything of us remained after death it would be just that. Up to now this always seemed to me a most arid and chilling idea. The absence of emotion repelled me. But in this contact (whether real or apparent) it didn't do anything of the sort. One didn't need emotion. The intimacy was complete – sharply bracing and restorative too – without it.

. . . Once very near the end I said, "If you can – if it is allowed – come to me when I too am on my death bed." "Allowed!" she said. "Heaven would have a job to hold me; and as for Hell, I'd break it into bits." She knew she was speaking a kind of mythological language, with even an element of comedy in it. There was a twinkle as well as a tear in her eye. But there was no myth and no joke about the will, deeper than any feeling, that flashed through her. (A Grief Observed, Toronto: Bantam Books edition, 1961, 85-88)
***
Related Reading:
*
*
*
***
Unfortunately, Money Trees Do Not Exist:
 If you have been aided in any way by my work, or think it is valuable and worthwhile, please strongly consider financially supporting it (even $10 / month — a mere 33 cents a day — would be very helpful). I have been a full-time Catholic apologist since Dec. 2001, and have been writing Christian apologetics since 1981 (see 
my Resume
). My work has been proven (by God's grace alone) to be fruitful, in terms of changing lives (see the tangible evidences 
from unsolicited "testimonies"
). I have to pay my bills like all of you: and have a (homeschooling) wife and three children still at home to provide for, and a mortgage to pay.
*
My book royalties from three bestsellers in the field (published in 2003-2007) have been decreasing, as has my overall income, making it increasingly difficult to make ends meet.  I provide over 2500 free articles here, for the purpose of your edification and education, and have written 50 books. It'll literally be a struggle to survive financially until Dec. 2020, when both my wife and I will start receiving Social Security. If you cannot contribute, I ask for your prayers. Thanks! See my information on how to donate (including 100% tax-deductible donations). It's very simple to contribute to my apostolate via PayPal, if a tax deduction is not needed (my "business name" there is called "Catholic Used Book Service," from my old bookselling days 17 or so years ago). May God abundantly bless you.
***
*
***