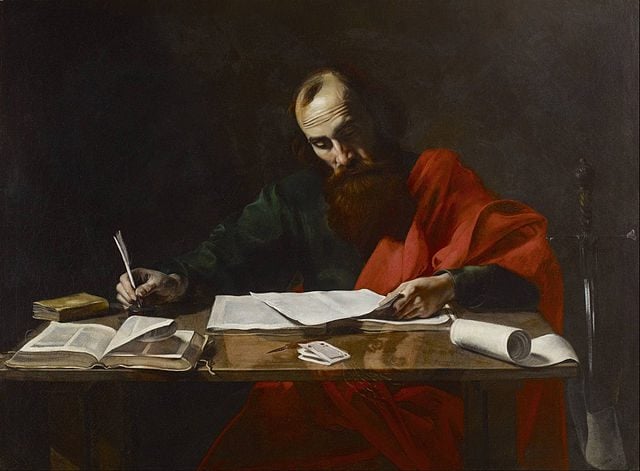 The Reformed Protestant / Calvinist anti-Catholic site, Evangelical Miscellanies produced (anonymously) the article, "The Perseverance of the Saints" (2-5-21). It was a [very selective] reply to my paper, Absolute Assurance of Salvation?: Debunking "Prooftexts", which is Chapter Thirteen of my book, Biblical Catholic Salvation: "Faith Working Through Love" (Oct. 2010). The words of the writer will be in blue; my older cited words in green, and my present response in plain black.
*****
Perseverance of the Saints: Can we be assured of our salvation?
Dave Armstrong:
Perseverance of the saints, or the "P" in TULIP, is merely a tautological truism: saying that the elect (i.e., those who are eschatologically saved) will be saved (Jesus says in John 6:39: "I should lose nothing of all that he has given me"). No one disputes that. Of course they will be saved, because that is the very definition of "elect" (Romans 11:29: "For the gifts and the call of God are irrevocable"). I am specifically critiquing the notion that we can possess or achieve absolute assurance of our own salvation or anyone else's.
[my paper and book, had contained the obvious error of asserting that it was the "T" rather than "P" in TULIP. The author went on to correct it (which is fine) but also seems to imply if I wasn't aware of that and hadn't made merely a simple inadvertent, human error (which is silly and unnecessary)]
[T]echnically the saints do not persevere but rather are preserved by Christ (cf. Phil 1:6; Jn 6:39). 
Heaven forbid we do absolutely anything in the process . . .
Philippians 1:6 (RSV) And I am sure that he who began a good work in you will bring it to completion at the day of Jesus Christ.

John 6:39 and this is the will of him who sent me, that I should lose nothing of all that he has given me, but raise it up at the last day.
As readers can see, I mentioned John 6:39 in my paper (almost all of which was ignored in this "reply"). As for Philippians 1:6: absolutely! But God being sovereign and faithful and the source of all good things, including absolutely every good thing and act of obedience that we do. Catholics fully believe in the predestination of the elect. But this doesn't preclude the willing participation with His enabling grace, in these elect, as the Bible also teaches:
Mark 16:20 And they went forth and preached everywhere, while the Lord worked with them . . .

1 Corinthians 3:9 For we are God's fellow workers . . . (Phillips: "In this work, we work with God . . ." / Amplified: "For we are fellow workmen — joint promoters, laborers together — with and for God . . .")

1 Corinthians 15:10 But by the grace of God I am what I am, and his grace toward me was not in vain. On the contrary, I worked harder than any of them, though it was not I, but the grace of God which is with me.

1 Corinthians 15:58 Therefore, my beloved brethren, be steadfast, immovable, always abounding in the work of the Lord, knowing that in the Lord your labor is not in vain.

2 Corinthians 6:1 Working together with him [i.e., Jesus; see 5:21], then, we entreat you not to accept the grace of God in vain. (Calvinists claim that such grace is irresistible; so why is Paul warning them not to accept it in a wrong way?)

Galatians 5:6 . . . faith working through love.

Galatians 6:7-9 Do not be deceived; God is not mocked, for whatever a man sows, that he will also reap. [8] For he who sows to his own flesh will from the flesh reap corruption; but he who sows to the Spirit will from the Spirit reap eternal life. [9] And let us not grow weary in well-doing, for in due season we shall reap, if we do not lose heart.

Ephesians 2:10 For we are his workmanship, created in Christ Jesus for good works, which God prepared beforehand, that we should walk in them.

Philippians 2:12-13 Therefore, my beloved, as you have always obeyed, so now, not only as in my presence but much more in my absence, work out your own salvation with fear and trembling; for God is at work in you, both to will and to work for his good pleasure.

Titus 3:5-8 he saved us, not because of deeds done by us in righteousness, but in virtue of his own mercy, by the washing of regeneration [i.e., baptism] and renewal in the Holy Spirit, [6] which he poured out upon us richly through Jesus Christ our Savior, [7] so that we might be justified by his grace and become heirs in hope of eternal life. [8] The saying is sure. I desire you to insist on these things, so that those who have believed in God may be careful to apply themselves to good deeds; these are excellent and profitable to men.
Notice that our friend provides two biblical passages that supposedly prove his half-truth and in fact do not, whereas I provide ten to prove the partly contrary and true biblical view of cooperation of man with the God Who always enables any and all good things by His grace.
The Council of Trent:
CANON XXIII.—If any one saith, that a man once justified can sin no more, nor lose grace, and that therefore he that falls and sins was never truly justified; or, on the other hand, that he is able, during his whole life, to avoid all sins, even those that are venial,—except by a special privilege from God, as the Church holds in regard of the Blessed Virgin: let him be anathema.[3]
The Roman understanding of justification is predicated on a synergistic view of soteriology.
Yes, it is synergistic because that is the biblical view, as I just showed with ten passages (and there are many more). Because it is the teaching of the Bible, I believed in Arminian soteriology (as opposed to Calvinist) as a Protestant before I ever read Trent or was bound to it as a Catholic.
God alone does not save, rather God contributes in part to salvation and the individual contributes in part to salvation.
That's not the Catholic teaching, as he is insinuating. Trent taught in its canons on justification:
Canon 1 If any one saith, that man may be justified before God by his own works, whether done through the teaching of human nature, or that of the law, without the grace of God through Jesus Christ; let him be anathema.

Canon 2 If any one saith, that the grace of God, through Jesus Christ, is given only for this, that man may be able more easily to live justly, and to merit eternal life, as if, by free will without grace, he were able to do both, though hardly indeed and with difficulty; let him be anathema.

Canon 3 If any one saith, that without the prevenient inspiration of the Holy Ghost, and without his help, man can believe, hope, love, or be penitent as he ought, so as that the grace of Justification may be bestowed upon him; let him be anathema.
One might describe the different views as follows:
Reformed / Calvinist / "Either/or" outlook: God does all, therefore it is senseless and heretical to speak of man doing anything as regards to grace and salvation, and to do so is at least a semi-Pelagian position, detracting from God's sole work in salvation.
Catholicism / Bible / "Both/and" outlook: God does all and enables all, pertaining to grace and salvation, yet man can also cooperate with God and in a non-Pelagian sense "participate" in the process.
The Catholic Church teaches salvation by grace alone (sola gratia) and rejects both Pelagianism and semi-Pelagianism, just as Calvinists do.
If the individual falters, that state of grace is lost.
Yes, per the many passages that I provided in the very paper that was supposedly being critiqued (but which was mostly ignored). God doesn't force us to follow Him. We're not robots. Therefore, we can rebel, just as Satan did, even though he was with God in heaven and knew much better than to be that stupid and evil.
Compare with the Westminster Confession of Faith:
Chapter XVII.—Of the Perseverance of the Saints.   
I. They whom God hath accepted in his Beloved, effectually called, and sanctified by his Spirit, can neither totally nor finally fall away from the state of grace; but shall certainly persevere therein to the end, and be eternally saved.
The elect are the elect. Of course they are. This is saying, in effect, "those who are eschatologically saved will in fact be eschatologically saved." It's circular reasoning (the conclusion already being in the premise). The error is based on the false notions of 1) no human free will (irresistible grace) and 2) that the state of grace or salvation is identical to being in the elect. It's not. Not all those in a state of grace will be so ever after.
Armstrong:
I am specifically critiquing the notion that we can possess or achieve absolute assurance of our own salvation or anyone else's.[6]
This is semantics. How do we define absolute? If we define absolute as an infinite or exhaustive knowledge of any given subject then of course man, who is by definition finite, cannot have an absolute or infinite knowledge of any given subject.
It's just word games. It would be an assurance without any doubt present; not one iota of non-assurance; indubitable knowledge. Even John Calvin taught that we could not know who was a member of the elect; therefore, he denied absolute assurance of salvation, just as I do:
[W]e are not bidden to distinguish between reprobate and elect – that is for God alone, not for us, to do . . . (Institutes of the Christian Religion, IV. 1. 3.)

We must thus consider both God's secret election and his inner call. For he alone "knows who are his" [II Tim. 2:19] . . . except that they bear his insignia by which they may be distinguished from the reprobate. But because a small and contemptible number are hidden in a huge multitude and a few grains of wheat are covered by a pile of chaff, we must leave to God alone the knowledge of his church, whose foundation is his secret election. It is not sufficient, indeed, for us to comprehend in mind and thought the multitude of the elect, unless we consider the unity of the church as that into which we are convinced we have been truly engrafted. (Inst. IV. 1. 2.)

Of those who openly wear his badge, his eyes alone see the ones who are unfeignedly holy and will persevere to the very end [Matt. 24:13] – the ultimate point of salvation. (Inst. IV. 1. 8.)

It is . . . not our task to erase from the number of the elect those who have been expelled from the church, or to despair as if they were already lost. It is lawful to regard them as estranged from the church, and thus, from Christ – but only for such time as they remain separated. However, if they also display more stubbornness than gentleness, we should still commend them to the Lord's judgment, hoping for better things of them in the future than we see in the present. Nor should we on this account cease to call upon God in their behalf . . . let us not condemn to death the very person who is in the hand and judgment of God alone; rather, let us only judge of the character of each man's works by the law of the Lord. While we follow this rule, we rather take our stand upon the divine judgment than put forward our own. Let us not claim for ourselves more license in judgment, unless we wish to limit God's power and confine his mercy by law. For God, whenever it pleases him, changes the worst men into the best, engrafts the alien, and adopts the stranger into the church. And the Lord does this to frustrate men's opinion and restrain their rashness – which, unless it is checked, ventures to assume for itself a greater right of judgment than it deserves. (Inst. IV. 12. 9.)

The election of God is hidden and secret in itself . . . men are being fantastic or fanatical if they look for their salvation or for the salvation of others in the labyrinth of predestination instead of keeping to the way of the faith which is offered them . . . To each one, his faith is a sufficient witness of the eternal predestination of God, so that it would be a horrible sacrilege to seek higher assurance. (Commentary on John 6:40; in Francis Wendel, Calvin: Origins and Development of His Religious Thought, translated by Philip Mairet, New York: Harper & Row, 1963, 270)

Let us, then, keep this in view above all other things, that it is no less insane to crave for other knowledge of predestination besides that which is given us in the word of God, than if one wanted to walk over inaccessible rocks or to see in darkness. (Inst. III. 21. 2.; in Wendel, ibid., 270-271)
Calvin even went so far as to state that we should never conclude that even obstinate excommunicates are lost or determined to not be of the elect by their sinful behavior, and should hope better for them (Inst. IV. 12. 9.)
Funny, then, that on one abominable Calvinist discussion group (around 1999-2000 or so), once it was discovered that I was Catholic, some idiot said I was damned and shouldn't even be prayed for. Virtually no one disagreed with his judgment (all in opposition to their master, John Calvin, not to mention Jesus), excepting Dr. Francis Nigel Lee, who actually displayed rudimentary Christian charity and not pharisaical legalism and false teaching. I didn't know that he was a famous theologian at the time. He was an impressive Christian. It was an honor to meet him.
Calvin and Luther, of course, both regarded Catholicism as a species of Christianity. For this reason, neither of them felt that they had to be baptized ("again"). But not these clowns in this discussion group (minus Dr. Lee) . . .
Armstrong:
We can, however, arrive at a moral or practical assurance…[7]
I have no surface level objection to this statement, though we would likely disagree on the details. That aside, I am uncertain if Rome would agree.
I've written about this issue. Catholic writer Andrew Preslar, underneath his excellent article, "St. Thomas Aquinas on Assurance of Salvation" (Called to Communion, 8-3-09), made a comment relevant to this question:
One cannot have hope, in St. Thomas's sense, without faith. Hope is based upon faith, but not reducible to faith. Faith accepts the Gospel as divine truth, and hope receives that truth as good news "for me."

Chapter XII of Session VI (Trent) refers to the possibility of "absolute certainty" of predestination to life, which knowledge can only come by special revelation. In my last comment, I had primarily in mind assurance of being in a state of grace, though I did not mean to rule out assurance of predestination. The evidence from Trent for a kind of "moral certainty" or comforting assurance other than the absolute certainty of faith lies in the phrases and adjectives that qualify the noun "certainty," both in Chapter XII and in the Canons that touch upon the matter of assurance (emphasis added):

Canon 13.
If anyone says that in order to obtain the remission of sins it is necessary for every man to believe with certainty and without any hesitation arising from his own weakness and indisposition that his sins are forgiven him, let him be anathema.

Canon 14.
If anyone says that man is absolved from his sins and justified because he firmly believes that he is absolved and justified, or that no one is truly justified except him who believes himself justified, and that by this faith alone absolution and justification are effected, let him be anathema.

Canon 15.
If anyone says that a man who is born again and justified is bound ex fide to believe that he is certainly in the number of the predestined, let him be anathema.

Canon 16.
If anyone says that he will for certain, with an absolute and infallible certainty, have that great gift of perseverance even to the end, unless he shall have learned this by a special revelation, let him be anathema.

Among other things, this is to say that our faith is not in faith (Canons 13 and 14), and that the status of one's own soul and eternal destiny are not among the articles of faith (Canons 15 and 16), to which pertain "absolute and infallible certainty." The qualifying language (which I emphasized), furthermore, would be entirely gratuitous if the Church denied that, apart from special revelation, Christians could enjoy some form of certainty, and corresponding assurance, about their spiritual condition and eternal destiny.
He elaborates at great and glorious length, in a later comment:
Certainty, or perhaps more accurately, certitude, is a subjective condition relative to a variety of factors. Perhaps some examples will convey my meaning, and at least by implication address the several aspects of your question:

1. I am certain that God is love, and that God loves me. These certainties are based upon what I know (through reason and revelation) about the nature of God and the operations of God. This is what gives rise to the certainty of hope, regarding God's provision for my own salvation.

2.I am certain that he who has begun a good work in me (at Baptism) will bring it to completion on the Day of Judgment. This is the certainty of hope. . . .

The different kinds or classifications of certainty / certitude (however many they might be; on the one hand: knowledge, faith, hope, moral certainty; on the other hand: presumption, delusion) correspond to the different things of which one is certain, together with the conditions under which certainty obtains, and perhaps the differing significance and subjective "feel" of each instance of certainty (although the latter can vary somewhat from person to person and time to time). My confidence in God regarding salvation is an instance of the certainty or assurance of hope. My confidence in my brother is an example of what I mean by "moral certainty"; that is, although in the realm of logically possibility his intentions could be otherwise, and though God has not revealed my brother's intentions to me, I am certain that he means me no mortal harm.

This same kind of certainty, moral certainty, to be distinguished from the certainty of the rationally inescapable, the certainty of faith, and the certainty of hope, can legitimately be enjoyed by Catholics with respect to being in a state of grace, at least in the sense that Trent seems not to disallow such moral certainty of grace, as indicated in comment #6. Of course, being morally certain of being in a state of grace is not a necessary condition of actually being in a state of grace.

I can have doubts about myself, and still trust in God for deliverance from sin and sustenance in a state of grace, so long as I make faithful use of the means of grace, especially going to Confession and Mass. For me, one usual result of this religious activity, especially right after a double dose of the sacraments–Reconciliation and Communion–is a kind of confidence, a moral certainty or certitude if you will, of being in a state of grace. Among the conditions or presuppositions underlying this sacramental certainty are a constant reliance on the mercy of God ("Lord, I am not worthy that you should come under my roof, but only say the word and my soul shall be healed"), the intention to obey his will, and a right understanding of the difference between mortal and venial sin.
These sorts of things are indeed, Catholic teaching. Again, in another comment, Preslar sums up:
[A]s I have been arguing in previous comments, there is a kind of certainty distinct from both the certainty of scientific knowledge and the certainty of faith, and this would be moral certainty.
Armstrong:
But the Calvinist has a ready explanation; a stock answer to explain the person who seemed by all appearances to be a Christian, and then fell away or fell into extremely serious sin: they were "obviously" never saved.[8]
I'm not sure I would call the word of God a stock answer, but perhaps I am now the one arguing semantics.
1Jn 2:19 (NASB)

They went out from us, but they were not really of us; for if they had been of us, they would have remained with us; but they went out, so that it would be shown that they all are not of us.
Of course I didn't call the Bible a "stock answer" (nice try!). Once again, we don't have absolute assurance of salvation, and John Calvin taught this as strongly as we Catholics believe it. He obviously felt that he had biblical backing on the question. In my quotations from Calvin above, he mentioned, for example, 2 Timothy 2:19 ("The Lord knows those who are his, . . .") and Matthew 24:13.
As for 1 John 2:19, I reply that this is inspired Scripture, whereas we, today, don't have the same certainty of knowledge about individuals, as a writer inspired by God will have. Secondly (and more to the point), this book contains many proverbial-type statements, that are obviously not literal, and admit of exceptions,. So, for example, he writes:
1 John 3:6, 8-9 No one who abides in him sins; no one who sins has either seen him or known him.. . . [8] He who commits sin is of the devil; . . . [9] No one born of God commits sin; for God's nature abides in him, and he cannot sin because he is born of God.
This is clearly not literal, and means "sin doesn't typify the behavior of a true Christian" or "the essence of a Christian life is to be mostly sin-free" etc. because, for one thing, John himself contradicts a literal understanding by also writing (in these instances, literally and not hyperbolically):
1 John 1:8-10 If we say we have no sin, we deceive ourselves, and the truth is not in us. [9] If we confess our sins, he is faithful and just, and will forgive our sins and cleanse us from all unrighteousness. [10] If we say we have not sinned, we make him a liar, and his word is not in us.

1 John 2:1 My little children, I am writing this to you so that you may not sin; but if any one does sin, we have an advocate with the Father, Jesus Christ the righteous;
Moreover, we have biblical examples of man (kings of Israel or Judah) who did good according to God, but are described as having fallen away. I went through some of these in my Chapter Ten of the same book, dealing with total depravity. Here are some excerpts:
What do we make of, for example, King Jehoshaphat? Here is a very interesting case study indeed. He was subjected to the wrath of God, yet it is stated that he had some "good" and sought God: [I cited 2 Chronicles 19:2-3]

Not only the king, but many people in Judah also sought the Lord: [cited 2 Chronicles 20:3-4]

How can this be, under Reformed Protestant assumptions of total depravity? Was he (and all these multitudes who "came to seek the Lord"), therefore, regenerate? The text doesn't say. He hadn't heard the gospel, though; that's for sure. Nor had the people of Judah.

According to Hodge and Calvinism generally, no one can do any "spiritual good" (as opposed to a merely natural good or natural moral virtue) whatsoever unless they are regenerated by the Holy Spirit. Were all these people "good men and women"? Did they seek God or not? . . .

Was Jehoshaphat himself a "good" man? Various passages state that he was (2 Chronicles 19:4-7, 9; 20:3, 6-7,1 2, 18-21). His reign is described as a good, righteous reign, by and large, but not totally: [cited 2 Chronicles 20:32-37]

Was King Jehoshaphat regenerated and saved in the end? We don't know. But if he wasn't, he couldn't do any "spiritual good" at all, according to Calvinist theology. The Bible clearly teaches that he did much good; indeed, that he "did what was right in the sight of the LORD" (if that's not "spiritual good," what is?). Yet he didn't destroy the high places, which were idols, and the last thing written about him was that he was prophesied against for joining with wicked King Ahaziah of Israel.

If he was indeed damned in the end, then how does Calvinism account for the spiritual good that can't be done except by the regenerate (a state, in turn, that cannot be lost, according to Calvinism)? . . .

How about King Uzziah? The Bible says he sought God too: [cited 2 Chronicles 26:3-5]

But Uzziah met an even more tragic end than Jehoshaphat: [cited 2 Chronicles 26:16-21]

This passage places Calvinists in a tremendous predicament. . . . if it is maintained that only a regenerate person can seek God, so that, therefore Uzziah must have been regenerated, then how is his spiritual demise explained?

For Calvinists also hold that one can never lose regeneration or salvation, precisely because God gives it unconditionally (the "U" in TULIP) and His grace is irresistible (the "I" in TULIP) and that the elect always persevere and cannot fall away (the "P" in TULIP). No one can do any spiritual good unless regenerated because of the "T": total depravity. If Uzziah was saved in the end, again there is no text whatsoever that would indicate such a thing.
Mt 7:22-23 (NASB)
"Many will say to Me on that day, 'Lord, Lord, did we not prophesy in Your name, and in Your name cast out demons, and in Your name perform many miracles?' "And then I will declare to them, 'I never [οὐδέποτε] knew you; DEPART FROM ME, YOU WHO PRACTICE LAWLESSNESS.'
Notice: "I never knew you," not "I knew you for a little while and then you departed from me."
These people were never of the elect because Jesus said so. He knows everything. We know very little: especially about other souls. This is the point. But this doesn't preclude anyone falling away from grace, ever. I just provided examples of Kings Jehoshaphat and Uzziah, who did truly good things (so the Bible tells us) yet fell away.
Luke 22:31-32 (NASB)
"Simon, Simon, behold, Satan has demanded [ἐξῃτήσατο – or, obtained by asking] permission to sift you like wheat; but I have prayed for you, that your faith may not fail; and you, when once [ποτε – when, not if] you have turned again, strengthen your brothers."
Both Peter and Judas betrayed Christ, both events were known beforehand by Christ, and yet one was always a believer, and one never was.
Sure, but this has no relevance to our subject matter: whether we ourselves have absolute assurance and/or whether we can know with certainty who else will be eschatologically saved (i.e., will go to heaven) or of the elect. If we had observed St. Paul killing Christians, many of us would conclude that he could never be in the fold. And we would be wrong.
Cf. Jn 17:11-12, 24; 6:70; 13:10-11
John 17:11-12, 24 simply talks about the elect who will not be lost (by definition). No one denies that, so there is nothing to dispute about that. In John 6:70 Jesus says Judas is a "devil" which no one denies, either. 13:10-11 tells us that Jesus knew Judas was corrupt. Of course. Who denies it? None of this tilts the debate between Calvinists and almost all other Christians one way or the other, because we all agree about these things.
Moving on:
Armstrong:
But this perfectly illustrates the conundrum: if such a person was thought by everyone to be saved and in the elect, but actually wasn't, as later proved by his behavior (that no one imagined ever happening), then in fact, neither the person in question nor anyone else possessed the so-called "assurance" that he or she was saved, from the beginning.[11]
This is the same argument used by the serpent in the garden of Eden. 
Cf. Gen 3:1 (NASB)
Now the serpent was more crafty than any beast of the field which the LORD God had made. And he said to the woman,  "Indeed, has God said, 'You shall not eat from any [כֹּל – every] tree of the garden'?"
Why does the serpent phrase the question thus? Certainly he knew that God did not say this, so why ask the question? What is the obvious implication? If there is even one tree from which you cannot eat, if you are limited in any way, if you do not have absolute autonomy as God does, then you are not really free at all. Armstrong asserts that if a finite man cannot have an absolute (exhaustive or infinite) knowledge of assurance as God does, then he cannot have true assurance at all. This line of reasoning is absurd, and is very clearly not applied to his own beliefs.
All of the above is a lie, and not analogous to my beliefs at all, save for the final sentence. The reasoning described is absurd, but (here's the catch) it's not my reasoning. It's a caricature of my reasoning, or a straw man. And indeed it's not applied to my own beliefs, as already explained above, in my lengthy distinction between absolute assurance (a falsehood) and moral certainty or assurance, which is Catholic belief. So the above (minus the last sentence) is perfectly irrelevant (what we call in logic, a non sequitur). But clever attempt (like the devil) at sophistry there . . .
Rom 5:1 (NASB)

Therefore, having been justified by faith, we have peace [εἰρήνην] with God through our Lord Jesus Christ,
How can we have peace with God if we do not have assurance as to the state of our souls? The answer is that we cannot.
Again, in Catholic soteriology, we can know right now that we are in good graces with God, through a serious examination of conscience. We can't be absolutely sure that we always will be, because that's the future, and we don't know the future. Only God does because He is there already (being outside of time).
I do not believe it would be profitable to address all of the assertions made . . . 
Yeah, I noticed. It's not "profitable" is (in my opinion) code for "I have no solid answer to much of his argumentation; therefore, I will ignore those portions." This being the case (his ignoring of many, many of my biblical passages and commentaries upon them), I will ignore the rare "exception" where he actually does attempt a reply. Goose and gander . . .
I am left wondering if the Roman Church has infallibly defined the verses that Armstrong is expounding upon or if he is merely providing us with his own personal interpretations of the scriptures (which based on his statements, he certainly appears to believe are perspicuous). 
Very few passages have been infallibly defined (seven; possibly also two more). My biblical (and any other sort of) arguments are in line with Catholic dogmas and doctrines, which they are required to be if I am an orthodox, obedient Catholic (as I am), just as my opponent's biblical (and any other sort of) arguments are in line with Calvinist dogmas and doctrines, which his are required to be: coming from an orthodox, obedient, five-point Calvinist. There is no difference in this respect: except that Catholics believe in the infallibility of the Church, whereas Calvinists don't. But we both believe in an authoritative, teaching Church, and in arguing and defending our theology from Holy Scripture, which is held in common as God's inspired and infallible revelation.
Assurance: 
Assurance ultimately rests upon God, upon His strength, His faithfulness and His ability to preserve (cf. Phil 1:6), not upon the strength, faithfulness and perseverance of man.
Yep. See my ten passages about that, presented early on. But man cooperates with what ultimately causes salvation (God's grace and power alone). He isn't led along by God like a lobotomized donkey who can do no other. He actively cooperates and "works with God" as a "co-laborer" or "fellow worker." Biblical descriptions, not mine . . . The Bible says that we cooperate and we persevere:
James 1:17-25 Every good endowment and every perfect gift is from above, coming down from the Father of lights with whom there is no variation or shadow due to change. [18] Of his own will he brought us forth by the word of truth that we should be a kind of first fruits of his creatures. [19] Know this, my beloved brethren. Let every man be quick to hear, slow to speak, slow to anger, [20] for the anger of man does not work the righteousness of God. [21] Therefore put away all filthiness and rank growth of wickedness and receive with meekness the implanted word, which is able to save your souls. [22] But be doers of the word, and not hearers only, deceiving yourselves. [23] For if any one is a hearer of the word and not a doer, he is like a man who observes his natural face in a mirror; [24] for he observes himself and goes away and at once forgets what he was like. [25] But he who looks into the perfect law, the law of liberty, and perseveres, being no hearer that forgets but a doer that acts, he shall be blessed in his doing.
2 Cor 5:5 (NASB)
Now He who prepared us for this very purpose is God, who gave to us the Spirit as a pledge [ἀρραβῶνα,[15] lit. down payment, guarantee]. (cf. 2Cor 1:22; Eph 1:14)
Great! God is good! We can be assured right now of our salvific status and of being in a state of grace, in fellowship with God.
Certainty:
1 Jn 5:13 (NASB)
These things I have written to you who believe in the name of the Son of God, so that you may know [εἰδῆτε] that you have eternal life.
I am not aware of any Bible translation which renders εἰδῆτε as anything other than know.
See my paper:
"Certainty" of Eternal Life? (1 Jn 5:13 & Jn 5:24) [5-8-02]
The Westminster Confession of Faith: Chapter XVIII – Of the Assurance of Grace and Salvation:[17]
…such as truly believe in the Lord Jesus, and love him in sincerity, endeavoring to walk in all good conscience before him, may in this life be certainly assured that they are in a state of grace, [a] and may rejoice in the hope of the glory of God, which hope shall never make them ashamed. [b] …certainty is not a bare conjectural and probable persuasion, grounded upon a fallible hope; [c] but an infallible assurance of faith, founded upon the divine truth of the promises of salvation, [d] the inward evidence of those graces unto which these promises are made, [e] the testimony of the Spirit of adoption witnessing with our spirits that we are the children of God: [f] which Spirit is the earnest of our inheritance, whereby we are sealed to the day of redemption. [g]

a. 1 John 2:3; 3:14, 18-19, 21, 24; 5:13. • b. Rom 5:2, 5. • c. Heb 6:11, 19. • d. Heb 6:17-18. • e. 2 Cor 1:12; 2 Pet 1:4-5, 10-11; 1 John 2:3; 3:14. • f. Rom 8:15-16. • g. Eph 1:13-14; 4:30; 2 Cor 1:21-22.
The first part of this reads like a Catholic proclamation. The rest is not bad, except that it is a bit more sure about the future than the Bible gives us warrant to be. Earlier my opponent claimed "the saints do not persevere". But here they do!: "endeavoring to walk in all good conscience before him . . " That's something we do, enabled by God's grace. It's synergism (a dirty word for Calvinists). Now lets take a look at the "prooftexts":
1 John 2:3 says "by this we may be sure that we know him, if we keep his commandments." Once again, it is works and doing things; working with God: not a one-way monergism, and from this we become assured that we "know" God: precisely as in the Catholic view. But knowing God now is not the same as being saved for all eternity.
1 John 3:14: "We know that we have passed out of death into life, because we love the brethren. He who does not love abides in death." Again, we are in good graces as long as we do these things, as evidence of the authenticity of our faith (a teaching of both Calvin and Luther). We have to love (that's us doing it, not God). In fact, this good work of loving others is so crucial that we are spiritually dead and on our way to hell if we refuse to do it. This simply verifies the central place of works and cooperation with God in the schema of salvation. They're so important that I found fifty Bible passages proclaiming their centrality, as opposed to "faith alone": which is never stated (and actually flatly denied in James). But nothing here is opposed to the notion that this status or state of soul can be lost.
1 John 3:18-19, 21, 24: 3:18-19, 24 reiterate the essential status of good works in the salvation equation, mentioning "love . . . in deed and in truth" (3:18): the means by which "we shall know that we are of the truth, and reassure our hearts" (3:19; cf. 3:21); in other words, this love, proven by deeds (good works), is what brings about reassurance in our hearts; precisely as in the Catholic examination of one's own heart. 3:24 is again proverbial language: "All who keep his commandments abide in him, and he in them. . . ." But it's a great rule for the Christian walk of discipleship, How do we know we are in good graces with God? By good works: love and keeping the commandments. That's how we know; not by the memory of a "sinner's prayer" and alleged absolute assurance of one's eternal salvation from that moment on.
Romans 5:2 refers to "this grace in which we stand": present tense; not eschatological salvation. 5:5 adds: "hope does not disappoint us." No it doesn't. But we have to maintain it in our lives by being willing to suffer and endure (more human perseverance), as 5:3 states.
Hebrews 6:11 requires us to "show the same earnestness in realizing the full assurance of hope until the end"; i.e., more human perseverance and good works. The verse before identified these as "your work and the love which you showed . . . in serving the saints." 5:12 urges us to not be "sluggish" (i.e., refusing to do the necessary good works that are required to obtain hope, out of laziness). 6:17-19 teaches that God's promises are trustworthy. Of course they are. But that's His end. We also have to hold up our end.
2 Corinthians 1:12 again points to good works: "we have behaved . . .  toward you, with holiness and godly sincerity, not by earthly wisdom but by the grace of God." This is exactly harmonious with the Catholic view. The Westminster Confession is arguing that this Bible passage provides the rationale for "the inward evidence of those graces unto which these promises are made." And what is the evidence?: good works, done "by the grace of God"! There is not a word about "faith alone" here (as always). Yet this non-biblical concept of sola fide is — oddly enough — one of the "pillars" of the so-called "Reformation."
2 Peter 1:5 gives us the very Catholic teaching (appropriate form the first pope) of "make every effort to supplement your faith with virtue": lots of human effort and perseverance to do the good works of virtue and another denial of faith alone. This faith must be "supplement[ed]". Then we have a rather spectacular "Catholic" and very "unProtestant" passage:
2 Peter 1:10-11 Therefore, brethren, be the more zealous to confirm your call and election, for if you do this you will never fall; [11] so there will be richly provided for you an entrance into the eternal kingdom of our Lord and Savior Jesus Christ.
The call and election isn't simply taken for granted, with us doing nothing but receiving it passively. No; we must be "zealous" and "confirm" it. This is done by good works and perseverance, described in 1:6-7: "self-control, . . . steadfastness, . . . godliness, . . . brotherly affection, and . . . love." All of this issues in a conditional (not an absolute) promise of salvation: "if you do this you will never fall; [11] so there will be richly provided for you an entrance into the eternal kingdom."
We have to persevere and do good works by God's grace. "If" we do that, then we can be eternally saved. If we don't, we can lose this grace and salvation that goes along with it. It's exactly as it was in the Old testament and prophetic warnings: "If Israel followed the commandments, then God would save them; if not, they would be judged and rejected by God."
Romans 8:15-16: "it is the Spirit himself bearing witness with our spirit that we are children of God," (8:16): a wonderful verse referring to the indwelling of the Holy Spirit: one of the several marks of the authentic Christian, walking in God's grace. But the Confession omits the next verse: "and if children, then heirs, heirs of God and fellow heirs with Christ, provided we suffer with him in order that we may also be glorified with him." Suffering is another persevering work we do, to help assure our salvation.
Ephesians 1:13-14: I dealt with this in my paper that my opponent was supposedly critiquing. He dealt with probably a tenth of it: if that much. My reply concerning this passage was as follows:
This is initial justification. Final or eschatological justification and salvation, however, is conditioned upon walking in the good works "which God prepared beforehand" (Eph 2:10; cf. 4:22-32; 5:1-18). Paul later in his epistle emphasizes that attaining salvation is an ongoing struggle, possible only by God's grace: "be strong in the Lord and in the strength of his might. Put on the whole armor of God, that you may be able to stand against the wiles of the devil" (6:10-11).

Nothing here gives any assurance that this battle is already won; it's not yet certain. Paul is urging perseverance: "take the whole armor of God, that you may be able to withstand in the evil day, and having done all, to stand" (6:13); "keep alert with all perseverance" (6:18).
Ephesians 4:30 is related to all this. In the context of the larger passage (Eph 4:22-5:12), Paul issues many stern warnings about various serious sins: "deceitful lusts [4:22] . . .  falsehood [4:25] . . . [prolonged] anger [4:26] . . . [giving] opportunity to the devil [4:27] . . . evil talk [4:29] . . . bitterness and wrath and anger and clamor and slander . . . malice [4:31] . . . fornication and all impurity or covetousness [5:3] . . . filthiness, . . . silly talk, . . . levity [5:4] . . . unfruitful works of darkness [5:11]. Now, right in the middle of this "catalogue of sin and infamy" Paul warns very strongly:
Ephesians 5:5-6 Be sure of this, that no fornicator or impure man, or one who is covetous (that is, an idolater), has any inheritance in the kingdom of Christ and of God. [6] Let no one deceive you with empty words, for it is because of these things that the wrath of God comes upon the sons of disobedience.
Note how Paul had just warned the Ephesians not to do all of these things that he now says will bar anyone who does them from salvation ("inheritance in the kingdom of Christ"): lusts (which Jesus in the Sermon on the Mount said would lead to adultery / fornication), impurity, and covetousness. It is perfectly plausible, then, to interpret the passage as a warning against these grave sins, that can potentially cause individuals among the Ephesians to fall away from grace and salvation.
If, for example, a landlord says, "don't do a, b, c" and later says "if you do a, b, c, you'll be kicked out of your house for good" then we can say that there is a possibility of his losing his rented house based on doing bad, warned-about things. Likewise, by analogy, Paul is saying "if you do these things, you can possibly lose your eternal salvation." They could be "deceive[d]" and receive "the wrath of God" as a result. And that's not Calvinism. It's Catholicism and Bible.
2 Corinthians 1:21-22: yes the Holy Spirit is a "seal" for us. But we have also seen that we can throw away all the good things God has given us in His grace and mercy and spurn salvation. That's why Paul warned in Ephesians 4:30: "do not grieve the Holy Spirit of God, in whom you were sealed". Why make that warning if there was no serious danger? All the Bible verses I produced that made this peril of salvation if we don't persevere crystal clear were ignored by my critic. He didn't think "it would be profitable" to do that. One can see why! I sure wouldn't want to, either, if I were in his shoes. But I'm comprehensively addressing his arguments, as anyone can see. Which methodology suggests more confidence in one's case and more actual biblical support? Yeah, that's my opinion, too.
I will conclude with the words of Johnathan Edwards, who speaks thus regarding the attainment of assurance:
It is not God's design that men should obtain assurance in any other way, than by mortifying corruption, and increasing in grace, and obtaining the lively exercises of it.—And although self-examination be a duty of great use and importance, and by no means to be neglected; yet it is not the principal means, by which the saints do get satisfaction of their good estate. Assurance is not to be obtained so much by self-examination, as by action. The Apostle Paul sought assurance chiefly this way, even by "forgetting the things that were behind, and reaching forth unto those things that were before, pressing towards the mark for the prize of the high calling of God in Christ Jesus; if by any means he might attain unto the resurrection of the dead." And it was by this means chiefly that he obtained assurance: 1 Cor. 9:26, "I therefore so run, not as uncertainly." He obtained assurance of winning the prize, more by running, than by considering.[18]
I'm delighted that he chose this excerpt to end with: as it is in harmony with the Catholic view in so many ways. It has "working with God" (faith and works; faith without works is dead) all through it: "increasing in grace" is necessary (not much different from Catholic merit), "self-examination" is part of it, but "action" (good works) is even more important. Yeah, Catholicism is right along with that! St. Paul had to metaphorically "run the race" to be saved. It wasn't a given. This work gave him assurance. We fully agree! Edwards never mentions "faith" in the entire excerpt: quite odd if indeed if the great "pillar" of faith alone minus works is so central to salvation.
***
Photo credit: Saint Paul Writing His Epistles (c. 1620), attributed to Valentin de Boulogne (1591-1632) [public domain / Wikimedia Commons]
***
Summary: In-depth refutation of Calvinist prooftexts for perseverance of the saints. I show how the Bible, again & again (even in passages supposedly "Protestant") is thoroughly Catholic in substance.
***