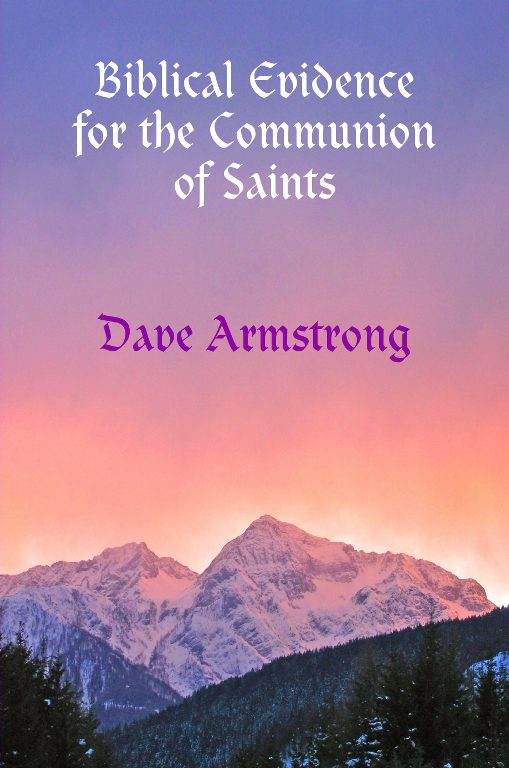 *
[originally posted on 5-17-13 on Facebook; expanded slightly on 5-17-21]
*
*****
*
This may be a "new" biblical argument for the veneration of saints.
*
If St. Paul is saying that all of these things "in" or "through" him were because of Christ, and others see that "in" or "through" him; does it not follow that he could be venerated, precisely because of what was "in / through him," then observed by others, to their edification? The Catholic doctrine of veneration is, after all, honoring a creature because he or she profoundly reflects the grace and love and other attributes of God.
*
I think it's a little weak and a merely deductive proof to some extent, but I believe that it does work on some level, especially because elsewhere, many times,
Paul urges his followers to "imitate" him
, as he in turn imitated Jesus Christ. I've used that as one argument for veneration for many years and it fits in nicely with this argument, in my opinion. What do you think?
Romans 15:18

(RSV) For I will not venture to speak of anything except

what Christ has wrought through me

to win obedience from the Gentiles, by word and deed,
1 Corinthians 3:5

What then is Apol'los? What is Paul?

Servants through whom you believed

, as the Lord assigned to each.

*

2 Corinthians 2:14

But thanks be to God, who in Christ always leads us in triumph, and

through

us

spreads the fragrance of the knowledge of him everywhere.

*

2 Corinthians 5:20

So we are ambassadors for Christ,

God making his appeal through us

. We beseech you on behalf of Christ, be reconciled to God. (cf. Acts 2:43: "And fear came upon every soul; and many wonders and signs were done

 

through the apostles

.")

*

2 Corinthians 11:10

As

the truth of Christ is in me

, this boast of mine shall not be silenced in the regions of Acha'ia.

*

2 Corinthians 13:3

. . .

Christ is speaking in me

. . .

*

Galatians 2:8

(for

he who worked through Peter

for the mission to the circumcised

worked through me also

for the Gentiles),

*

Galatians 2:20

I have been crucified with Christ; it is no longer I who live, but

Christ who lives in me

; and the life I now live in the flesh I live by faith in the Son of God, who loved me and gave himself for me.

*

Philippians 1:26

so that

in me you may have ample cause to glory in Christ Jesus

, because of my coming to you again.

*

Philippians 4:9

What you have learned and received and heard and seen

in me

, do; and the God of peace will be with you.

*

1 Timothy 1:16

but I received mercy for this reason, that

in me

, as the foremost, Jesus Christ might display his perfect patience for an example to those who were to believe in him for eternal life.
Titus 1:3

and at the proper time manifested in his word

through the preaching

with which I have been entrusted

by command of God our Savior; (cf. Hosea 12:10: "I spoke to the prophets; . . . and

through the prophets

gave parables.")
*
*
Summary: If God was working "in" and "through" St. Paul and others such as St. Peter and the prophets (many passages), is this not a possible biblical argument for the veneration of saints?
*
***